London Fashion Week Men's AW17: Chester Barrie
As the only British heritage tailoring brand exhibiting this LFWM, there's a lot to be excited about for the Chester Barrie presentation this afternoon. The brand's designer Chris Modoo offers some exclusive hints for what to expect.
There's no doubt about it, this London Fashion Week Men's has been a quiet one for
The Rake
, with many sartorial stalwarts neglecting to show this time around. Which, it must be said, makes the prospect of the Chester Barrie AW17 presentation today even more exciting than usual. Readers will doubtless be well aware that the house has a reputation for producing some of the most exquisite ready-to-wear tailoring in British fashion, with an emphasis on quality of construction, technical detail and contemporary design flair. The house's eveningwear in particular has a reputation for its exquisite styling and inventive yet wearable design touches, as is testified by the hybrid 'blazedo' jacket and double-breasted French blue dinner suit which Chester Barrie are retailing in conjunction with
The Rake
on
shop.TheRake.com
at the moment. For the house's designer, Christopher Modoo, AW17 presents an opportunity not just to continue to push the boundaries of technically correct formalwear and play with tailoring convention in a tasteful way, but also to demonstrate that the house is more than capable of creating separates that sit effortlessly in a casual context – introducing a side to Chester Barrie that reflects changes in men's lifestyle and in the formal-casual divide that's currently filtering through luxury menswear. With all this in mind, what exactly can we expect this afternoon? We took the time to chat with Modoo a few weeks back to get the inside scoop.
What can we expect to see in the collection this afternoon? What direction are you moving Chester Barrie for AW17?
I think you're going to see stronger pattern, but styled in a very modern way. For eveningwear, the fact that we can commission our own house Ottoman lapel facings in any colour we choose has opened up a world of possibilities. So we're bringing the velvet smoking jacket back in, faced with lapels, buttons and pocket jets faced in tonal Ottoman in different colours. We're really pushing our low-buttoning double-breasted model, the Kingly; we keep refining it and tweaking it, finding fabrics that work really well for it. We've done a new take on the Black Watch tartan dinner jacket that is particularly special and we've made a number of double-breasted sports jackets; the idea of the sports jacket is a little bit dressier than it was before. I suppose the overall look, thinking back to last autumn, is a bit more polished, a bit more lux. Everything is a little more refined, I never go out in any collection to be typically 'English', but I'm on Savile Row so whatever I do will retain a Savile Row character to it. Certainly I think the look from Chester Barrie next autumn/winter is going to be slightly more polished. It's not just about dressing up though, we're also presenting a number of very sharp pieces in a casual context. If you look at the corduroy dinner jacket we're showing, it was a style made famous by the Duke of Winsor in exile with his corduroy dinner suit. Now, cord is perceived as a casual fabric, we're just dressing it up a little as a dinner jacket and then keeping it relaxed with a knit and jeans.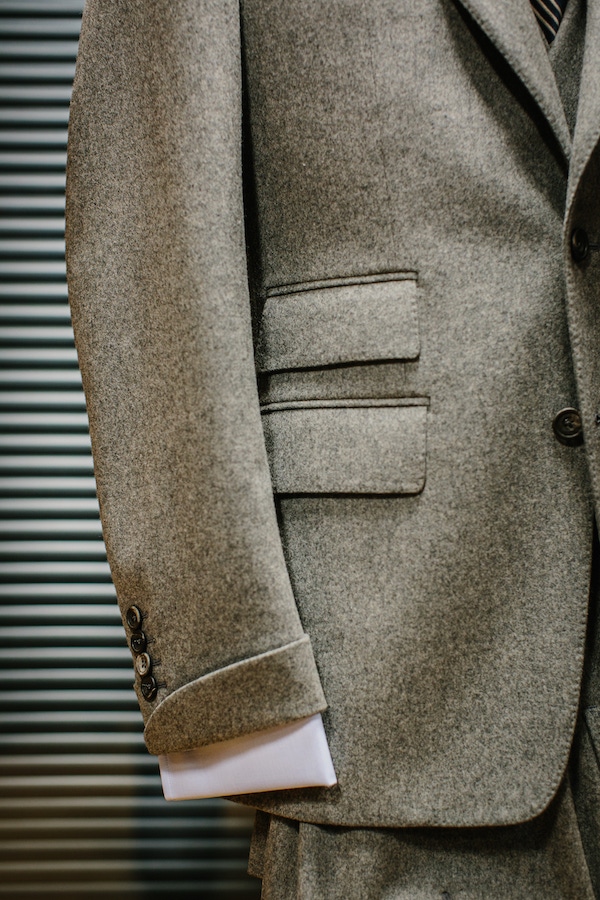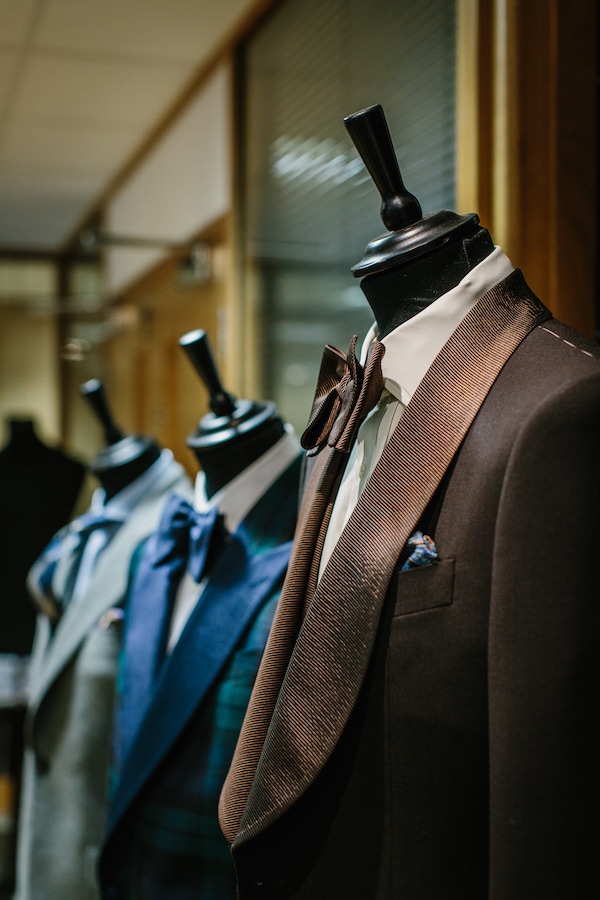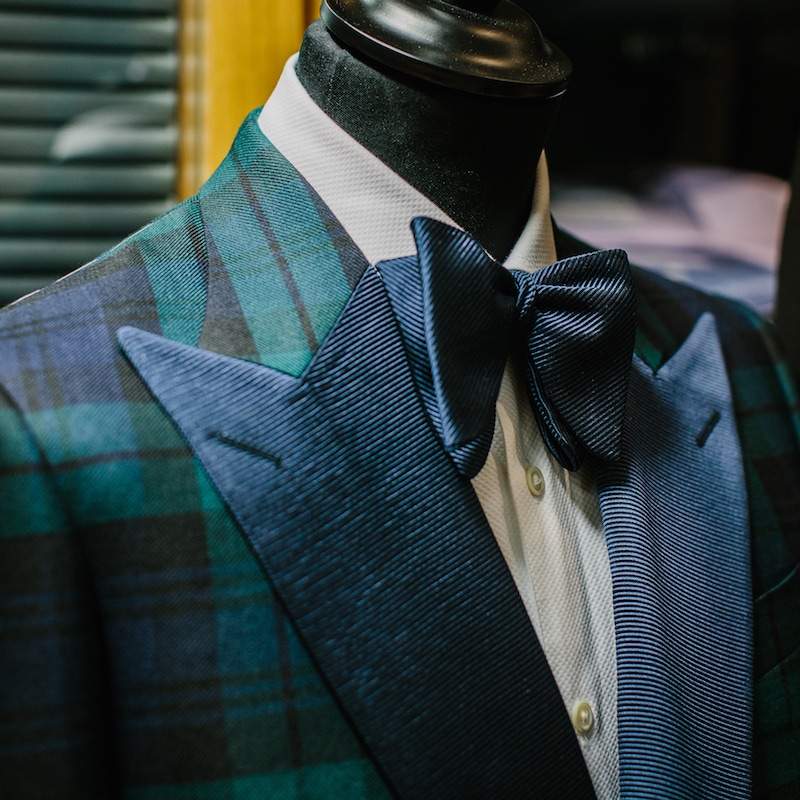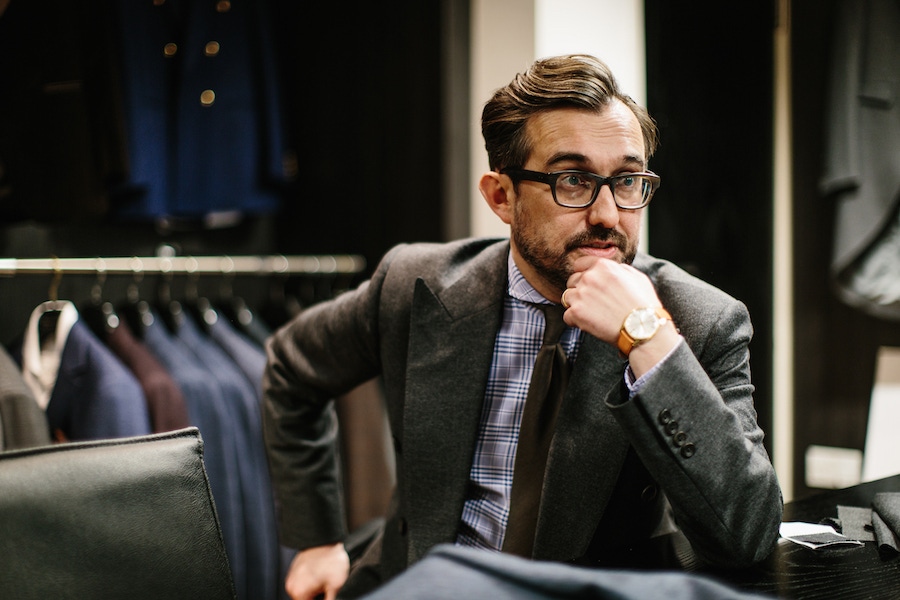 The Rake has posited for a while that bold pattern and colour are becoming less important in classic menswear, and subtlety of texture and tone are coming to the fore?  We're still sticking with pattern to a degree because it's what we do, so there are some fun checks and pinstripes in our suiting, but they're kept relevant by being dressed in a tonal way; bringing out the softness in a check with a similarly soft flannel shirt and knitted tie for example. Texture is certainly becoming more sophisticated. We're using a lot of milled and boucle cloths, beautiful flannels from Fox Brothers and butter-soft jacketings that feel particularly modern. We're even playing with a couple of winter-weight wool, silk and linen blends for something that's weighty, but which wears a little softer. It's a mid-90s misconception that linen must be a summer cloth – it came back for the warmer months in the 90s, but prior to that it was seen as a perennial material. It has real character to it. Who is the Chester Barrie man? He's someone who has got to the stage in life where he can afford a decent tailor, but he's looking for something that doesn't require the rigmarole of bespoke, that is beautifully made, elegant and fit for purpose. Our cut has a very rich silhouette to it and I think customers come to us for a flattering cut that's comfortable, and for clothes that will last. We try to bring a sartorial eye to our collections, its not just about a suit that 'does the job' its about offering something genuinely elegant off-the-peg. There's one jacket in camel that is particularly special – camel seems to be making a comeback for AW17? This is an 80% baby camel hair and 20% lambswool – a fantastic piece. Again it's the styling of it that makes it special. You can treat it as a classic with grey flannel trousers, a shirt and tie. But it also lends itself so well to a crewneck, or a rollneck and jeans, or dark checked trousers. It's super-soft, and again, it's a nice thing to have in your wardrobe. Its classic Chester Barrie, the culmination of what I've been doing for six years. If you're going out to a nice restaurant or even a smart pub for a Sunday lunch you can wear a camel sports coat and a roll neck and look the best dressed man in the room effortlessly.  Do you have a favourite piece from the collection? Our new take on the Chester Barrie change coat in midnight blue. We've finished it with black cashmere and alpaca lapel facings and collar. It's a more sophisticated take on the fur-collared overcoat, and is if anything even more chic.