Look of The Week: Bowled over on The riviera
We're using our time at home to review the make-up of our wardrobes and with our minds musing over the eventualities of life, we're visualizing ways to stay stylish.
Languishing in a state of deferred evolution, the world is confined to the social and economic parameters it finds itself in. Desperately looking for avenues to escape this woeful interval of life, communities are coming together in ways, never seen before. The fashion industry is also playing a vital role. Two of our most valued partners and coincidently both shirtmakers: Turnbull & Asser and Emma Willis have both been dedicating their workrooms to creating NHS uniforms. At home, fashion can still play its part in daily life and it's been endearing to see people, who have often never met, participating in isolation-induced fashion activities. A colleague of mine has joined a concept initiated by Nick Ashley, Creative Director of Private White, who has started #nicksphotoshootfriday on Instagram, which I hear has been most entertaining. "It has been a naturally cheerful incentive to look forward to each Friday, to see a compilation of stylish people, wearing a different outfit each week, posted on Nick's stories," he says. Now over a month into lockdown for a large section of the globe, we're having to spruce up light relief from our convoluted Covid -19 minds, which is where dressing up can provide a welcome distraction. Here is this week's selection to help achieve this. Gaiola jacket: In an olive-green hue, this versatile jacket encompasses a distinctively Neapolitan detail, in its slanted barchetta (little boat) outbreast pocket - a variant that displays a dash of rakish sprezzatura. The shoulders are soft and shirt like, underlining its ability to be worn as a casual ensemble at home. Far Afield bowling shirt: The bowling shirt has long been associated with questionable personalities, such as Charlie Sheens' rude and crude character from Two and a Half Men (who had a whole collection of heinous tops) contributing to it getting an unjustified bad rep over the years. You shouldn't let trivial characters program your view on the bowling shirt as it's practicality slides to the front of the queue for being the most coveted fashion shortcut and in particular this model from Far Afield is a very stylish one at that. It comes in a charming and versatile jojoba yellow, and has textured stripes through the sustainable, Better Cotton Initiative. Its soft collar opens up beautifully from underneath a blazer and when tucked, neatly into some trousers, it protrudes this maddingly captivating and cool aesthetic which isn't always easy to pull off.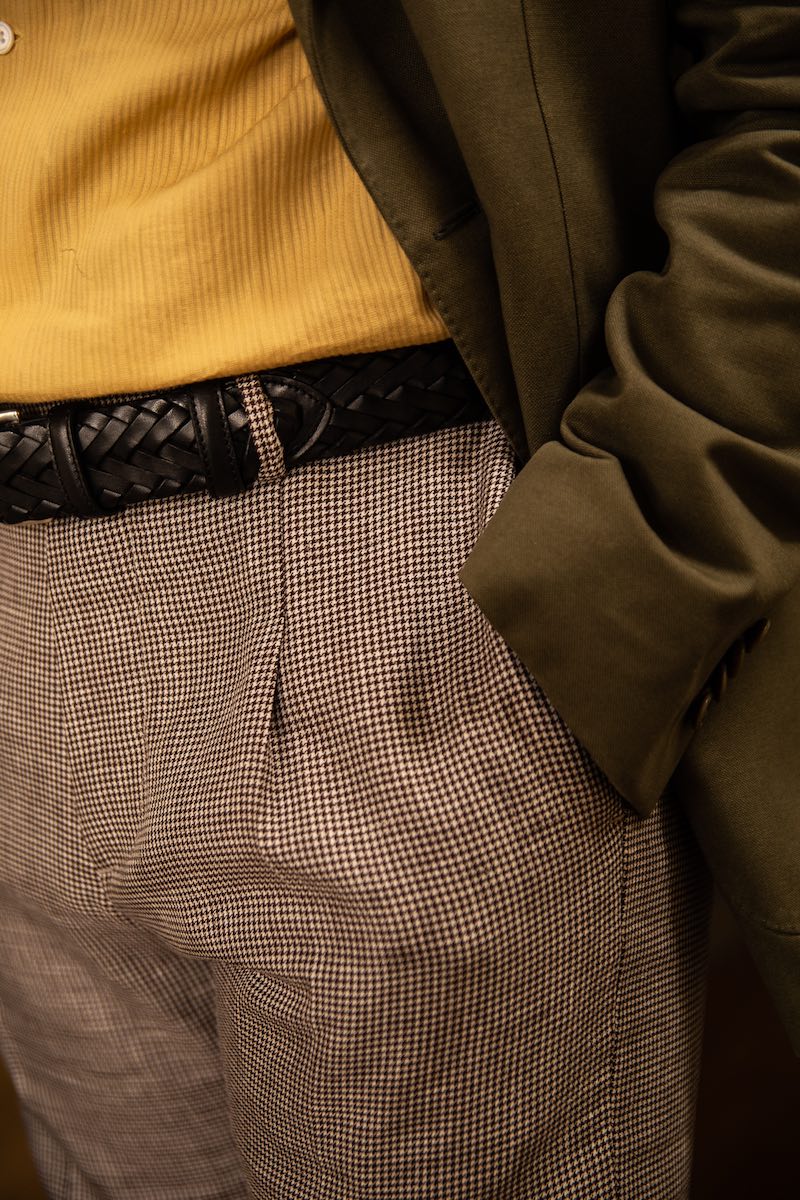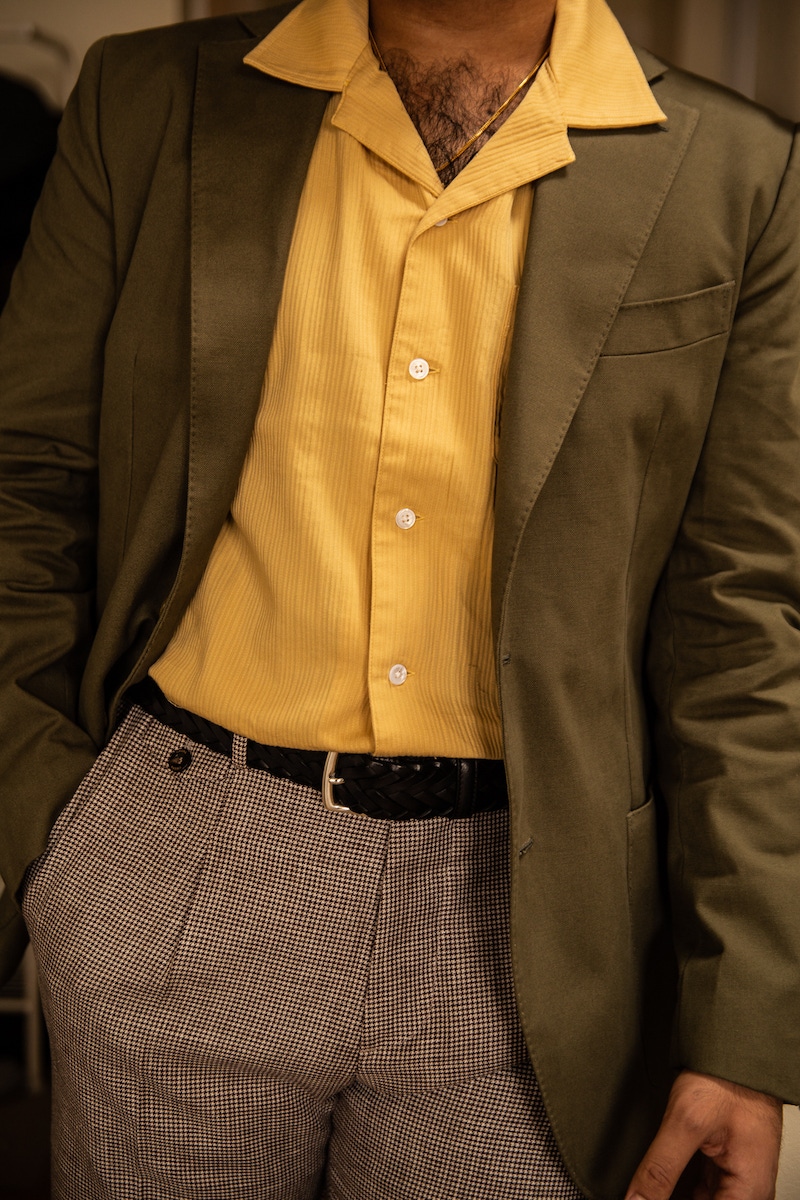 Cruna trousers: These pleated Cruna trousers in brown-beige check wool, keep you smart and eminently rakish even while lounging around. This style is single-pleated through the front and back and tapers slightly towards the ankles in typical Italian style. It has an abundance of subtle details including a split-backed waistband with belt-loops, buttoned side-waist adjusters and an extended, buttoned tab. Considering the Italian origins of Cruna and Gaiola and when worn with Far Afield's bowling shirt, there's certainly alluring parallels of a romance on the Riviera, like in The Talented Mr Ripley, a movie that boasts one of the finest wardrobes in cinematic history. Elliot Rhodes belt: A gentleman needs to own a belt as there's been countless stories of rather unforgiving mishaps, when one hasn't got access to one. When attire leans towards a relaxed aesthetic, such as when being at home, a woven leather belt is the perfect accessory. This Elliot Rhodes design is made in Spain from supple leather with a solid brass buckle fastening.