Look of The week: Buttoning down boredom
This week, we're pairing a deep blue jacket with charming accessories in beautiful prints from Italy's oldest continuously operating tiemaker, which is only been going a shade longer than the amount of hands used to complete the shirt in this week's look.
It's early, about an hour after first light and people are ambling around, walking their dogs, whilst I stroll for my morning newspaper. Each day there seems to be a new breed, some strutting their stuff with Art Deco poise about them. Schnauzers, Shih Tzus and even a Saluki bring an affable mood of style to the park. Suddenly there seems to be more of a correlation between owner and dog. The canines have never had to be worried about time and neither do many of their owners who don't commute at the moment. The owners, equally seem to be taking more pride in their appearance suggesting that the morning outing which was once a chore, is now a part of the day filled with great satisfaction. It reminds me of
Being Boring
, a scandalously underrated record by the Pet Shop Boys, whose lyrics ring true of our existence today and the cerebral relationship between time and dressing up. The scenes in the music video depict a youthful lot who had too much time to themselves and yet were never bored or being boring because they dressed up all the time. We can take heed in the fact that there's no need to be bored or be boring in character with all this time we suddenly have. This week's selection can certainly help you achieve this…
Doppiaa jacket:
Every man should own a tailored navy single-breasted jacket. This particular jacket from Milanese brand Doppiaa happens to be in a deep-blue hue, which steers your look towards the casual direction. Its fabric mix underlines its ability to be the perfect casual ensemble to wear at home. A subtle herringbone weave in the fabric draws benefits from both the durable, crease-resistant nature of tencel and the fine cotton's softness. Extra details include an unlined interior, patch pockets, notched lapels and three front buttons.
100Hands shirt:
It's the golden touch of the expert artisans that set this brand apart from many other shirtmakers, where (you guessed it) each shirt takes 100 hands to complete. This red wide stripe cotton-linen slim fit shirt is a very fine example of the level of handwork that goes into each shirt, using ancient techniques that stem from the descendants of some of the workers who hand-embroidered textiles for the Maharajas of India. A shirt of exemplary quality it features a pointed, button-down collar, classic single-button cuffs and seven front buttons. It is cut for a slim fit and has shaping back darts. The cotton-linen mix and button-down collar style enable you to wear this shirt in almost any setting whether it be formal or casual. Paired with the options consisting of this week's look, it's hard to uncover an appearance that personifies the smart casual order quite so splendidly.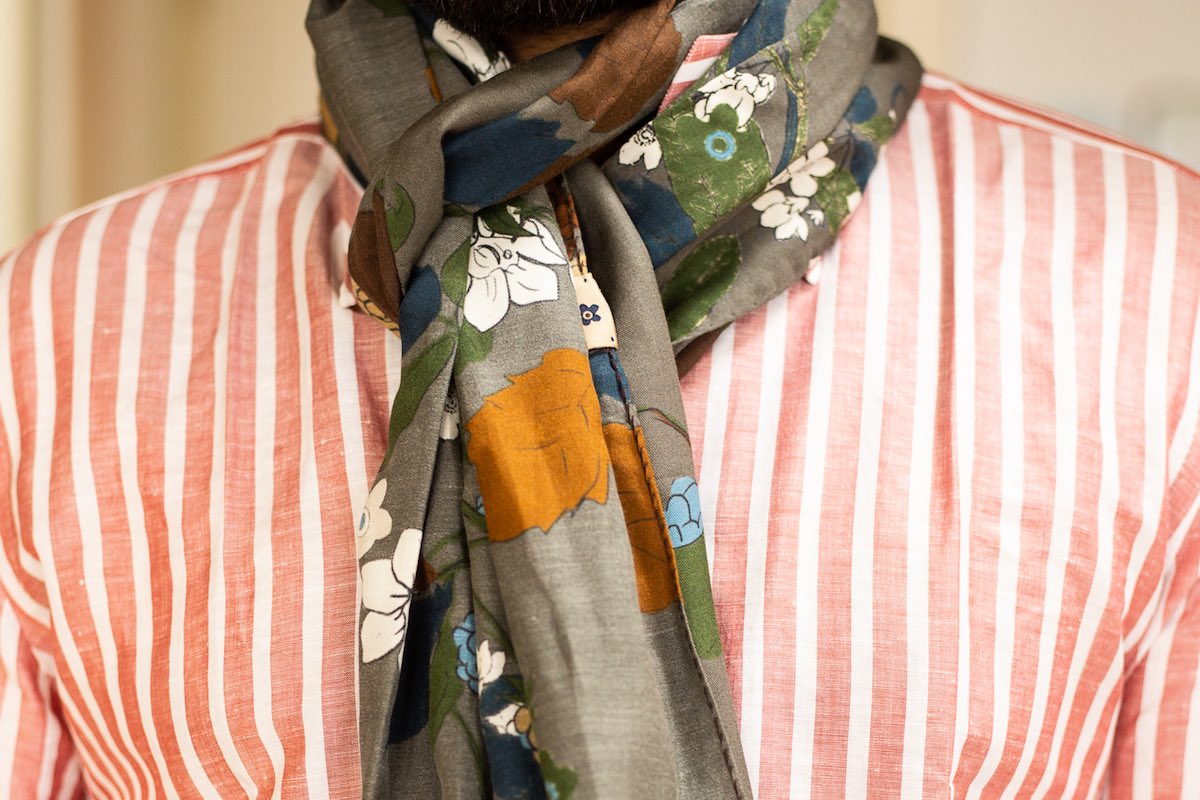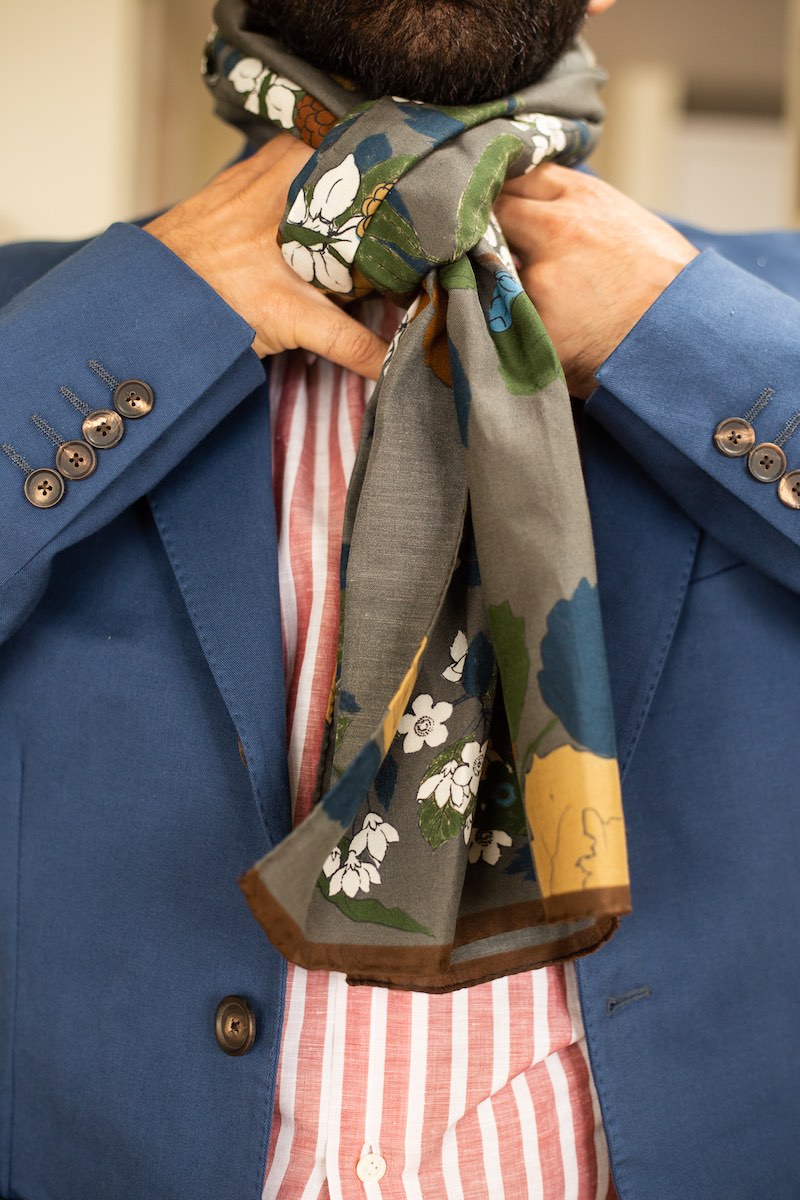 Fumagalli 1891 scarf: Based in silk mecca Como, Fumagalli's hand-finished accessories are quite something to behold. With a myriad of beautiful patterns, their scarves add discreet colour to an outfit, for this chic and understated appearance. From the brand's Cortina line this blue and orange floral-print scarf is no different and adds a wonderful splash of colour to a neutral jacket, which in this case is Doppiaa's deep-blue jacket. Fumagalli 1891 pocket square: This light brown and pink floral-paisley print pocket square is as versatile as it is rakish. Handmade in Italy from pure wool, its irreverent colourful print is striking and unique. It is part of an original collection named for the Italian town of Canazei. Folded or puffed, this style looks great with a deep-blue jacket. Elliot Rhodes belt: This cordovan leather belt is a subtle but unmistakable way to introduce some retro refinement into your look. The belt is complemented by a sleek solid brass buckle which accentuates the rich burgundy finish of the leather. Even when you don't think you need a belt, it's always good to have one on standby in case the worst happens.