Look of The week: Checkmate in Hollywood
We're using our time at home to reassess our wardrobes and with one eye firmly on the future, we're anticipating ways to express ourselves whether that be at home or out of confinement, when it happens.
The world has turned upside down, which leaves many in solitude, on the precipice of relinquishing the elation that is so deeply innate in one's individuality when it comes to dressing up. As Cecil Beaton once said: "Perhaps the world's second-worst crime is boredom; the first is being a bore." Emblematic of Cecil's thirst for self-revelation, we can take heed in the stance that titivating your look whilst at home, either in solitary confinement or with family can exonerate you from both of these crimes. And more importantly retreat yourself away from the increasingly opaque outlook on life, back to the wonders of euphoria that can give such tremendous sustenance to your perhaps waning character. Here are the particular pieces we're eying up, which might make you feel every bit like a film star. De Petrillo jacket: Part of the brand's duly named Posillipo collection of jackets, due to their Neapolitan heritage, this charming jacket in a beige-checked linen blend, bears all the hallmarks of exceptional Neapolitan tailoring, particularly its three-roll-two style cut which is half-lined in cupro with a barchetta left breast pocket. Despite checks not always being the easiest to pull off, it is a testament to De Petrillo that this particular check exhibits a subtle and timeless quality. With this is mind the jacket would look just as stylish when paired with either a light or dark shade of trouser. Alessandro Gherardi shirt: This white pinstriped cotton shirt is cut for a slender fit, perpetuating the more fitted profile of the aforementioned De Petrillo jacket. The Canclini Tessile cotton has an airy and silky feel to it, highlighting its versatility. Brown striped shirts have long been synonymous with famous style icons such as Michael Caine and David Niven. This particular fine pinstripe works perfectly in contrast to a checked jacket. The shirt is finished with a neat French-style cutaway collar.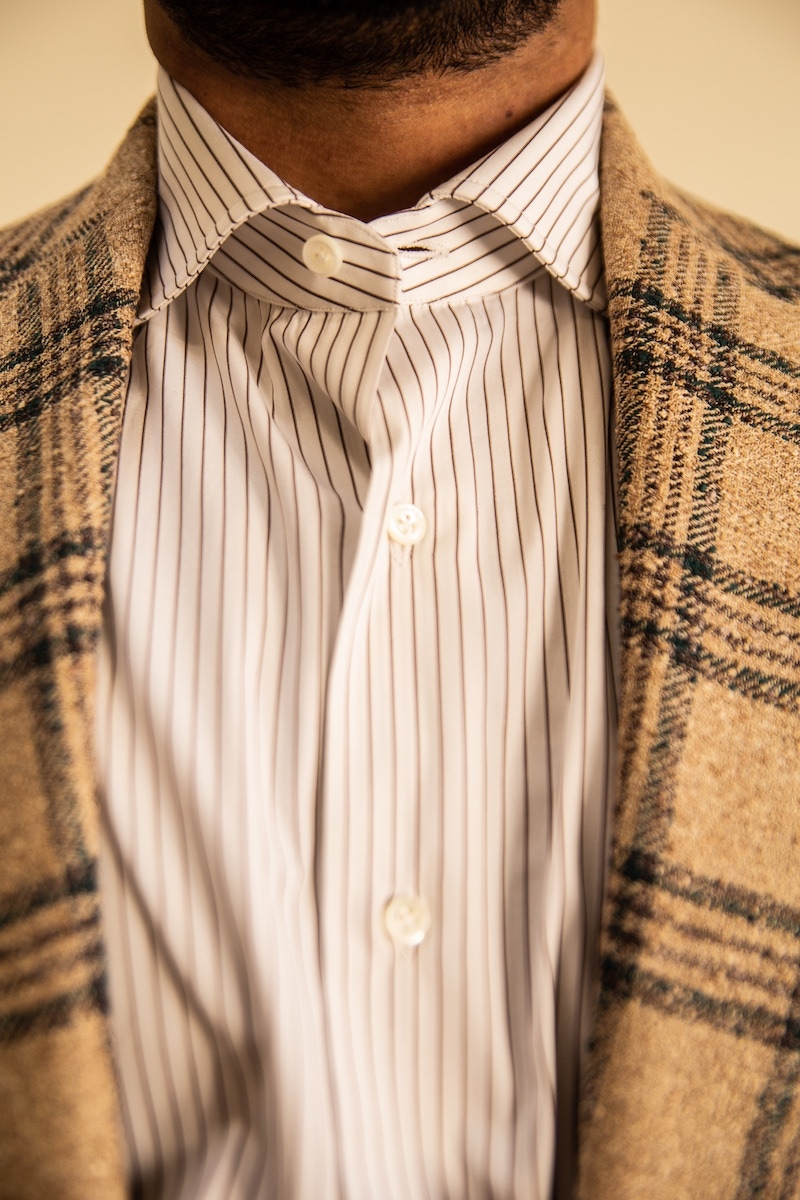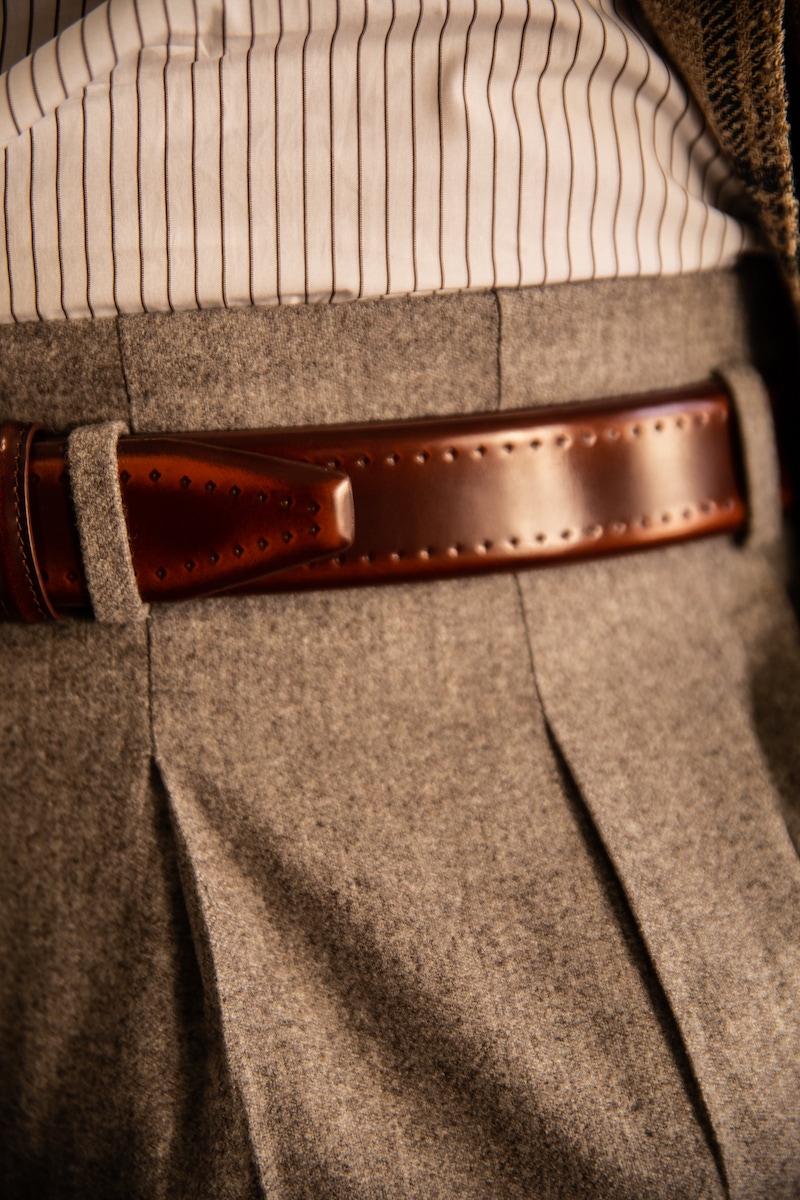 Elliot Rhodes belt: Every man needs a belt and there is no better style of trouser to show off the full elements of the accessory than the Hollywood top trouser. In keeping with a vintage feel, this cordovan leather belt is a subtle but unmistakable way to introduce some retro refinement into your look. The belt is complemented by a sleek solid brass buckle which accentuates the rich burgundy finish of the leather. Edward Sexton Hollywood top trouser: The Hollywood top trouser began its journey in the 1930's when this design was a staple in every costume department. Edward Sexton has brilliantly adapted them as their introduction into ready-to-wear. Reminiscent of an art-deco feel, they are generously cut and feature front pleats, a single flap pocket on the rear, belt loops and a zip fly and hook and bar fastening. Belsire loafers: A sleek rendition of the brand's signature Italian craftsmanship, these Brando loafers are beautifully hand-woven and hand-buffered by the expert hands of the label's Neapolitan artisans. This impeccably-made pair is constructed to an elegant round toe shape with a tassel trim and Blake-stitched sole.