Look of The Week: Combat the temperature plunge in Style
August has come to an abrupt end, which means swathes of people flying back home from sunny idylls. It requires a wardrobe shift to heavier fabrics, which is why we've comprised a stylish look to help with this seasonal change.
Every day, whatever the season or weather, members of the Household Cavalry Mounted Regiment ride down from Hyde Park Barracks in Knightsbridge to Horse Guards Parade, passing through Hyde Park Corner and along Constitution Hill and The Mall. The Household Cavalry Mounted Regiment consists of a squadron from each of the two most senior Regiments of the British Army: The Life Guards wear red tunics and white plumed helmets, and The Blues and Royals wear blue tunics and red plumed helmets. If you commute on foot or cycle along Constitution Hill you may have witnessed the majestic sight of the horses walking, with their mounts in full ceremonial dress. A few weeks ago, in the midst of the heatwave – a shirt was probably causing you some temperature discomforts, but imagine what's it like for the riders, underneath the heavy helmets. Although not the bearskin models, sporting the plumed helmets all-day in the searing heat requires true grit to be displayed. In the realms of menswear, many designs derive from military dress. There's the Gurkha trouser, the trench coat and in this case the cavalry twill trouser which was originally created for military riding trousers and breeches. Cavalry twill is particularly good for holding their shape and draping well whilst its strength and durability were the main factors in why it was such a functional choice of fabric for the Household Cavalry. As the season changes we're moving away from linens and lighter cottons, which makes a cavalry twill trouser a very wise option for the autumn, especially when paired with some neatly tailored separates of the Italian variety. De Petrillo jacket: Benedetto De Petrillo – founder of the eponymous tailoring house identifies the mélange of colours at the Real Bosco di Capodimonte Museum in autumn as a major source of inspiration. These impressive and antiquated tones that blend in with each other at the museum are then intersected with vintage inspired fabrics to produce a stunning but understated collection of autumn winter jackets. This beige and brown jacket in cashmere is a beautiful example of the subtlety in elegance that De Petrillo manage to convey. This softly tailored jacket features two flap pockets, a notch lapel and works perfectly as the overlayer of a round-neck jumper in a neutral shade. Kit Blake trouser: Exclusive to The Rake, Kit Blake's "Connery" cavalry twill trouser is a rather unique and welcome addition to the platform for this season. In a resilient all-wool worsted from VBC in traditional twill design in English khaki, they are cut slimmer, without pleats and boast a "drop cross" front pockets and a raised outside seam detail. Inspired by the "man about town" of the 1960s they are the most refined of sports trousers and combine beautifully with De Petrillo's jacket which is bordering on a sports design.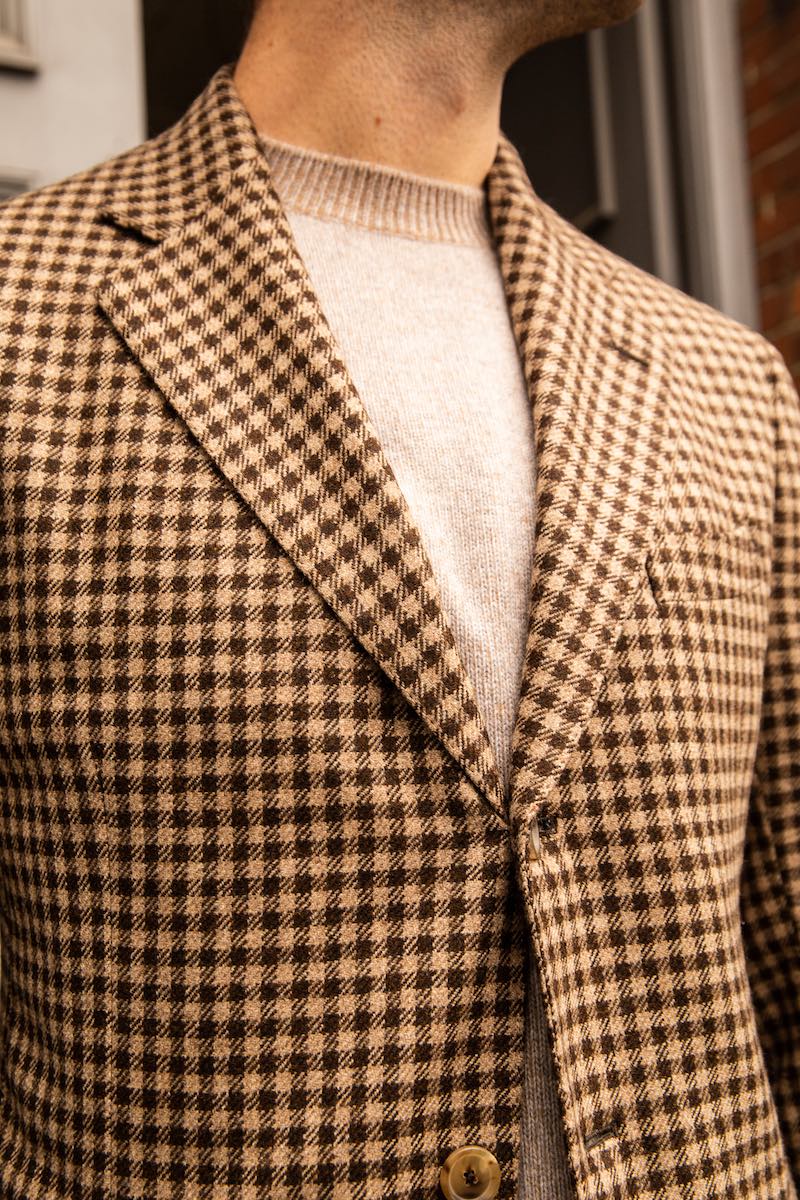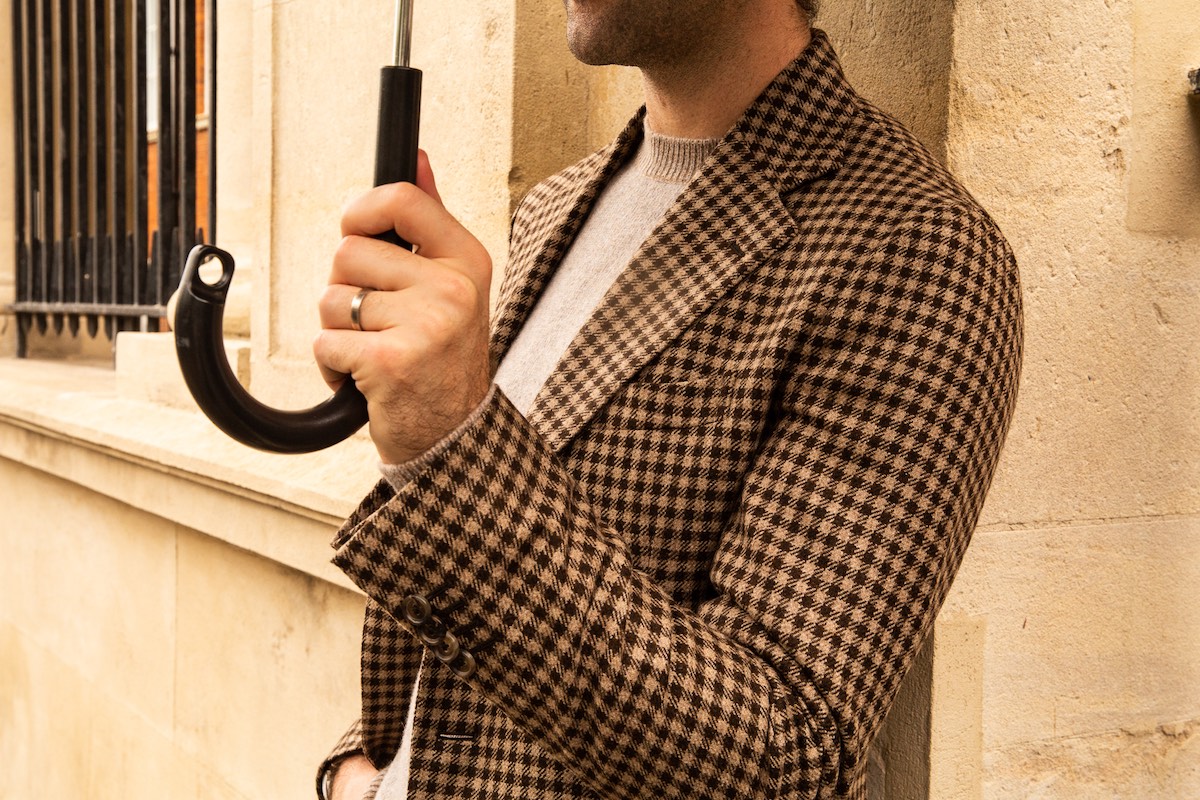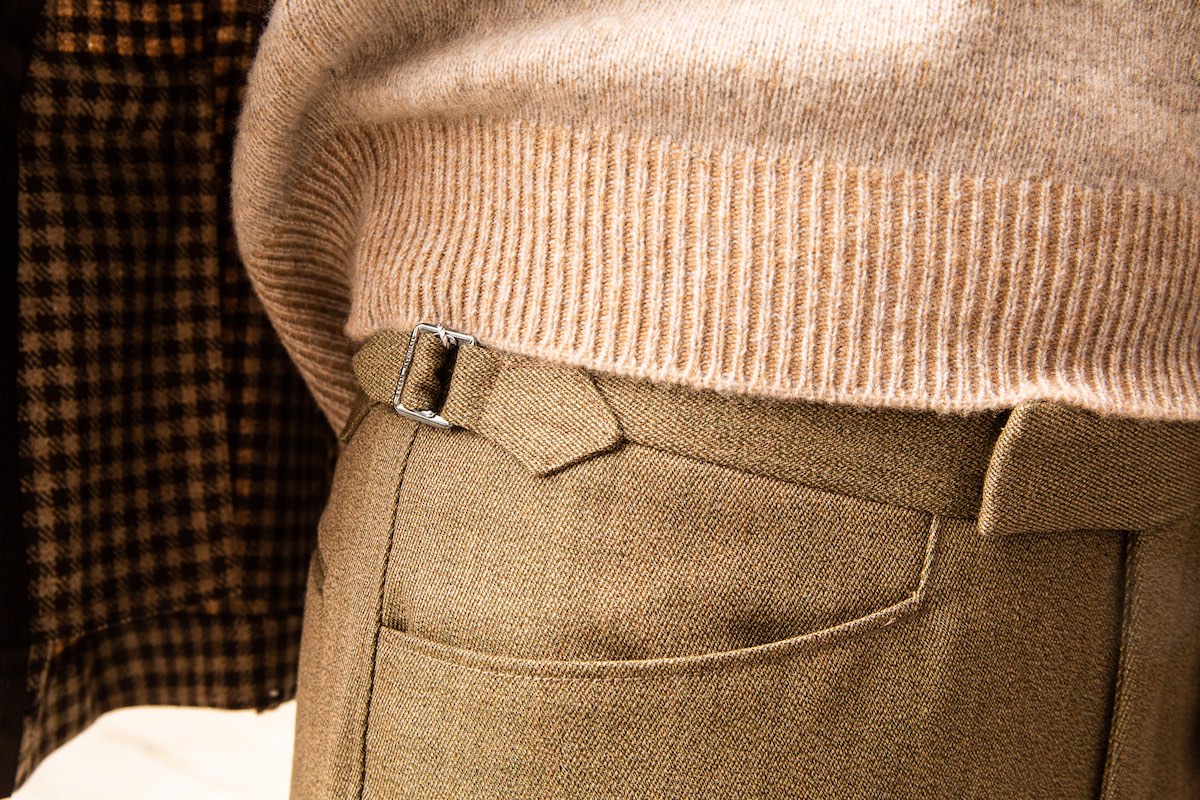 Altea: The roots of Altea lie deep in the elegance of late nineteenth century Milan. In more recent times it is their knitwear that draws so much attention, with an eclectic mix of beautiful colours, whilst also offering the usual versatile shade of white and blue. When wearing a round-neck jumper underneath a jacket, you need to be careful that the patterns, textures and thickness do not grapple with each other. In this particular scenario, as is so often the case with Italian tailoring, the brand's soft beige jumper is not overbearing in colour or texture and so combines beautifully when worn underneath De Petrillo's discreet jacket in beige and brown. If a shirt and tie isn't needed, this is a smart and warm combination for the cooler temperatures circling around Europe this autumn.