Look Of The Week: Prepped And Comfortable
With lockdown restrictions changing frequently, it's worth having a couple go-to outfits that look the part at home as well as in town.
As I write this, London has gone into a Tier 3 lockdown, and there are rumours of a potential u-turn on the initial relaxing of Christmas restrictions. Even for the most optimistic of us, 2021 couldn't come sooner, so it's only right that seventeen days into December has felt more like seven hundred. As ever, here at The Rake, we find solace in the small things that keep us going day after day. The whole ethos behind getting dressed in suitable attire for Zoom calls (and by suitable attire I mean in anything other than sweatpants) is to make ourselves feel somewhat more energised mentally and physically. Style should never be about adhering to rules, but rather what makes you feel good and look great. At January's Pitti Uomo, we proclaimed that high-low style would emerge once again in 2020, and it has, albeit in slightly surreal circumstances. With this in mind, 2021 will hopefully be the year it comes into its own. This outfit channels a smart yet comfortable approach that will look good at home as well as in the city.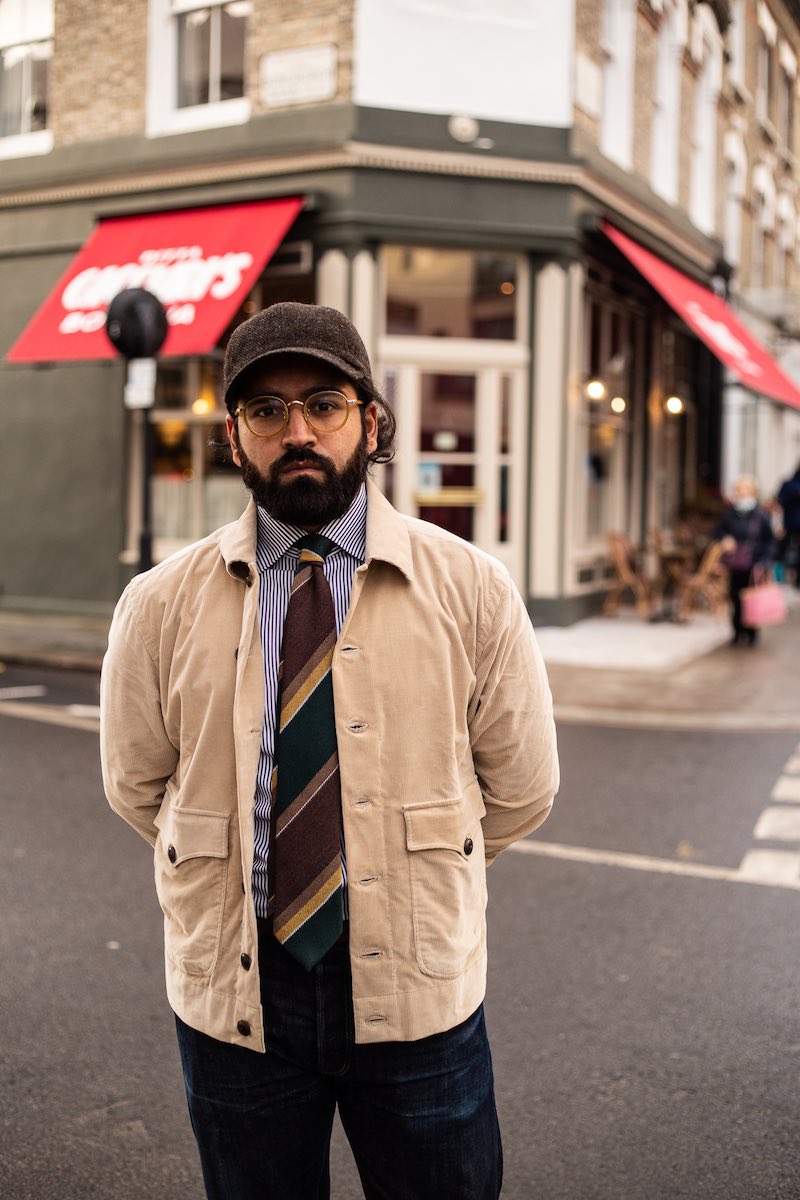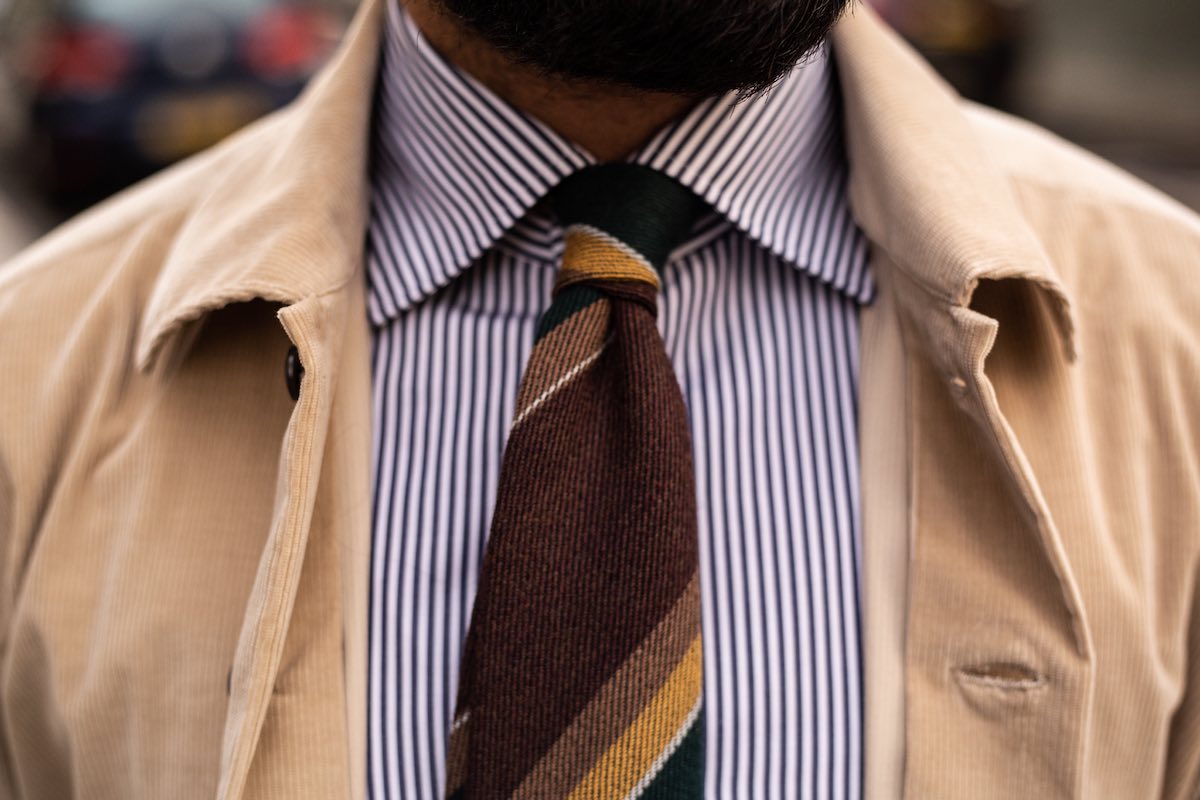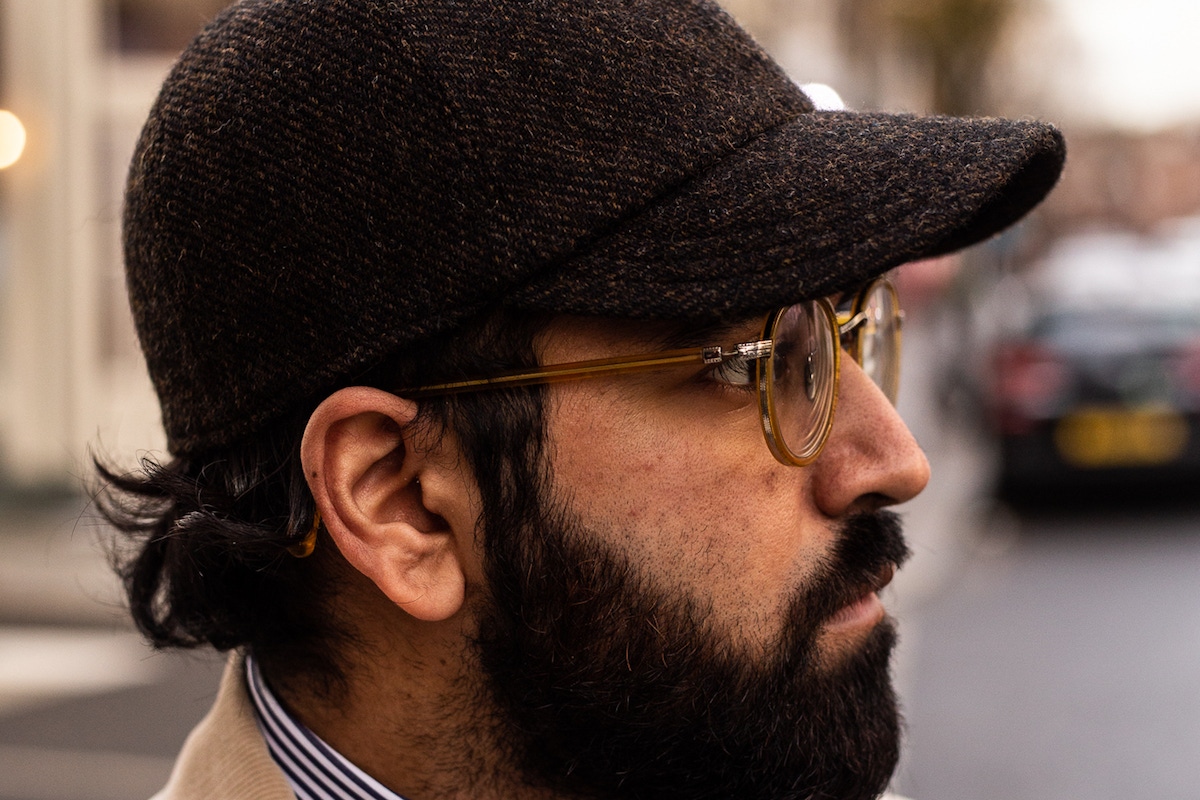 I haven't exactly been subtle when it comes to my love for Cappellificio Biellese. The hatmaker produces an array of styles, made using the most beautiful of cloths, that work with so many different looks. There's the classic
VBC baseball cap
,
the newsboy
, and now the hat I'd like to highlight is this: the brown wool soft brim cap. The beautiful tweed cloth makes it a great option for the colder days. A few people have by no means hidden their displeasure about
my penchant for pairing caps and suits
, but, it's 2020. If this year has taught us anything, it's to embrace whatever makes us happy.
I turned to Fralbo to provide the smart and casual options for this outfit. The classic striped shirt gets dressed down with one of their brilliant unlined bomber jackets, which could pass as a heavy overshirt. This soft cream corduroy option works beautifully with a shirt and tie, like so, but just as well with a tee shirt or jumper.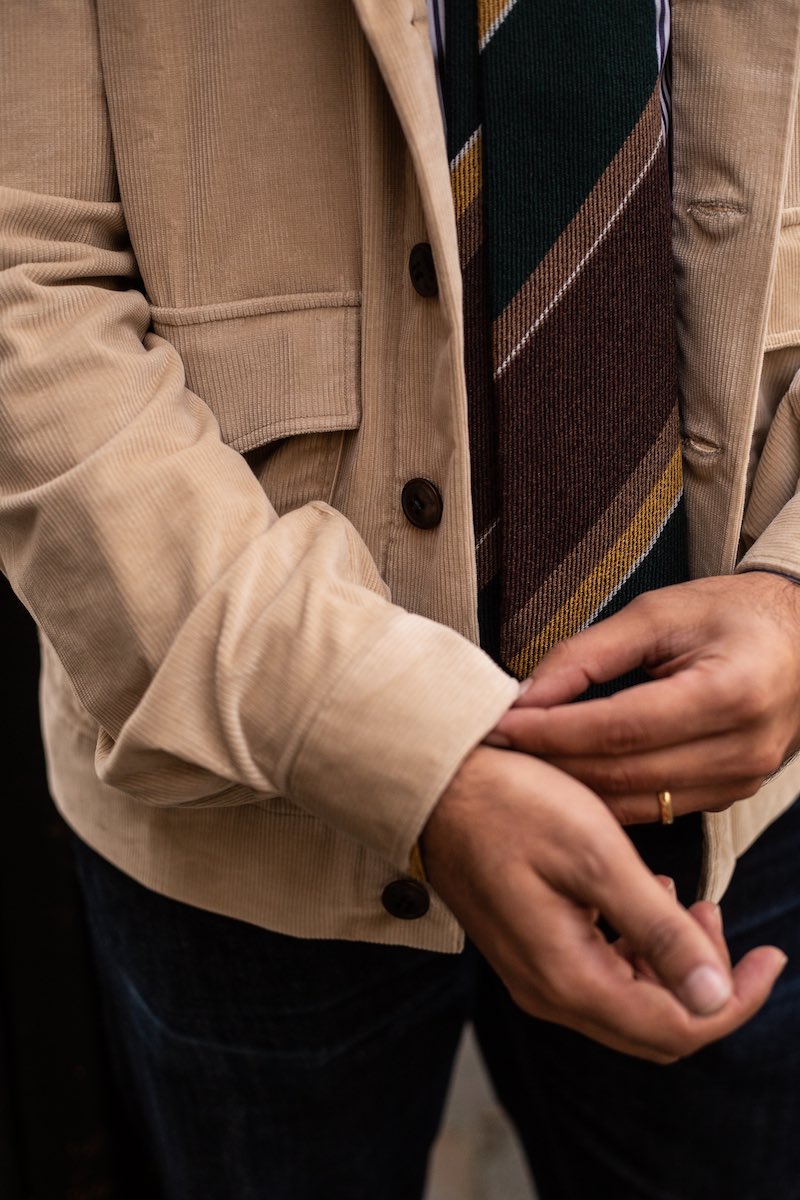 Fumagalli's archive — which spans over 120 years of Italian craftsmanship — is bursting with over 80,000 patterns. Based in Como, the legacy continues with a family background in tailoring that provides a creative synergy with Fumagalli's hand-finished ties. This brown, gold and green repp stripe iteration is a stunning piece that is a lot more versatile than one might initially imagine. When it comes to this specific accessory, the colourway complements warm and soft tones well — in this case the Fralbo bomber. A pair of classic dark denim jeans is one of the staples I believe everyone should have in their wardrobes. High quality denim, when looked after, can last years, and is timeless in style. So it's only enhanced further when the pair is made by artisans, Fortela. A speciality of founder, Alessandro Squarzi, the raw denim will only get better with age. And keeping to the theme of investments, our new collaborative watches with Moritz Grossmann and Holthinrichs respectively are both classic in style and would make beautiful additions to any watch collector's arsenal.