Look Of The Week: Roaming Down Under
Whether you're traipsing around the urban metropolis attending meetings or ambling at a slower pace taking in its historical scenery, it's always wise to layer effectively in lighter fabrics, as at the tail end of summer, cities are more likely to throw up some volatile weather fluctuations.
At one time Melbourne in Australia was the world's richest city, following the gold rush of the 1850s. A prominent metropolis, it bears some of the most impressive representations of Victorian architecture from around the world, including the famed Royal Exhibition Building. Out of all the states in Australia, Victoria has taken the hardest stance on encouraging people back to their offices with Melbourne going into a second lockdown. In the modern era Melbourne is known to be a dynamic hub for all types of creativity and is particularly known for its nucleus of design and tech agencies. Melbourne is probably considered Australia's most fashionable city as it's home to some very talented designers, but the elevated opportunity for flexi-dress in the city has made overly cropped chinos, shoes with thick platforms and ill-fitting jackets a very common sight. Many of the large co-working spaces remain uninhabited, which has meant the Richmond district once bustling with people in cafes and bars has recoiled into an empty zone. But this is a city in a second lockdown which seems to be quashing the cases and therefore will rise again, back to some normality. Notorious for its unpredictable weather, Melbourne is a city where layering is important and even more so if you're doing more business outside of the office, which is likely to be the case post the second lockdown. It gives good reason to invest in cunning separates that sync in with the ethos of the city, wherever you are. Here's this week's look to help achieve this: De Petrillo Sahariana: In a city that requires regular moving around, flitting from one café or bar to the next when not in lockdown, there's nothing more appropriate in the milder climates than a linen Sahariana jacket. Neapolitan tailoring titans De Petrillo are masters of their craft when it comes to jackets. Comprising all of the elegant details you would expect in a Sahariana, this lightweight jacket is an extremely comfortable and smart layering option... Anderson & Sheppard trouser: These trousers are an extremely smart option for the summer months and pair nicely with a beige Sahariana. The trouser features double-pleats, a zip fly, belt loops and two slant side pockets.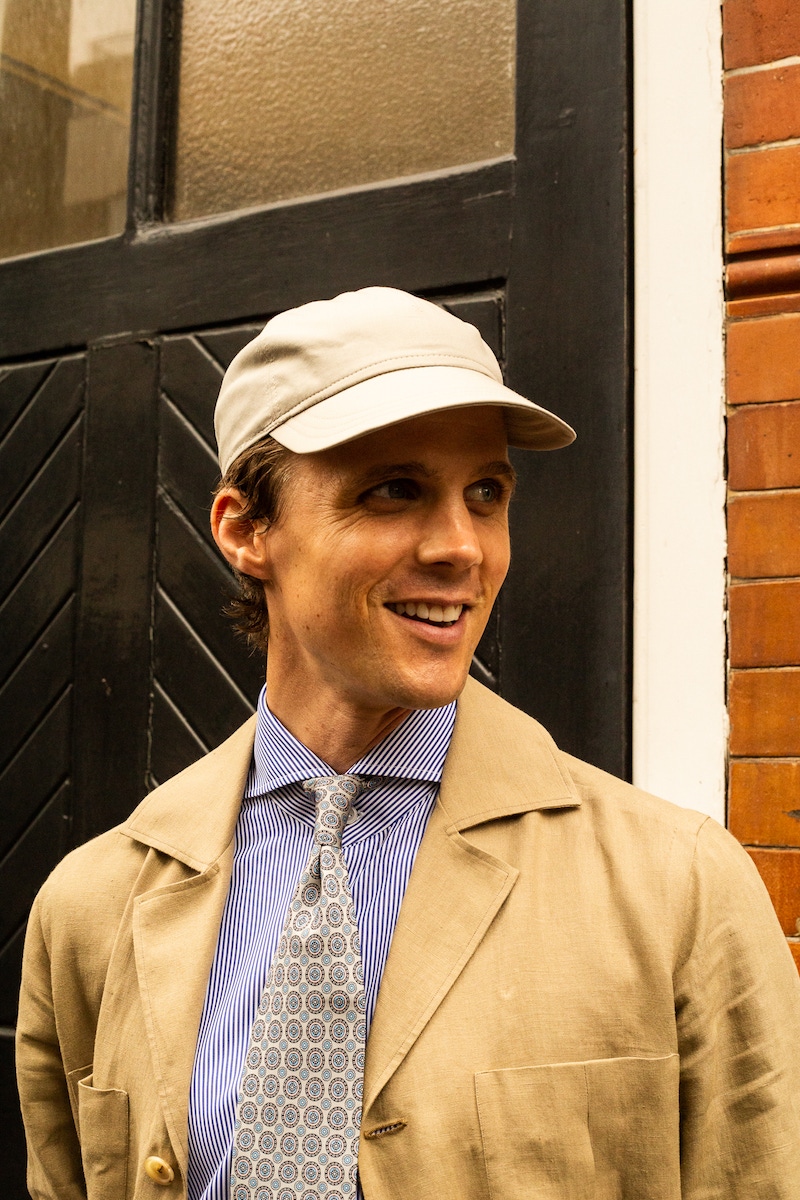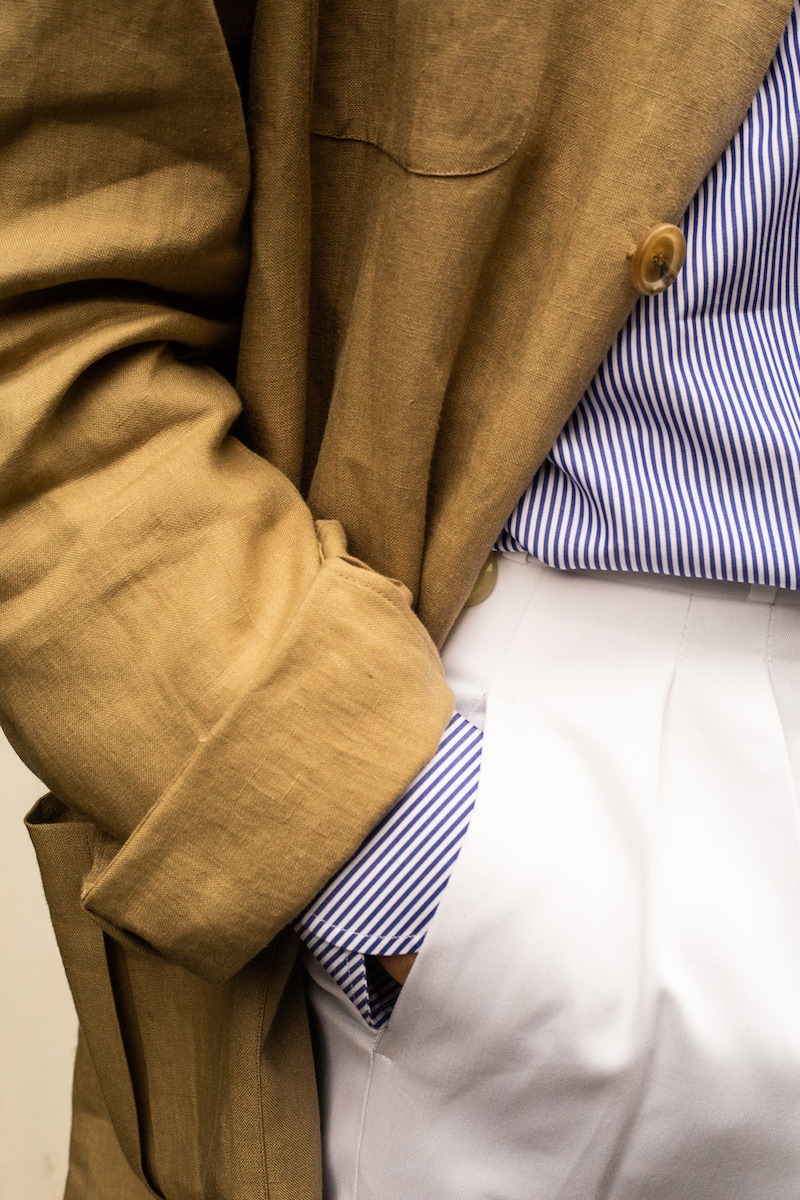 Fralbo shirt: A family shirtmaking dynasty dating back to 1933, Fralbo are known for their meticulous methods when it comes to shirtmaking. This white and blue stripe shirt features a very neat spread collar. It opens up the neck area to really show off the details of a tie if you feel like delving into your colourful tie rack. Cappellificio Biellese cap: This stylish baseball cap is perfect for casual days. The peak is designed to shield the sun from your eyes and also shelter  your head from any cascading storms. Serà Fine Silk tie: This light grey and blue medallion silk tie is a 3-fold construction, made using the finest 100% silk in Como, Italy. The discreet nature of the pattern means that it will blend in with almost any shade of shirt and jacket.