Look of the week: Spring harmony
Spring has fully sprung and we're finding various ways to occupy our time, which means staying comfortable and stylish and with this week's look, it will certainly help you feel relaxed about life at home.
For many of us the rigor of isolation has dealt us an opportunity to seek new ways of satisfaction, which two months previously would've been unfathomable. The force of Covid-19 summons experts to give their daily review on how we should be living, which has drastically changed over the two months, which in effect has propelled people's minds to soar from one extreme to the other. Now well into lockdown, many of us have actually started to really enjoy some of the minor things that previously wouldn't have kept us buoyant. Our love of literature, film, fashion and even interior design has developed much further than time granted before. It's similar to the gradual process of your taste buds altering naturally, except this paradox has conditioned our extended interests, that if allowed, might have developed anyway – perhaps we were expecting it in retirement, but it's arrived earlier and definitely in some aspects for the greater good. With most of our time spent within our homes engaging in these wonderful forms of culture, it's important to feel comfortable. This week's selection can certainly help to achieve this. Sitting back in your armchair engrossed in a new book with either a whisky or something softer, resting on your mahogany piecrust tripod table would surely help fulfil the senses. Z Zegna sweater: This linen-cotton mix sweater from the famed Italian fashion house, strikes the perfect balance between style and comfort. It comes in this beautiful and rare brick-red hue with the added pattern and texture details of window-checked needlework and ribbed trims. Predominantly linen, it is extremely breathable and bears this subtle fluidity that enables it to be paired with almost anything. It would look just as good underneath a jacket, or on its own, tucked, neatly into some trousers and in this case the brand's brown linen sports trouser which actually works very well for recreational activities such as in-house yoga.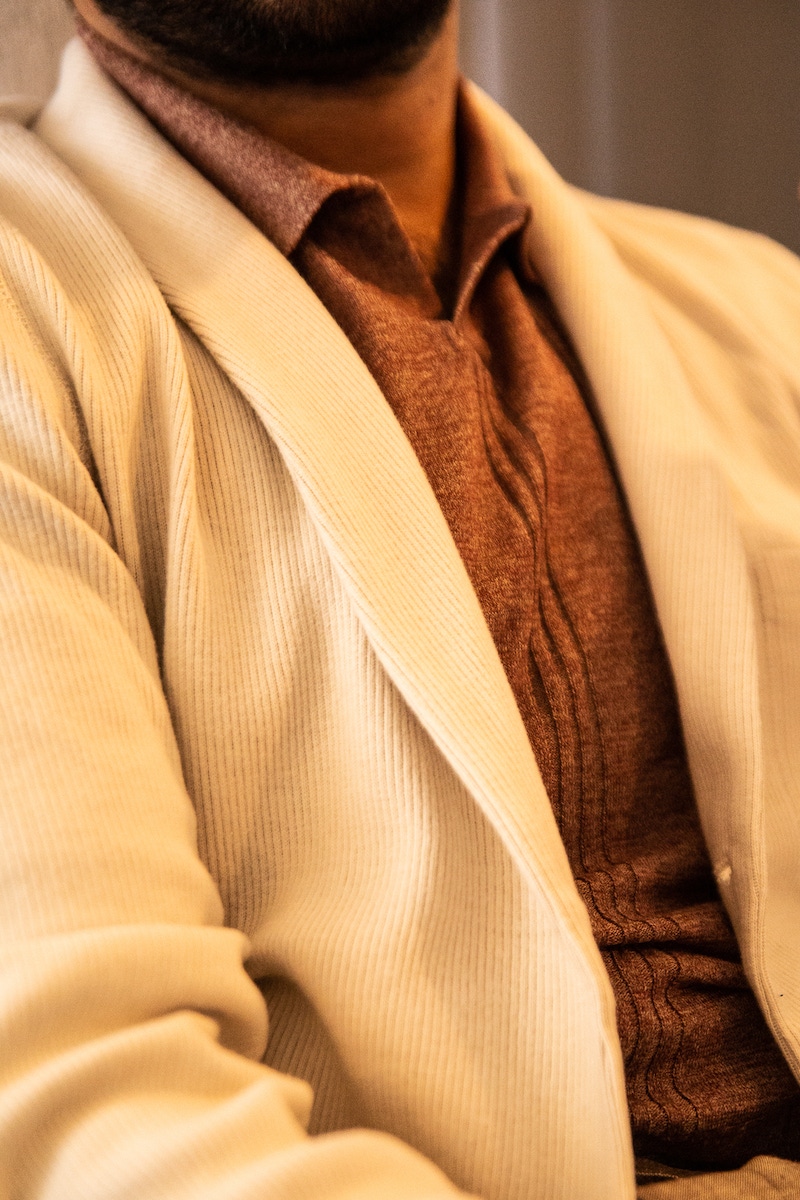 Camoshita United Arrows cardigan
: Merging a love of American prep with a Neapolitan silhouette and unmistakable Japanese craftsmanship, Camoshita is one of Japan's most dynamic tailoring firms. This shell cotton shawl-collar cardigan is a delightful example of their approach to tailoring. There's sometimes a danger with the shawl-collar, especially the thicker and wider variety, that it looks untidy and can be overbearing to the rest of the outfit. This is definitely not the case with this model. Its shawl-collar is on the narrow side and looks incredibly neat over a shirt or sweater – in this case really allowing the aforementioned sweater's soft cutaway collar to stand out. In the spring months it works perfectly as the top-layer and a great alternative to a Harrington jacket if venturing outdoors. It consists of three elegantly positioned front buttons with two front patch pockets for added style. It really is the perfect ensemble for lounging restfully at home.
Z Zegna trousers
: Part loungewear, part sportswear, these pure linen, fully-lined Z Zegna trousers are the pair to pick for your home inspired wardrobe. This style has a zip, button and hook drawstring elasticised waistband, two jetted back pockets and fitted ankles. They fall beautifully on the leg with its light material causing you to often forget you're sporting any trousers on at all.