Look of the Week: Tied In With The New York Times
Life's freedoms are beginning to reappear, with holidays, gatherings and even the return to the office for some lucky or unlucky folk, which is why we've harnessed a look on the smart side of casual to navigate you through these assignments in style.
Financial turmoil has engulfed New York and more broadly the United States on many occasions. There was the Great Depression of 1929, lasting nearly 4 years; the 1973 recession stemming from a quadrupling of oil prices; the Great Recession of 2008, where many banks including Lehman Brothers collapsed overnight and now the Covid-19 recession. New York is a formidable city and always manages to bounce back. Working attire in one respect has changed over the course of this period, but the basic shape of a suit is already determined by history. In the book The Englishman's Suit, by Hardy Amies he points out that "it is the proportions: of length, of width of shoulder, of placing of buttons that has reflected the variations of fashion changes throughout the decades". Already creeping in before the latest economic downturn is an entirely different notion, where work attire is no longer just being altered, but now with totally different dress codes in financial districts. Bolstered by Wall Street giant Goldman Sachs, instituting a wide flexible dress code, you not only see suiting misjudgements, but city slickers sporting a whole new dimension of workwear. This way of dressing shouldn't be knocked as there is some creative brilliance amongst some of the outfits, but it is the frequent smattering of the naked ankle that is now overshadowing a traditionally cut suit or outfit. The majority of offices in New York lie desolate and empty, but as it has done many times before the city will thrive again, which gives good reason to invest in beautifully tailored separates to avoid falling into the bare ankle brigade in the urban metropolis. Instead you will emerge into the working environment, not looking stuffy but sporting a stylish and well thought out combination that also comprises a level of versatility that will see you looking the part in most settings, from business meetings to suave evening soirées in the walled gardens in one of the grand red brick Federal style houses in the Hudson Square neighbourhood. Here's this week's outfit to help achieve this: De Petrillo jacket: The Neapolitan brand founded by Benedetto De Petrillo, consistently uproots from this philosophical abyss, subtle modifications of classic patterns that you just think weren't possible. It is this artful and discreet creative touch along with using the finest fabrics that make the brand defy convention with their designs. This olive and brown Prince of Wales jacket is a prime example of their use of vintage inspired fabrics, where the subtle introduction of the olive and green hues have created a Prince of Wales check oozing with class. Its amalgamation of colours, means that if paired with beautifully tailored trousers, you have a wide variety of shades to choose from and in this particular case a beige Manny trouser is the perfect contrast. Rubinacci trouser: If you haven't yet heard of the Manny trouser, well we can only assume this is your first time here, if so, welcome to you. We make no apologies for the repetition however as the versatility of the design makes this perhaps the most important piece of clothing in your wardrobe. The high waist on the Gurkha strap means that the equilibrium between length of jacket and height of trouser remains in sync, considering that many Neapolitan jackets are cut with a slightly shorter back.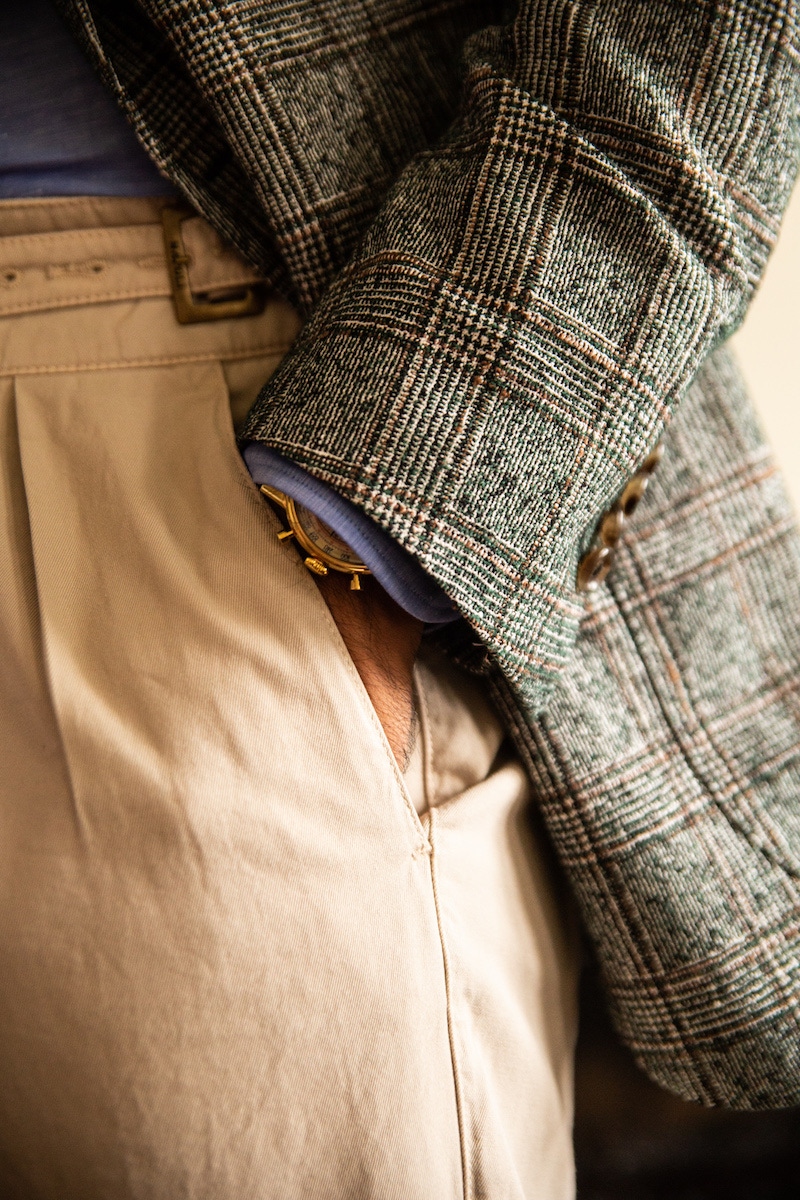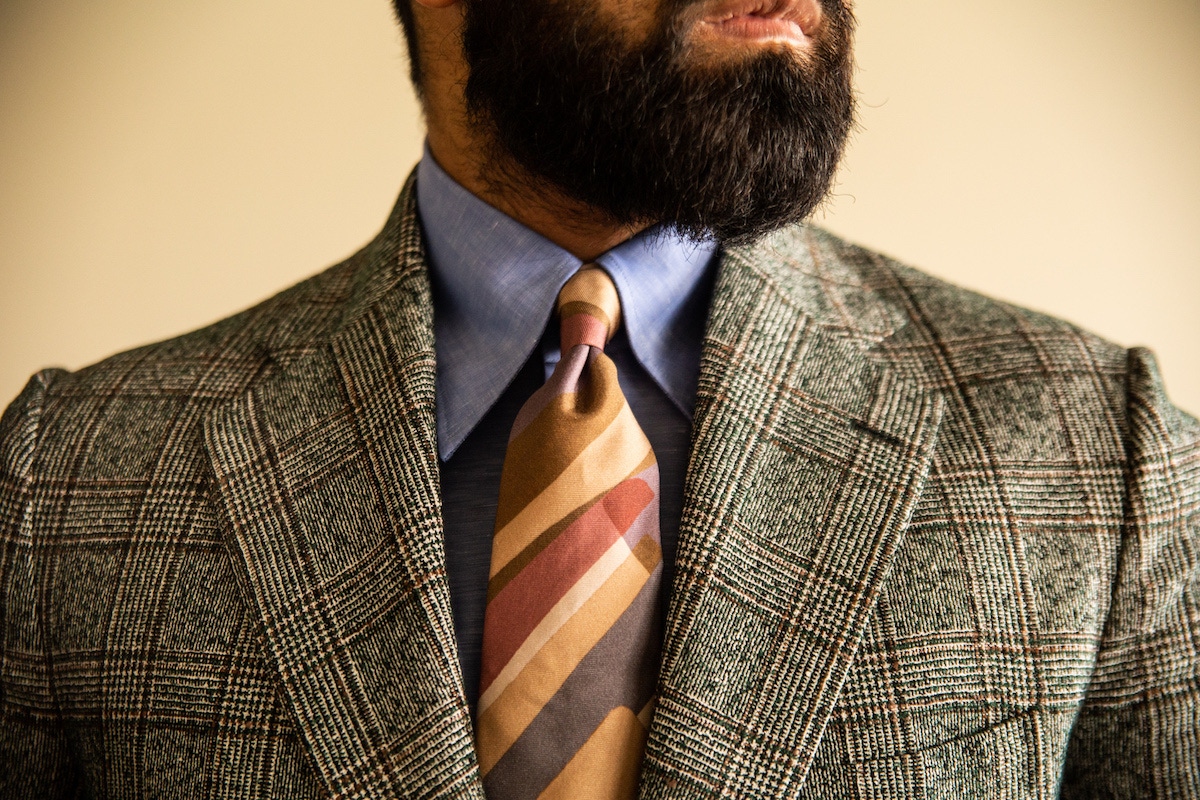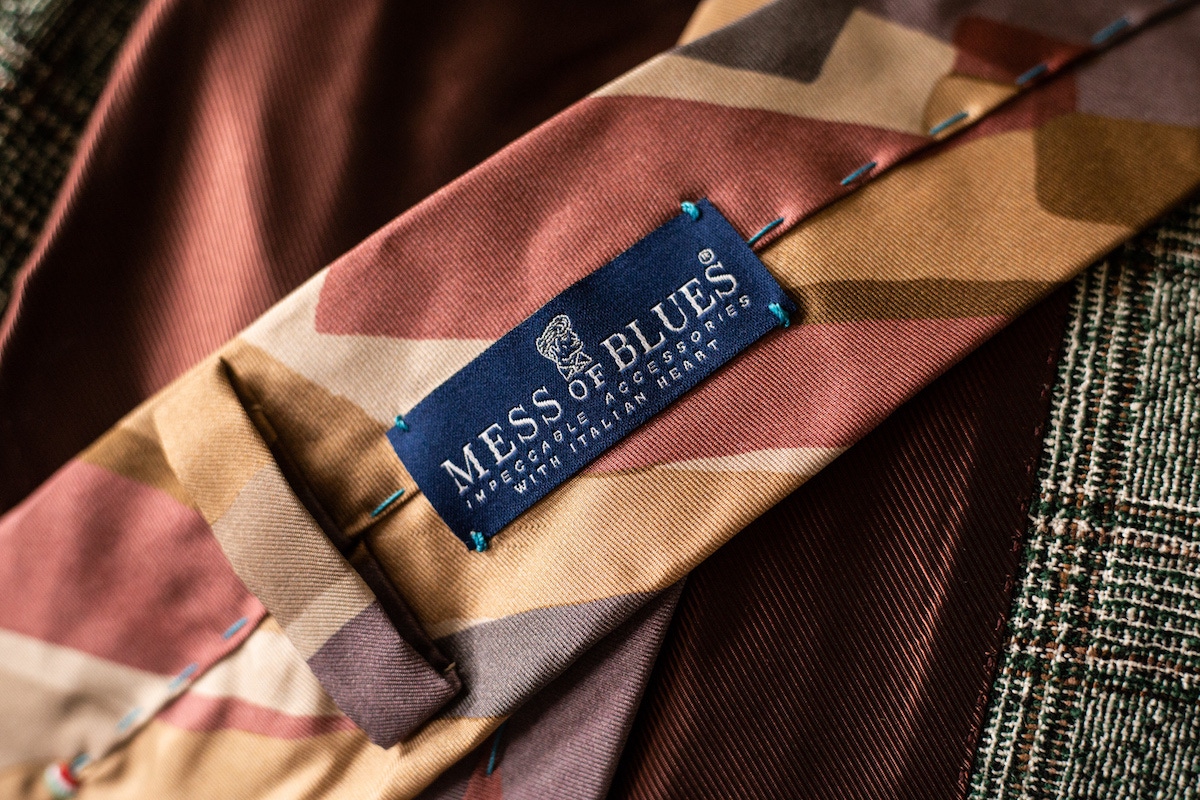 Edward Sexton shirt: This blue cotton-linen shirt is something of an enigma in menswear, but a very welcome one. Moving around during the height of summer when one has to wear a tie can leave you floundering in the heat. This shirt bears all the hallmarks of an accomplished summer shirt, when a tie is needed. In true Edward Sexton style there are classic quirks with a hidden button-down collar, whilst its shade of blue excavates this slightly mottled effect, which adds a little more panache to the shirt. With it being a cotton-linen mix, you shouldn't have any trouble striding through the urban landscape in the higher temperatures. Mess of Blues tie: Handmade in Northern Italy, this tie caps off the unstuffy, but beautifully tailored outfit. Wall Street workers in the 1950's were very fond of a jazzy tie with their suits and this particular vintage silk tie, designed in arty pink, blue and purple brushtrokes pairs perfectly with grey and beige, bringing out a real sense of fun to the outfit.