Loro Piana: The Smarter Cashmere Wish and The Smarter Accademia
Originally published in Issue 74 of The Rake, Tom Chamberlin marks out two fabrics from one of the biggest players in luxury, Loro Piana, that will provide you with sound and secure appreciation — aesthetically, spiritually and financially.
Loro Piana The Smarter Cashmere Wish
The trouser is manoeuvring its way artistically forwards in the style stakes. What was once an afterthought against the jacket (and even the shirt and knitwear) has rallied its supporters and, crucially, intrepid designers, who see all the potential that had hitherto been overlooked. Trousers are full of possibilities. I like trousers without a back pocket (whoever uses it?), double-forward pleats, and a slightly thicker waistband that is more in proportion to my height — hard to find in ready-to-wear. While design has an important role to play, the quiet protagonist is the fabric. Trouser materials need to contend with the following: constant flexing, stretching and contracting as we walk, friction and wear whenever we sit down, children at leg height who haven't got a clue what their parents are wearing, and, of course, proximity to the floor, so spray and dirt. Loro Piana have noted the importance of the trouser and have come up with a collection called The Smarter, a fabric range that has been specifically designed for trousers. Loro Piana are in a strong position in the market, in that they may have their thriving fashion brand on the world's most illustrious streets, but their reputation for being a peerless fabric producer is what makes them such a powerhouse. With that in mind, we know that if they are releasing something like The Smarter, the range has had all their technical skills and tasteful judgment administered to its production. The treatment applied to the fabric will not have disturbed the natural order of things: it will look and feel like the supple fabrics you'd expect, but there are invisible barriers that protect each fibre from the elements, reducing wear and the need to dry-clean or wash. Take this example from their Cashmere Wish bunch within the collection. Cashmere is the flagship material for Loro Piana, and their capacity to invigorate the fabric with inventive patterns and mixes is exceptional. This is a super 170 wool-and-cashmere mix, with a smidgen of jersey fabric. What this really means is that the fabric does not have warp or weft, and therefore adds a level of elasticity and softness that couldn't be more relevant today. It's worth highlighting that in no way does the addition of jersey make this a casual fabric: this is the choice of the man-on-the-move as well as the #WFH gent, and the logical evolution from smart flannel trousers.
Loro Piana The Smarter Accademia
The Invest column of the magazine is the section in which our interpretations of what people desire and where brands are producing laudable products come together. Most of the time it is based on our expertise, so it is nice to say that, in this instance, I am fortunate enough to be able to give you my experience of the item first-hand. As you will see on the opposite page, Loro Piana have developed a fabric range specifically for trousers. The example above is from their bunch called Accademia, a denim collection. A few years ago I had a pair of bespoke trousers in a denim mix by Loro Piana made at Thom Sweeney. They remain one of the most important items of clothing in my wardrobe. They have withstood commuting on the sooty London Underground; children and assorted, accompanying dirt; rain all over the world; long- and short-distance flying; cigar smoke and ash at Davidoff of London; spilled drinks at Mark's Club... you name it. The trousers remain intact and are not only comfy enough to wear in casual settings but to be worn as separates with a jacket and well-polished shoes (my go-to are brown Crompton loafers from Gaziano & Girling): the look remains appropriately smart. Denim trousers are the solution to the question you probably haven't asked. There is no problem with jeans, but for anyone who likes pleats or a wider leg, and who wants to spend time in more formal settings, they are a no-brainer.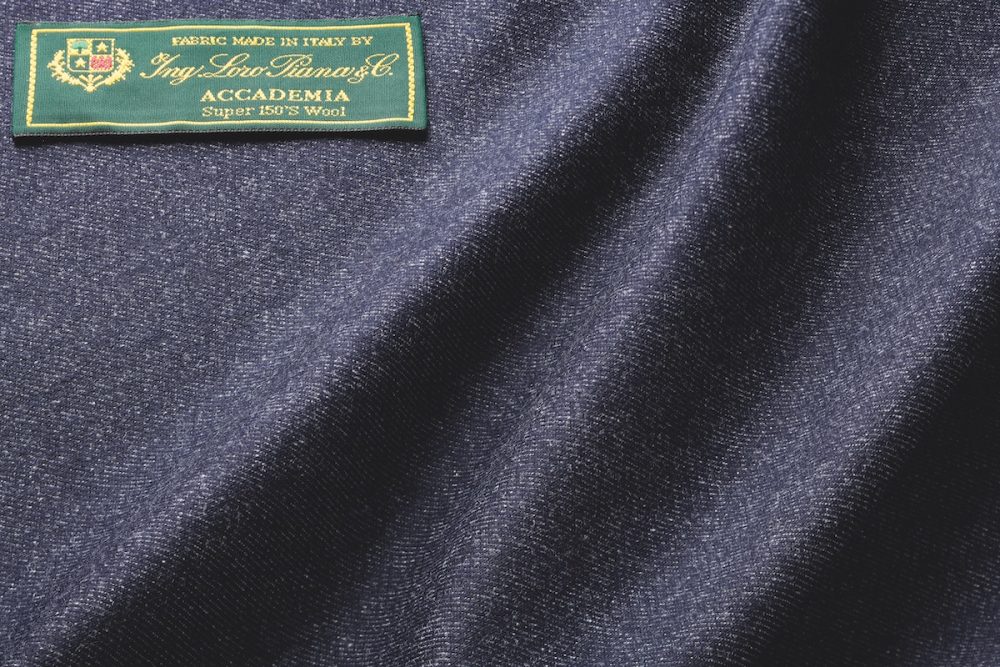 To clarify, when I say denim, it is not the denim you will be most familiar with: it is made from super 150 Merino wool. It softens the handle without compromising resistance or protection. The false economy of cheap clothing has been a thorn in the side of the luxury world for a long time, but when initiatives like this are realised by a brand like Loro Piana, it puts the solution — of wise, long-term investment — right under men's noses. Once you've given it a go, as I have done, you'll be happy to renounce your faith in the gospel according to St. Jean, and turn to something more profound. This article originally featured in the Invest section of Issue 74.