Lynda Carter: The original superheroine
Lynda Carter's classic seventies take on Wonder Woman is the only version worthy of the name. Though not for the reasons we might assume.
In a celluloid market saturated with superheroes, let it be proclaimed that Gal Gadot's latest effort in the bracelets, as
Wonder Woman 1984
, is a breath of fresh air from the shores of Themyscira. An all-action, ass-kicking force of nature fighting for good, and looking — well, how many superlatives have you got time for? — good doing it. But we respectfully submit that she is eclipsed by the original inhabitant in the on-screen role, Lynda Carter — she of the sapphire eyes and the Sapphic vibe. After dropping out of college to pursue a career in music, Carter took out the crown of Miss World USA. That counted for merely a second glance in Hollywood, though, and on the eve of a penniless return to Arizona, Carter was informed that she had won the role of the hot-pantsed, lasso-wielding, bullet-shattering T.V. adaptation of the DC Comics smash. The show ran a scant three seasons, from 1975 to 1979, but in that time (and years of subsequent reruns) it developed a cult following that still resonates. The same can't be said for Brigitte Nielsen's
She-Hulk
, Angela Bowie's
Black Widow
, or even the 2011 reboot of
Wonder Woman
starring the fulsome but forgotten Adrianne Palicki (a name that rolls off the tongue like months-old peanut butter.) Carter's incarnation has endured for myriad reasons, one of which is a campy cool/kitsch that may have been unintended at the time but sure looks like it was meant to be there all along in retrospect.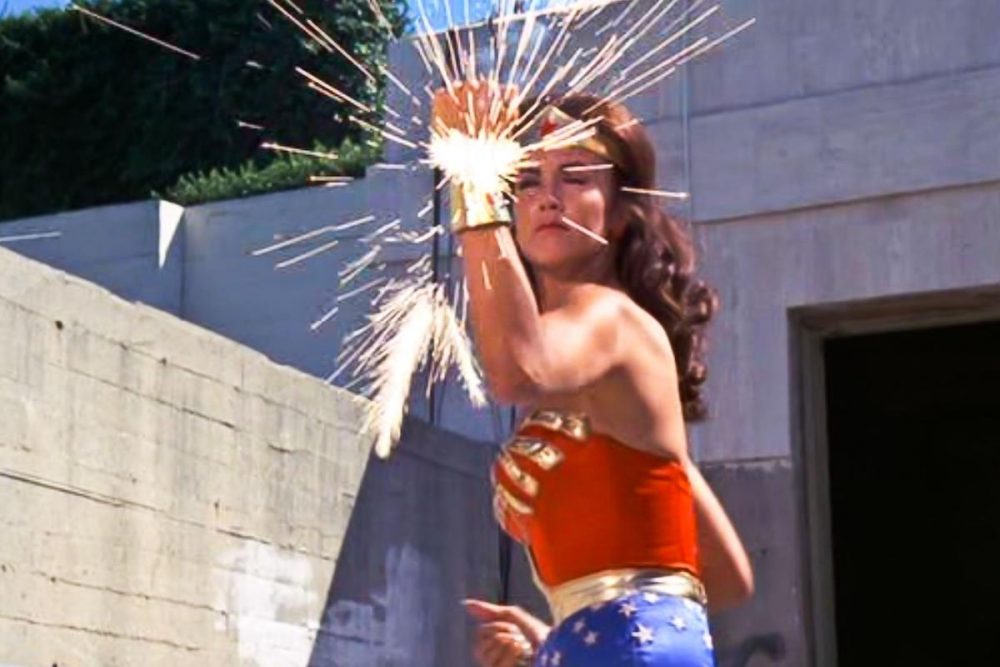 Then there were the cultural circumstances in which it was taking place. Just three years before the first slate clicked on Wonder Woman production, unmarried American women had secured legal access to birth control. A year after that, abortion was legalised across the country. Grassroots feminism had swept the nation and a battle was waging over the Equal Rights Amendment. Carter had felt the winds of change goose-fleshing her somewhat overexposed limbs in costume and decided to play her superheroine as an object of aspiration (as opposed to ass-piration) and allyship. A beacon to young women, not an object to young men. "I never meant to be a sexual object for anyone but my husband," she once said. "I never thought a picture of my body would be tacked up in men's bathrooms. I hate men looking at me and thinking what they think. And I know what they think. They write and tell me." Her stance was solidified when one of the producers warned her that "women are going to be so jealous of you". She bridled, saying: "Not a chance. They won't be, because I am not playing her that way. I want women to want to be me, or be my best friend!" It was an approach that paid dividends in both the short term, via ratings, and the long term, through cultural legacy. She would later say: "There is something about the character where in your creative mind for that time in your life where you pretended to be her, or whatever the situation was, that it felt like you could fly." Speaking of which, were you to disappear down a YouTube rabbit-hole in search of the Anschluss '77 episode, you will see it is Carter herself hanging from a helicopter — as if Wonder Woman wouldn't do her own stunts. In other words, long before the other Ms. Carter was dripping with fierceness as part of Destiny's Child and beyond, this one was the O-fucking-G. Read the full story in Issue 72 of
The Rake
- on newsstands now. Available to buy immediately now on TheRake.com as
single issue
,
12 month subscription
or
24 month subscription.
Subscribers, please allow up to 3 weeks to receive your magazine.