Mandarin Oriental Bodrum: A Turkish Delight
Tucked away on the sparkling Turkish Riviera, the utterly luxurious Mandarin Oriental Bodrum is a delightful coastal cocoon that you'll never want to leave...
Once a sleepy fishing village, the seaside town of Bodrum on Turkey's
glittering
Aegean coastline has, in recent years, become something of a playground for the glamorous jet set seeking respite from city life. The unique medley of pristine beaches, beautiful whitewashed houses, ritzy restaurants and clubs and ancient ruins lends it an alluring elegance and low-key glamour that sees millions of tourists flock to its shores each year. 
With its status as a burgeoning tourist hotspot has come a slew of luxury hotels and resorts, all jostling for the patronage of Bodrum's beautifully bronzed, well-heeled holidaymakers. Establishing itself as one of the area's most luxurious boltholes is the Mandarin Oriental, a five-star retreat located away from the hustle and bustle of the town on an exclusive sliver of coastline called Paradise Bay. Opened in 2014, the 60-hectare cliffside property promises a blend of style, serenity and comfort. 
And it delivers. Its magnificence is made clear from the second I enter the lobby. A sweeping panoramic outlook from the sleek teak-panelled arrival deck across the sea and towards the property's pristine private beach begs no question as to why this corner of the world has garnered the nickname 'the Turquoise Coast'. Having departed hours prior from a London shrouded in grey, the dazzling blue vista is a welcome sight, and thankfully, it's in no short supply. As I'm shuttled to my room in one of the property's many golf buggies, I zoom around corners past slivers of glittering sea interspersed with bursts of pink oleander. It gets better: the view from the giant glass doors of my bedroom is nothing short of breathtaking. There's a private sun-drenched terrace from which to take it all in, but I opt to enjoy it from a freestanding porcelain tub conveniently perched by a floor-to-ceiling window looking out onto the blue, where a spattering of sleek superyachts gracefully bob up and down.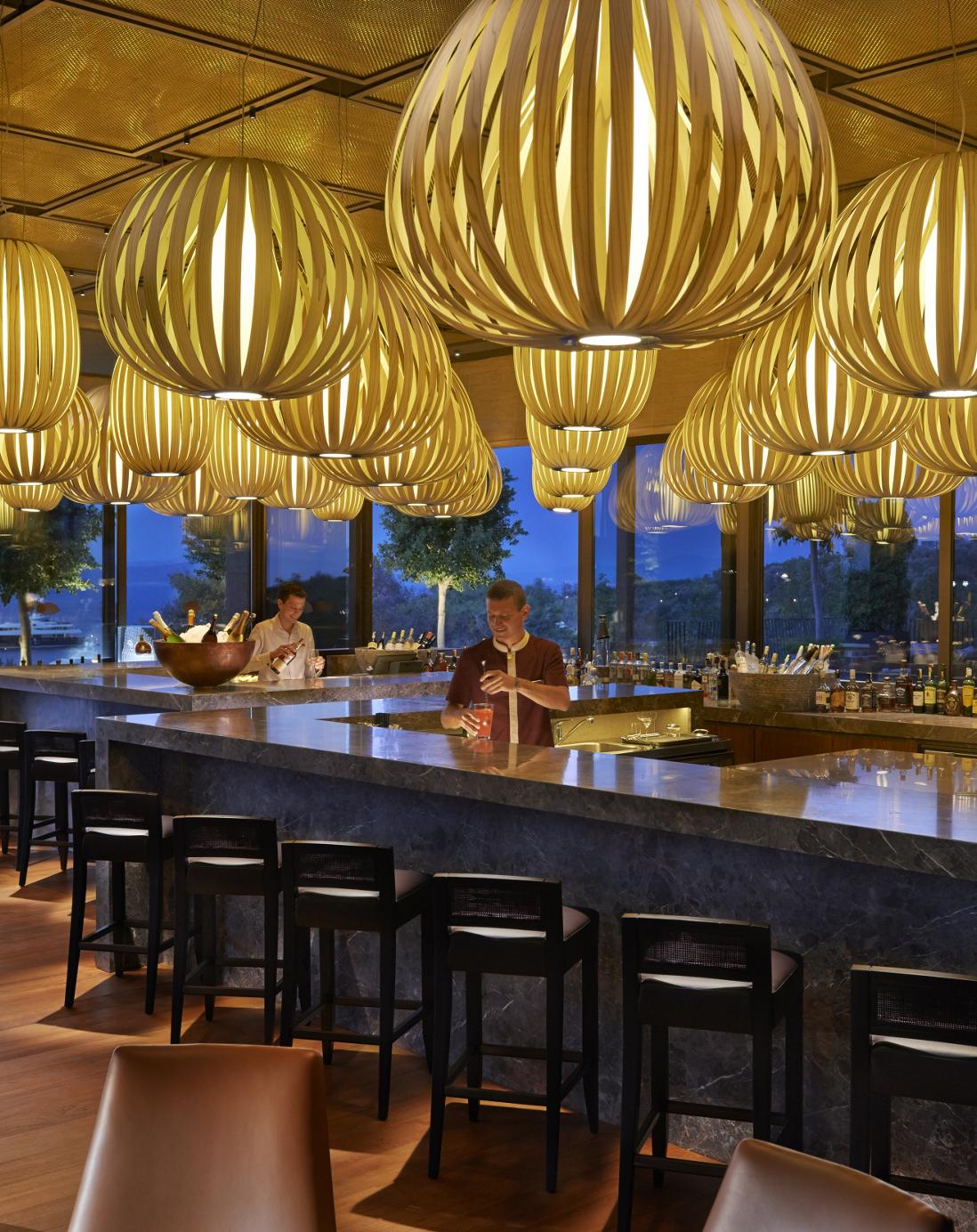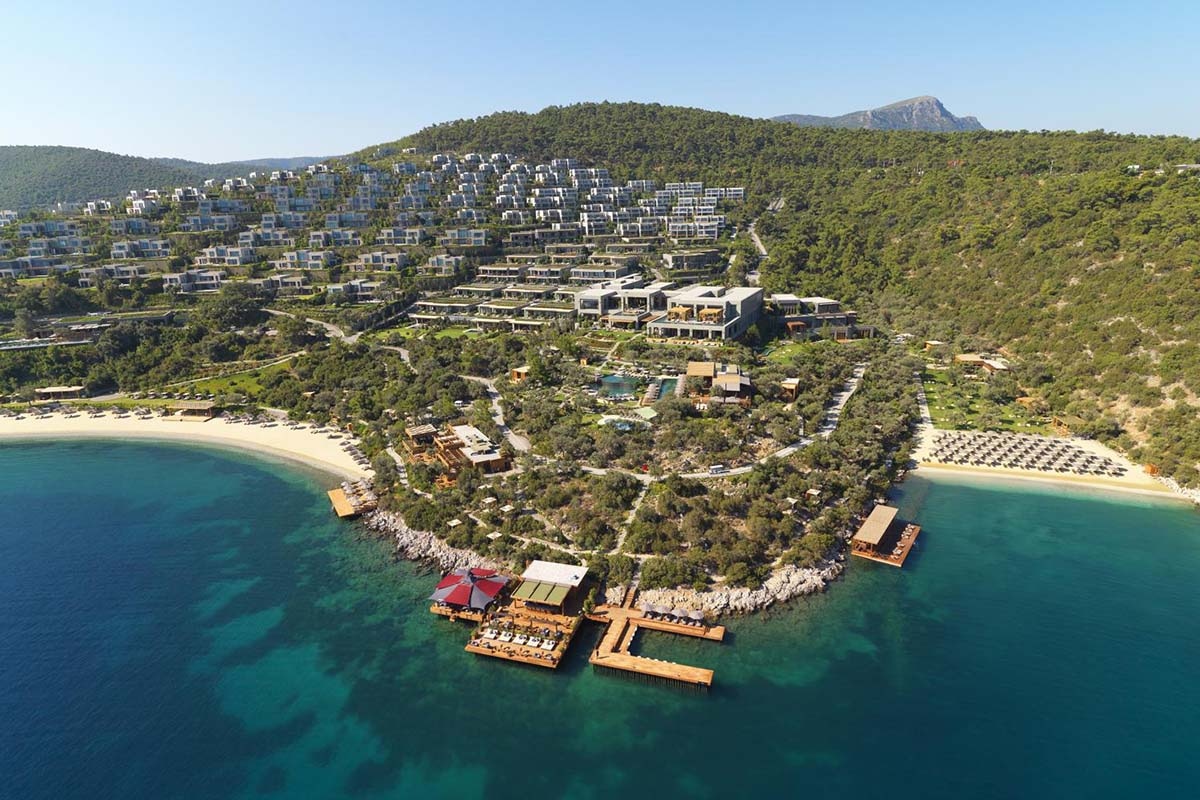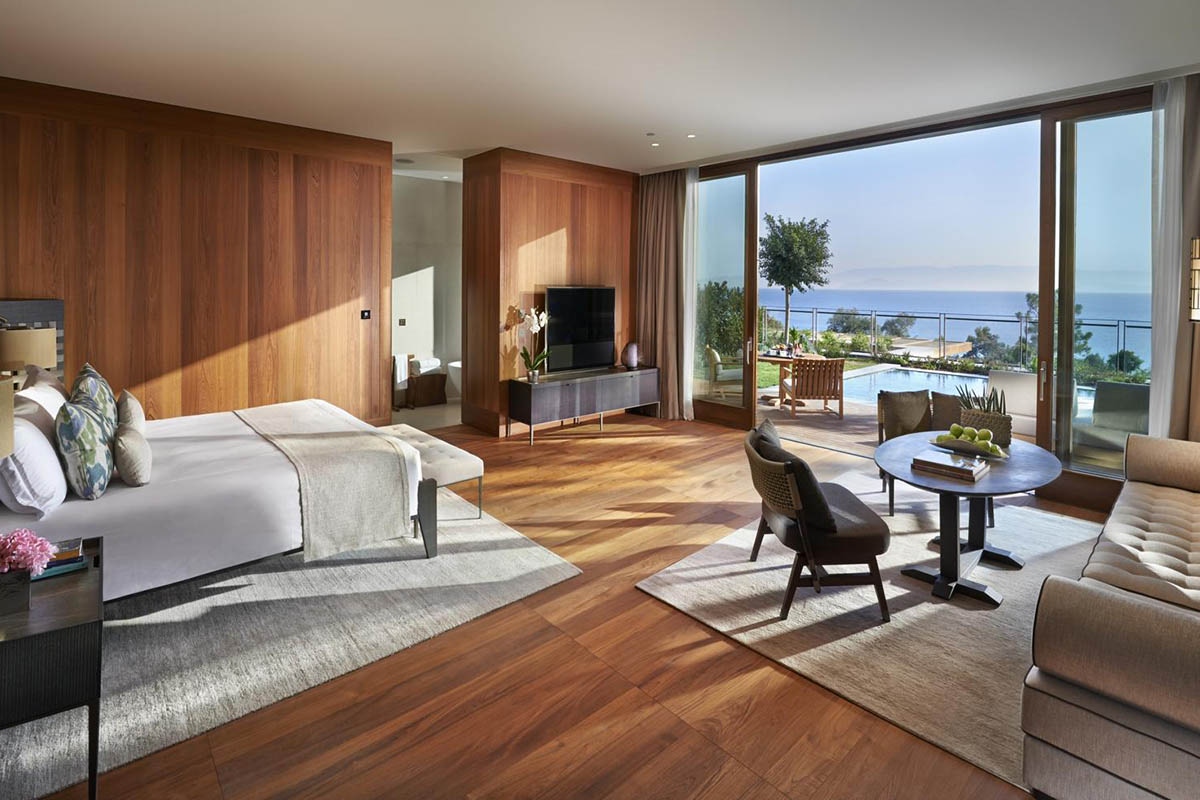 The 
clever integration of indoor and outdoor space
extends throughout the whole property,
inspiring
a sense of oneness with nature. The classic yet contemporary interiors are the work of acclaimed Milanese designer Antonio Citterio, whose use of light woods, marble tiling, high ceilings and open plan spaces generates a refreshing airiness and palatial spaciousness. Locally crafted fabrics, furniture and art are tastefully displayed alongside modern décor and state-of-the-art appliances. No stuffiness here: a veritable feeling of ease and comfort abounds, giving the sense that these are spaces designed to be lived in and moved through. 
Undoubtedly one of the biggest drawcards to Mandarin Oriental's Bodrum property is its extensive range of dining experiences. Epicures will be in heaven, with eight restaurants, bars and cafes to choose from, all uniquely styled and offering up innovative dishes and drinks. Over three nights, I sample each of the main restaurants - the alfresco Assagio, where the stunning view across the water rivals the fresh and flavoursome Italian food; Bodrum Balikçisi, a relaxed venue specialising in traditional Turkish
food
; and Koruchan by IOKI, which serves up creative Japanese dishes with a Peruvian twist. After feasting well into the night, one may
feel inclined
to forgo breakfast, but the extensive buffet at the Mediterranean-styled Sofra is too enticing to refuse. Set yourself up for the day with freshly-baked breads and Turkish pastries, organic juices, a huge array of cooked dishes and plenty of fresh fruits and cereals.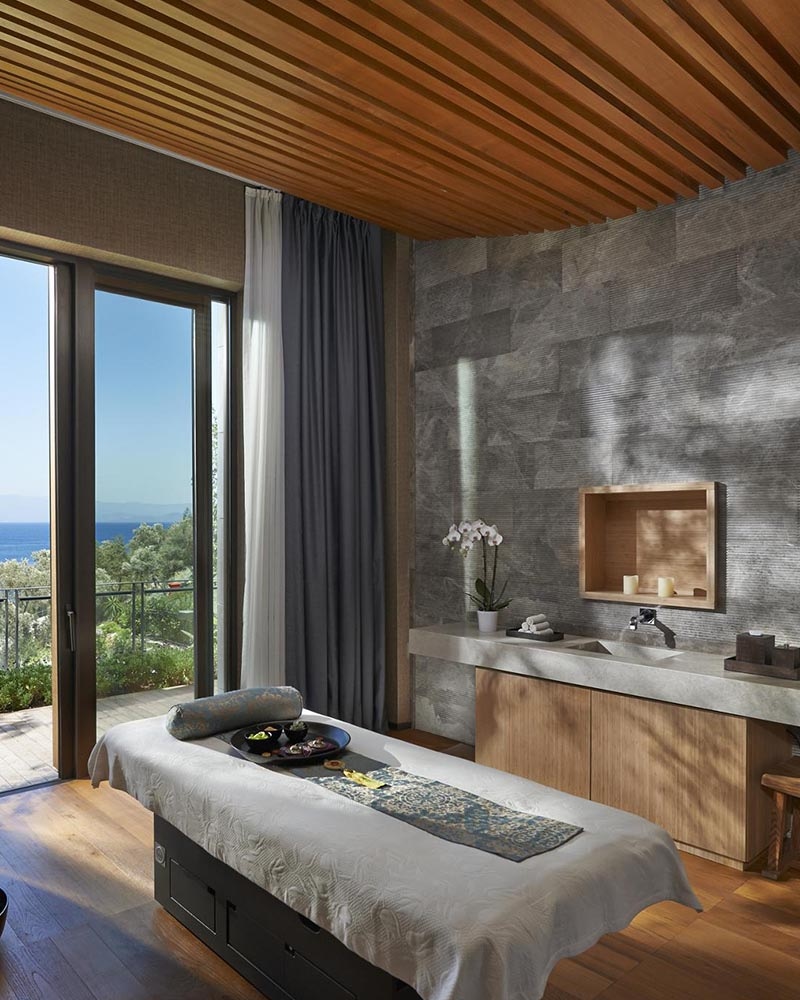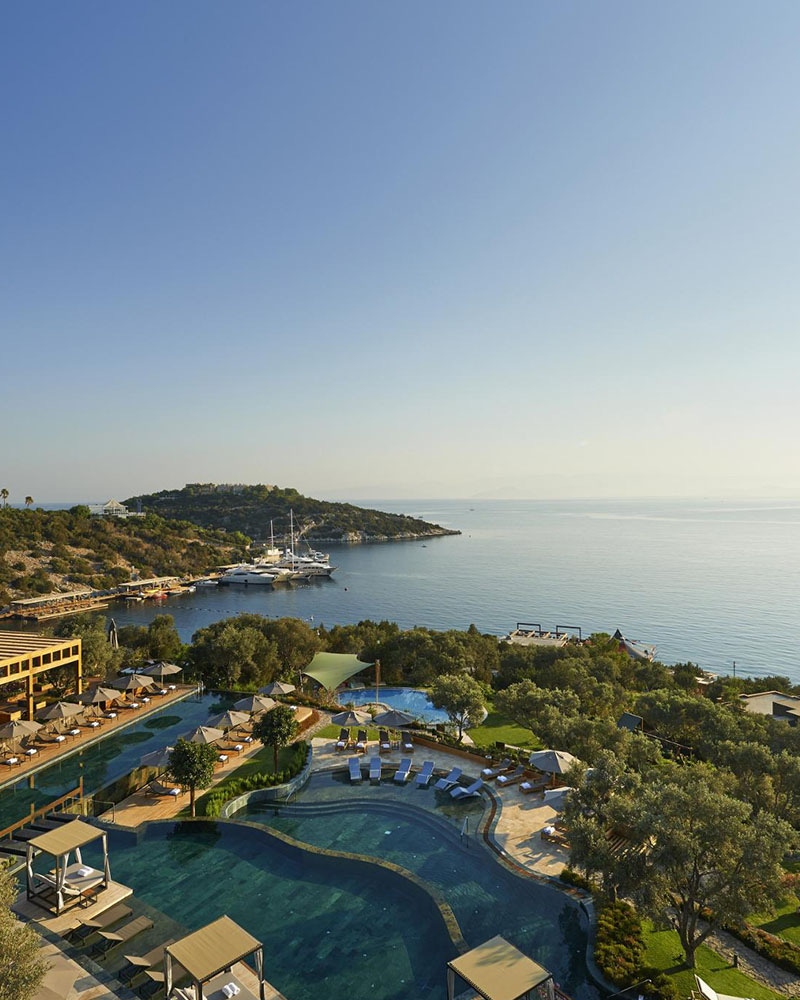 There is an overwhelming sense of calm
permeating
the entire hotel, but nowhere is this more pronounced than at the world-class spa - one of the best in the region - which is spread over three floors with views across the Aegean Sea. It features six treatment rooms and three beautician rooms, a VIP spa suite, outdoor spa cabanas, luxurious hammams, a comprehensive fitness centre and indoor and outdoor swimming pools. Unbridled bliss is the name of the game: whether you duck in for a quick treatment or opt to while away a whole afternoon here, it's impossible not to leave feeling utterly rejuvenated. 
Despite the immense size of the hotel and its vast array of facilities, it doesn't feel overwhelming or intimidating. A large part of this can be attributed to the bespoke service of its staff, who are friendly and attentive without being bothersome.
They go well out of their way to ensure that each guest feels well looked after and communicate clearly that no demand is too extreme
: I am even assigned a private butler - Maurice - who I am encouraged to WhatsApp with any request I may have. Everything runs so smoothly that I don't feel the need to, but this type of treatment, I decide, is true luxury.