McLauren: Italian knitwear clan
Full of intricate details stemmed from ancient knitting traditions, McLauren's latest collection of polo shirts harbinger a retro touch to your summer wardrobe.
Gustav Klimt's 'Portrait of a Lady' left the patrons and staff at Ricco Oddi modern art gallery in the northern city of Piacenza stunned in 1997. It was a particularly important work of the Austrian symbolist painter, as it was discovered that Klimt had painted the portrait over another one that was previously considered lost. 22 years past when it was miraculously found at the same gallery, but in a hidden cavity in the wall by a gardener. Vanished without a trace, it returned to public view. It's a remarkably reciprocal story with McLauren. Founded in 1962, it had long been a famous brand originating in knitwear mecca Shetland. Just like Gustav Klimt's 'Portrait of a Lady' in the same decade the 1990s, all traces of their fine handmade creations were lost. Kindred to the portrait's unexpected return some years later, McLauren appeared after being relaunched by an Italian entrepreneur whose fundamental objective was to be mindful of the brand's heritage and tradition. About a 30-minute drive from Brescia, in the tranquil village of Visano, lies the McLauren factory. Today, McLauren's collections are 100% Made in Italy - where expert hands interpret points, inlays, jacquards and models. Their models are taken from retro garments, which come from their very rich historical archive of designs, stitches, colours and fabrics created in 60 years of work in the specific knitwear sector. At McLauren, skilled custodians of ancient knitting traditions, now in danger of extinction, update the knitwear and redefine the current style, in a contemporary key, creating a perfect combination of retro style with modern taste and appeal.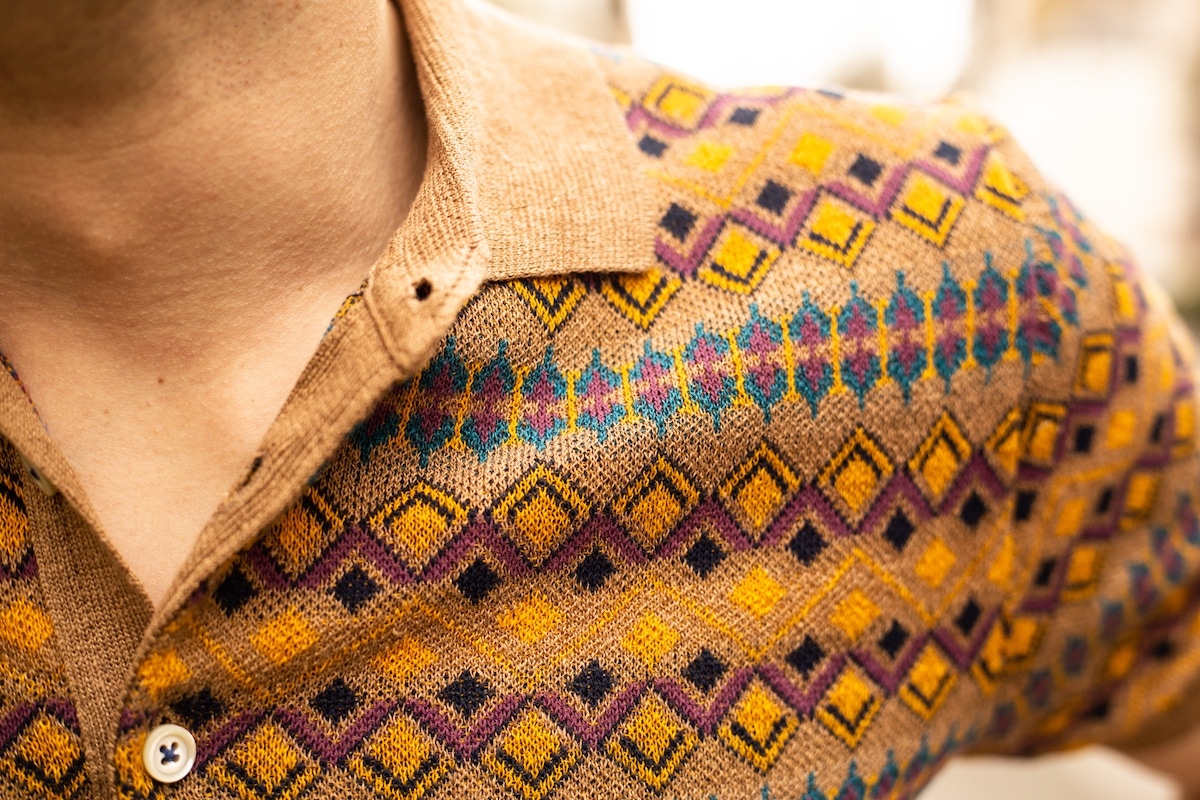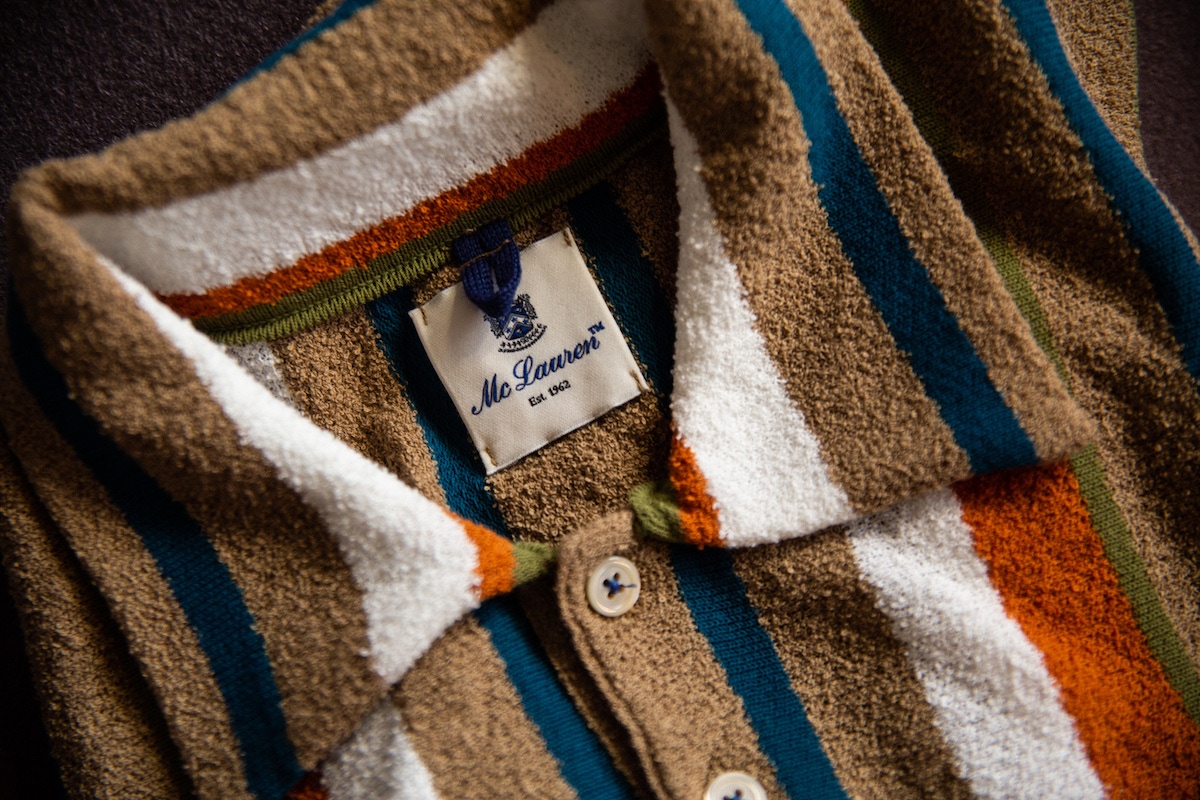 The Rake has the pleasure of offering McLauren's exquisite craftsmanship. Polo-shirts are often considered a classic basic, but McLauren's collection are imbued with these distinct and subtle intricacies in design that convey such a lustful and enchanting appearance. An example of these charming characteristics can be detected in their ribbed cotton Angus polo, which comes in navy and cocoa. Adept artisans have sophisticatedly ribbed the shirt in a way that appears scrunched and braided, creating a rare form of texture that dramatically lifts its presence when paired with the correct cut of trouser. Extra details include a soft polo-style collar, three cross-stitched buttons and ribbed trims. After the Duke of Windsor's abdication, he was exiled to France and would be part of both the authentic royalty and Hollywood kind that colonised the French Riviera in 1940s and 50s. His sartorial instincts were leaning to the practice of sprezzatura. A precedent of this creative streak would come into view when he was frequently spotted roaming the luscious strip of coastline of the Riviera in an orange polo-shirt. It bears a striking resemblance to the duly named bunt orange cotton-mix Balmoral polo which is also offered in a moss-green hue. Except he often chose to wear an ascot under the polo shirt for a unique and dapper casual look. This particular polo enables one to follow suit, with its classic polo collar, leaving room for the added touch of style. Its cotton-polyacrylic blend has a slight towelling feel and its cut fits tighter to the body, which accentuates the features of the upper part of the body and should be tucked into some fuller-cut trousers. David, as the royal family used to call him, usually paired his polo with some high-waisted, wide-leg double-pleated trousers with turn ups, usually in cream or beige. A classic example is the beige wool gabardine trouser, by famed Neapolitan tailoring house De Petrillo.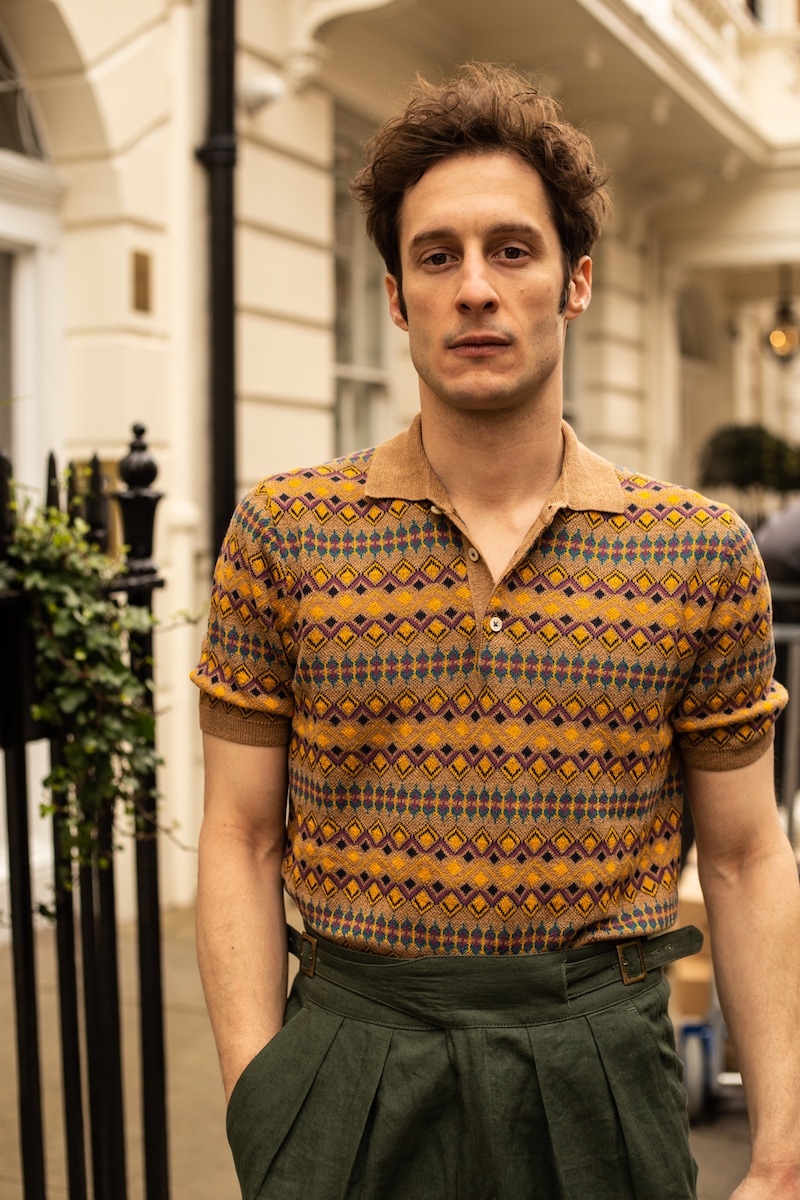 In keeping with Mclauren's retro heritage, special mention must also go to their biscuit beige, orange and teal-striped cotton polo. Enhancing the towel texture from the aforementioned polo makes it perhaps more ideal for the great British seaside. It has a shirt-style cutaway collar which is more pointed than the traditional polo, but still soft. All three placket buttons are cross-stitched in blue and the side hems are split for optimal comfort and flexibility and yet lined in grosgrain for durability. We're incredibly fortunate that McLauren has relaunched with the same traditions and heritage. The calibre of their polo shirts, using ancient knitting traditions in Italy is quite something to behold. Each model is unique, versatile and perpetually stylish. You can wear them underneath a suit jacket in an office environment, on the golf course where you would be the most stylish, and of course - in the Duke of Windsor's instance - on the French Riviera.