Midleton Very Rare is Raising Spirits
The first release of the world's rarest and most expensive Irish whiskey collection has finally been released after lying dormant for 45 years.
Deep in the Irish countryside, in the hallowed cellars of the fabled Old Midleton Distillery, a very special spirit has been resting. After almost half a century, it has finally been unveiled to the world. Known due to its rarity as a 'unicorn' whiskey, the first limited edition single malt in the Midleton Very Rare Silent Distillery Collection contains some of the last remaining liquid amber from the silent distillery, which closed its doors in 1975, after 150 years of operation. The distillery was decommissioned and will never produce again, rendering its final drops highly sought after and, at £35,000 per bottle, the most expensive in the world.
The precious spirit is the result of a series of innovative trials and experimentations that took place from 1964 to 1974, led by Irish Distiller's master distiller emeritus Max Crockett, who is renowned as the forefather of modern day Irish whiskey. Keeping the tradition alive, he passed the skills of the trade onto his son, master distiller emeritus Barry Crockett, who recalls sourcing the peat for this 45 year old expression:
"It's remarkable that 45 years on we could even be speaking about a whiskey which was distilled in the very final period of the Old Midleton Distillery," says Barry. "It is the ultimate heirloom and memento of the dedication to precise malt preparation, brewing and distillation skills of generations of distillers at Midleton. Furthermore, it's among the very last remaining whiskey distilled through the largest pot still in the world, a skill which in its own right required great refinement of the distiller's art."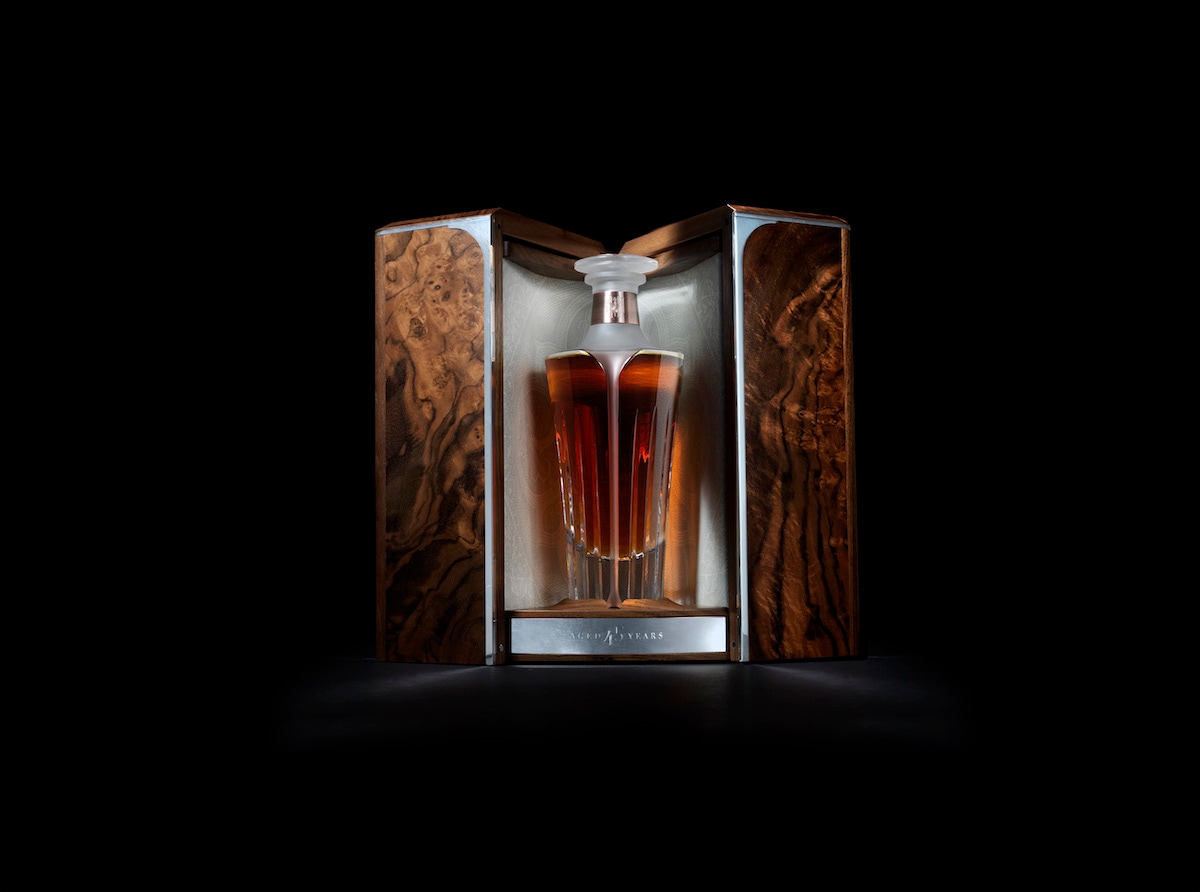 Now, it is up to another legend of Irish whiskey, the current master distiller Brian Nation, to monitor, sample and determine the ideal bottling time for this whiskey laid down by his predecessors. The resulting dram is inimitably smooth, with earthy notes of freshly cut peat and chamois leather on the nose, followed by a rich taste of peppery spices that slowly softens to reveal flavours of malted barley, liquorice root and honey, all resting on a foundation of toasted oak. It's enough to make one weak at the knees. 
Keeping in line with its rich Irish heritage, the label has decanted the precious liquid into hand blown and etched Waterford Crystal decanters, each encased in a wooden cabinet handcrafted by renowned Irish designer John Galvin with ancient wood from reclaimed whiskey vats. There's no doubt that this rare expression represents a truly unique slice of Irish history and craftsmanship:
sláinte
to that.