Milan Fashion Week SS17: Day 1
Sarah Ann Murray reports on the evolution of menswear this spring and the ever increasing rise of casualwear as seen at Milan Fashion Week.
The first day of Milan and you'd be forgiven for thinking it was going to be a lighter schedule than normal, given that some brands chose not to show or rather to pair with their women's shows (the wider reaching results of which we'll discuss another time). But despite the many changes and musical chairs being played out among the creative heads at European menswear luxury brands, Milan was as busy and forthright in its display of the current direction of menswear as ever before. As our Online Editor noted in his
reflections on the curious style of Pitti Uomo
, it's quite clear that luxury men's style has evolved. This applies to both the sartorial domain but particularly to casualwear, in that we've seen a relaxation in the former and an elevation in the latter to create a current contemporary silhouette of louche unstructured suiting with simple styling elements and significant sporting details.
Ralph Lauren Purple Label
When traditional sartorial authority, Ralph Lauren, presents a collection that embraces perfect imperfections and a softer, more relaxed silhouette, then this paradigm shift in menswear is more than official. This look shows their current direction using garment-dyed and delicately textured silk and linens in tonal combinations for a contemporary take on a traditional double-breasted look, especially when worn with a simple T-shirt and summer shoe of choice, the espadrille.
Canali
This season's signature deconstructed suit is the Kei suit, here shown in malfilé fabric, in that the warp and weft are both visible producing a textured, three-dimensional effect. Note also the soft deconstruction and patch pockets for a contemporary look.
Brooks Brothers
The summer crew knitted sweater is without doubt a thing. Worn alone for a clean, simple look, invest in a lightweight version for summer evenings.
Bottega Veneta
This year marks the 50th anniversary of the brand and also the 15th of Creative Director, Tomas Maier's tenure and this season his decadent take on luxury is more apparent than ever through his use of silk in suits and lightweight coats on a simple layer of a cashmere jumper or superfine T-shirt. There was a slight retro appeal about some of the shorter cardigan-style knitted jumpers but it is the tonal silk suits that most effortlessly showed the elegance of the house's unstructured silhouette.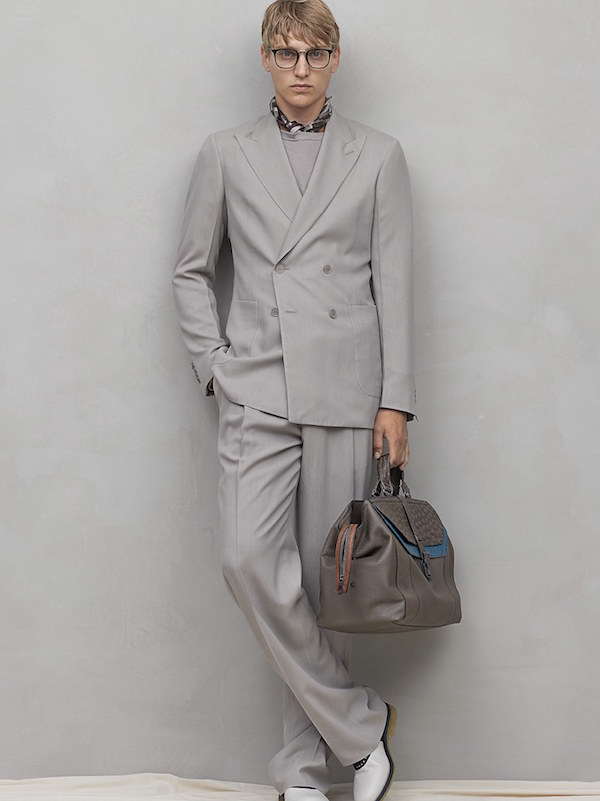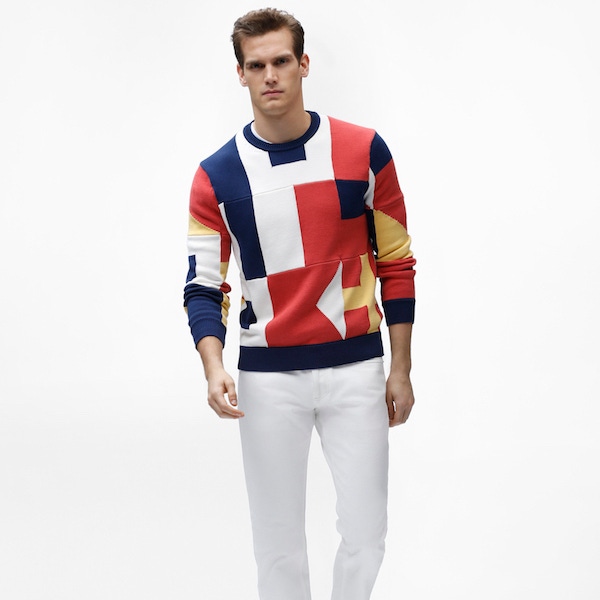 Salvatore Ferragamo
As with much in menswear, Ferragamo brought hybrid designs together with a man on the move in mind. Functionality is key for the Ferragamo luxury nomad, achieved with a characteristically unstructured softness and safari-style belted shirts and coats. But in amongst the layers of each look lay Italian craftsmanship at it's finest; with hand-sewn pops of colourful, knitted detailing bringing a youthful, boy-scout charm.
Dolce & Gabbana
In amongst the musical spectacle and show in every sense of the word, there were some key jacket and trouser silhouettes that have already sparked a sartorial trend. The cropped boxy heavy-weight stiff cotton jackets paired with super loose, soft, pleated trousers, tapered ankles and skinny belts, made for a welcome simplicity especially in signature traditional Italian Dolce suiting monochrome palette. The setting was a rock and roll scene with styling details referencing the different eras of music throughout the decades, through penny loafers, to spats or skinny ties and fedora hats.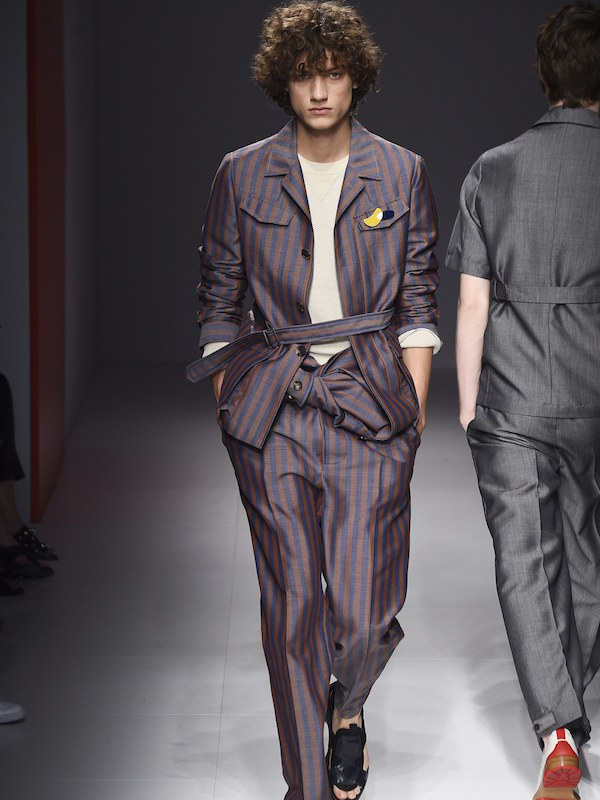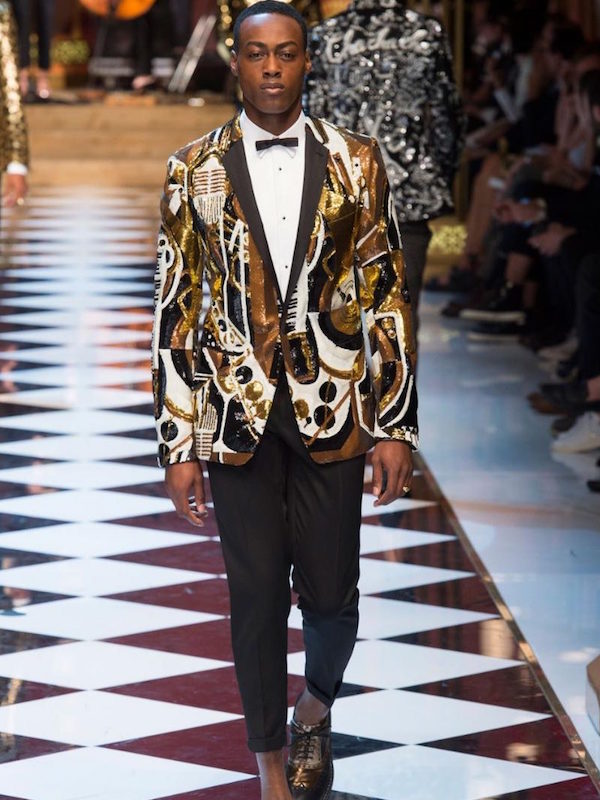 Versace
As technical fabrics are becoming fundamental ingredient in menswear, pulling on that notion of functionality, Donatella's incredibly impactful show demonstrated a current, masculine, mature collection. Gone were the thongs and excessive torso-revealing vests, but this season saw flowing lightweight long parkas, fluid jersey suits and paired-down sportswear for the ultimate in Italian-flair.
Pal Zileri
Silk was the fabric of choice on a somewhat autumnal palette with a bohemian feel through the lightweight constructions, earthy tones and touches of leather and suede to complete the natural elements of this collection. Lapels remained at a contemporary width but the overall collection was very much in line with the vision of an international, travelling man who invests in quality of fabric, comfort and utility in their sartorial wardrobes.
Brunello Cucinelli
Style visionary Brunello Cucinelli brought together his aesthetic wrapped up in an abundance of luxurious fabrics and a natural summer's day colour palette, styled to perfection in layers of masculine informality. Trouser length was a touch longer so as to evolve their in-house style but keeping the tapered loose pleated silhouette that very much represents where men's trousers are in both casual and formalwear right now. Fabrics were innovative - a suede fine-corduroy jacket is a seasonal highlight. The soft wool and linen suits were worn separately showing men precisely how to look sophisticated even when dressed in sportswear. More traditional fabrics such as a wool-linen pinstripe were used to form the structure of a sophisticated, contemporary bomber jacket, again playing with the notion of formal informality that Mr. Cucinelli does so well.