MILAN FASHION WEEK SS17: DAY II
Softened silhouettes for the man on the move dominated Day II of Milan Fashion Week, The Rake's International Fashion Editor reports.
Milan day two and three brought yet more collections that continued this season's vision of a man very much on the move, whose wardrobe reflects this need for comfort, be it through functionality of fabric or through practical construction of garments. Technical-wear has become a requisite part of any man's wardrobe. The silhouette of formal suiting has softened and jackets have finally caught up with the loose shapes seen over the last few seasons. Gone is the mankle and skinny-fit short jackets. Volume is to be embraced.
Caruso
It's not just a question of evolved tailoring combined with Italian flair by the acclaimed menswear brand (and one of the most stylish personable teams you might have the pleasure of meeting), but innovation and personalisation is key for the fashion industrialists of Caruso this season. Hand painted silk suits with the nature scene of your choice is an option, along with gold hand-stitched thread, Milanese buttonholes and finally, pinstriped suiting finished with your choice of coloured thread – if gold isn't your thing. As if Caruso's style wasn't already as close to perfect as can be - with its designs by creative director Sergio Colantuoni - who famously loves the notion of subversive suiting even in a brand which effortlessly creates a truly sartorial experience.
Prada
Prada is more than just a luxury brand, it's a power in the industry, a wind that blows and has a rippling effect on so many other brands. Designer, Miuccia Prada, has such exquisite attention to detail which allows her to purvey a vision in every accessory, every layer, garment and fabric. This season, the Prada man, is travelling through the urban environment replete with all the accessories that would see him travelling the world on a single-speed bike in traditional gun-check mohair trousers before removing a crisp waterproof layer only to reveal a conservative, city-approved classic grey suit. But her take on the luxury nomad, this Flashpacker collection (as I so dubbed it) isn't quite as literal as you'd at first think, but it is authoritative.
Boglioli
This season the traditional tailoring brand hailing from Lombardy in the early 1900s presented a show in a typically romantic ornate Milanese palazzo. As always, it was great to see their fluid suits on display, but surprisingly, the fit was slimmer than expected and differed from a volume we've season previously. This season, checked suits were a highlight and knowing Boglioli - the fabrics quite sumptuous - leaving me longing somewhat for a presentation so as to have a closer look. Unstructured structure was their silhouette, to create what they refer to as 'dressed-down tailoring'.
Missoni
Picture the ultimate cultured, multi-lingual bohemian nomad, one who's budget is more wealthy globetrotter than scrubby gap year under-grad, and you'll arrive at the Missoni look. This season, there was a western feel to the collection (a noteworthy trend throughout menswear from the continent so far), but the digital oil-slick pattern on short bomber jackets made for a great change in pattern palettes. Suiting, though light in numbers was strong in pattern and presence, and the heavier silks towards the end of the collection further reminded us of the quality that so resonates not just in the house knits.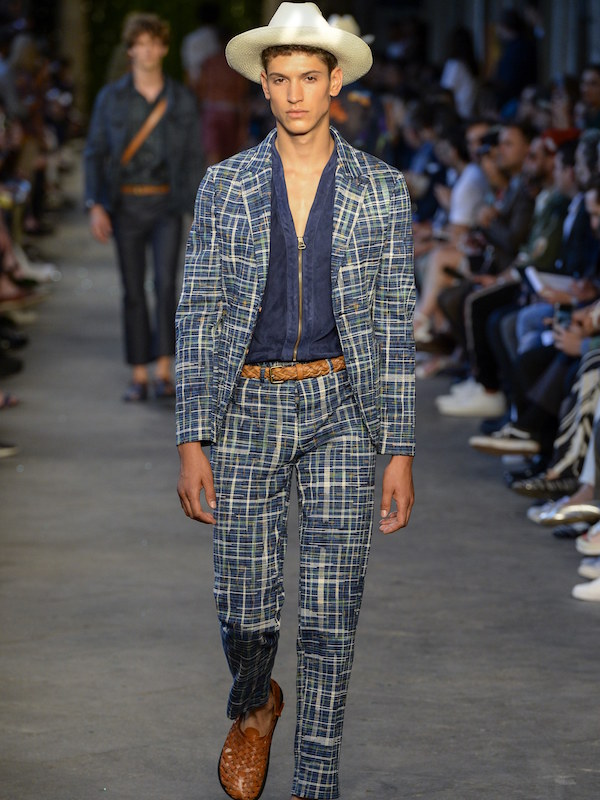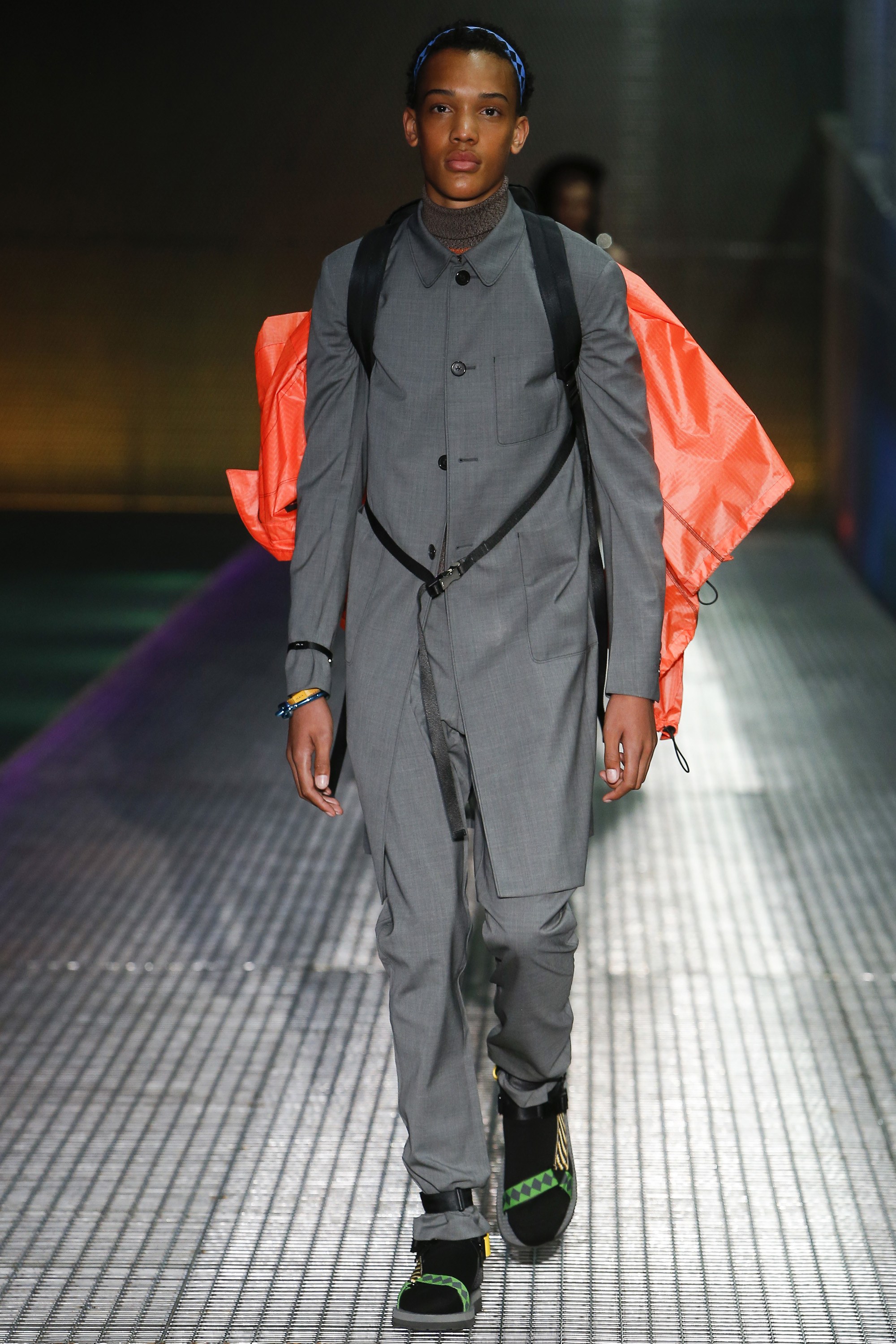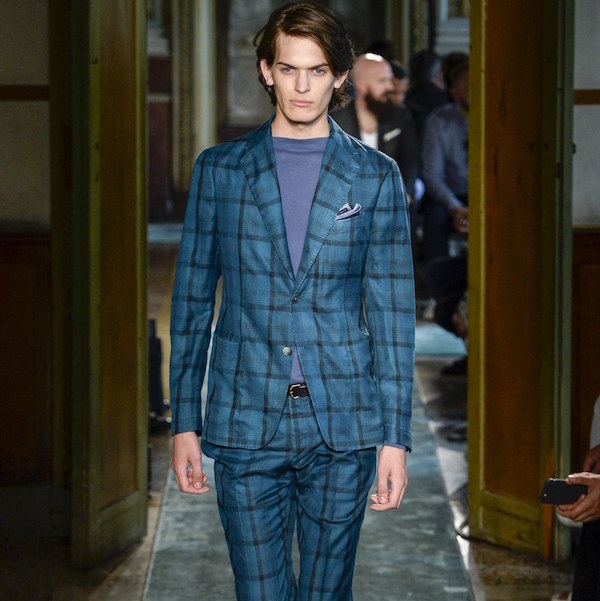 Andrea Pompilio
'Who the fuck is Andrea Pompilio?' Yes, it's the slogan embroidered across his jumpers and trucker jackets, but also a question you might ask yourself when introduced to the brand via The Rake. It's not the strictly sartorial aesthetic usually found here, but this is a designer who's vision brings a vintage-inspired volume to his sartorial choices, styled with a nod to the urban New York streets of the nineties in Alphabet City and the international styles and cultures from Latin America that gathered there. Meeting him in Milan this year, Andrea reminded us of the importance that the conventional notion of beauty isn't one that always deserves worship. "I'm very inspired by bad taste. In our industry, it's very easy to capture beauty. We don't want to see bad things. But often from that, grows true beauty."
Ermanno Scervino
The Urban Hero was the title for this season and their vision was one that sat more than comfortably within the current remit of menswear and its landscape of disparate yet complimentary styles of sartorialism and sportswear. Contemporary house stripes in nautical and sporting styles on elasticated waist details, worn under classic floral Gobelin tapestry jackets made for a very stylish and unexpected contrast. 
Trussardi
This show was an emotional take on clothes and what they mean on more than just a visual level. Third generation Trussardi, Creative Director Gaia, told us the inspiration behind having not models, but actors, perform in her collection, as part of the presentation was about dealing with the question of identity and the idea of clothes as a way in which to strip ourselves of the masks we wear. She told The Rake: "I wanted to look at the theme of identity and the idea of a mask and how nowadays people wear a mask. So for the presentation the characters explored certain characteristics and we have these real themes and this message. So with the formal wear we have very luxurious fabrics and I wanted to create irregular fabrics in formalwear. I wanted it to be versatile, real, true to life. I want a man to be able to wear the look to the office to a meeting but then take off the jacket and go to the beach then go for a drink with friends. This reflects the modern man's lifestyle and Trussardi is a lifestyle brand so we want to be coherent with that."