Modern Heritage: The Duke & Dexter Story
British brand Duke & Dexter is injecting new life into loafers, adding a rebellious streak to traditional notions of heritage and craftsmanship.
"I didn't mean to start a brand," says Archie Hewlett, CEO and Founder of British footwear label Duke & Dexter, almost in the way one would admit reluctantly to eating the last biscuit or spilling something on the carpet. Unlike those misdemeanours, however, the outcomes of Archie's inadvertency have been highly advantageous, particularly for stylish footwear fiends with a particular inclination for loafers (we're looking at you, readers of
The Rake
).   
The year was 2014 and like many of his peers, the then 18-year-old Archie was uncertain of what path to take after leaving school. He entered into property recruitment, decided it wasn't for him, and resolved to do something completely different, but never could have imagined a future in footwear.
"I
left property recruitment without knowing exactly what I was going to do, but I knew that I wanted to do something with a purpose and that had meaning… Escaping the corporate world was inevitable," he tells me. Looking only to earn some money as he waited to reach a decision, Archie launched an online business centered on providing a cheaper and more contemporary version of the velvet slipper. The idea was meant purely to bring in revenue. "
I certainly didn't know much about fashion and it'd be lying to say I had a real interest in it," he admits. Experience and interest aside, the drive and determination was certainly there and
within five months, he was selling to five countries. Surprised as he was, it wasn't long before he saw real potential in what was taking shape.
Duke & Dexter was soon born and the brand's success – however unintentional – was almost immediate.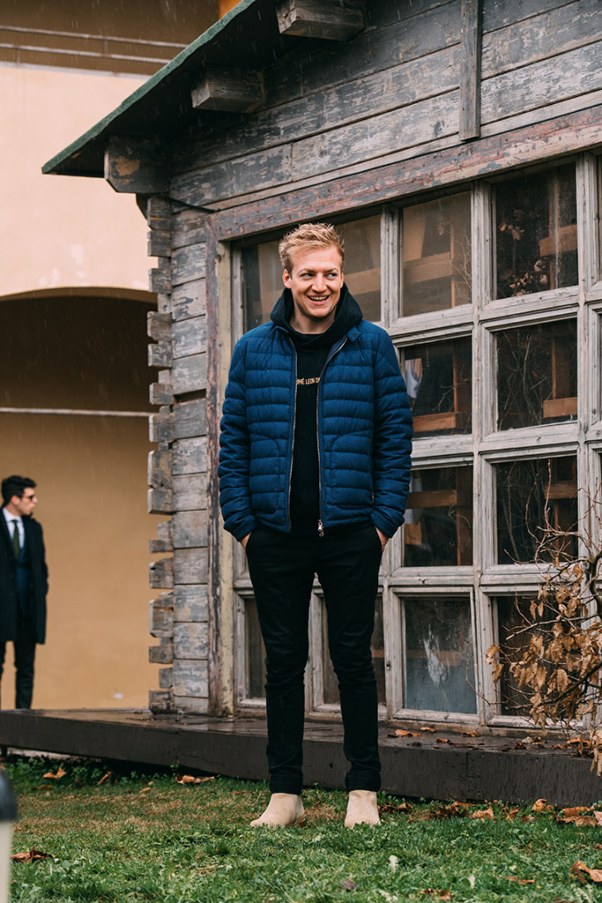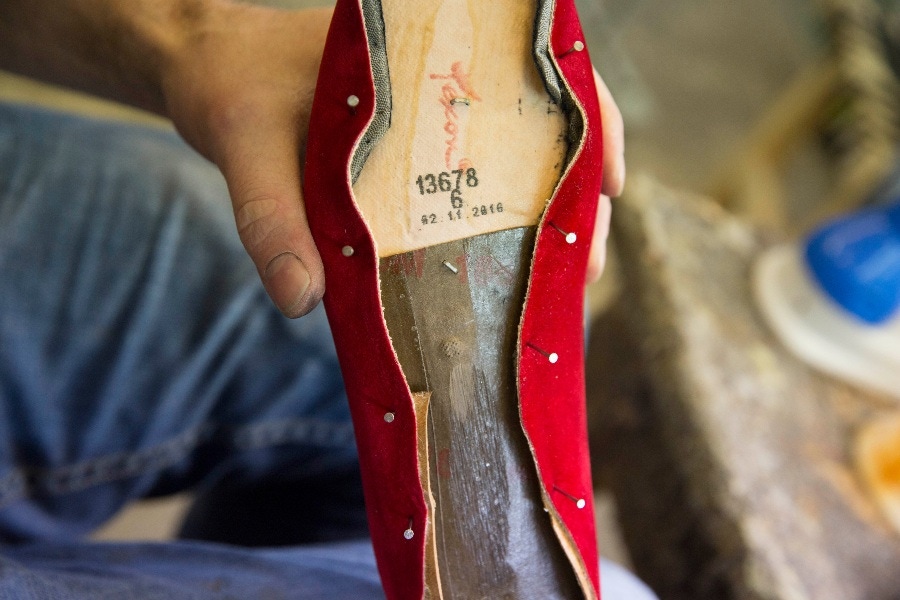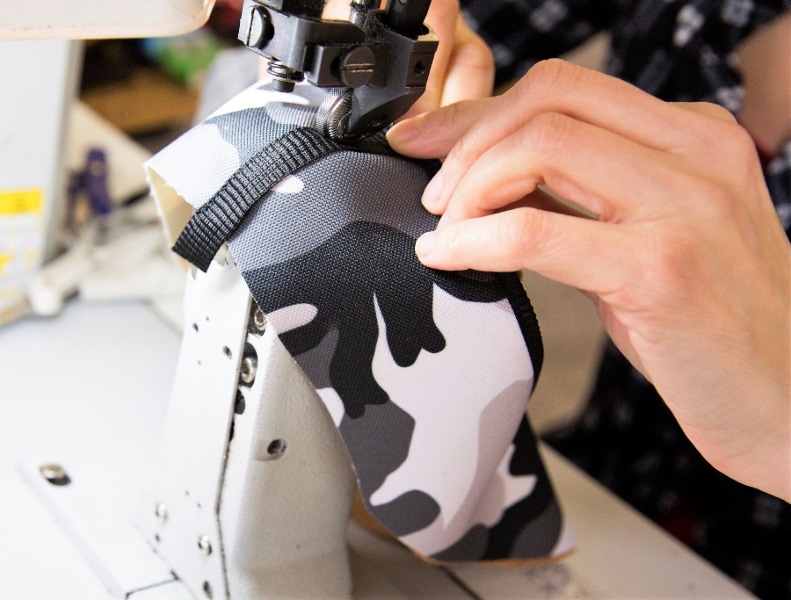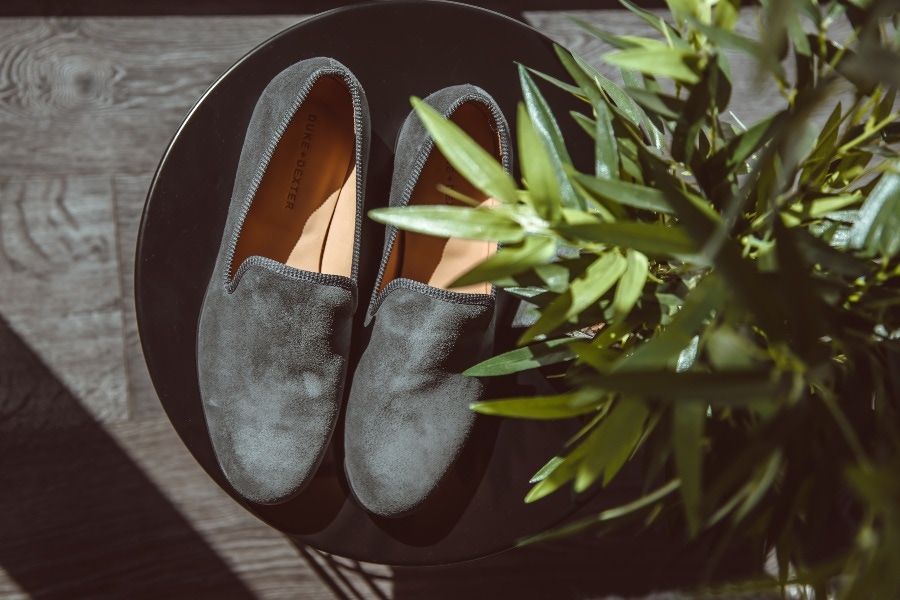 Four years later, after a considered shift away from velvet slippers, Duke & Dexter now prides itself on its design and production of loafers, shoes that Archie himself has always worn and thus feels passionately about. They're characterised by a distinctly classic shape, with the tongue of the shoe higher up the foot than it would be on a standard slipper. Keeping the loafer shape consistent
allows
for playfulness and experimentation when it comes to materials and colourways.
"What I realised was that the loafer was such a versatile shoe in the sense that there were so many different materials that could be used, from velvet to nubuck suede, needlepoint, tweed, canvas, linen… I think we've used about 40 different materials now on the upper
," Archie says. "
The beauty of our shoes is that there are so many different ways in creating and running the print through them that actually anything can work."
While Duke & Dexter's materials are sourced globally, the shoes are designed in London and handcrafted in a family-run workshop in Sheffield. Each product is debossed with a 'Handmade in England' stamp and the support of British craftsmanship is key to the brand's ethos, but Archie is adamant that such respect for heritage and tradition doesn't negate the
influence
of innovation. "
I do genuinely think the two can go hand in hand," he says. "We're driven by the British side of things and the way we go around sourcing and trialing our materials, combined with how the design team works on new innovation and style."
Throughout my conversation with Archie, there's one word that
repeatedly crops up
. That word is fearlessness, and it quickly becomes apparent that it's a significant driver underpinning every element of the brand. I get the feeling that, based on this fearlessness, the Duke & Dexter approach is somewhat unconventional. Archie confirms this for me. "One of the interesting things when it comes to the design side of the business is that none of our designers actually have any genuine design experience in fashion," he says. "We work with a lot of footwear, fashion and print designers and they do things that we can't do in-house, but they come with their limitations because of how they've been taught along the way. What our designers allow us to do by not having any of that is they have a very distinct way of doing things and thinking things through, and that can come with totally random and almost futile ideas on new potential creations, but at the same time that makes a limitless approach to things so that every now and then something actually quite brilliant that hasn't been done before can be done".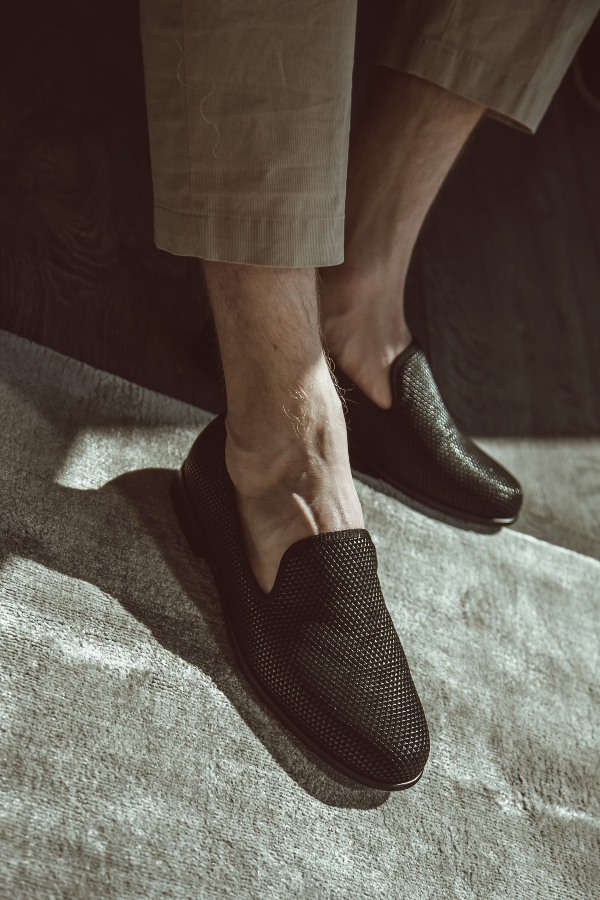 This brazenness no doubt lends itself to the brand's bold geometric and camo prints that they are so well known for, but elegance and classicality are not compromised. Archie and his team aspire for "clever minimalism" and aim to push the boundaries whilst maintaining an element of timelessness. This is why they choose to focus on such a limited range of styles – namely loafers but, more recently, Chelsea boots as well. "We're never going to release a product just because of the hype around it," says Archie. "For example, we're never going to go into the sneaker market just because it's a popular market. We do want to go into more and more types of footwear, but it does take time with a brand that tries to get things as accurate and as meaningful as we do".
Duke & Dexter now sells to customers in 120 countries and counting. A particularly distinguished clientele that includes the likes of Eddie Redmayne and Ryan Reynolds has no doubt helped the brand cement its status as a leader in the industry, and it seems that things are only set to soar from here. Archie has grand plans to open a New York store in the near future, so it's only a matter of time before world domination ensues — not bad for the guy who didn't mean to start a brand.