MooRER – the other 'Family of Verona'
After the Capulets and the Montagues comes Verona's third family – MooRER – who will warm your heart with their outstanding quilted outerwear.
It's no surprise that luxury coat-maker MooRER is Veronese. As the backdrop to one of literature's greatest love stories (if you shuffle MooRER, you can spell Romeo, interestingly), populated with magical Venetian and Alpine cathedrals, inspiration permeates through the city streets - insomuch that MooRER's founder Moreno Faccincani suggests that, 'the reference to art is the guide and suggestion to our greater vision'. Since 2006, this Veronese vision of 'art-inspired outerwear' has remained one of the most desirable Winter offerings to come out of Italy. The challenge with having a vision, however, means that it sometimes comes at the cost of quality – which takes a backseat to the splendour and creativity of the design. But Moreno and his team are the exception to the rule. MooRER have built a large following based, not only on the artistry of each piece - or Moreno's ideas - but on how durable and warm they are in the wild. You can certainly hike with your MooRER coat - if you need to. Worn in the middle of a frosty evening, or simply battling the torrents on your morning commute, the fully-lined and water-resistant range of down-wear is built to protect. Again, you could do that. But there's something so exclusive and luxurious about these pieces, that it's best thought of as that 'special coat' you wear on occasion. Largely because each piece looks as though it has an element of haute-couture, with the finishing and details that separate it from your everyday coat, they suit any situation, but look unlike any coat you have ever seen; informed by a marriage of Veronese panache and technical brilliance.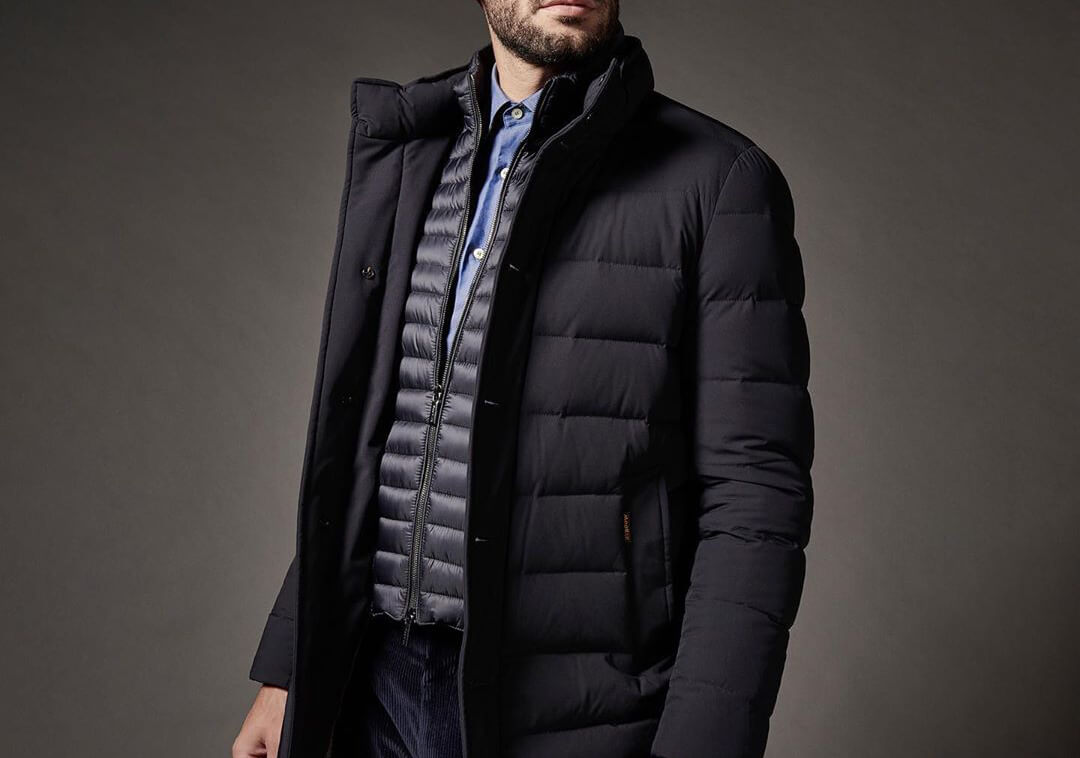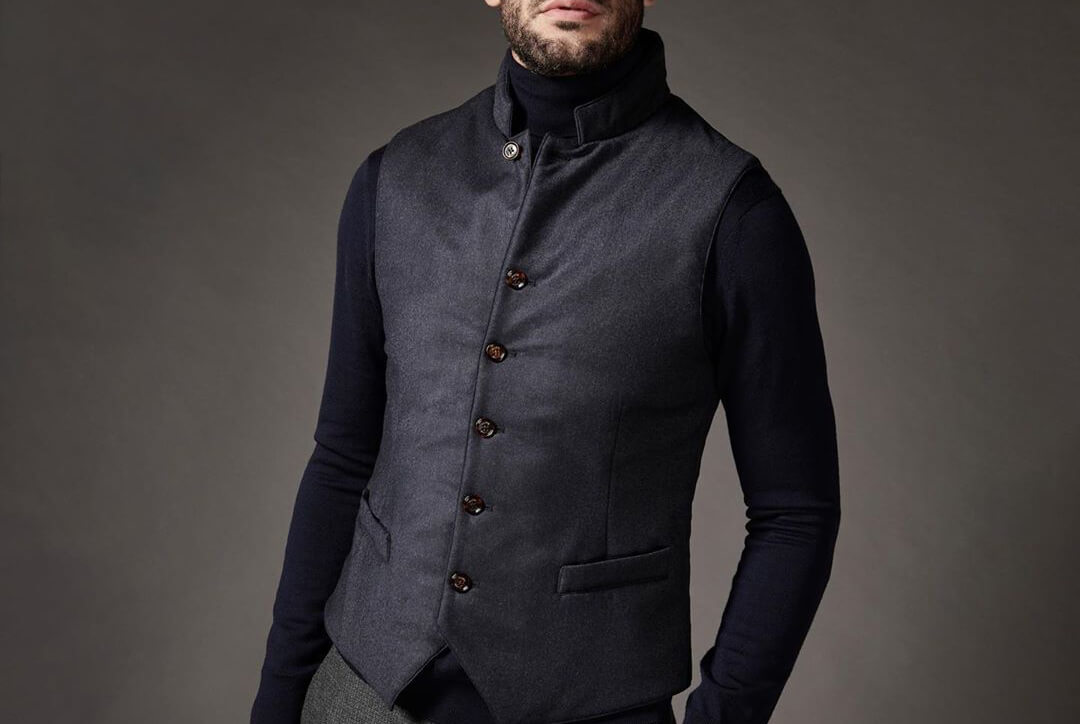 Still a family-run brand, like the best of them, everything MooRER produces is 100% Made in Italy. Along with the classic Archimede and Barbieri parkas, Moreno has dreamt up designs for the Bomber jacket – including the handsome, masculine, fur-line Fermi – and a selection of the finest quality denim jeans. The Italians do jeans as well as the best of them, and MooRER's are constructed of Japanese selvedge denim; produced on traditional looms that require a slow, artisan weaving process. According to Moreno himself, each item is 'a mirror of the artist's [artisan's] mind, a journey undertaken with passion, and a portrait of the person who has undertaken it, and continues to do so'. Hence, MooRER's jeans proudly wear the imperfections of a hand-made garment, meaning that each and every one is never entirely the same. They bear the fingerprints of whoever crafted them, adopting character the more you wear them. Considering that MooRER's vision is all about 'a story', it's perhaps unsurprising. Who made it? Where did it come from? and Where will it go? You may not consider these as criteria for picking a coat this season, but it's always reassuring to know that your investment piece is the outcome of hours of craftsmanship. Human stories underpin the clothing you wear; and as you discover the small flourishes and details, it becomes more satisfying to learn how much time and skill goes on each MooRER product.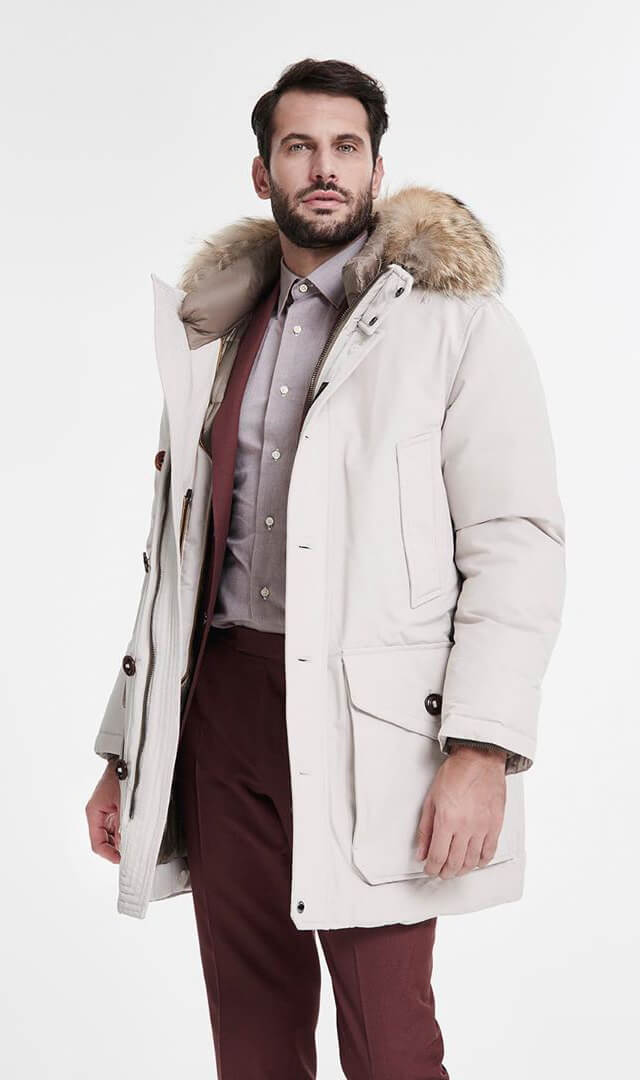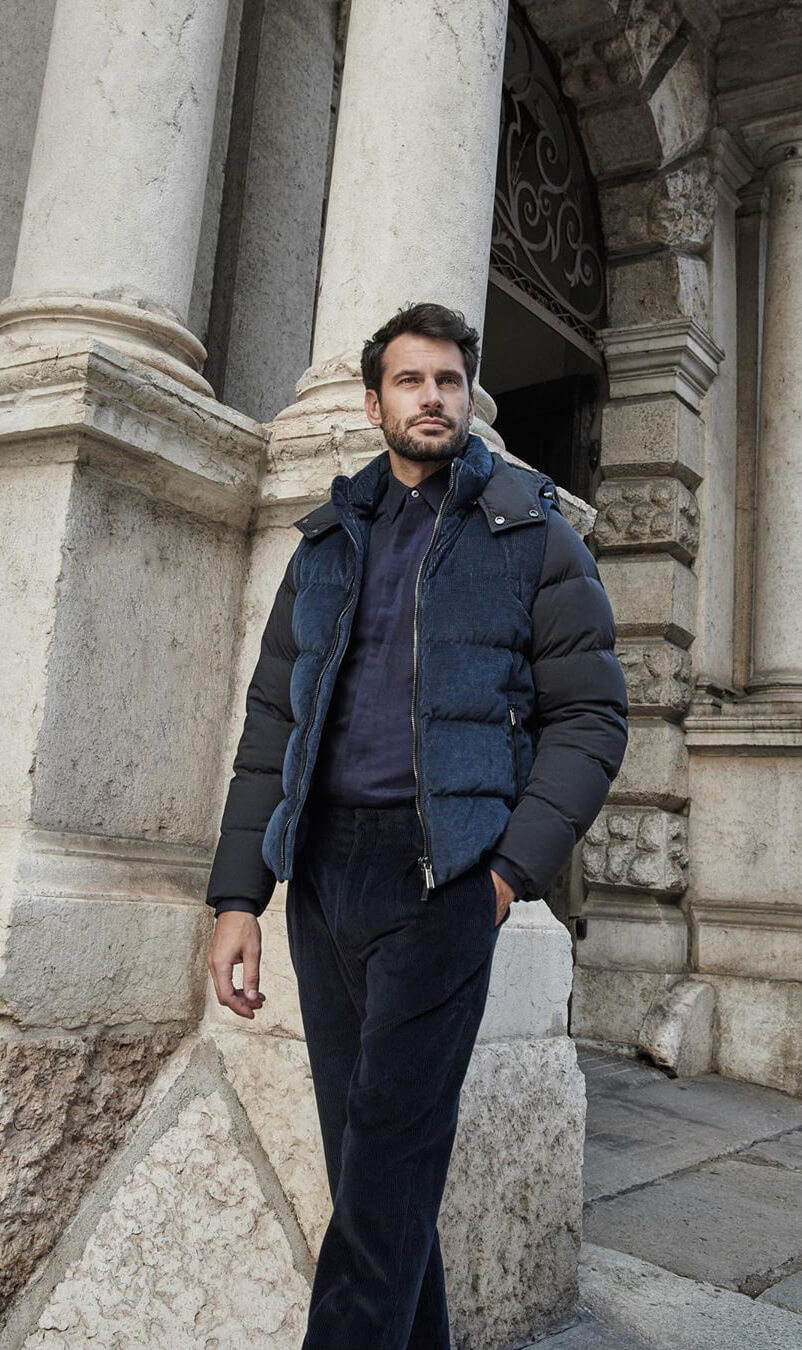 As with the parka, the bomber, and the quilted down – or wool - jackets available, these are classic cuts that sit comfortably over tailored clothing. But they are also Moreno's reimagining of 'classic', based on his 'search for beauty and harmony of shapes'. And while it's true that the instant luxury of each piece makes it appear like something an Haute-Couture house might have come up with, Moreno is not interested in 'fashion' or 'trend', arguing that his projects are 'unrelated to what's hot' (ironically, as each coat is) … and that the style 'is ever-evolving from timeless ideas', preferring to pick clean and elegant over brash and modish. The family would like you to perceive each item as a piece of art. And while you might be initially sceptical of such things as 'visions' and 'stories', the passion appears imminently. Many of MooRER's clientele would opt for nothing but; and that's because – artistry aside – the textiles and materials Moreno picks are highly-innovative. They combine the likes of satin stretch of waterproofed tech flannel with a detailed interior finish for warmth and rain-resistance. High-quality cashmeres, and Siberian goose-down fillings, are superior - yet almost ornamental - luxury bonbons. The buttons, pockets (some of which are in the desirable hankie-appropriate 'Barchetta' shape), and all other features, are selected because they are the very best, granting the wearer a sense of pleasure and pride each time it's worn outside. Without question, you will have admirers. Nothing is left to chance with MooRER – which is kind of what happens with an uncompromising artist at the helm. Whether you are looking for a durable overcoat, leisure-jacket, or pair of jeans, Moreno and his family are doing it all on their terms (superior quality; a unique vision; artisanship) – which also happens to be ours.