Night Shift: The Evening Gown Renaissance
It is a truth universally acknowledged that modern pyjamas are almost crushingly inelegant. The Rake for one can stand them no longer, so what follows is a cry to arms. It's time to embrace the evening-gown revolution…
"My dear girl, there are some things that just aren't done, such as drinking Dom Perignon 53 above the temperature of 38 degrees Fahrenheit. That's as bad as listening to The Beatles without earmuffs." One of Sean Connery's
finest lines
, delivered to Jill Masterson in his signature drawl as he shrugs on a baby blue silk dressing gown with navy piping, turnback cuffs and a wide sash in
Goldfinger
(1964), also delivers an important lesson in dressing behind closed doors (as well as how to drink one's Dom.) For it's one thing for a gentleman to step out of his home, hotel room or helicopter looking good, but it's quite another for his suavity and style to continue into the bedroom. Much like the knack of ballroom dancing, letter writing, time keeping and using a fish knife, the art of after-hours attire is tragically a rather lost one. Considering we, as human beings, spend an average of 26 years of our life in bed, it's somewhat baffling that men of all ages and stages have disregarded loungewear in favour of tracksuit bottoms, old T-shirts and – the most punishable perpetrator – threadbare boxers. What happened to the beautiful silk pyjamas? The damask robes? The tasselled sashes designed to be woven endlessly through fingers – yours or otherwise? Where did the monogrammed slippers and calf-length cashmere socks go? When did we wish farewell to quilted silk linings, jacquard and brocade, plush velvet shawl lapels and deep pockets in the depths of which one can lose everything from their mind to their money? If you're reading this and a faint feeling of guilt is rising from the pit of your stomach – I'm glad. For you, Rake readers, are so much better than that. If you're Savile Row-savvy, your preferred shoemaker is on speed dial and the man who makes your ties is more of a confidante to you than your own brother, doesn't it make sense that you dress to retire in equally rakish style? After all, the bedroom is not just for sleeping, and if there's anything a woman can't resist, it's a man who looks like a man (not a boy). Equally, whilst dressing to impress is a noble endeavour, dressing for oneself belies an honourable mark of self-respect and quiet confidence. Plus, if you take care of yourself even down to the clothes you wear to dream and doze, just think how well you can take care of her…
Sigh
.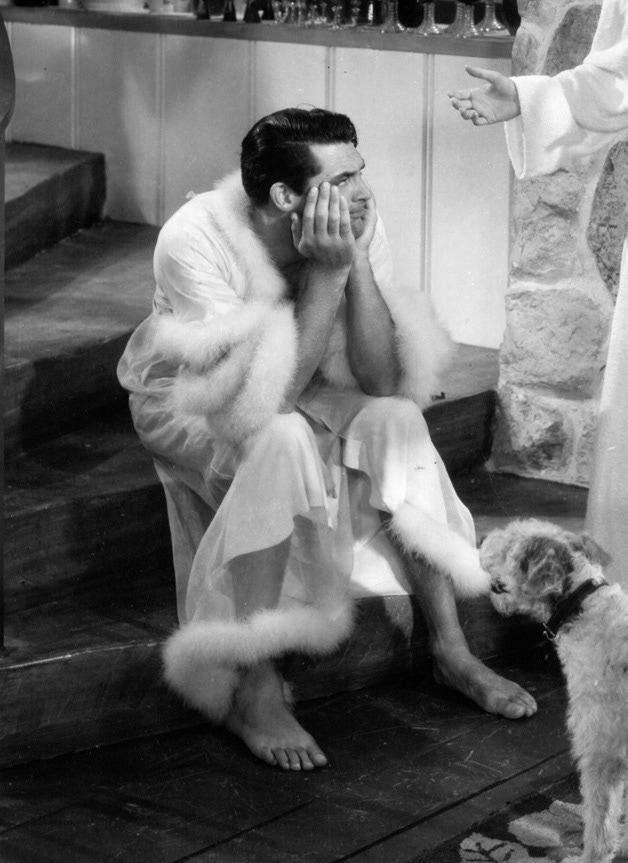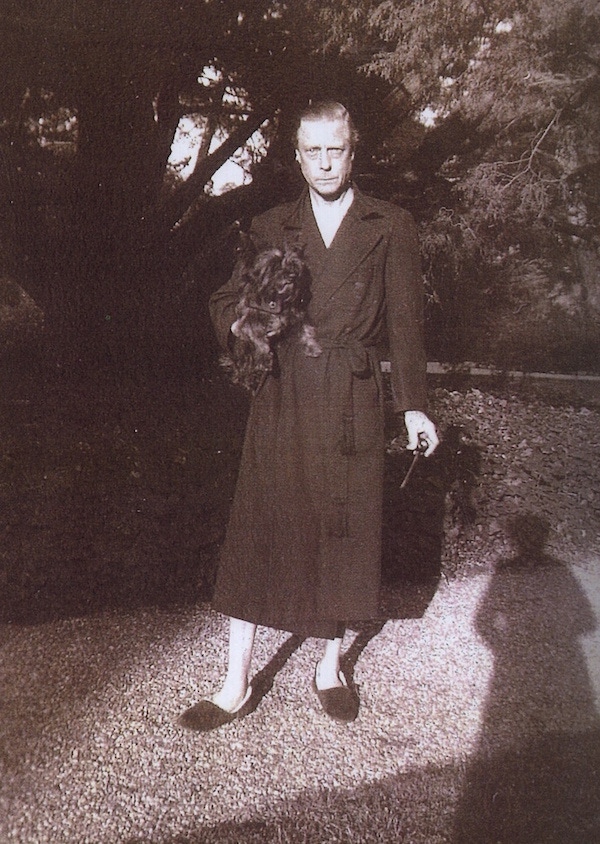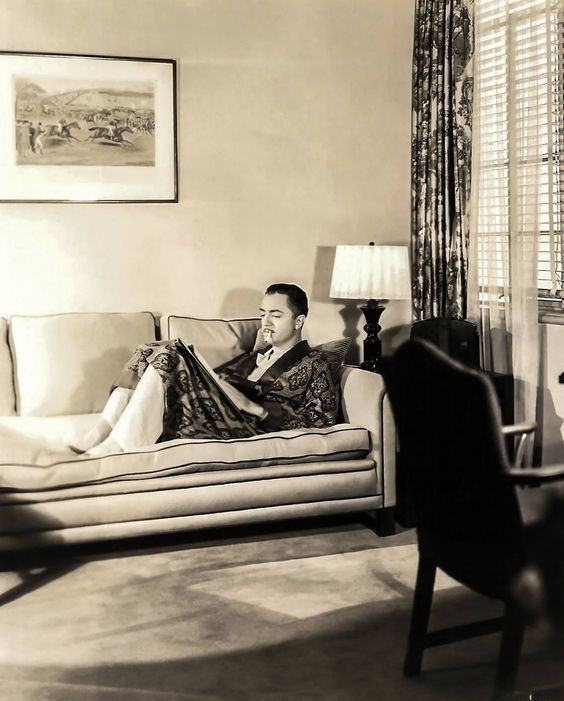 If it seems like rather too much effort, I assure you it's worth it, so allow me to make this easy for you. Inspiration is available by the bucket load – any Cary Grant movie will do the trick (although the fur trimmed sleeves and floaty chiffon in
Bringing Up Baby
takes a certain swagger to carry off), but look to Noel Coward's
Present Laughter
, Sheridan Whiteside's Monty in
The Man Who Came to Dinner
(1942), and the divinely camp Dirk Bogarde in
Modesty Blaise
(1966) for dressing gown 'do's'. Neo-noir gangster film
Miller's Crossing
(1990) sees Leo (played by veteran Albert Finney) take down an entire mafia-squad in his embroidered slippers, matching pyjama set and red raw silk gown with black lapels; if Connery's silk number is the symbol of seduction, Finney's makes a good case for the gangster gown. Even
Young Frankenstein
earned his sartorial stripes – or rather, rococo pattern – via Gene Wilder's eponymous character, his resplendent robes in wine red, deep purple satin and shawl lapels large enough to take flight with a little encouragement. What none of these gentlemen lack is searing on-screen presence, brains and beauty, as well as the finesse to carry off extravagant nightwear. Classic pyjamas are ageless, and velvet slippers are a multi-functional finishing touch, but the dressing gown has the real chance to be a show-stopper, lady-killer and game-changer all in one. Our recent collaboration with
New & Lingwood
introduced a collection of exquisite silk jacquard dressing gowns to our
online atelier
; the
peacock jacquard
in royal blue and black "feels distinctly evening-appropriate, and of course channels something of the rakish man's spirit-animal". Simon Maloney, New & Lingwood's Product & Marketing Director, says of the concept; "It's become very clear from our strong sales in luxury dressing gowns that men are starting to pay more attention to their bedroom attire. We're trying to convey and resurrect that time of lost elegance that was so prevalent in 1940s Hollywood. They look so elegant worn with either pyjamas or over a tux shirt and trousers, whilst taking a Scotch before a gentleman changing into a dinner jacket. Women have always paid far more attention to what they wear in their bedroom than men. It's probably about time men took a stance for equality in the realm of high-end nightwear." Which means if social etiquette demands you wear neutral tailoring to work or a carefully curated capsule collection on your travels, your nightwear is where you can loosen the conservative ties and enjoy a little more freedom to express yourself. Nowhere else is it quite so acceptable to wear silk on silk, velvet lapels and personally monogrammed slippers all at the same time, and then there's the added bonus of looking fantastic between the sheets without removing a stitch of clothing. After all, it is the season of comfort and joy, unexpected visitors and sprigs of mistletoe, so we suggest you slip into something a little more comfortable and dress to the nines – even after eight.