Omega and Alpha: How Harley-Davidson is Reshaping its Future
The Rake rides the last of Harley-Davidson's Dynas and the first of its new 2018 Softails... and the results may surprise purists.
One of the most famous passages in Darwin's
Origin of Species
, the book that first espoused his now widely accepted Theory of Evolution was immediately removed by him because of the public ridicule it received. In this passage he explained how he could imagine a land-based mammal like the North American black bear transforming through millennia of evolution into an aquatic creature like a whale. His exact words were, "
I can see no difficulty in a race of bears being rendered, by natural selection, more aquatic in their structure and habits, with larger and larger mouths, till a creature was produced as monstrous as a whale,"
leading to expressions of outrage by the already scornful creationists that viewed his writing and scientific research as satanic. And not since Darwin attempted to demonstrate how brown bears wandering ever further into the water in an attempt to find a more plentiful supply of fish, could eventually adapt to their environment to become whales, has the world witnessed such apoplectic controversy until the launch of the new Harley-Davidson 2018 motorcycle line-up.
What was the source of all the furor, interweb rants and social media turmoil, that collectively felt like the equivalent of the denizens of Ingolstadt trying to batter the doors of Victor Frankenstein's home and dispatch him and his 'creature' for their crimes against humanity? The fact that Harley-Davidson has merged their two most iconic Big Twin lines, the Softail – a configuration meant to evoke a rigid frame bike, and the Dyna – a more simple twin shock set-up. And what this really meant was that it had created an all-new mono shock frame, that in appearance resembled the Softail but in performance, lightness and rigidity elevated the Milwaukee Company's game to an all-new level and in so doing eliminated the Dyna family.
Harley loyalists were incensed beyond belief. #RIPDyna rapidly became one of the most popular hashtags on Instagram. Everyone was shaken to the very core. Why? Because in recent years Dyna (such as the stripped down no frills Street Bob and Low Rider) had become the darling of the young 'wheelie centric' street stunt outlaw scene who modified their rides with inverted front ends, jacked up rear ends with Ohlins shocks, fairings and motorcross style handlebars.So the feeling was that the Motor Company had decimated its most relevant model, focusing instead on the Softail line, which is generally perceived to be the 'old man's' model in the Harley family.
Indeed, anyone owning a Sons of Anarchy novelty T-shirt was wringing their hands, gnashing their teeth and vowing some kind of Old Testament retribution against Harley-Davidson. Well, everyone except for me. I often associate myself with the character Chauncey Gardiner from the Peter Sellers film
Being There
, who is profoundly simple minded, almost totally inept in all things but has a knack for being in the right place at the right time. And so it was that I somehow ordered the very last Harley Dyna to ever be delivered to Asia before I knew the Dyna family was to be no more. And that bike happened to be the very last Low Rider S to be sent to my tropical climes, the model that is commonly considered to be the very best Dyna ever made.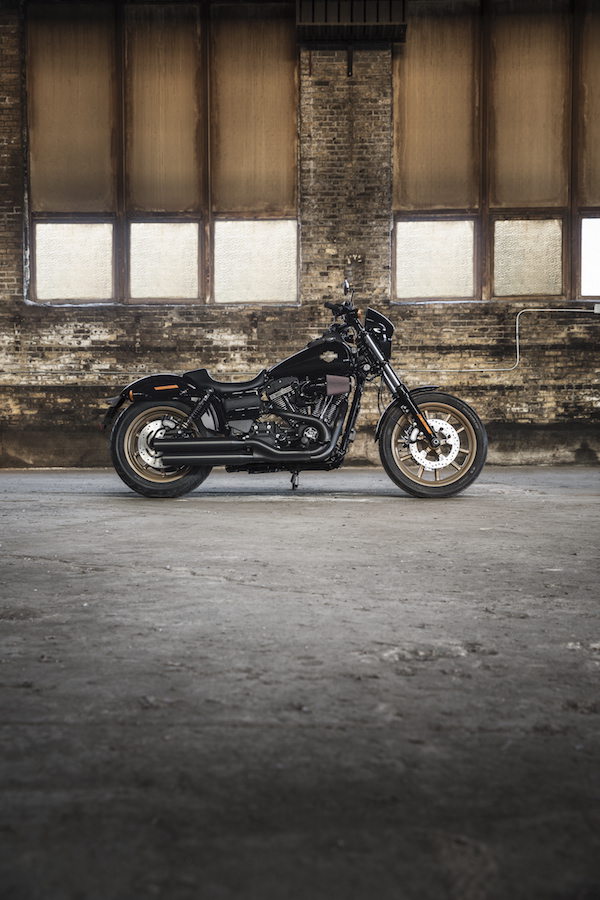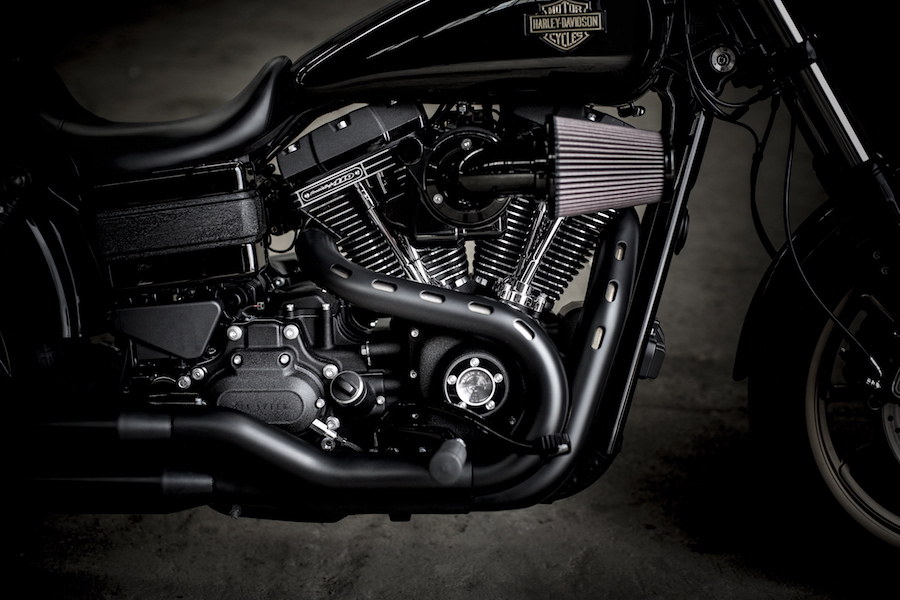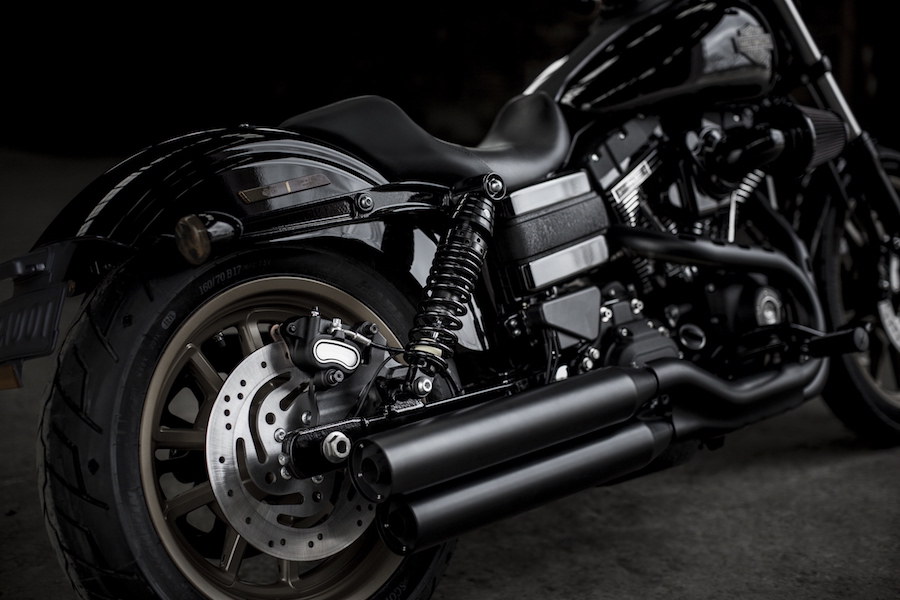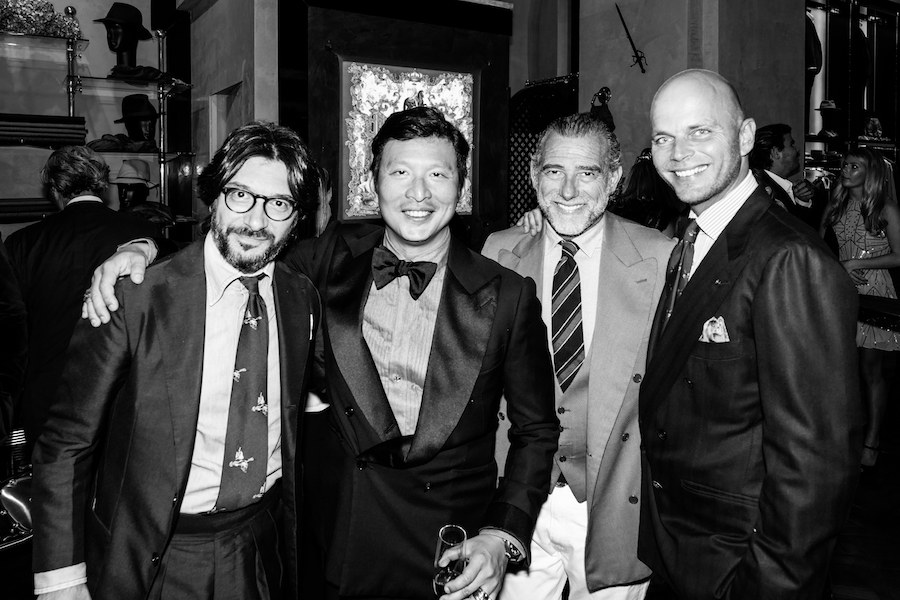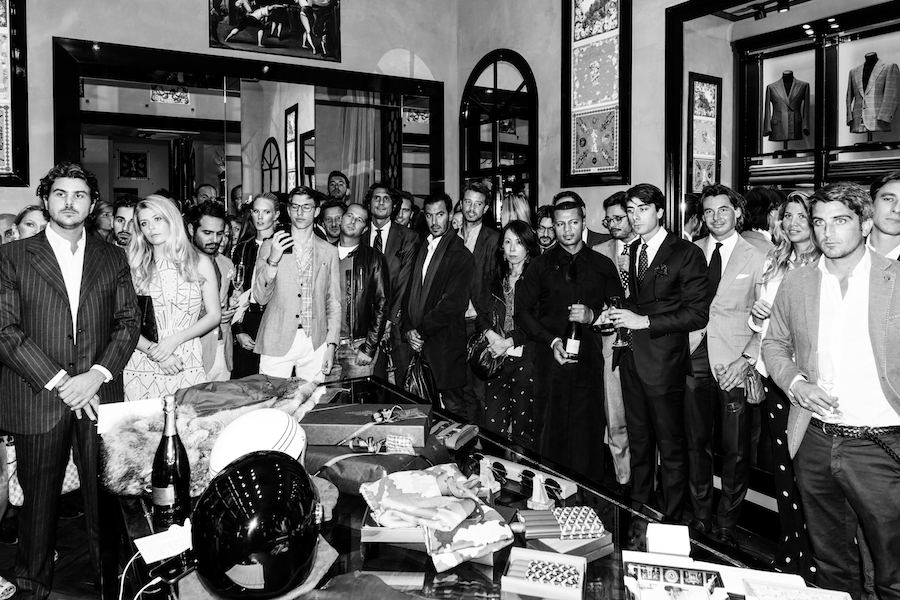 What makes this bike so good? Well, let me preface this by saying I've owned many different bikes from many different manufactures. Ducatis are beautiful to behold, agile and nimble, though not very comfortable. Harleys are different. They are loud, they are hot, they are not particularly fast and you start scraping bits off them when you exceed any sort of lean angle greater than that of Pisa's Leaning Tower. But there's something about them that nurtures the soul. The sound, the vibration, the whole thing. And I've always been enamoured with the idea of a fast Harley, which led me in the past to the Dyna Fat Bob. Saying this is the best handling Harley I've ever ridden is like saying my periwinkle Rubinacci is the warmest linen suit I own. But both were very successful at putting a smile on my face. I can only imagine that riding a fast Harley-
Davidson feels a little like piloting one of those Bentley Blowers that Woolf Barnato and Tim Birkin used to win Le Mans, provoking Ettore Bugatti to disparage them as "the world's fastest lorries".
So how did Harley make the Low Rider S so good? They followed a pretty simple equation. They started with a Dyna chassis and put surprisingly good 'premium emulsion' shocks and forks on it, whilst adding ABS brakes with twin disc brakes up front. And then they put the most gorgeous almighty screecher of an engine, their Screaming Eagle 110 cubic inch motor into it. Painted the whole bike gloss black then added gold mag wheels, a mini fairing and a decidedly XLCR-like gold tank badge. At my advanced age I have given up any ambition to ride genuinely quickly but twisting the throttle and shooting forward like you've been smote up the tuckus by Mjolnir the hammer of Thor, Norse God of Thunder is deeply, emotionally satisfying. And by God if the damn bike doesn't handle beautifully – for something that weighs more than my Ducati and Triumph put together – and stops with true unequivocal competence. And the bike looks so damnably good that there is hardly anything I could do to modify it.
OK, I did increase the engine from 110 to 117 cubic inches as I felt under moral imperative to do so. I also added one of those currently in vogue 'step' style saddles, a sissy bar and backrest so potential passengers don't go shooting off the back of the bike into traffic, and one of the most stunningly crafted components I've ever set eyes on. This is a Tramp custom-made full titanium exhaust hand made by an artisan of exceptional skill named Mamoru Nagaoka. When I handed the exhaust to the mechanics at Harley-Davidson they all did a double take such was the extraordinary lightness. Being easily swayed by the vagaries of trend, I also installed some very cool seven-inch Hardcase Performance rises, Renthal motorcross style handlebars and brass grips from Roland Sands to complement the gold tank badge and wheel. The front calipers were also switched to the Brembo units that haul the Harley V Rod down from speed.
However no sooner was my bike, now bestowed with the sobriquet 'Jolene' after the Dolly Parton song, ready then I was parted from the object of my adoration. And that was to attend the Distinguished Gentlemen's Ride. Now if you've been living in a cave, genuflecting on Plato or lifting rocks with your dick to improve your Chi and haven't heard of the DGR, this is a vintage and custom motorcycle ride that happens annually on the last Sunday of September. It takes place in 600 cities around the world all on the same day with the objective to raise as much money for prostate cancer awareness, prevention and cure and male suicide prevention. At the time of writing this the DGR has raised $4.7 million for its beneficiaries.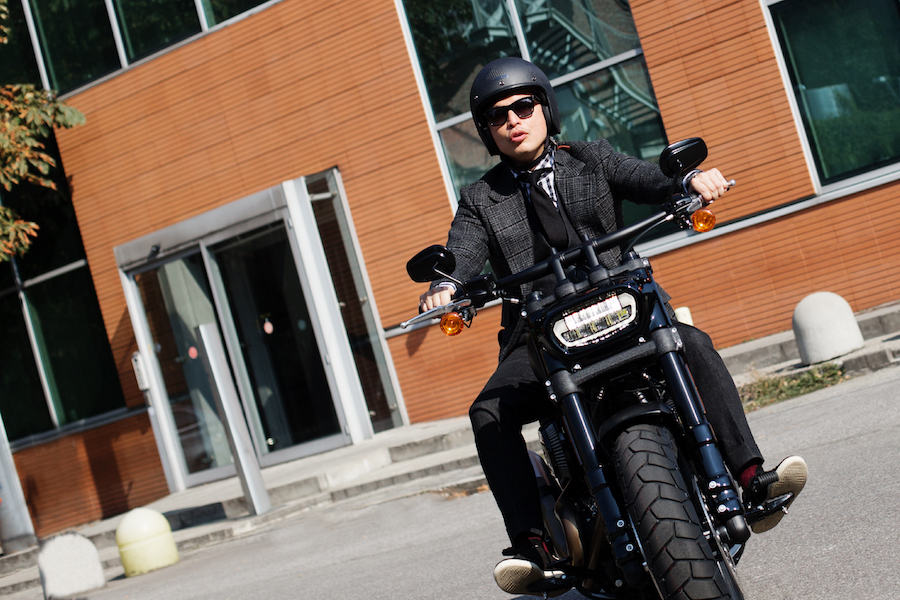 Wei Koh at the Distinguished Gentleman's Ride Milan 2017 on a 2018 Harley-Davidson Fat Bob.
Last year I got to know the founder Mark Hawwa and was given the honor of becoming a DGR ambassador. As such, I see it as my duty and pleasure to help organise and co-host a charity auction following the ride. It is Mark's ambition to do the ride in a different city each year; last year we held the auction at Huntsman tailor of Savile Row and raised close to £80,000 based on 30 auction lots. This year as it was Mark's decision to ride in Milan, so we hosted the auction with the Rubinacci tailoring maestro Luca Rubinacci at his Via di Gesu flagship and raised close to
€50,000
based on just 10 auction lots. This year I was also joined by dear friends Alexander Kraft, the CEO of Sotheby's Realty France, 'Shary' Rahman, a textile and manufacturing panjandrum, legendary tattoo artist Mo Coppoletta and Francois Pourcher, Communications Director for Corthay, both on the ride where Alexander piloted his vintage Ferrari 365 and during the auction where we did our due diligence in purchasing as many lots as we could.
As I don't live in Milan and the thought of piloting my 1977 Harley XLCR, 1972 Norton Commando or 1967 Triumph TR6C from London to Milan elicited imagery of overheating, shooting oil and seized brakes, I thought I might try borrowing a bike from someone. And it was also by Godsend that at this precise moment my friend Gary Eng, the Brand and Marketing Officer for Harley-Davidson (and also the organiser of the Distinguished Gentlemen's Ride in Singapore) and Jarno Middlebosch, Harley's International Marketing Manager, sent an email asking if I might like to try one of the new Harley 2018 line-up whilst in Milan, the bikes that had created the furor and controversy described in the opening paragraph. And without a moment's hesitation I replied "absolutely", and I knew exactly which bike I wanted to ride: the 2018 Fat Bob. And thanks to Harley's Marketing Manager in Italy, the wonderful Giacomo Marzoli, this was precisely the bike waiting for me in the garage of the Principe di Savoie, which had become base camp for my motley crew. Impressively it had even been selected in gloss black which perfectly complimented my Huntsman for
The Rake
black, anthracite and silver hacking jacket as well as my Cifonelli black denim gilet and trousers.
Why the Fat Bob? Because as soon as I set eyes on it, I knew the design team had been thinking of Mad Max. Apparently the terms 'Battlestar Galatica' and 'Zombie Apocalypse' were stuck on the wall inside the design studio. In conversation with my friend Flavio Manzoni (the Design Director of Ferrari) we often discuss objects with surface tension, a highly charged, almost predatory appearance almost as if that object were about to pounce. The Fat Bob doesn't look so much like it's going to pounce but fire a fricking heat-seeking rocket at you out of its Cyclops-like headlight, then steam roll over you Judge Dread style with its immense off road tires. And looking closely you can see that it is also set up to handle, with a massive inverted front end, and dual front brakes, with – what's that? – floating rotors on a Harley-Davidson.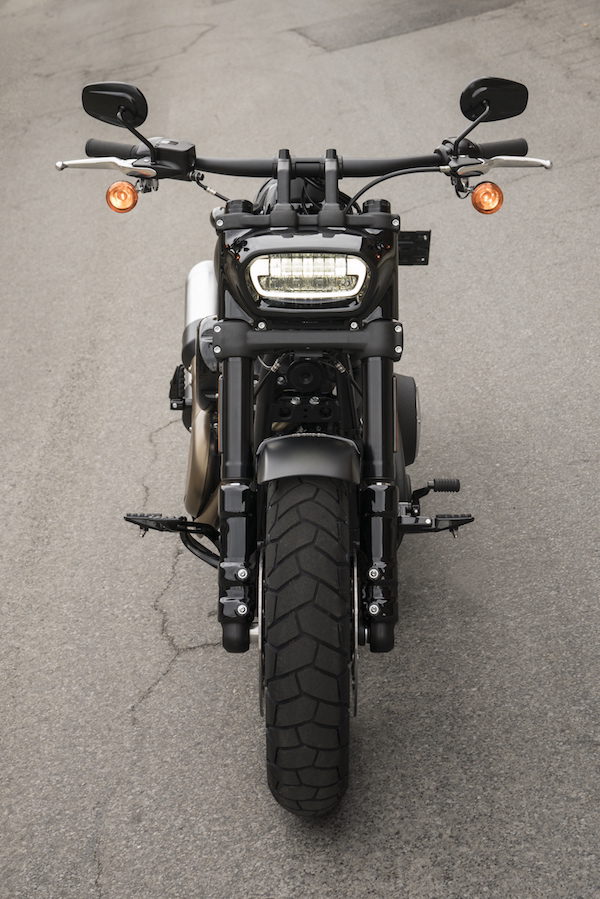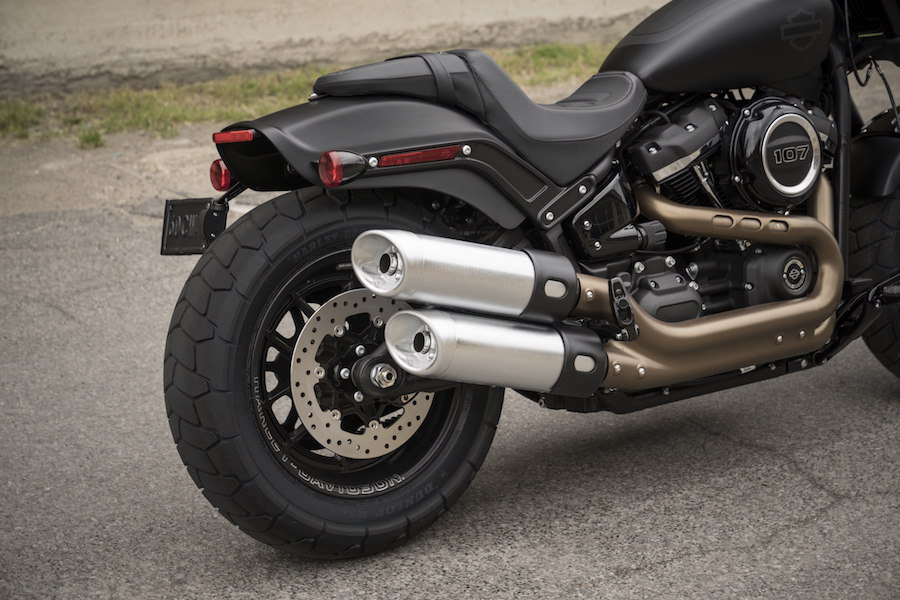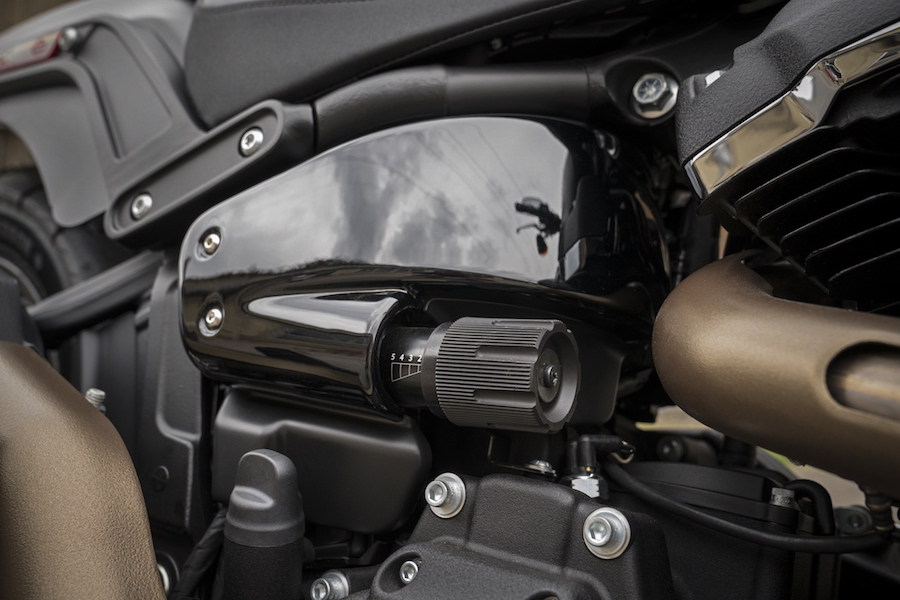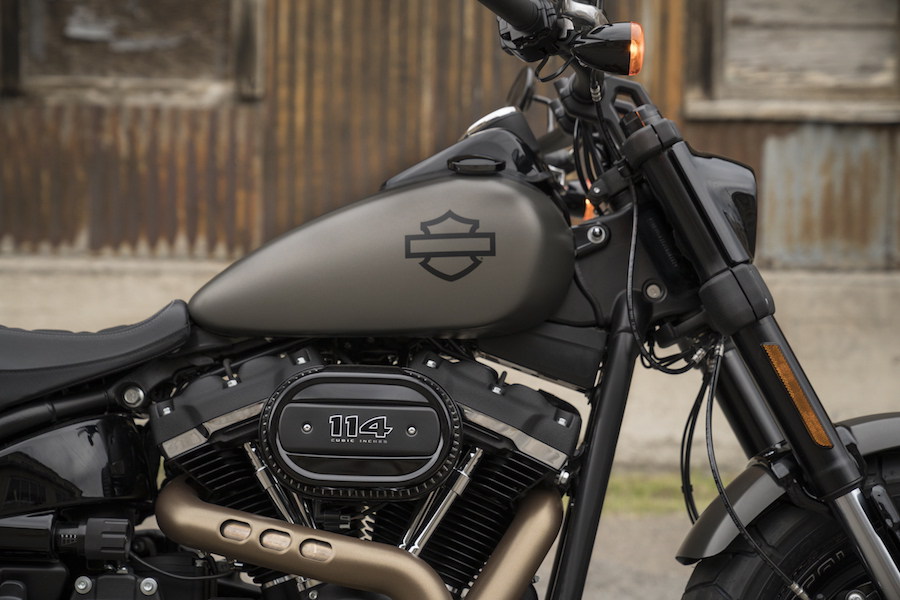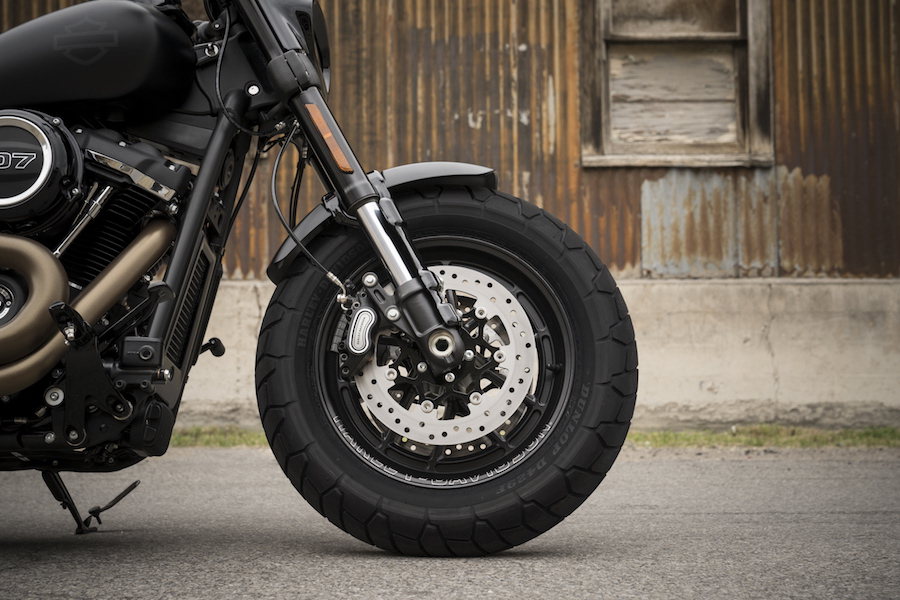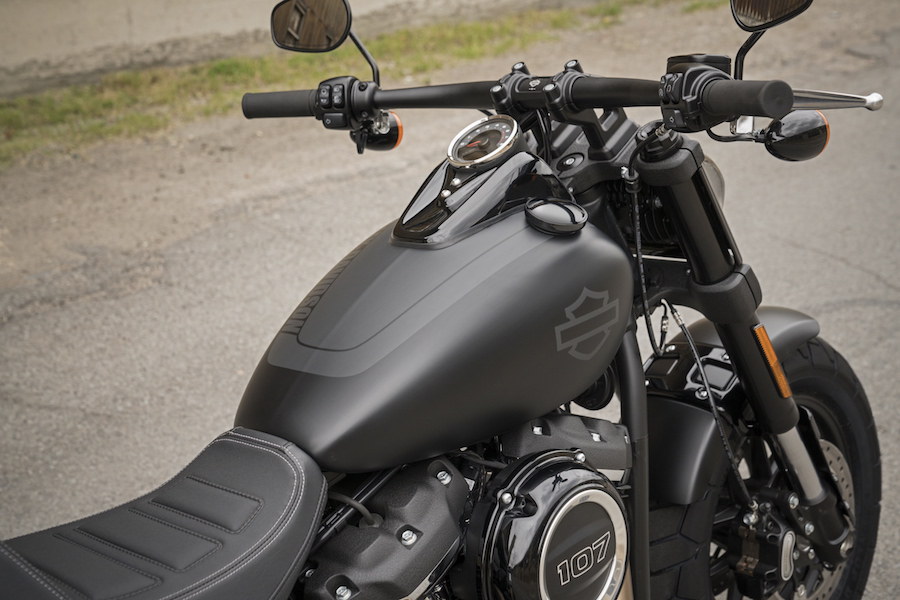 The story with the new line up begins first and foremost with the new line of engines called the Milwaukee-Eight, referring to the four valves for each of its two cylinders. The engine also has two very effective counter-balancers to dissipate engine vibration. Which means that very importantly the engine can be rigid mounted into the frame, while Dyna motors were rubber mounted. On top of this the new softail frame is 65% stiffer than the old frame, uses 50% fewer components and has 22 fewer welds which results in a chassis that is 34% stiffer and 33lb lighter. What's also important to understand is that while the old Softail was designed to replicate the look of a rigid frame and had a shock that extended each time the rear wheel hit a bump, in this new frame the swing arm is designed so that the shock contracts each time a bump is met, which offers far greater modulation and control. The damping rate of this shock can be adjusted by a simple and easy-to-reach knob. Also ask yourself this: On every high performance bike in the world from the R1 to the Ducati Panigale, what is the configuration for the rear shock? That's right, it's a mono-shock, so what has happened here is that Harley has selected the Softail configuration not because it references anachronism, but because it offers elevated performance.
But enough of all this technical jargon, what's the Fat Bob like to ride? Incredibly docile and confidence-inspiring as soon as you throw a leg over it. And the low speed modulation is superb. But get on the throttle and it pulls (I had the pleasure of riding the engine in 114 cubic inch configuration) like a monster while the gearbox has much shorter throws than on the Dyna, making rapid acceleration even easier. Interestingly, the Milwaukee-Eight engine seems to run at a much lower temperature than the Evo engine bikes and throughout the ride I never felt even the slightest discomfort. You could probably even wear festive Lederhosen while riding it (which I own).
The handling of the bike is sublime, The Fat Bob proving the be immensely flickable for something so ursine in appearance. And the more you ride it the more you understand that this is a radical departure from the Harleys of old which, while soulful, were filled with compromise. They were hot, they were cumbersome, they were rough and made your hands numb from vibration. What is extraordinary is that Harley got rid of all the compromises and in doing so, let the soul of Harley – that magnificent sonorous rumble and the feeling of owning the road – completely shine through.
The only thing I would change on the Fat Bob are the forward controls which while surprisingly easy to reach and use are not really my thing. And something I need to investigate because I'm now thinking of selling my other bikes in Singapore and ordering one of these. I can already imagine it parked next to my Low Rider S: two incredible bikes separated by one extraordinary and courageous moment of evolutionary magic. Bravo Harley-Davidson. I applaud you.