Omega Reveals James Bond's Next Seamaster Diver 300M
The partnership with Omega and the Bond franchise turns 25 next year, and the brand is ready to up the game with a new watch that's licensed to stun.
I'm staring out at extraordinary surreal landscape of the ancient town of Matera Italy, its unique sinuous winding paths carved out of the side of a canyon. Matera was originally the dwelling of the Sassi troglodytes — the first ever human settlement in what is now Italy, that dug caves into the calcareous rock in the Paleolithic era around 10,000BC. In 251 BC the town, then called Matheola, was founded by the Roman empire. But my eyes are only fleetingly drawn to the dramatic storied surroundings before they are move unfailingly back to my wrist. Because sitting on it is one of the coolest wristwatches I have ever worn. And it is the official Omega Seamaster 300 James Bond special edition that Daniel Craig is wearing in his last ever sortie as the legendary Commander James Bond in the film No Time to Die.
There has been much speculation over who will replace Craig as the iconic 007, with names ranging from Idris Elba to Tom Hardy to Tom Hiddlestone to Richard Madden to even Naomie Harris. But just as much furied speculation has focused on the watch that Bond will be wearing in Craig's final film.
Well without divulging any details, let me just say that it is fantastic. So fantastic that it would probably have won the 2019 watch of the year had it been released this year. I can also tell you that this is a watch that Daniel Craig has a huge amount of input into, from its material to its colourway to its strap and I can say with absolute certainty Craig has got frickin' spectacular taste in watches. We know that he is a big vintage collector and also has something of a penchant for Speedmasters. He turned up at a press conference before shooting in Matera wearing his CK2915-1 60th anniversary re-edition which suddenly had forums and blogs blowing up with speculation that he wears a Speedy in the new film. He does not. But the watch he wears and had a hand in designing is insanely cool.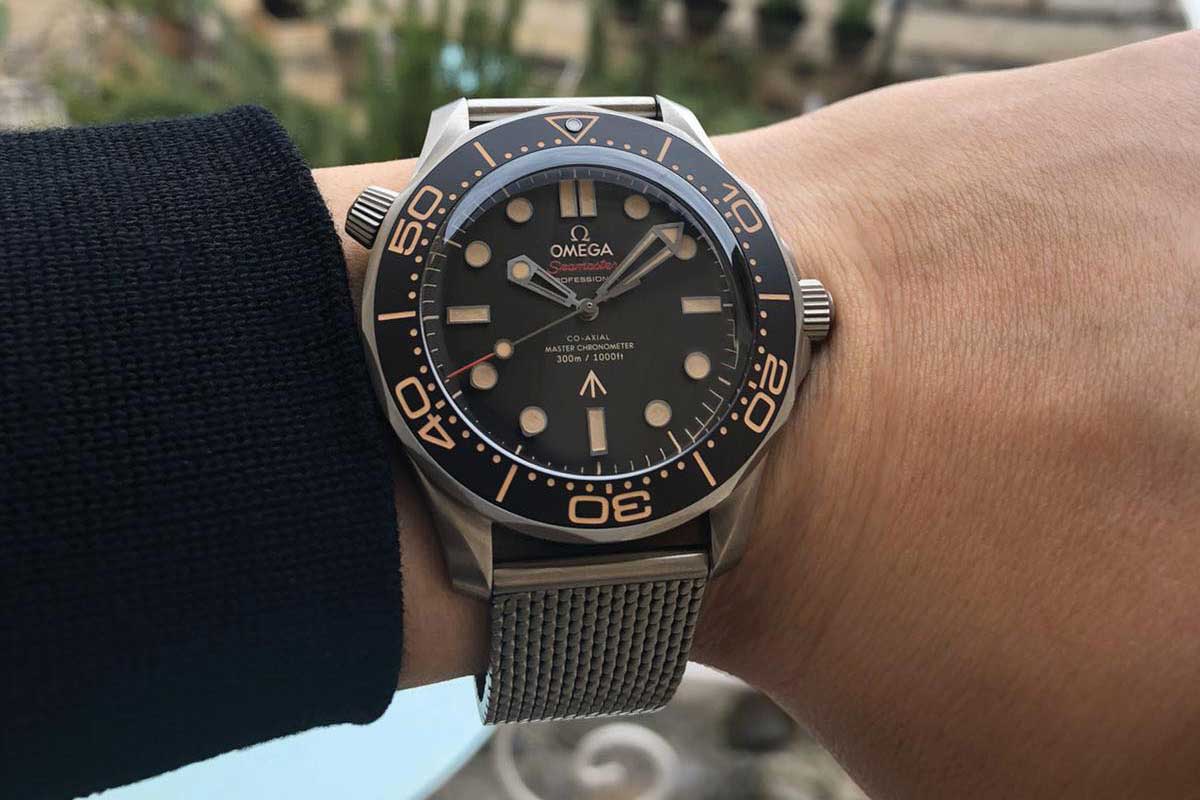 Why is this watch so damnably good? Well it's because Omega's partnership with the James Bond franchise — from the men who've portrayed Bond to the executive producers Barbara Broccoli and Michael Gregg Wilson as well as legendary costumer designer Lindy Hemming — is born out of true genuine passion, respect and mutual affection.
Says Omega CEO Raynald Aeschlimann, "After more than two decades of working together we are like family. I started in Omega in 1996, one year after our first partnership with Barbara and Michael on GoldenEye, and almost a quarter century later we are working on the latest film and it has in every moment been nothing but the greatest pleasure." And having been blessed by the admittedly surreal invitation to watch the filming of the Bond movie and meet its producers, my takeaway is the following: Broccoli and Williams are two of the most approachable and generous people I've ever met. Now take into consideration that they own and guide one of the most lucrative franchises in movie history and their personalities are something of a miracle. Add to this that the man at the helm of Omega, the massive juggernaut of the watch brand is just as approachable, friendly and kind and you immediately get why the partnership has endured and the watches just keep getting better. When I ask Aeschlimann how it all started he explains, "With an absolutely wonderful woman named Lindy Hemming."
I had the pleasure of meeting Hemming in 2017 during the launch of the Omega Seamaster 300M Commander James Bond Limited Edition, which featured a spectacularly enjoyable boat ride on the Thames with the entire team at Eon Productions. As soon as I shook her hand she cast a discerning eye over my Caccioppoli-fabric sport coat and said, "I like your jacket, is it by any chance from Cifonelli? The shoulder certainly looks like it." And my jaw absolutely dropped in awe at her extraordinary attentiveness to detail. She would later explain about picking Omega: "I was looking for a watch for Pierce Brosnan. I think that for a military man a watch is such a vital piece of equipment. My father was in the RAF but he had many friends that were from the Royal Navy. Many of them wore and spoke very highly of their Omega watches which they treasured as important parts of their life in the military. As Bond was a Naval Commander I thought that he should wear an Omega."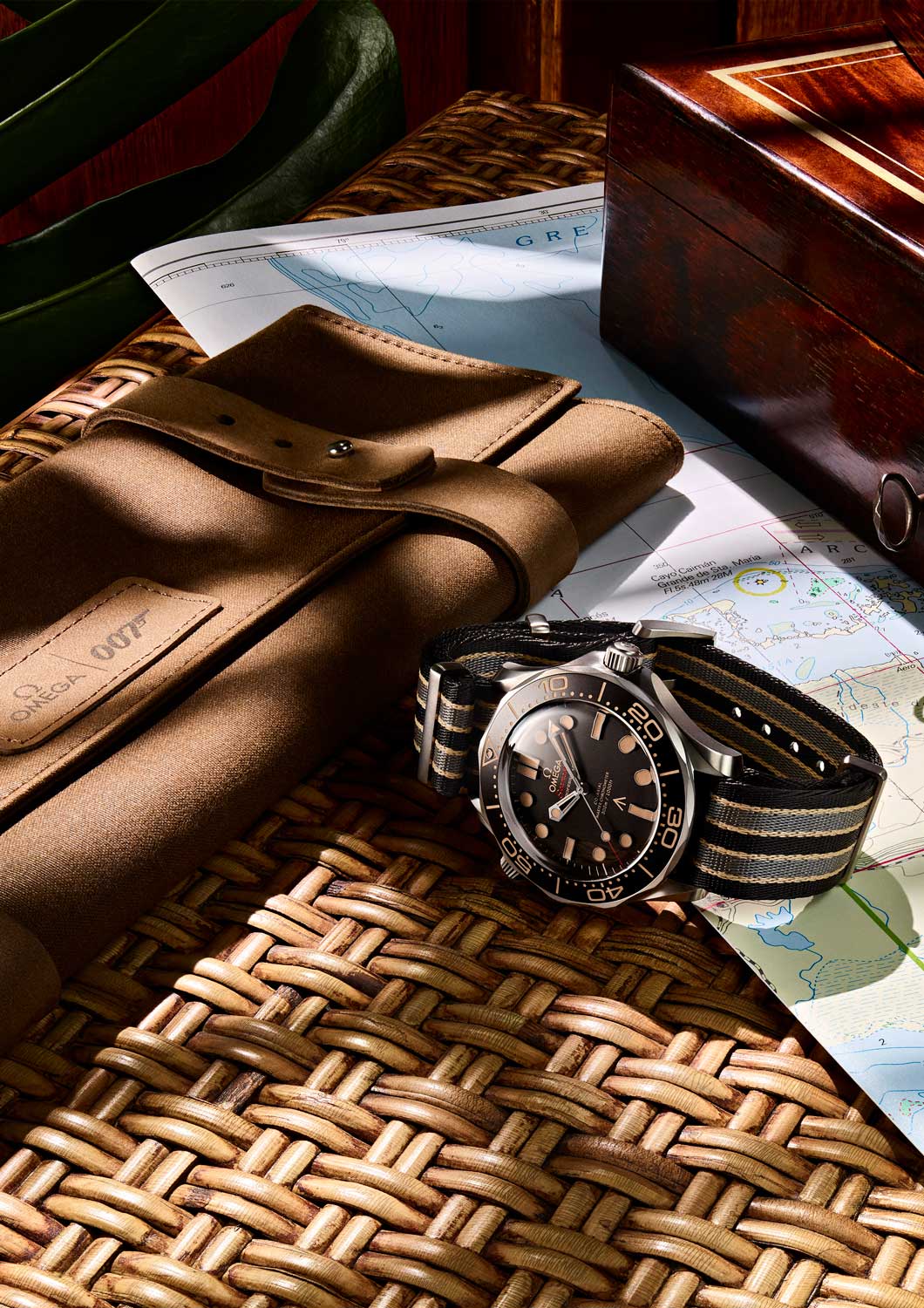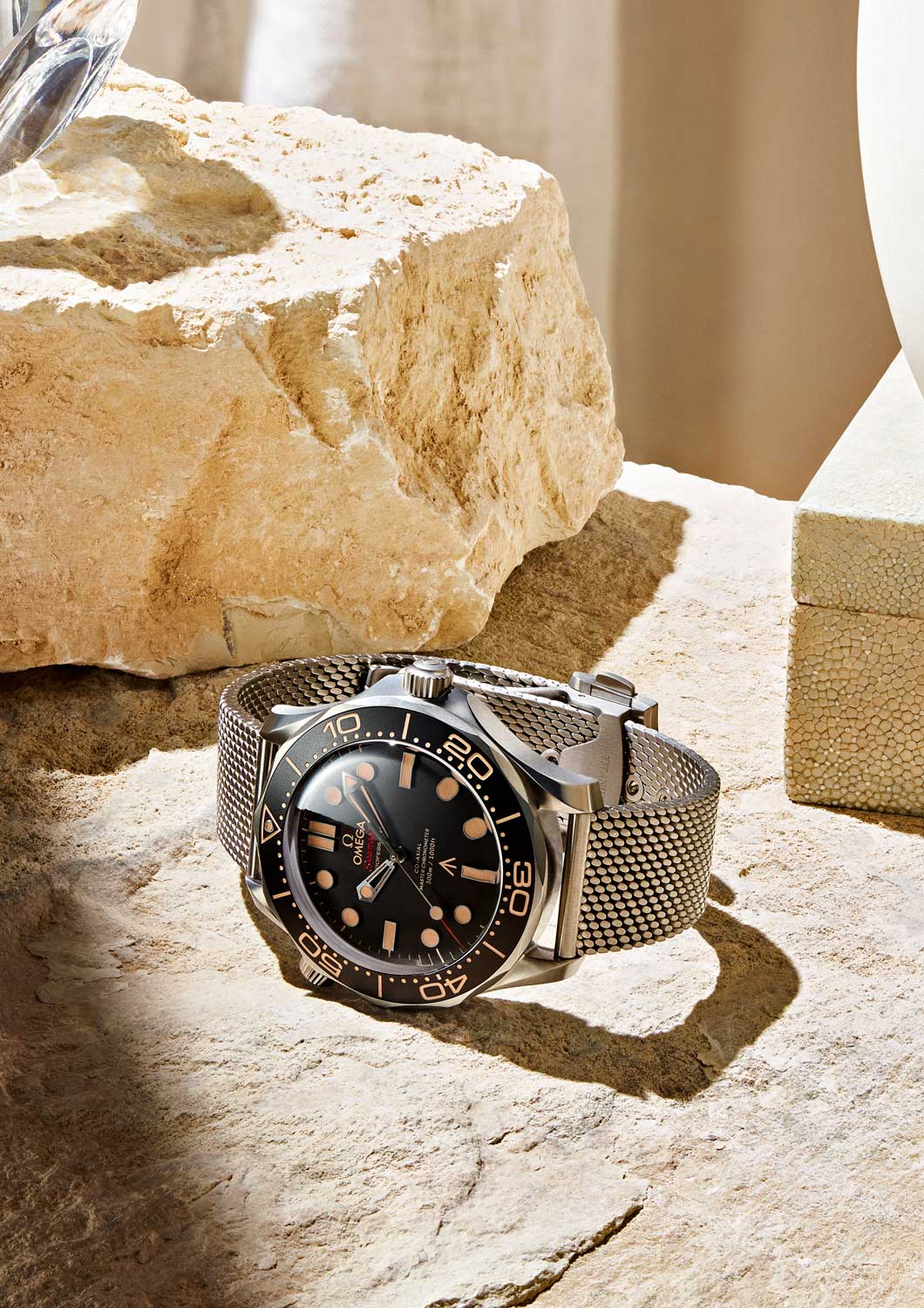 The First Omega Bond
Pierce Brosnan's first James Bond film and the franchise's 17th outing, Goldeneye from 1995 is memorable for several reasons. First, you have Sean Bean — 20 years before he is immortalized as Ned Stark — playing Bond's foe, former license to kill 006 now turned bad guy. Second, the world is introduced to the mesmerizing incandescent six foot tall hotness of the former Dutch fashion model turned actress known as Famke Janssen who plays one the most amusingly-named Bond villains of all time, Xenia Onnatop. And third, (though it should really be first) we have the first appearance of the Omega Seamaster 300M (in this case a Quartz Professional model) as Bond's timepiece.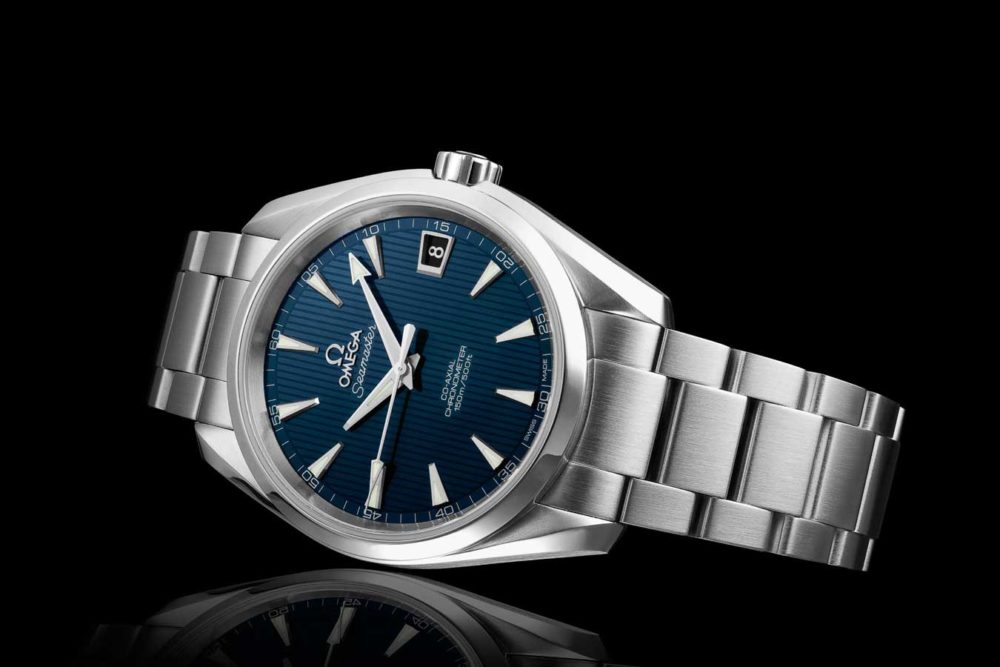 And the watch immediately becomes an icon. It is a straight-forward and proudly rugged, a brushed steel model on bracelet with a blue dial decorated by the brand's distinctive wave pattern and features the model's helium release valve at 10 o'clock. What is of note here is that the Omega Seamaster's helium release valve differs from that of other watches in that it does not sit flush with the case. Instead it is constructed as a second crown in the watch and is unscrewed to release helium that might potentially penetrate the case during deep saturation diving. For Bond, this valve doubled as a handy remote detonator for bomb in the form of a ballpoint pen that is armed by clicking it three times in succession. Said Hemming, "I imagined Bond wearing a watch with a blue dial. I was convinced that Commander Bond, a naval man, a diver and a discreet gentleman of the world would wear the Seamaster with the blue dial."
The Seamaster 300 Professional Chronometer created the core foundation of what a James Bond Omega should be. Like its predecessor it featured a 41 mm brushed steel case, blue dial with distinct wave pattern. It should be mentioned that the hands of the watch are to me some of the most unique and compelling elements. They are big bold sword shaped hands, but made contemporary by being skeletonized. The use of luminous material is generous on these hands as it is in application on the dial. The seconds hand is very unique in that it is a lollipop hand — devotees of the Speedmaster CK2998 can tell you how special this is — with a red tip.
Now without giving too much away, what I love about the, let's call it Daniel Craig, Bond watch to be launched in 2020 is that while it is a wildly radical departure from this original Bond Seamaster, it still bears these same elements.  The difference between the Professional Chronometer versus the Professional Quartz is of course its mechanical movement. The watch is worn with aplomb by Brosnan as Bond in Tomorrow Never Dies (1997) where the Seamaster once again features a detonator in the helium release valve, The World is Not Enough (1999) where the watch features a grappling hook and light and Die Another Day (2002) where the Omega has both a detonator and laser.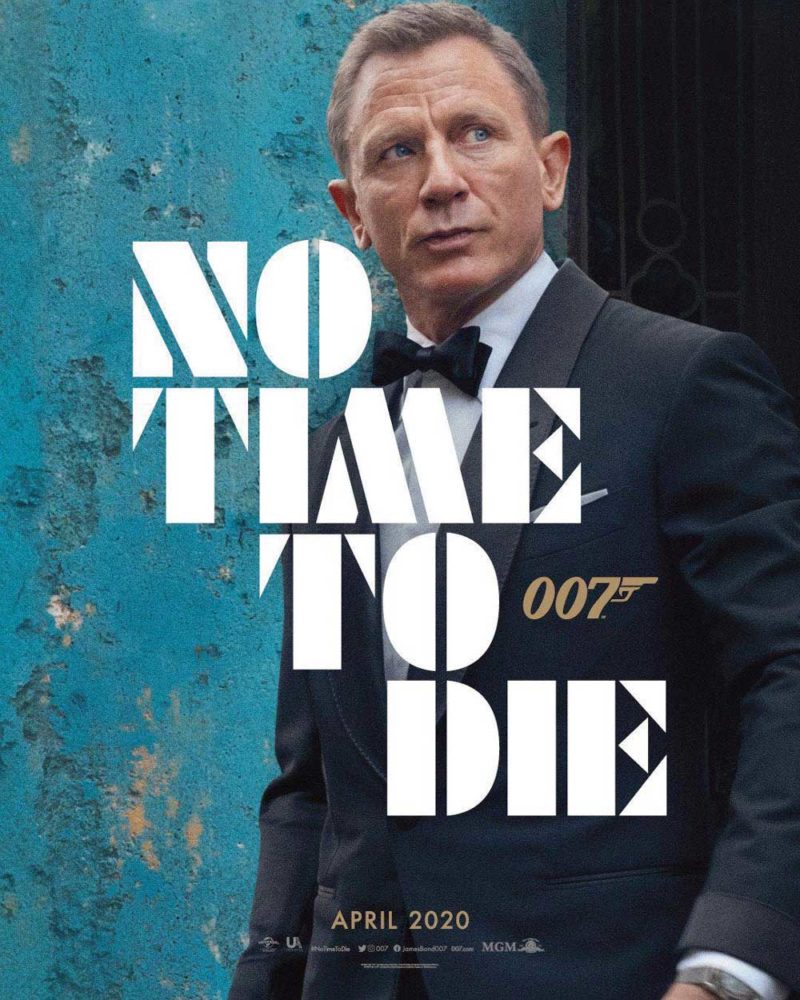 But at the early part of the new millennium the Bond franchise, while impossibly glamorous and wildly escapist, faced a struggle for relevance in the post-Bourne Identity era of hardcore action, grittier performances and morally ambivalent story lines. For Bond to remain the number one box office draw he had to be reinvented. Amusingly, Quentin Tarantino likes to erroneously take credit for what emerged. He explains, "I wrote a treatment. My idea was to make him young, cool and a real badass." Says Michael Gregg Wilson, "The thing is that there are always directors who have a take on how James Bond should be. But they often think of one movie. One treatment. We feel the responsibility for the franchise and how to treat the character we and audiences love so much with respect."
He and Broccoli first began with the selection of their new Bond — Daniel Craig — a much respected but still obscure British actor whose most successful cinematic outing until then had been Layer Cake. But the way he interpreted Bond, together with Broccoli, Wilson and director Martin Campbell (he also directed GoldenEye) who was at the time the oldest director to ever helm a Bond film, was practically incendiary. Bond was reimagined as young, brooding and morally ambiguous at times, surprisingly and touchingly romantic and a total badass. It struck cinematic gold.
Says Raynald Aeschlimann, "Because of our relationship with Eon Productions we immediately understood how incredibly important this movie was. So we decided to use two different watches in the film. The first is the Seamaster Planet Ocean 600M 45.5 mm watch you see in Uganda. This is a super robust oversized watch on a rubber strap (the first in a Bond film) and when you see Bond wearing this in the opening sequence you get the sense of a very purposeful, modern Bond. The second watch is the Seamaster Diver 300M which is more of a classic Bond watch." This is worn later at the casino with Bond's Brioni tuxedo and can be considered a bridge to past models. However while this may look like classic Bond watch, it was equipped with the Co-Axial escapement making it far more performance-oriented than its predecessors.  What is also important is that in Casino Royale the watch is a watch rather than a gadget, which fit in with the pared back yet hardcore realism of the new vision for Bond.
Quantum of Solace is an interesting film in that it is the first Bond film since GoldenEye that doesn't feature Bond's traditional Seamaster 300M. Instead Daniel Craig wears a very handsome Omega Seamaster Planet Ocean 600M 42mm. It is also interesting to note the smaller case size of the watch selected, as if Omega foresaw the return of more classic proportions. In Skyfall things get interesting in that Bond once again wears two watches. The first is the Omega Seamaster Planet Ocean 600M Ceramic 42mm while the second is a somewhat surprising Omega Seamaster Aqua Terra 150M, sized at a genteel 38.5mm. At this point in horological culture we have a general return to much more classic sizing and it is nice to see this reflected in the Bond films, and from what I understand, Craig's personal taste in watches.
The Latest Bond Watches
Spectre has the honour of unveiling what I used to consider the coolest James Bond watch of all time: the Omega Seamaster 300 Master Chronometer Spectre Edition. It's got a super cool vintage inspired 12-hour bezel, a lollipop seconds hand, broad arrow hands, vintage lume, large luminous indexes and the iconic Bond NATO strap. The reason why this watch is so cool also has to do with the appointment of Raynald Aeschlimann as the new CEO of Omega, though this would only be officially confirmed and announced the following year. What you experience with this watch is what has become his signature flair for design. Also of note is that for the first time in the history of the Daniel Craig reboot, the watch is a gadget. In this case it is a bomb that helps Bond escape Christoph Waltz's automated lobotomy machine.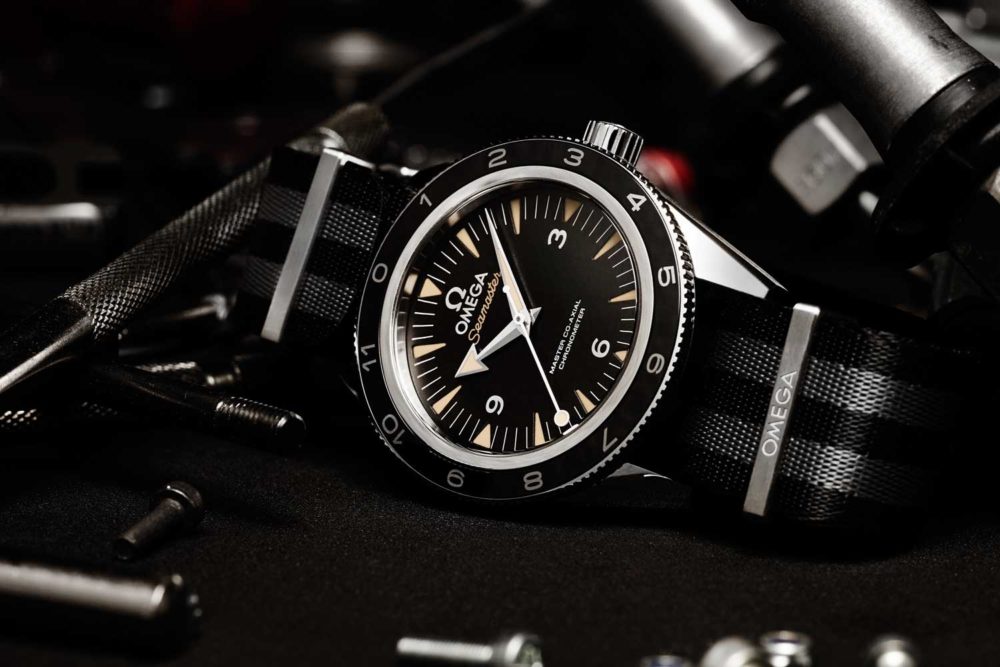 Post-Spectre, we had the appearance of two interesting Bond watches outside of the launch of a Bond film. Clearly this is a demonstration of Aeschliman's marketing savvy in his activation of this amazing partnership, even in years where there is no film. The first is the 2017 Omega Seamaster 300M Commander Bond Watch, a limited edition that numbers 7,007 watches in steel and seven watches in gold with a very unique two-tone bezel in blue ceramic with red details for the first 15 minutes and a liquid metal scale. The watch also features a white ceramic dial and a red, grey and blue NATO strap.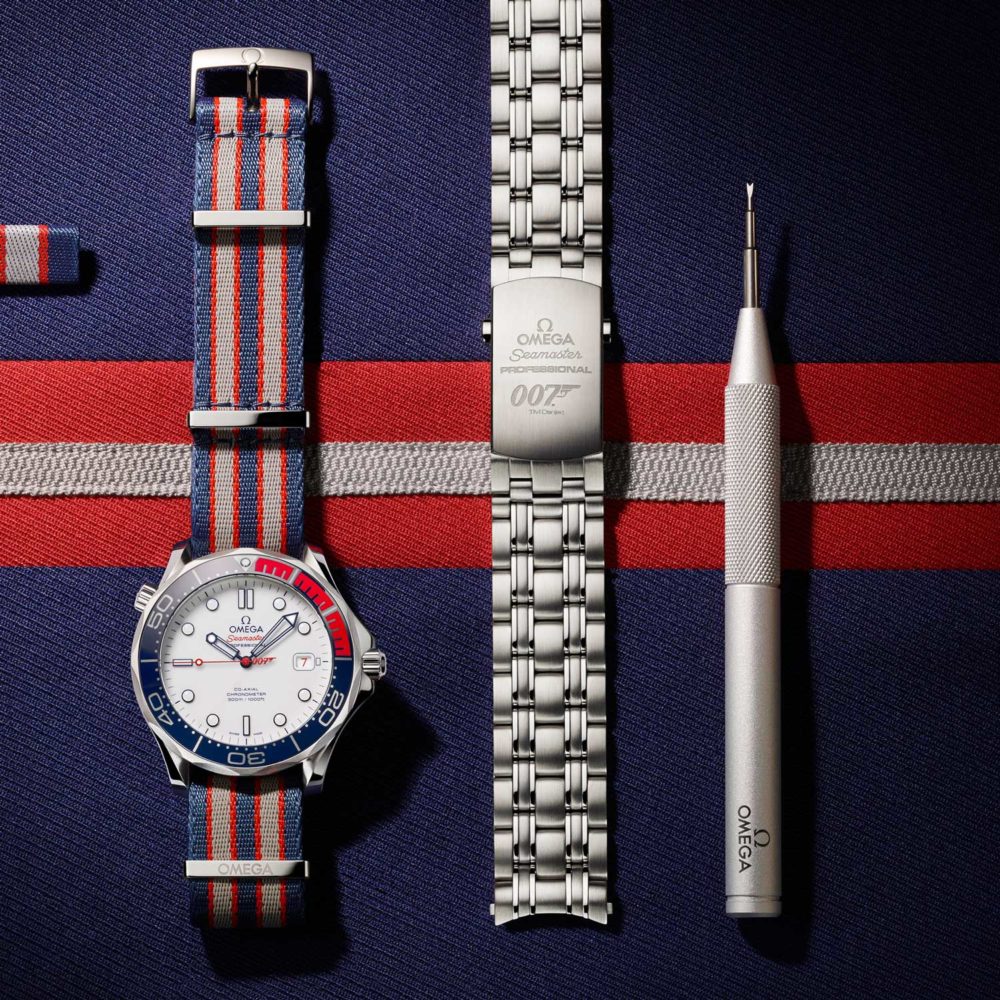 Then in 2019 we have a watch celebrating the 50th anniversary of the film On Her Majesty's Secret Service. This is a steel Seamaster 300m on a rubber strap that features a ceramic dial, with a special decoration that emulates the signature gun barrel rifling pattern seen in the beginning of each Bond film. Says Jean-Pasal Perret, Omega's head of communications, "After the decoration is applied to the ceramic dial we have to retreat it with PVD to get the right surface. This is one of the most time-consuming and complicated watch dials we've ever produced. Notice also that we've used the Bond family coat of arms in the '12' index. In 2019 there will also be a set of these Seamaster 300M commemorating On Her Majesty's Secret Service which comprises of both a steel and a yellow gold watch which are placed inside an amazing watch box and display case, which is in turn housed within a Globe-Trotter suitcase, the firm which makes Bond's new luggage."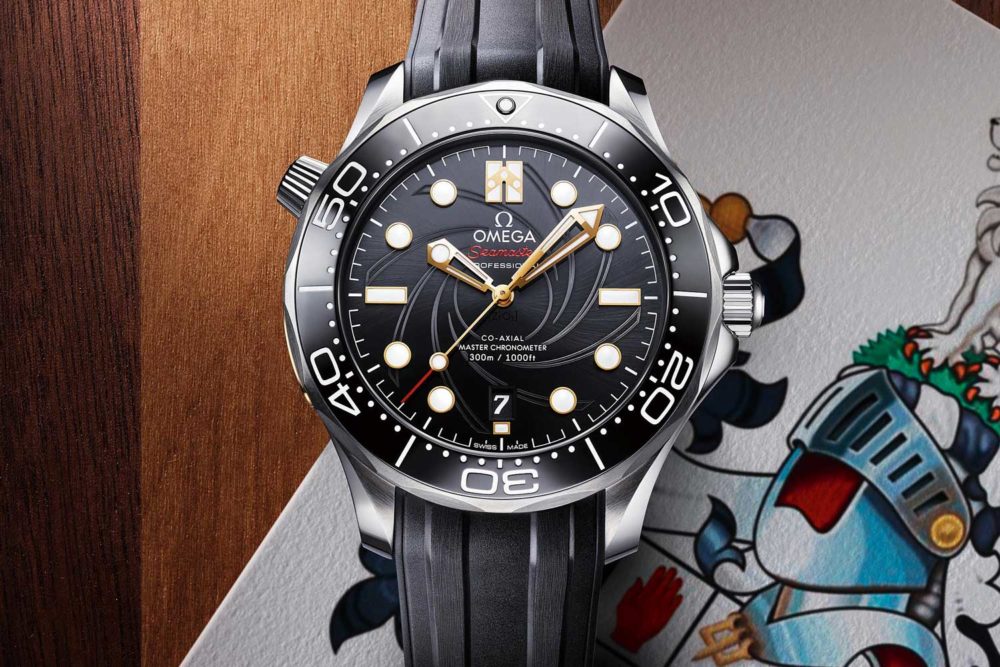 Which brings us back to 2020's No Time to Die and what is the coolest James Bond watch ever made and the coolest movie collaboration timepiece to ever exist. As I mentioned, first of all, Daniel Craig had a real hand in designing the watch. The first thing that he and the team at Omega decided on was to select titanium as the case material — in this instance, the same Grade 2 titanium that was used in the super collectable Omega Speedmaster Apollo 11 45 th anniversary watch. Says Perret, "Grade 2 titanium has a very stealthy and dark hue to it which we found very appropriate for the watch of the world's most iconic spy."
But what is truly extraordinary is that for the first time, Omega has also created a mesh titanium bracelet, specifically a Milanese-style flat mesh bracelet that is both incredibly supple while looking bombastically badass in combination with the Seamaster 300's famous iconography. The dial is matte, with massive chunks of luminous material which are accompanied by the famous skeletonized sword hands and red-tipped lollipop seconds hand we first saw in Bond's Seamaster as far back as GoldenEye.
Both the luminous material on the dial and hands as well as the diving scale in the watch's ceramic bezel are a vintage ecru color that is reminiscent of tritium or radium that has aged over the years. Says Aeschlimann, "I love the combination of one of the world's most modern materials (titanium) with this vintage-inspired detail. This was something that came from Daniel Craig and we thought the dynamic tension between modernity and vintage in the context of Omega was something very exciting.
"In many ways the watch is the perfect symbol for Bond, who is a huge part of all of our childhoods and our past, but thanks to the way the Barbara and Michael have re-envisioned him for the modern world and the way he is so wonderfully portrayed by Daniel, he is also thrillingly contemporary."
But the best part of the dial is found very subtly just above the '6' o'clock index. And that is the existence of none other than the Broad Arrow marking that designates the watch as commissioned by the British Ministry of Defense. That makes this timepiece the only modern, non-military issued Omega to feature this incredible link with the brand's faithful service to the British armed forces and harks back to Lindy Hemming's memories of her father.
The James Bond special edition Seamaster 300M in titanium with broad arrow on titanium mesh bracelet (you can also buy the watch on a stunning NATO but I would recommend the mesh bracelet model then buying the NATO as an add-on) is more than just the coolest watch to drop in 2019. It's a living expression of the incredible relationship between Omega and Bond that has endured, evolved and only gotten better, a partnership that turns 25 years in 2020.