Oris Diver 65 Cotton Candy – Why I Bought the Three Most Uplifting Watches of 2021
The Rake's founder makes time for hope and optimism with a new watch launch that sparks pure, unadulterated joy
"Honestly, we made the Diver 65 Cotton Candy collection because we thought they were beautiful," Says Oris' CEO Rolf Studer, "we didn't expect them to be the run-away success that they've become. People seem to have embraced them as symbols of optimism, hope and love and we are so happy about this. At the same time we are struggling to deliver enough watches to meet the demand."
Since time immemorial artists, tailors, designers and psychologists have understood the way colour has a powerful effect on our moods. Colours like blue have an extraordinary ability to imbue calm. Pink creates a powerful sense of positivity. Green is known to be the most restful colour and is even believed to improve fertility. But more than that: to me, the beautiful vivid colours of mint green, sky blue and pink that grace the dials of the Diver 65 Cotton Candy Collection are a celebration of our survival through the most life-changing pandemic we will hopefully experience in our lifetimes. After a mournful period of elegiac isolation and the ensuing existential malaise or as the German's call Weltschmerz we need totems of positivity more than ever. We need watches that resonate with as Studer puts it, "hope and optimism" to be worn in moments when we reconnect with the world, re-embrace our friends and family, celebrate our loves and friendships while appreciating all the immense, immeasurable beauty in the world.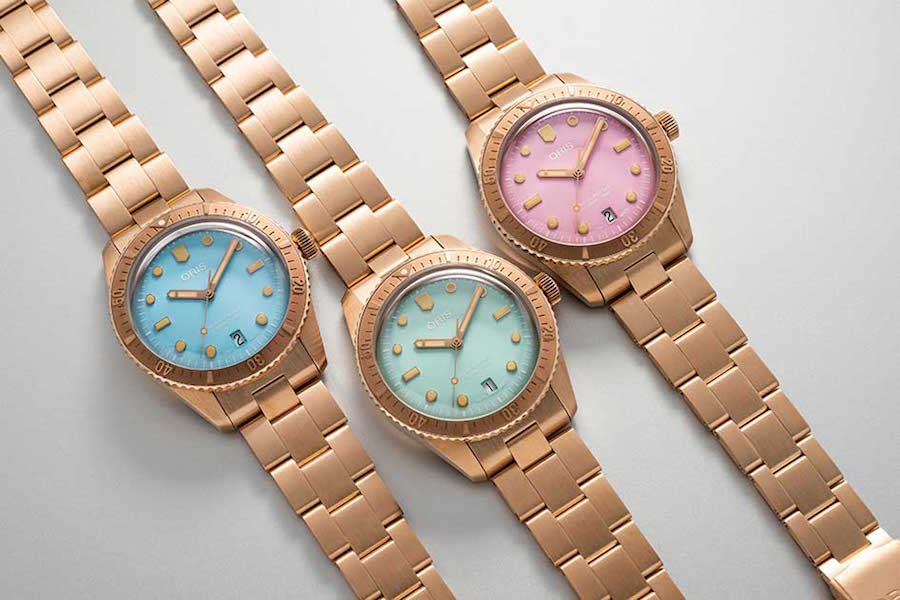 When I first saw the movie American Beauty I was struck by the line, "There's so much beauty in the world. Sometimes I feel like I'm seeing it all at once and my heart fills up like a balloon about to burst. And then I remember to relax, and stop trying to hold onto it. And then it flows through me like rain, and I can't feel anything but gratitude for every single moment of my stupid little life." Now after going through 2020 I feel these words resonate within me so powerfully. They fill me with a sense of gratitude to be alive and ambulatory and endowed with a profound receptivity to all the beauty life has to offer and that I overlooked before. That's what the Cotton Candy watches make me feel when I wear them.
Here, then, are the five reasons I bought all three of the Diver 65 Cotton Candy Collection.
Reason One: They are Beautiful
The extraordinary thing about the Cotton Candy watches is that they transcend the sum of their parts. Sure the Diver 65 is impressive with its bronze case and bronze bracelet. Even without the phenomenal dials these watches have so much wrist presence. A lot of time people will think you are wearing a full rose gold diving watch until they notice the stunning patina that makes each watch unique. But you add the Cotton Candy Dials and the watches literally explode off the wrist with so much charm. The colours that Oris has selected could well be the result of a deep chromatic analysis on what resonates with us psychologically. Studer and his team have chosen the perfect pink, the perfect mint green, perfect sky blue all of which stirs up a powerful sense of comfort and nostalgia with images ranging from childhood candy to Yves Klein paintings, to Sonny Crockett's T shirts in Miami Vice. The point is it doesn't matter if you are a watch fanatic or if you are a relative neophyte or don't care about watches at all everyone I've known who sets eyes on them are drawn to their allure.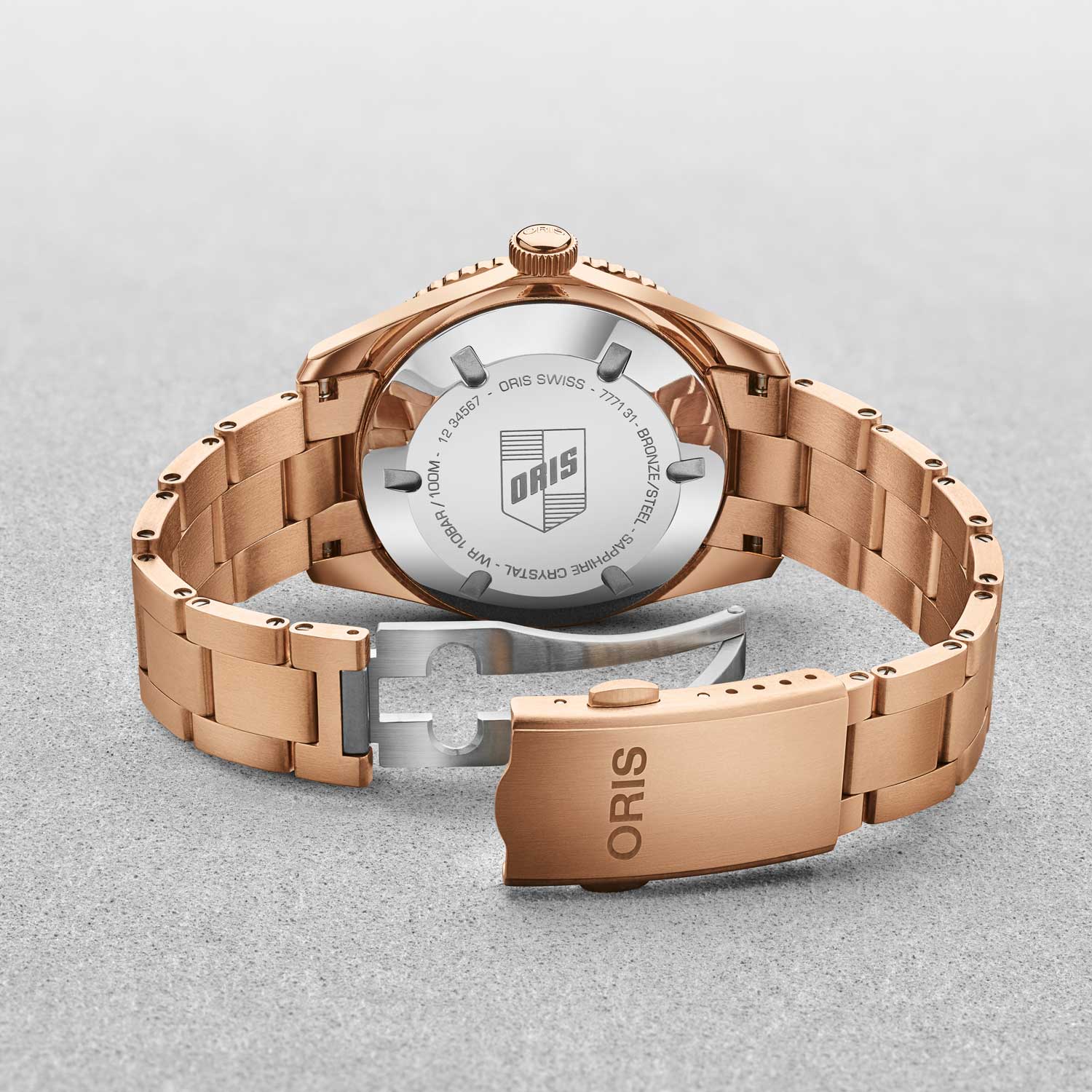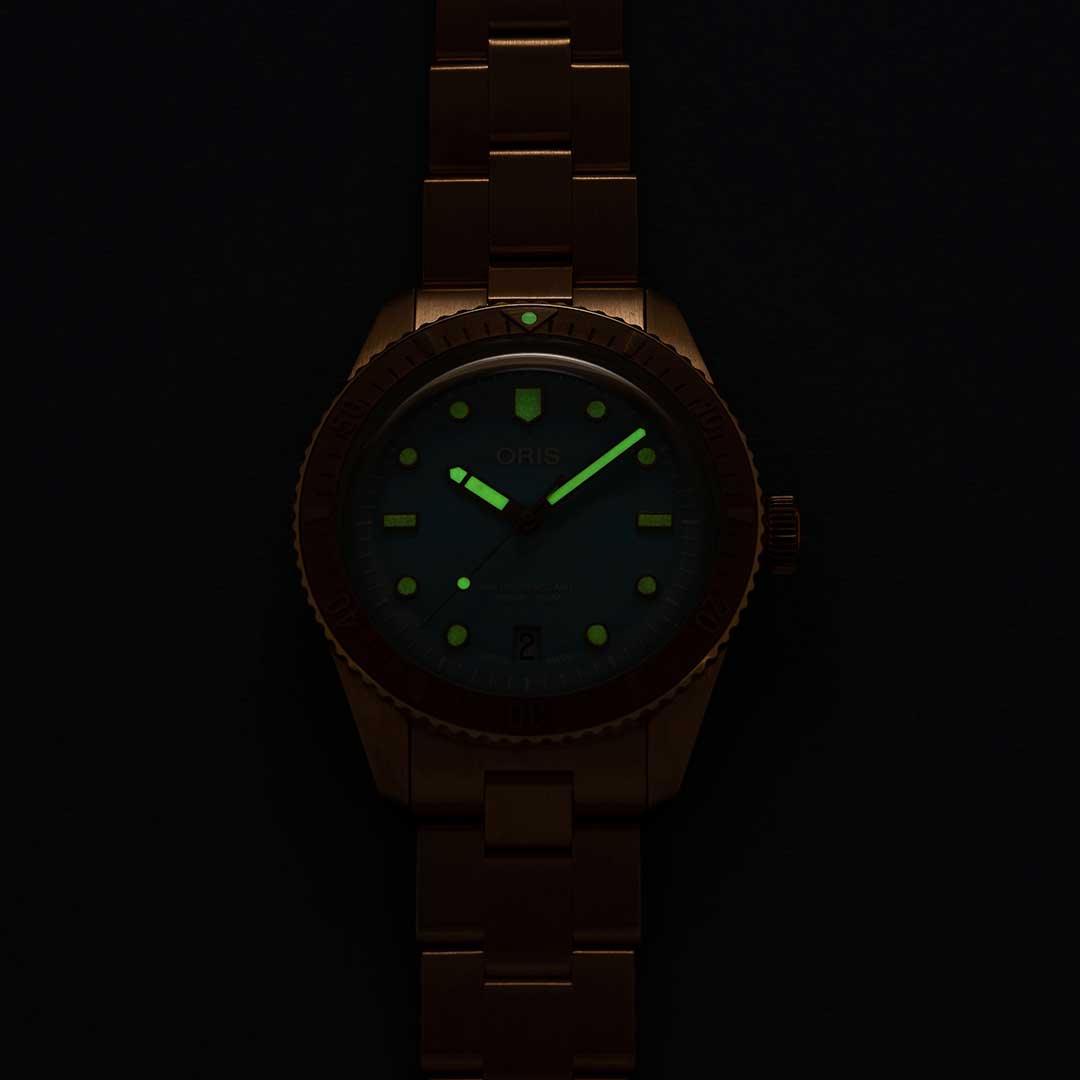 Reason Two: They are the Perfect Size
The Diver 65 Cotton Candy watches are the best argument I know for all dive watches and sports watches being made in 38mm in diameter. Put it on your wrist and whether you are a man or woman you'll find the watch strikes the perfect balance between robust muscular presence and elegant wearability. At 38mm it also looks perfect on both men's and women's wrists and I think that truly good watches always transcend gender. They are instead a revelation of character. Marcel Proust said, "Style is the revelation of the universe that each of us sees and that is unseen by others." And I think that with any of the Cotton Candy watches on your wrist you are revealing the positivity of your spirit.
Reason Three: They Punch Way Above their Weight Class
What I love about Oris is that they are committed to basically outperforming 99 per cent of the other brands on the market in terms of their price value proposition. At $2750 (USD) the Diver 65 Cotton Candy is an incredible bargain. Regardless of the price, it is the only dive watch in the world that comes with a full bronze case and full bronze bracelet. The case back and bracelet clasp are stainless steel, the crown is bronze PVD treated steel. But the rest of the watch is full unadulterated bronze. The movement is the venerable SW200 which hacks and has a date feature. Put the watch on your wrist and it feels like something that would cost at least a thousand dollars more, making it a true rarity in the watch world.
Reason Four: You Can Get Them
Of course, many people have compared the Cotton Candy Collection to the Rolex Oyster Perpetuals with the Stella-inspired vibrant dials released last year. I would say in their edifying capacity to cheer you up there is of course a similarity, though I would say the colours on the Cotton Candy collection are even punchier than those of the OPs. However, the watches differ in one major way. The Rolexes are basically un-gettable unless you are willing to go into the secondary market to pay a premium. The Oris are getting tougher to get simply because of the excitement around the Cotton Candy collection but you can still find them and we will make sure to always have a set of all three colours available online and in our shop in the Maldives.
Reason Five: They Make Me and Everyone Else Smile
Yes, the Oris Diver 65 Cotton Candy collection are the horological equivalent of my dachshund Bandit who makes everyone – dog lover or not – smile when they see her, so winning is her personality. But in all seriousness, everyone and I mean everyone that sets eyes on these or tries them on has a big smile on their face. I've written this entire story with the pink dial version on my wrist and I have to say the palpable sense of positivity is real.