A TASTE OF HONEY: THE ORIS FOR THE RAKE AND REVOLUTION DIVER 65 'HONEY'
A glass of artisanal gin, a 1959 Gibson Les Paul, and memories of glorious summers past all combined to inspire this partnership with dive-watch masters Oris.
OK, let's back up to 2015 when Oris presented their much-loved Divers Sixty-Five. One of the hardest design challenges in watchmaking is the creation of a handsome, functional and original-looking dive watch. But that's precisely what Oris achieved when it launched the 40mm rotating-bezel-equipped timepiece, complete with amusing funky op-art-like indices at the four main quadrants based on a 36mm watch from its collection dated to 1965. Even more appealing beyond the watch's well-executed and relatively slim case and domed sapphire, which provide the design underpinnings for a steady aesthetic evolution over the years, was the highly accessible €1,600 original price point. It was clear that Oris had decided to offer an extremely strong value proposition with their Swiss-made timepiece powered by a Sellita SW200 calibre. The water resistance of the watch was 100m, which is still far deeper than anyone is likely to dive.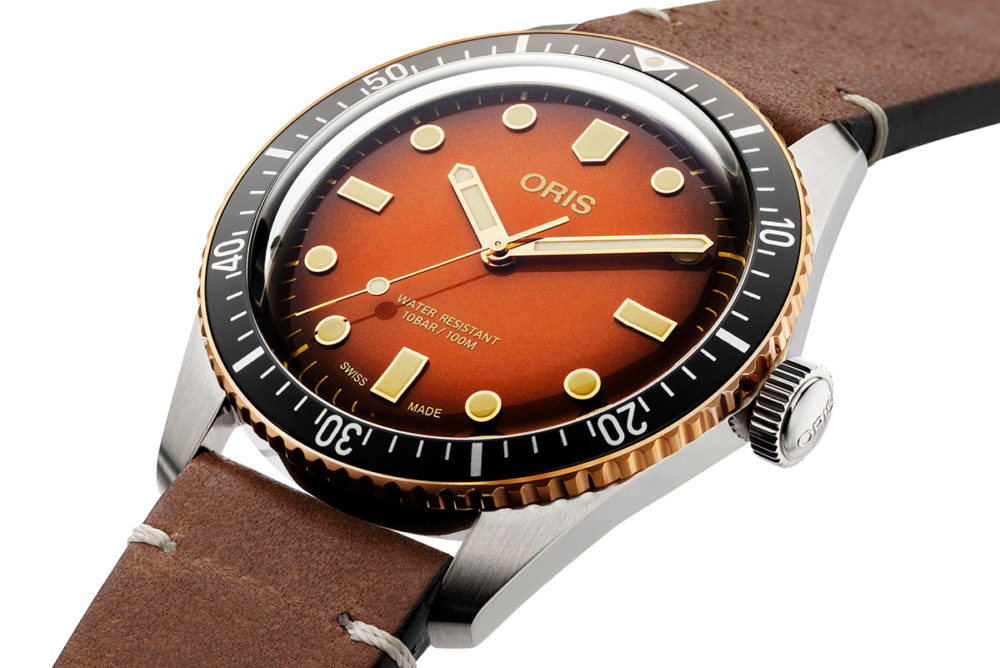 In 2016 Oris rode on the success established by the Divers Sixty-Five by introducing a more conventionally dialled version of their dive watch, with a combination of round and rectangular indices. That year they also created a limited edition of this 42mm watch in tribute to Carl Brashear, the U.S. Navy's first African-American master diver. Brashear's inspiring story was chronicled in the film Men of Honor, in which he was played by Cuba Gooding Jr. You learn that Brashear joined the Navy in 1948, and graduated from its prestigious diving programme in 1954. In 1966 he lost part of his leg while trying to recover a nuclear bomb, but despite extreme adversity, he went on to become the Navy's first amputee diver in 1968 and receive his Master-Diver accreditation in 1970. Because of their association with professional diving helmets, Oris selected bronze as the material of choice for Brashear's watch, specifically an alloy-incorporating tin that would cause the case of each watch to patinate over time in a unique and individual way.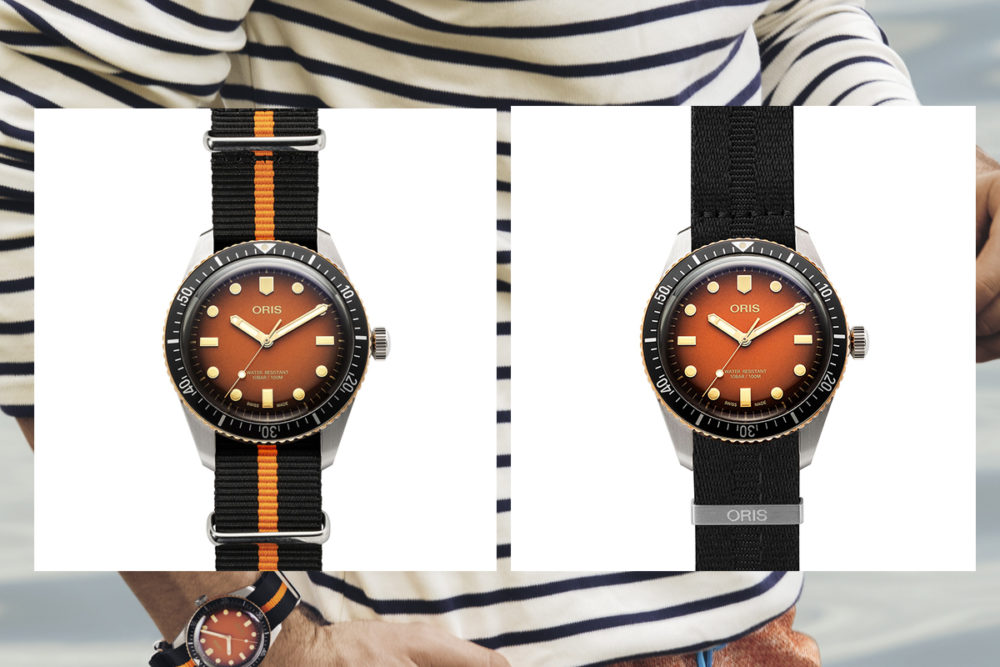 Presented at the 2016 Basel fair, this limited edition was snapped up in a matter of hours. Regular steel Divers Sixty-Five watches were also extrapolated with different dial colour choices; these were highly successful. In January 2017, Oris announced a partnership with the Movember foundation, a charity that raises money to help with prostate and testicular cancer awareness, prevention and cure, male mental health issues, and suicide prevention. To celebrate this partnership, Oris launched a stunning 40mm Divers Sixty-Five with a clean black dial featuring the traditional diver markers, gilt (brass) minute markers and writing, and rose-gold surrounds for the luminous markers and hands. The date window was relocated from three o'clock in the 42mm model to six o'clock in this smaller model. This stunning timepiece also came with a three-colour NATO strap. Priced attractively at €1,950, it quickly sold out.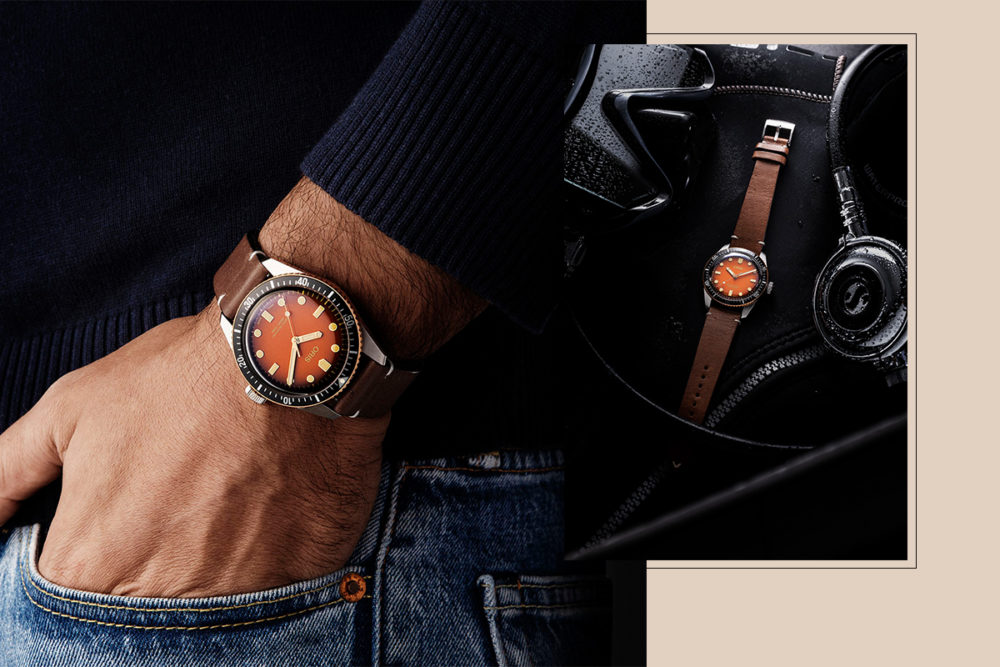 The 40mm Divers Sixty-Five has since become a unique platform for Oris's limited editions, the most recent of which is the RedBar Special Edition with a stunning red dial. In 2018, Oris also came out with their own version of the steel dive watch with a bronze bezel in both 40mm and 36mm versions, both using SuperLuminova coloured to replicate the visual identity of aged tritium. However,
The Rake
and
Revolution
limited-edition Divers Sixty-Five is totally different from these other editions. As with many of our projects, it began with a conversation with the brand's C.E.O., Rolf Studer. It so happens that Oris make their own small-batch gin near Basel, and so our conversation became rather vivid and imaginative quite quickly. I recall it going something like this. I said, "I'd love to collaborate with you on a small series of Divers Sixty-Five watches in 40mm, in steel with a bronze bezel, but I'd like to create a totally different version from anything you've done before." Studer replied, "I'm receptive. Tell me your idea." Perhaps it was the heady combination of distilled juniper berries or the strong summer sunlight flooding through the window of Oris's office in Hölstein that propelled me to suggest a watch based on these golden hues of summer and the glistening honeyed tones of a perfect Mediterranean tan.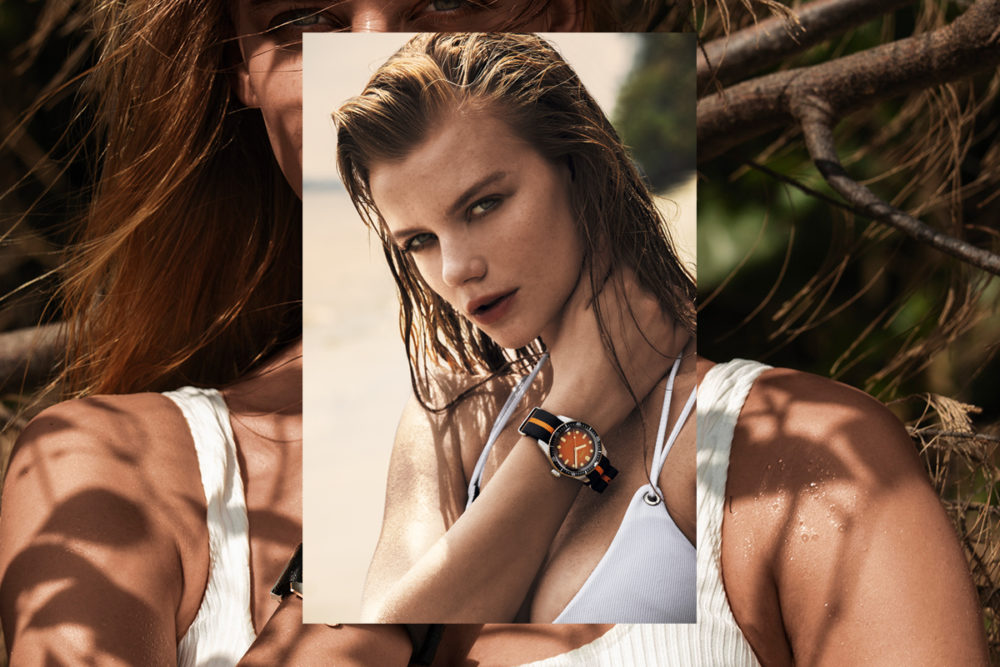 Intrigued, Studer asked me to continue, and I explained that I'd like to take our inspiration as the amazing perfect tan hue of sun-kissed skin. I thought we should search out inspiration in vintage tropical dive watches to see if we could find one that reminded us of that. But more than that, I somehow envisioned a sort of sunburst pattern found in some rare tropical dials (which have altered in colour from prolonged exposure to UV light) that is also reminiscent of the two-tone pattern used on the world's most coveted electric guitar — the 1959 Gibson Les Paul. In the same way, the sun has a magical effect on the human skin, turning it a magnificent shade of manuka honey, so too are we amazed at the sun's effect on certain tropical-dial dive watches, where its rays have the power to radically transform what was once a black dial into a translucent palimpsest of the most intense honey hues.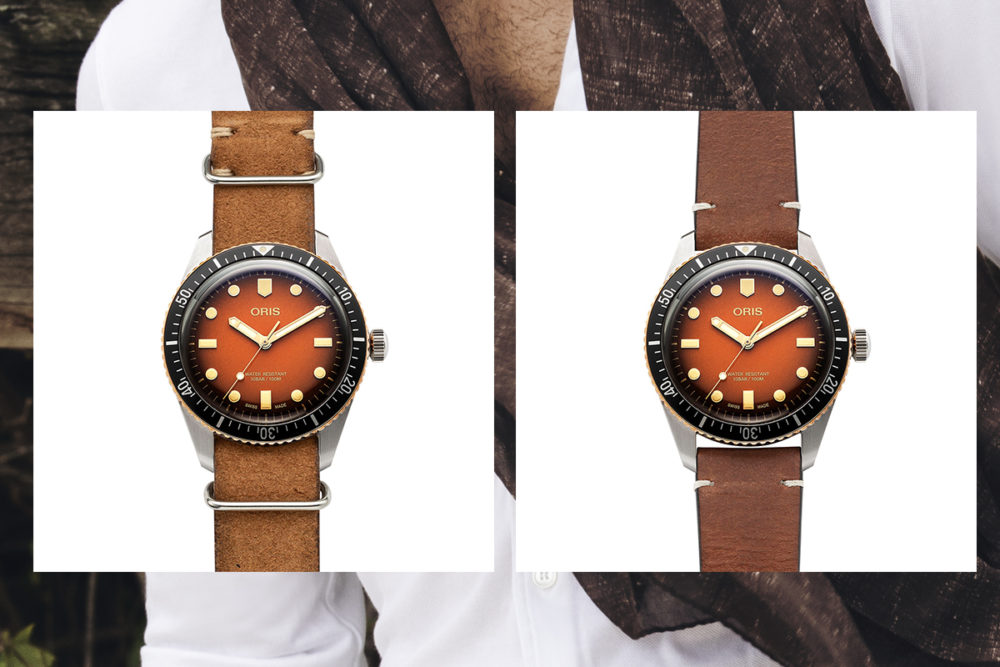 Today, a tropical-dial diving watch is both prohibitively expensive and extremely rare. It's probably the last watch you would go diving with, because of the dial's inherent instability. We needed to find just the right colour so the centre of the dial looks like translucent honey as it progresses to a deeper Rembrandt ochre at the edges. Pouring me another gin and tonic, Studer nodded to himself and said, "You know what? I like it." Together with Oris, we experimented with innumerable dials over the past year to yield what we feel is the perfect honey-coloured dial, with just a touch of orange to evoke the colour of the celestial body rising from the ocean at sunrise. The intervening few months had us bouncing ideas back and forth, relating to the unique colour and sunburst pattern of the dial.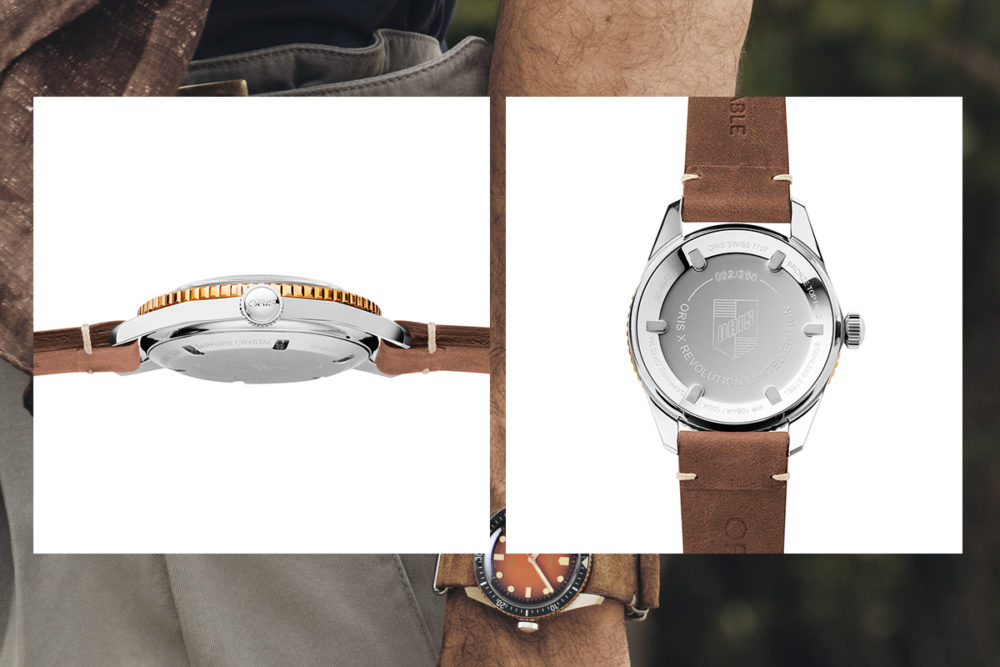 In a watch that we're retailing for less than $2,000, and depth-rated to 100 metres, you can feel confident submerging into the sea. To keep the dial cleaner we did away with the date function. The resulting watch is profoundly alluring to me, and from across the room people are instantly drawn to its unique multi-hued dial, which pairs perfectly with the slim case and tropical sapphire. It's a watch that will bring back memories of glorious summers of youth spent basking in the sun, indulging in the pleasure of the season. Oris Divers Sixty-Five 'Honey' for
The Rake
and
Revolution
Movement Self-winding 4Hz Oris calibre 733, based on Sellita SW200-1; hours, minutes and central hacking seconds; 38-hour power reserve Case 40mm; stainless steel; engraved with Oris X Revolution Limited Edition on the caseback; water resistant to 100m; 250-piece limited edition Strap Brown leather strap, with additional NATO strap and strap-changing tool, included. Available for pre-order on
TheRake.com
and 
www.revolution.watch
from March 18 at $1,900 net.