Our Edit Of The Best Of Sale
We've curated our favourite pieces from the sale to upgrade your wardrobe instantly.
Back in June, when we last endorsed the pearls of The Rake's sale, it looked like holidays were soon to become a reality again. Beaches, bars and restaurants were all preparing for an influx of visitors - albeit in less corners of the globe. Excitement was brewing and suddenly there was reason to regale in the freedom of clothing yourself in attire that wasn't just for the home. Although, now in lockdown number two, it seems there is an ending. As we hear of the imminent arrival of a vaccine, it is time to reset, which means a winter wardrobe overhaul in anticipation of the brighter times ahead. In an interval of life when some pockets have been hit harder than others, we're delighted to vitalize your sartorial senses with excellent value propositions on brands who put quality, craftsmanship, authenticity and provenance of materials very high up on their list of priorities. For decades many of these brands have been existing on word-of-mouth recommendations and so with this in mind, we take pleasure in being the platform where you first discover these artisanal brands at such great value. With hundreds of items to choose from in The Rake's sale, we have done some of the heavy lifting for you by handpicking some of the standout pieces: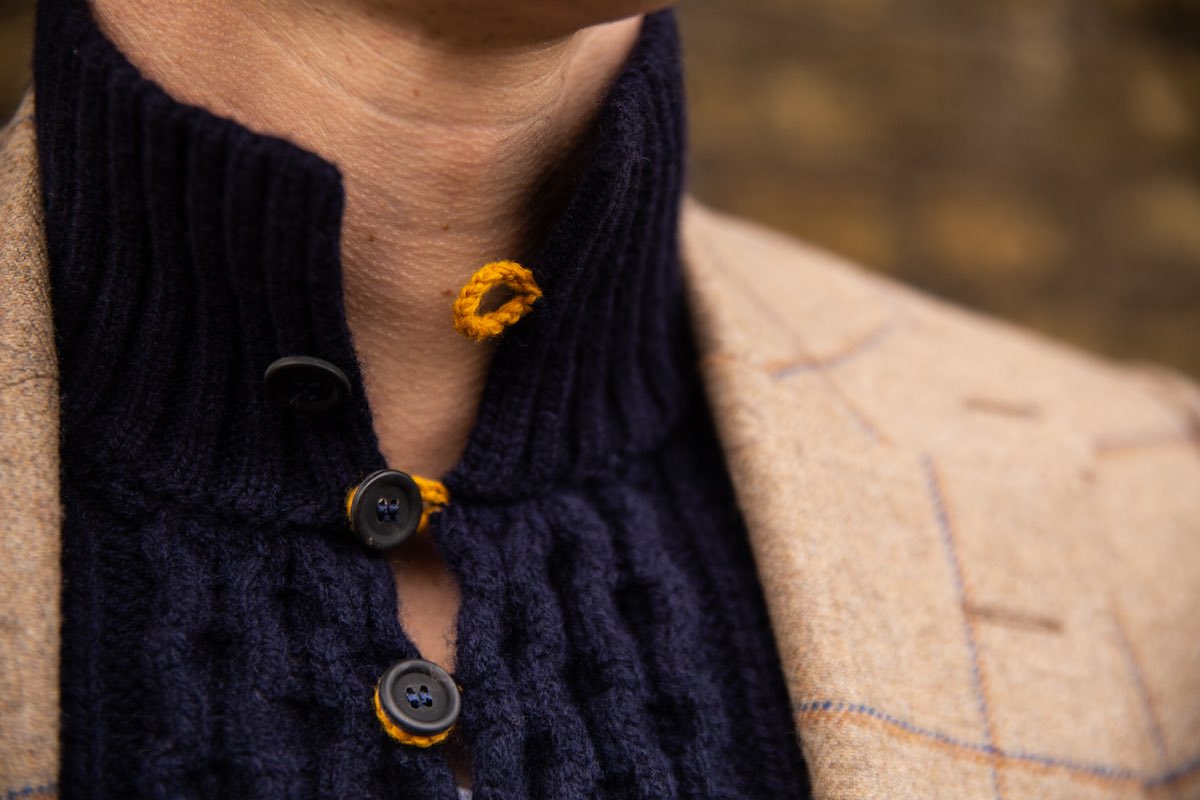 It seems there is always a patch in November that feels suspiciously warm. But just around the corner is always a blast of bitter winds, driving rain and even heavy snowfall. Steering your outfits away from formality and into the era of relaxed dressing, whilst staying warm is no easy feat. This is when the unsung category of knitwear comes in and luckily in The Rake's sale we have high-quality knitted yarns in abundance. No brand quite typifies the romance of island knitwear quite like
Inis Meáin
 – a brand based on the island of the same name, on the west coast of Ireland. Amongst their traditional knitting mastery is their red and green Beairtíní mock neck knit. Crafted from cashmere, blended with super geelong merino wools, its understated fusion of deep greens and reds with its slightly disorderly and rugged texture bespeaks a certain bohemian charm. A very versatile piece, it is agile enough to wear underneath a heavy coat or looks just as good worn on its own, with a pair of jeans. Honouring a sweater that belonged to famous fisherman Máirtín Beag, the brand's navy Máirtín button-up knitted sweater in merino wool is a very adaptable layering option. Fellow knitwear specialists,
Altea
always tend to throw up at least one unusual design each season. Their green and orange wool cashmere cardigan is in that bracket and shows knitwear isn't boring. It comprises a beautiful knitted braid finish on the front and again acts as the informal fulcrum to wear whatever you want with it.
Before the virus gripped the globe, the changing dimensions of code in fashion was already gearing towards casualization. People experimented more vivaciously on what they wore to work, but with a large section of offices completely desolate, clothes that are comfortable and adaptable are going to be your port of call. Refined, louche and yet marvellously sophisticated,
Valstar's
beige cotton padded Milano raincoat, certainly aids the informal appearance when worn with jeans or acts as a casual alternative to a suit jacket. Although on the smarter side of casual, the jacket would pair nicely with Lardini's brown pleated wool trousers. With razor-sharp reverse-facing pleats and on the traditional end of the trouser spectrum, they're a nod to the classic trousers that Cary Grant and Clark Gable used to don in old-Hollywood. Alternatively,
Caruso's
dark brown wool houndstooth trousers add a touch more texture into you winter trouser arsenal.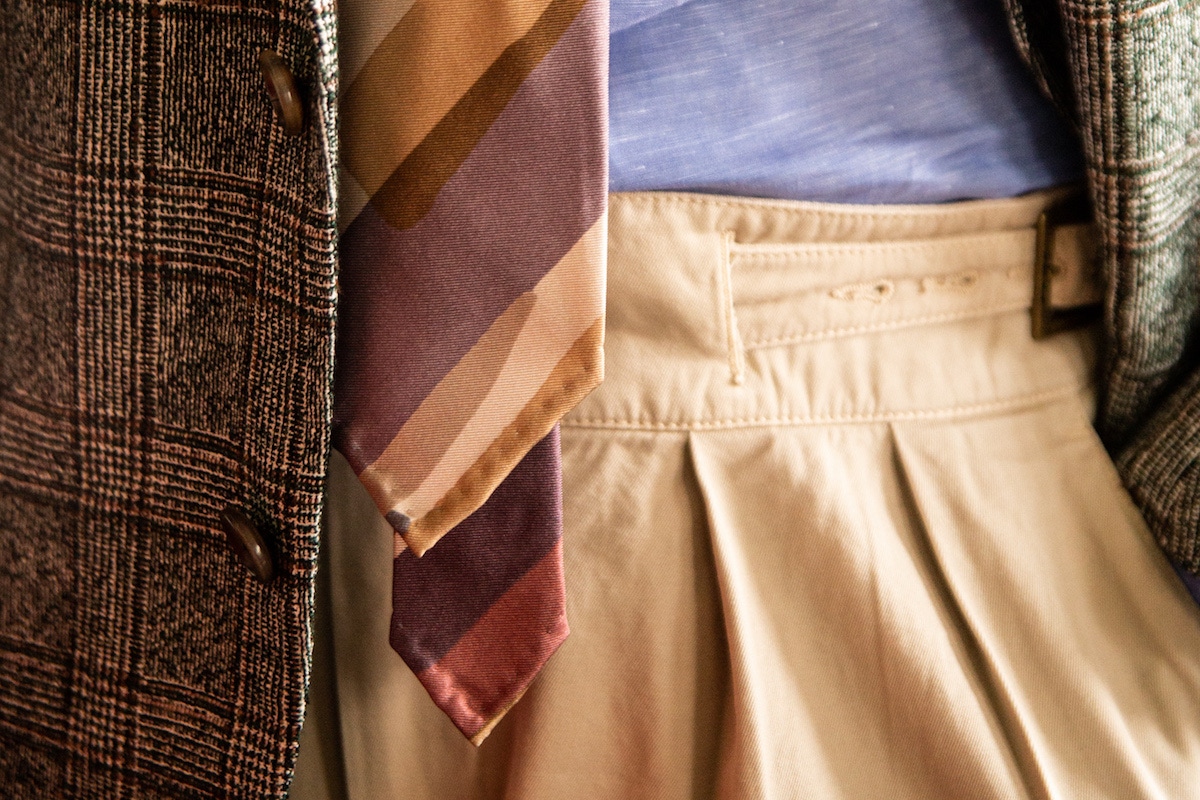 Deliberating the purchase of your heavy winter coat can be like trying to find a needle a haystack. Sometimes you just cannot make up your mind, by which time the advection of hot air has blown in from Sub-Saharan Africa. Coats that are refined, but have a splash of eccentricity through their cut are going to be wise choices in these times. Known for their sterling trousers,
Kit Blake
also unearth some imposing coats, but with a slight edge. With lapels as generous as you can find, the brand's dark blue lambswool double-breasted Urban coat carries all the swagger of the brand's great coat, but without the bulk. Parties, holidays, meetings and events in one's diary used to give jolts of excitement. Signs tell us, this may reoccur in the not too distant future. Tailored jackets, ties and formal shirts, once again will have their place in wardrobes and so why not have a fresh outfit ready for when you can be more sophisticated. On this theme we thought it apt to harness a look on the smart side of casual to navigate you through these assignments in style. Caruso are brand that has this artful and discreet creative touch when it comes to the designs of jackets. Their mid-beige herringbone is subtle, imperious and oozes class. Worn with
Edward Sexton's
blue and white cotton Bengal stripe tab-collar shirt with a brown, white and pink fantasy paisley tie from Florence-based
Tie Your Tie
would add some retro flare to an immaculate concoction of tailored separates.