Paris Fashion Week: Menswear Spring Summer 2017
The Rake attends Paris Fashion week in search of positivity and fresh perspective, and finds it in the luxury brands making their mark this Spring/Summer.
It may well be one of those moments that every generation experiences a few morbid times in their lives. Where were you when Kennedy was killed, when Princess Diana died, when 9/11 happened, and currently, where were you when Britain disastrously, unwittingly, accidentally, downright stupidly, opted to divorce itself from our European family? For a group of luxury journalists collected from all corners of the world, that location was Paris. We were gathered for men's fashion week, but talk of trends rapidly faded as we watched the world as we know it potentially fall apart. For British press members especially, it was admittedly difficult to shift attention back to the fine garments on display from one of the greatest examples of European culture and heritage - that of design and craftsmanship created by a melting pot of skill and talent representing not one particular nation, but from a wealth of talent from all over the world. But it was difficult to be reminded of this and to focus on an industry whose very survival relies on the existence of prosperity and affluence when facing an imminent future of economic uncertainty and overwhelming sadness at the thought of being separated from our European cousins. And so, the significance of being on this now enforced foreign continent was not lost on those of us due to travel back to our emancipated island nation, feeling less than Great. As for the designers who showed this week, their contributions to the world of fashion were indeed great and that served to lift spirits, if only momentarily.
Berluti
It may be a time of transition for the traditional French shoemaker turned luxury lifestyle brand, but the mood was upbeat and the performance strong. Models frolicked in the evening sun enjoying leisure activities in sporting chic styles. It was an accurate display of what men have come to expect and need from clothes today, that of elevated performance-wear. The suits were soft and lightweight, the shoes too, with signature patinaed leather but on a sole of rubber for a contemporary alternative to the Alessandro or as a viable luxury sneaker look. There was an offering of accessories and jewellery on display this time, as well as swimwear and leather dumbbells, all of which provided a welcome distraction, but the clothes still had the signature elegance we've come to know and love from Berluti since launching ready-to-wear, but this time a few more casual, commercial pieces filled the gaps to provide the complete lifestyle offering.
 Helbers
The former menswear designer of Louis Vuitton and now leading the ship of his own brand, Paul Helbers' second menswear collection encapsulated a summer by the beach that, at this time of year, most people find themselves yearning for. Inspired by the natural tones of his own favoured vacation spot, the palette lent itself well to the casual relaxed silhouettes and the thoughtful fabrics Paul uses. And that's one of the things he does so well. The aesthetic is one of casual elegance, but it's his choice of fabrics that ensure that the look is coherent, that it translates his vision of classic, clean, elegant clothing. He told The Rake: "the mixture of textures is really at the core of what I do. Soft and dry textures - for example the speckled linen suit - then in the knits we have silk, linen and cashmere." This is one brand we're enjoying witnessing growing and continuing the progression of luxury casual menswear.
Ami
On the morning of his show, I walked through the adorable streets of Le Marais, stereotypically strolling with coffee and croissant in hand, sun shining and I walked passed Ami founder, Alexandre Mattiussi who was sitting at a café enjoying, I hope, the same scene. It was a well-deserved moment of respite for the designer who set up his brand in 2011 designing mostly for his friends. For real people, not an ideal or for a conglomerate; "It's real clothes for a real man", he says. And this season, his offerings were a great combination of seventies sporting apparel, zipped silk jackets in mustard tones, fifties shaped printed silk shirts and loose pleated trousers styled perfectly with slim belts. The check pattern throughout served to elevate the collection. It was a collection that was succinct, at first glance simple but in fact, quite the opposite; every piece was wearable, sellable and styled to perfection. Here's to keeping it real.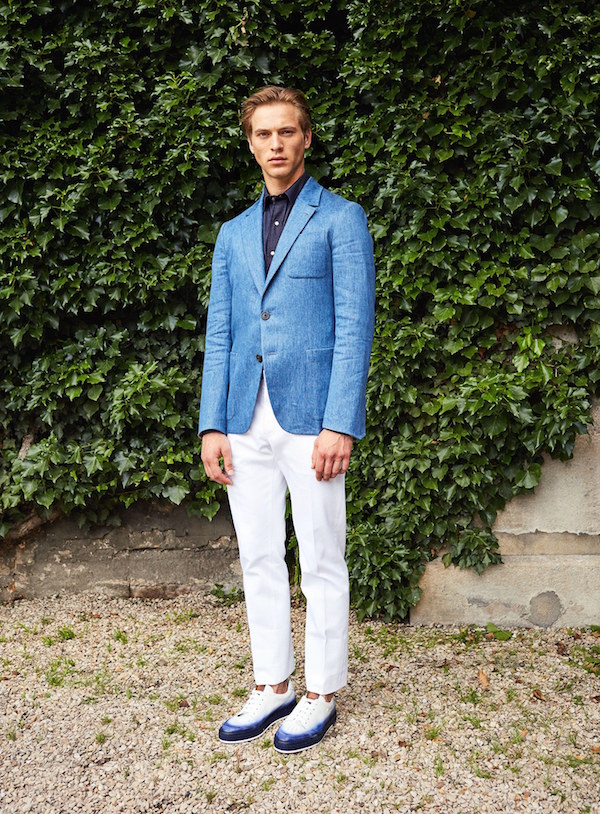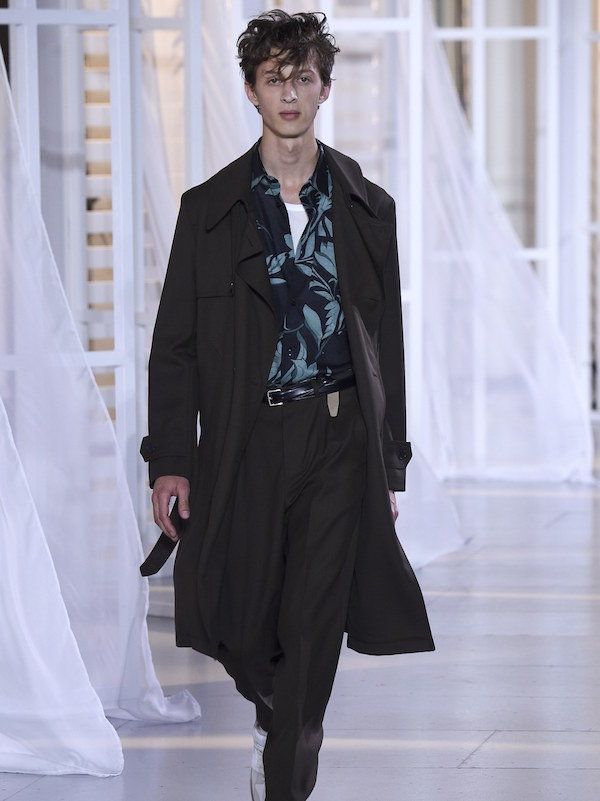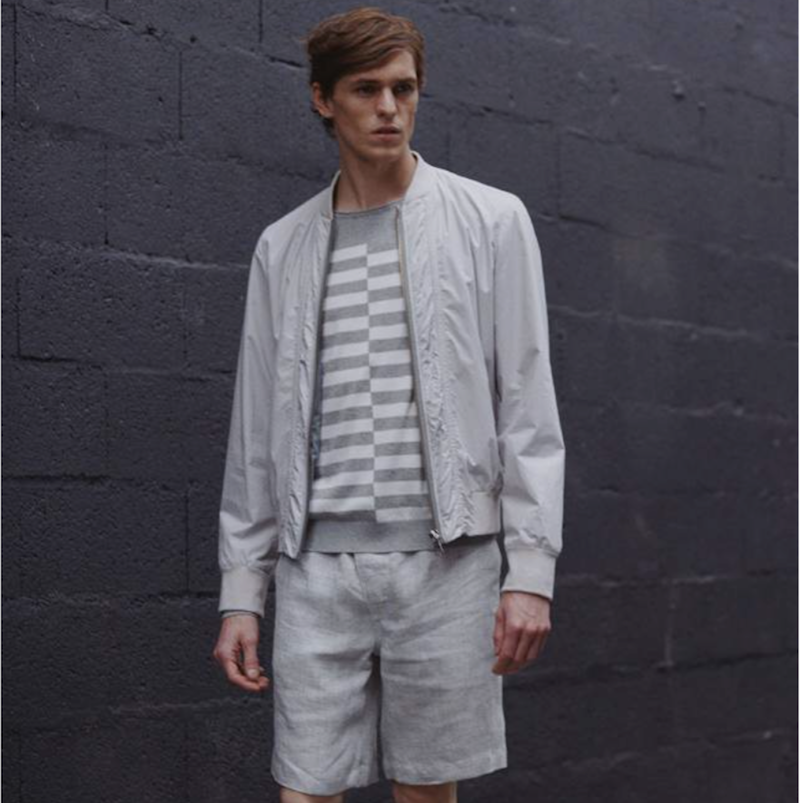 Valentino
There's talk that Valentino's joint creative director, Maria Grazia Chiuri is about to head to Dior - an as-of-yet unconfirmed fashion whisper. But it's with design partner Pierpaolo Piccioli, both appointed by Valentino Garavani himself in 2007, that Chiuri presented another strong collection and possibly her last.
Camo was of course on display but in rougher, unfinished form, which made for a welcome contrast to the perfection they are so well renown for and to the soft silky bomber jackets which as with most brands have carried on from two seasons earlier. But this was deconstructed couture style. Inspired by an exhibition at The Met Breuer in New York, Unfinished: Thoughts Left Visible, this collection looked at the notion of beauty and creativity in a constant state of renewal and change when left unfinished in its details. To the untrained eye the collection was immaculate. Military details and design motifs featured and with a predominantly natural palette the collection felt youthful but supremely wearable and masculine.
Hermes
Véronique Nichanian is not one to follow trends. It's not fashion she is creating, but objects of beauty, objects that are an extension of the maison's heritage of craftsmanship, of its ability to create exquisite pieces from the most luxurious fabrics and leathers on earth. And season after season we are reminded that so much of menswear is about precisely that. There are fashion brands and then there are brands like Hermes that design for men who want investments. For men who want to buy timeless pieces of quality that will last a lifetime, that will elevate their wardrobes and whisper style rather than shout fashion. Of course, Véronique does have a fun side, and this season that came about through flashes of line yellow-green pieces; the toweling short suit, a particular highlight, provided an eye-catching pop on top of the very wearable soft tailoring, simple leather and silk bomber jackets in layers of her signature styles.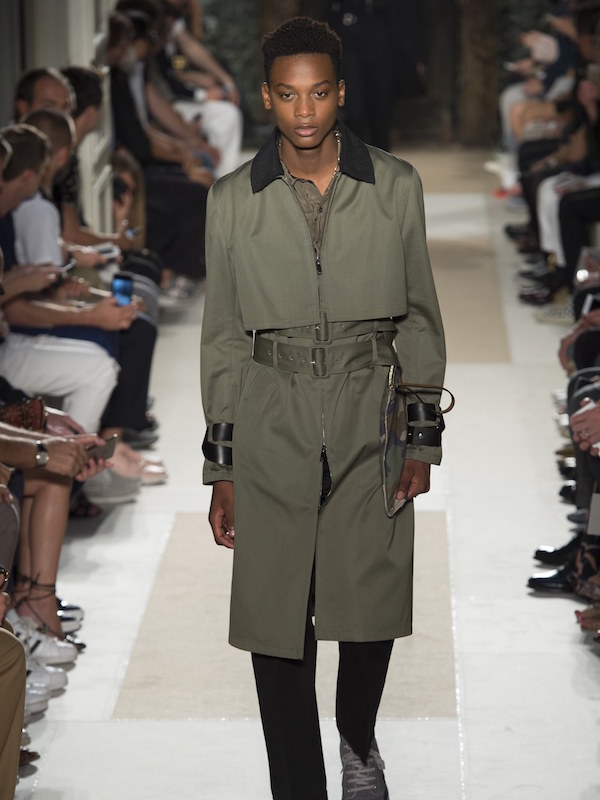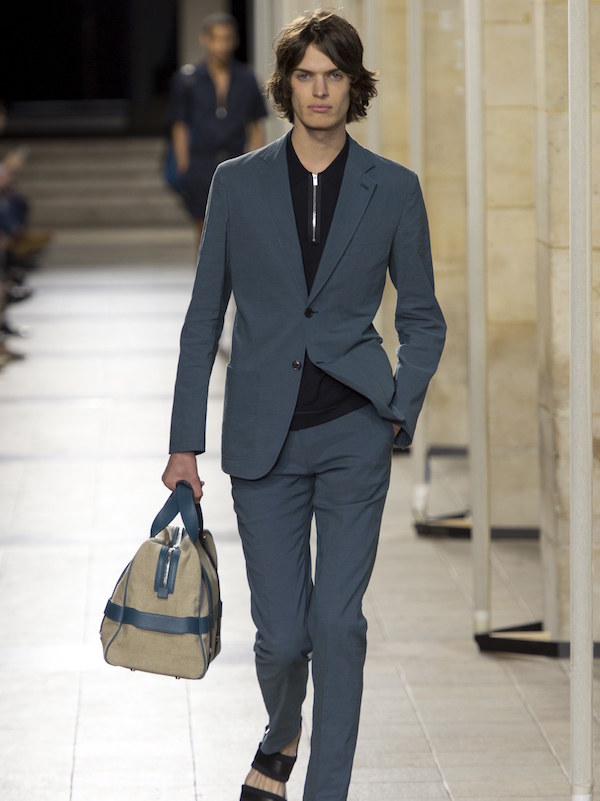 Cerruti
It's not an easy task to take the helm at a maison with a design heritage as refined as that started by Nino Cerruti and whose designs were so synonymous with cinematic sophistication. But, if we had faith and confidence in anyone conveying not only the prevailing themes of menswear today but also in reference to the vision of a this great design house, then it would be Jason Basmajian. His refreshing take on design is one of clarity, realism, not overly styled, and without unnecessary complication. He told The Rake how he achieved this and what inspired one of the strongest menswear collections presented for SS17 this season…
"I started with the colour palette. I found some old pictures of tree bark that had the look of the camo foliage you see on some of the pieces. So that didn't come from military, it actually came from an organic source and the colour palette of those images were so beautiful they kind of dictated. And then the DNA of the brand was always about understated elegance, as so the sophisticated natural palette of dusty mineral shades, powdery pastels, provide a fresh lightweight approach. We did a lot of military inspired details but in more elevated fabrications, so the cargo pants are in a soft wool stretch… We did a lot of lightweight coats, dusters, so instead of a jacket or a blazer there was this outdoor piece that is very Cerruti in featherweight cashmere for example. Then the trousers are all a little more relaxed, with drawstring details, and a loose fit. So it was really all about moving it into something that was sportier and slightly younger, lighter and not quite as serious, but still elevated. And I think this is the right evolution, for me, which you can also see with the mixture of the denim looks as part of this collection too. And it's important to me that this runs as one collection; The market is saturated and confusing with different lines from one brand, but it's how a guys dresses nowadays, you like a brand, you like a style aesthetic, you like its vocabulary. And you should be able to find everything from that brand that you'd want."
Dior
The nineties post-new-wave are having somewhat of a revival and Kris Van Assche's SS17 trouser silhouettes were more than reminiscent of the voluminous, pocket patch, contrast-stitch black denim versions the youngsters of my generation were seen wearing. The two-piece suits were expectedly slim but presented in an array of unconventional fabrics and patterns with details showing the house's savoir-faire. Cut with a casual temperament and welcome warped perception of formality, athletic tailoring found its visual antithesis through garment distortion. The progressive lightweight parkas and bombers were lightweight and sporty, and the sleeveless trenches were militant and immaculate. The youthful collection had a sense of reminiscent rebellion, much like the direction of menswear as a whole.
Louis Vuitton
With the current parallel of travel beating at the heart of current fashion influences and the musical chairs being played out among designers, it was no surprise that Kim Jones presented one of his strongest collections for a house synonymous with travel. Having had stints at Dunhill and various other luxury brands, the designer seems to be in his element and the perfect purveyor of nomadic luxury style at Vuitton. This season saw Kim jet to Africa but not forgetting his British punk roots which made for a surprisingly palatable combination. Fluffy soft cashmere jumpers in Masai-colours and punk die-effects finished with creepers and studded belts made for a rebellious look overall.