Invest: Parmigiani Fleurier Bugatti Type 390
Just like the Bugatti Chiron it is inspired by, Parmigiani Fleurier's Type 390 timepiece boasts a technologically advanced 'engine', unique design features and an extremely limited production run.
The Bugatti Chiron is not like other fast cars. For starters, the numbers it boasts are on another level: 1479bhp, a (limited) top speed of 261mph, 0-60mph in 2.4 seconds, a £2 million price tag… it's relentless, just like the feeling that takes over your body when experiencing its acceleration. The instant surge of power that occurs when you squeeze the throttle is mighty, and not unlike the hit offered by the peaks and troughs of a rollercoaster. Its speed is unnatural and your mind recognises this – every ounce of it telling you to slow down
now
. So when you touch that
other
pedal, the huge airbrake and quad carbon ceramic disks slow the car with equal pace and disconcert – in the wrong hands, the Chiron would be a very expensive automotive yo-yo.
All of this mystery and intrigue isn't by chance – the Chiron is engineered to within an inch of its life, and features some of the most advanced technology present on an automobile to date. It is this tech that inspired Parmigiani Fleurier – long-time partner of the French marque – to create the Bugatti Type 390, a wristwatch that's described as an 'engine block on the wrist'. Indeed, the Type 390 has more than a hint of industrial-chic about it – it has the form of something built for purpose rather than luxury. Its flowing lines are inspired by those of the Chiron and are even more impressive considering the case is constructed of solid white gold, complete with both polished and brushed finishes that display the expert attention to detail of the artisans employed by Parmigiani's manufacture. Similar to the Chiron though, it's what is under the bonnet that is most impressive.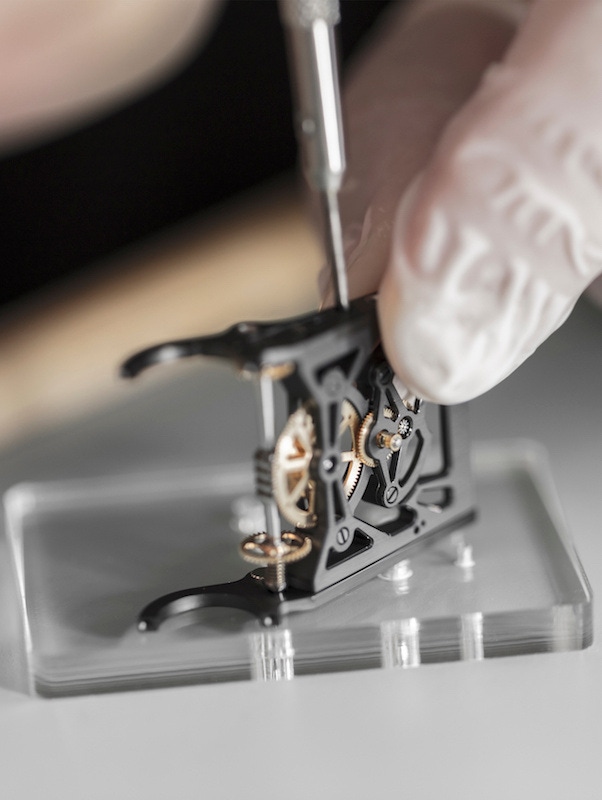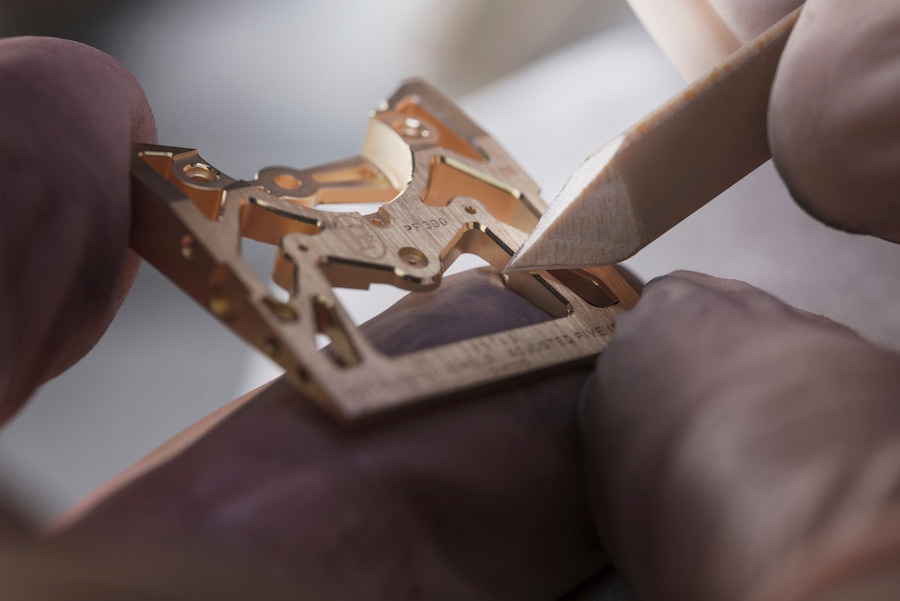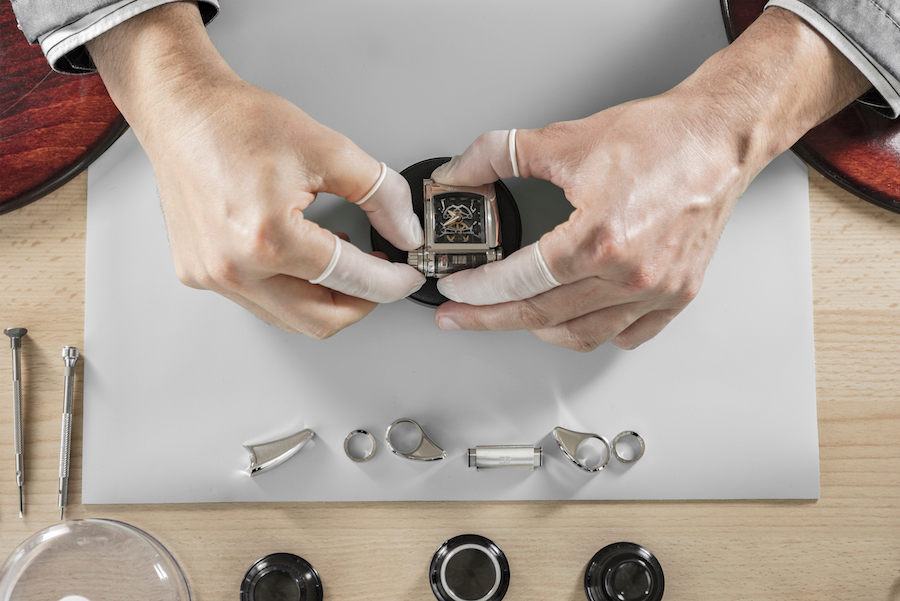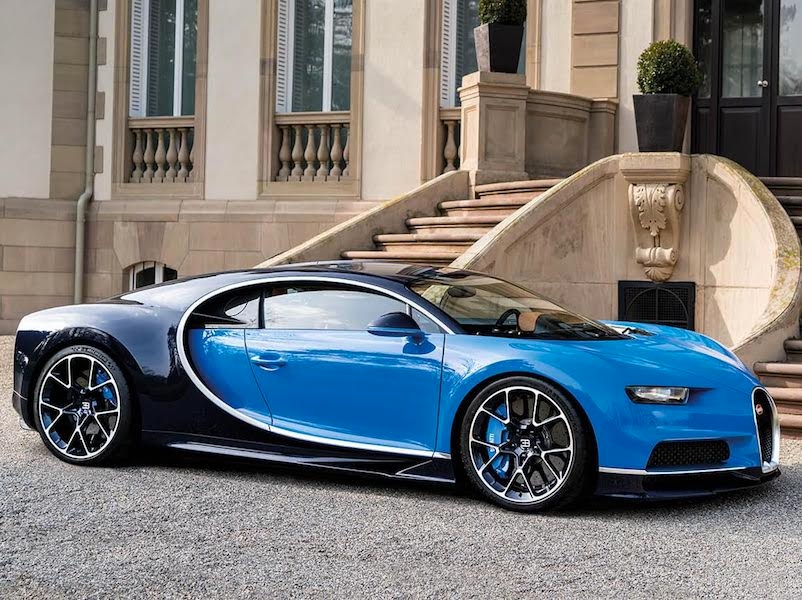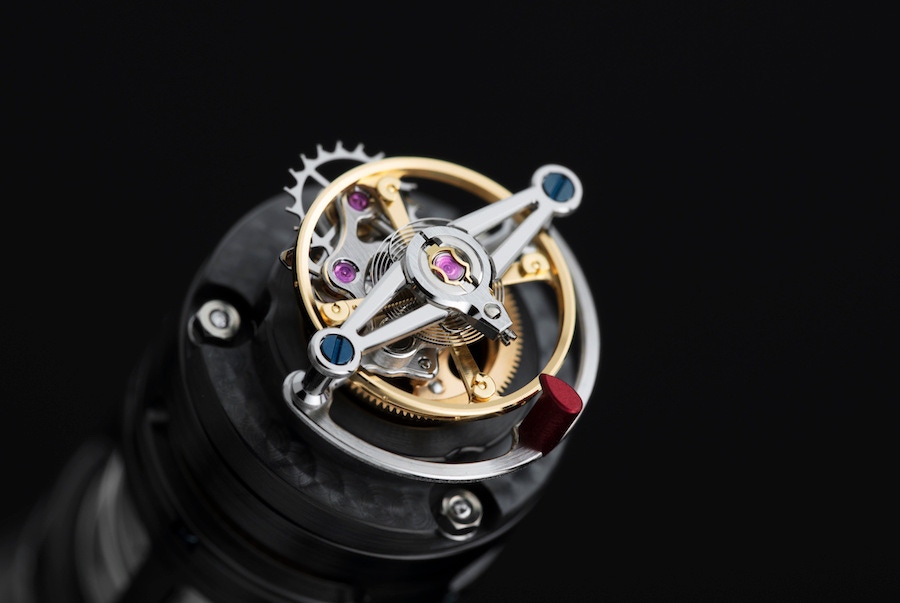 The watch spent a total of four years in development, an incredible feat especially as only ten will go into production. Most of that time was spent on the movement which, like the Chiron's 8.0-litre W16 engine, is a staggering feat of engineering. Built cylindrically and visible through a panoramic curved sapphire crystal window, it's powered by two series-mounted barrels which are designed to replicate the car's saddle tank. Visible through a separate round window on one end of the movement is the flying tourbillon, which helps supply an 80-hour power reserve, allowing the watch to run independently from the wearer for that time. To keep the engine running smoothly, three unique gear trains are utilised, all fixed with a central train wheel, in a set-up never before used in watchmaking. Each gear train also makes use of three ball bearings – the smallest ever made – measuring 1.28mm in diameter, each of which houses 12 ceramic balls measuring just 0.2mm in diameter. Furthermore, the Type 390's modular construction allows the movement to be entirely removed from its casing, in the same way an engine can be removed from an automobile.
Despite its immense technical potential, the Type 390 is usable as a daily wristwatch. The black open-worked dial features luminescent markers and hands for optimal legibility and contrast, and the supple alligator leather strap – made by Hermès – is a dressy addition that, combined with the gold case material, ensures the watch is a smart alternative to a high-tech sports watch or a regular circular timepiece. Whilst Parmigiani is well known for producing the latter, the Type 390 displays the brand's engineering nous, and limitless potential for creating truly special pieces that, in this case, more than live up to the automobile that inspired it.
For more information, visit Parmigiani.com.