The New American Prince: Pedro Pascal
In an exclusive interview with The Rake, Pedro Pascal discusses the American Dream, second chances and his role in the Netflix hit series Narcos.
As stickler for timing, it was a tad disconcerting for me that half an hour into an hour-long interview, Pedro Pascal was still barely a year old. The family history of this actor is a story in itself, one that Pedro intends to write one day. Happily, Pedro was very generous with his time, and, as with our photoshoot at The Carlyle Hotel in New York, and with every role he has played, he understands the difference between a hash-job and a job well done. Perhaps this is why Pedro will be on screen pretty much non-stop for the next year and is fast building an enviable C.V.
His roles as a protagonist span big-budget Hollywood movies and the finer works of subscription television, namely Game of Thrones and Narcos, whose second series is currently available on Netflix. It turns out he is also the epitome of America: an immigrant who has taken his talent and ambition and made a success of himself in a country that takes people in and gives them a chance to succeed. And The Rake was given the opportunity of an in-depth discussion with this star player.
I should firstly elaborate on the extraordinary tale of his early life. His family name is Balmaceda, his father is a doctor, and his late mother (whose maiden name was Pascal) welcomed José Pedro Balmaceda Pascal into the world on April 2, 1975 in Santiago, Chile. Those of you familiar with the South American governments of the time will know that this was not a simple epoch in which to be born in Chile. It was less than two years since Augusto Pinochet had deposed Salvador Allende, the first democratically elected head of state in Chile, in a coup d'état. Allende killed himself in the coup but his supporters remained a thorn in the junta's side. So, as any self-respecting dictator would, Pinochet found opposition members, rounded them up, and tortured them for information on other dissenters who could be found, rounded up, and so on.
One such occasion was some years later, when our cover star enters the fray. A cousin of Pascal's mother was Andrés Pascal Allende, a powerful revolutionary and supporter of his uncle. One day, during a gunfight, this freedom fighter would be given medical aid and shelter chez Balmaceda, and it would be this gesture that put the family on the 'list'.
Pedro recalls (through no memory of his own but that of his father's) that, "the Pascal family wasn't particularly safe". He adds: "There was a priest who was brought [Andrés], who had been shot in the leg, to my mum and dad's house. My father took him in, hid them for a few days, and patched up his leg. I was a baby, my sister was just three, and she says she has a vague memory of being really angry that our parents had put strangers' shit in her bedroom, including guns and stuff." The innocence of youth! But the story becomes more and more like a Bourne movie: "The priest was taken into custody and tortured; he gave names, and they went looking for my father at the hospital he worked at. By chance it got to him that they were downstairs, asking where to find Dr. José Balmaceda. My father sneaks out the back and gets my mum, his sister gets my sister and me. They work out that their only option is to go into hiding, which they do for about six months, and they end up sneaking into the Venezuelan embassy and sought asylum." You can see why we spent so long on the subject. His light-hearted approach to talking about this may be because he was too young (about nine months old when they came out of hiding) to have been affected by the process, but there is pride in his parents' actions, the way in which they carried him and his sister to safety in a climate in which even children were not safe. The solution wasn't 'doing an Assange' and locking themselves in the embassy — they had to leave.
Though they would ultimately settle in the United States, it was Denmark that took them in first. Pascal was still too young to recall a great deal; after a year his father was contacted by a Chilean professor in San Antonio, Texas, and was offered a job. San Antonio was a great place for South American immigrants. With a large Spanish-speaking population, it wasn't as much of a departure, or culture shock, for the family as Denmark had been. They lived there until 1986, and it was during this time that he developed a love of movies and the desire to become an actor. He says of that time: "Strangely it was my father's fault, because he was a huge moviegoer and he would take us to the movies a few times a week throughout my childhood. Of course, we got cable television and HBO came into the fold. Uncensored, uninterrupted movies in your living room: it was some kind of fucking miracle. I remember sitting there and it feeling like absolute magic to me. I remember perfectly watching my first movie on HBO and thinking it was magic."
Read the full interview with Mr Pascal in Issue 48; email subscriptions@therakemagazine.com or subscribe here.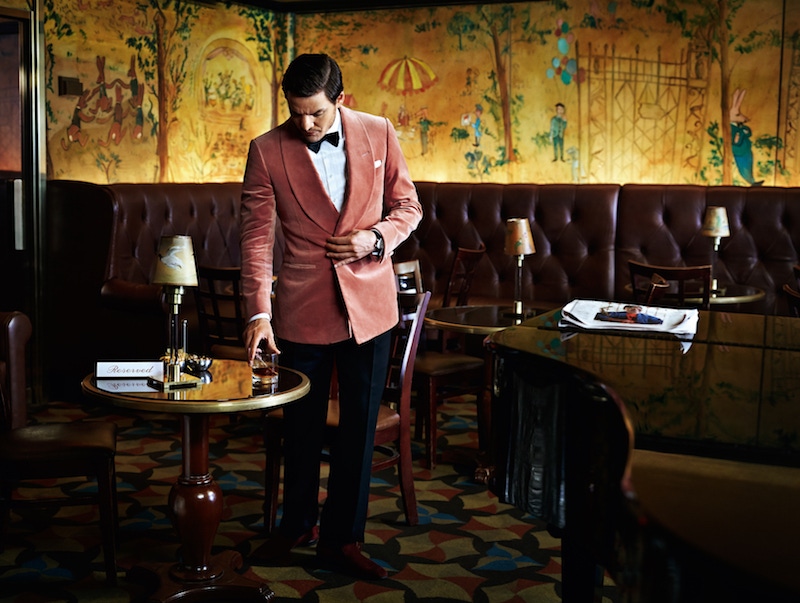 Digital Technician: Patrick Klinc
Photographer's Assistants: Ed Herrera and Hans Olsen
Grooming: Jessica Ortiz / The Wall Group