Shooting the Florentine breeze with Matt Hranek
We caught up with the man behind WM Brown magazine, Mr Matt Hranek at Pitti recently to dissect his look and pick his pockets...
WM Brown
founder, flâneur and straight-up awesome guy, Matt Hranek is the embodiment of the modern gent. Impossibly well-travelled, fuelled by a rapacious obsession with discovering the world's new and old curiosities, Matt is the guy you want to sit next to at dinner. Always armed with a canon of hilarious tales, it's Matt's encyclopaedic knowledge of the constituents of good living that make him such a compelling character and there's never a moment when you're not laughing or learning with Matt. Photographer Jamie Ferguson caught up with him in Florence recently, infectious grin and boyishly glinting eyes in full operation...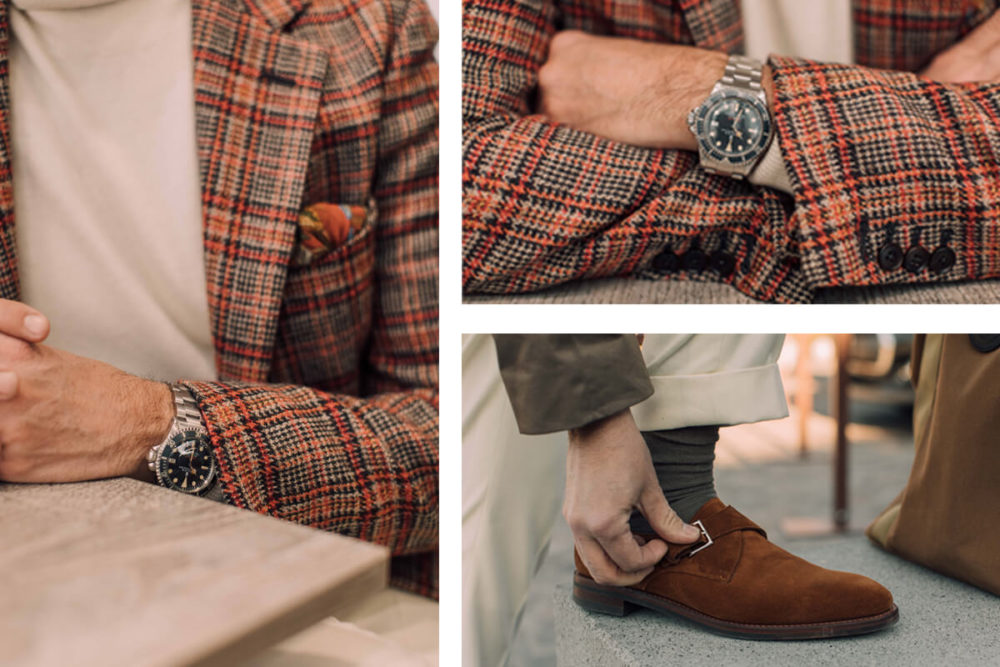 A tweed to toast...
The negroni tweed is a collaboration I did with Fox Brothers. It all started because I was making these negroni trunks ( a portable negroni bar) and I wanted it clad in tweed. I asked Douglas at Fox if there was any remnant tweed I could get off him for the prototype and he said why don't we mill a negroni tweed based on the colours of my favourite drink. Fox did a brilliant job and there are a bunch of us who had jackets made…I will make mine a full suit!
Underwater love...
I love Rolex sport models. This red sub I've owned for years now and at first I didn't really understand the hype of the red 1680. Well let's just say I saw the light and ended up selling my non red 1680 for this red sub. It is such a great example with a slightly faded bezel insert. It was the right decision.
Writers, take note...
I have been a big
Il Bisonte
fan for years and this card holder in leather is just perfect. The sunglasses are vintage Ralph Lauren Polo from the 80s. They are not oversized and I like that they fit my face proportionately and don't make look like a bug. I love paper and notebooks. My wife says I have too many journals and diaries stashed all around the house and office but I like writing notes and lists down on paper. This stash-in-your-pocket diary from Smythson is perfect for on-the-fly notetaking.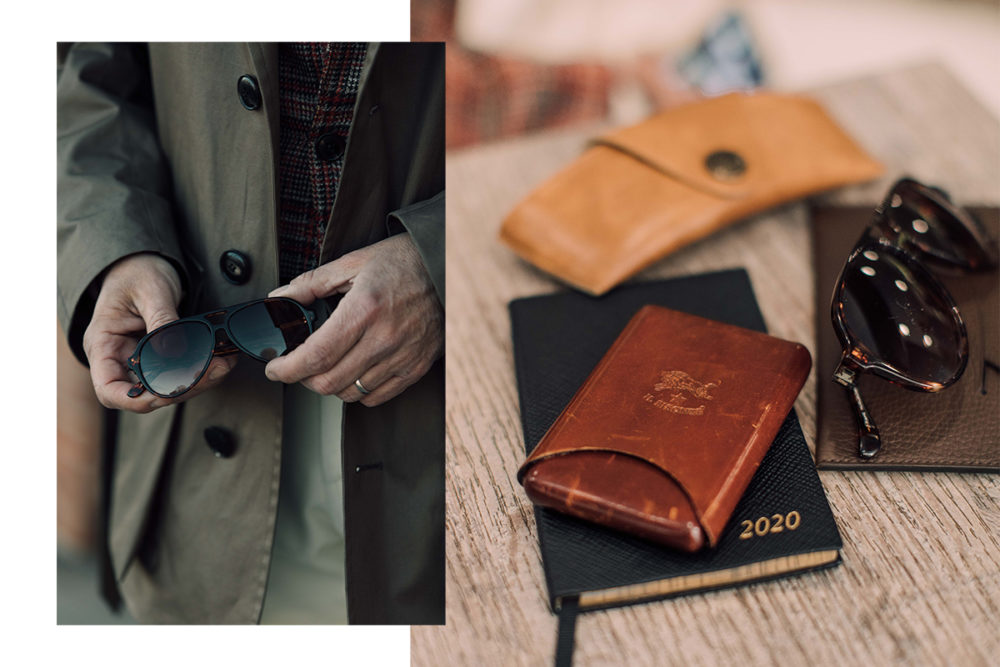 Monks and man bags...
I am very fond of tote bags and this one is made by Beretta. It has a flat bottom perfect for upright loading, a zipper top and is made of brushed nylon. Also the straps are not too long which I like because I am not that tall and many totes I find drag on the ground. The shoes are John Lobb single monks and really one of the most comfortable (and great looking) shoes I own.
More layers than an onion...
I am a big fan of layering. This time of year (January) in Florence it can be quite cold in the morning to mild in the afternoon to cold again in the evening so I always layer. Here, over a cotton tee by Goodlife, I am wearing a Liverano white cashmere rollneck. Under the unlined negroni tweed by
J.Mueser
, Fox Brothers bone flannel trousers (also made by J. Mueser) and over all that is a
Grenfell
shooting jacket that I collaborated on and I absolutely love for its function and style… all of this kit can be removed or added as the weather fluctuates.