Pocket Guide: Tommaso Melani and the bespoke tradition
We caught up with Tommaso Melani, CEO of bespoke shoemaker Stefano Bemer and tailoring house Sartoria Vestrucci to learn about his personal style.
Just a short walk from Florence's Piazza Santa Spirito on Via San Nicolò 2 is the Stefano Bemer boutique, one of the world's most reputable bespoke shoemakers. Bemer is one of those brands that fall under the category of "If you know, you know", providing some of the finest artisanship to an elite following of shoe fanatics who long ago realized the gulf in comfort and quality that bespoke shoes can offer. Step into the store today and you'll also find a brand new cohabiter in the guise of Sartoria Vestrucci, an equally bespoke tailoring brand that was bought from legendary tailor Loris Vestrucci upon his retirement by none other than the CEO of Bemer, Mr. Tommaso Melani. Tommaso's vision has always been to champion the fine craftsmanship of cloth on the one hand and leather on the other hand, or foot, as the case may be, and now at the helm of these to majestic houses, we eagerly watch as his vision becomes reality. Tommaso himself is one of the best-dressed guys we know and an absolute gentleman to boot. He displays none of those voluble Italian idiosyncrasies such as the emotionally nuanced hand gesticulations but is rather a soft-spoken and thoughtful individual with a keen eye for details. His style, like his personality, is subtle but considered, and combines classic sartorial elements with flourishes of individuality. We caught up with him during Pitti in January to chat about his stylistic preferences and his plans for Bemer and Vestrucci. Jamie Ferguson was at the business end of the lens...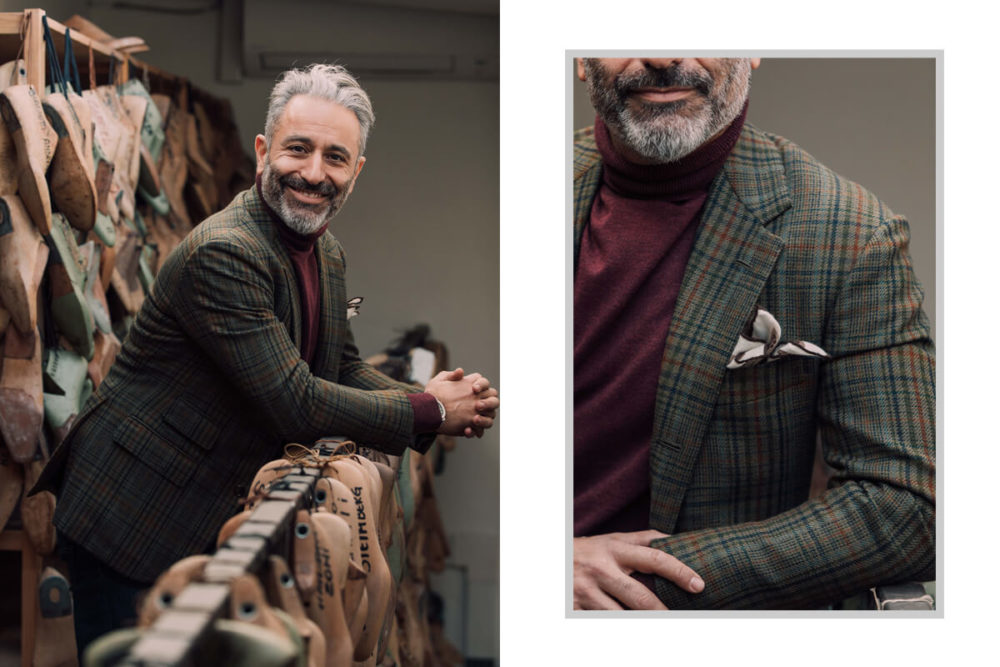 A preference for pattern...
I like to combine some pattern into my outfits, whether it is the sport coat or trousers. In the winter, cashmere gives me that cozy and lush feeling that makes cold or rainy days a pleasurable experience. The jacket I'm wearing here is a vintage cashmere that I've had for a few years now and really feels like a second skin when I wear it. The pattern, combining the herringbone texture with a thin pane, gives the jacket a touch of uniqueness that I appreciate a lot, especially if worn along with a simple pair of Levi's! I rarely follow rules but if I had to define one it would be to avoid the tone on tone (I've never been a fan) and to not be afraid of bold contrasts.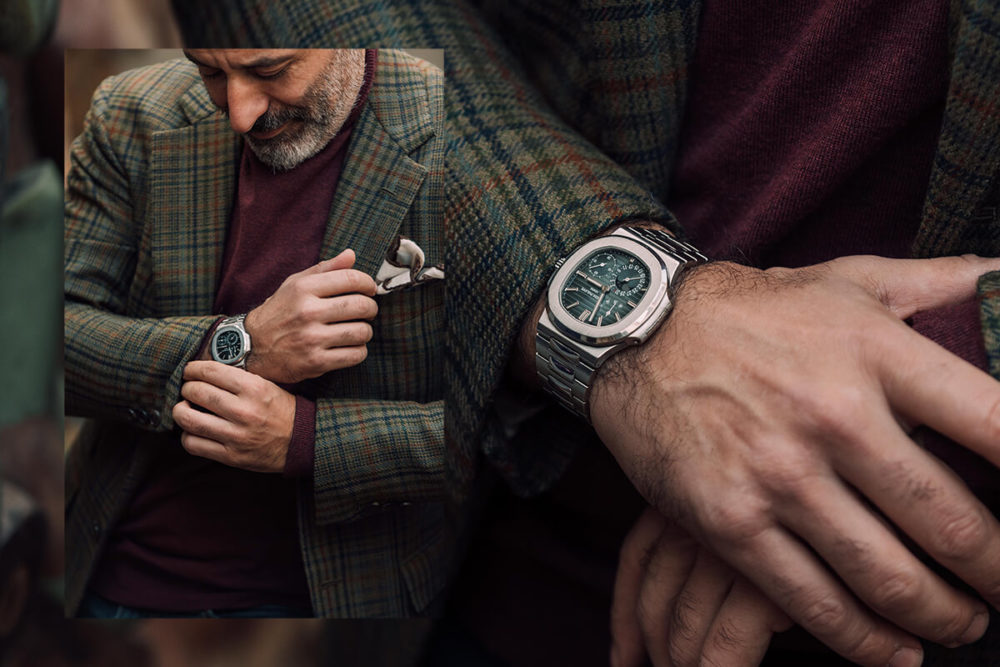 Nautilus but nice...
The 5712A has been my first step in the Patek Philippe world. I was fascinated (and still am) by the iconic design of the Nautilus, blended with the "complicated" and yet elegant face, not to mention the thin, seamlessly smooth bracelet it comes with. It's timeless, elegant, sophisticated and subtle. It's a sport watch, an icon, a piece of history and a pleasure to feel on the wrist.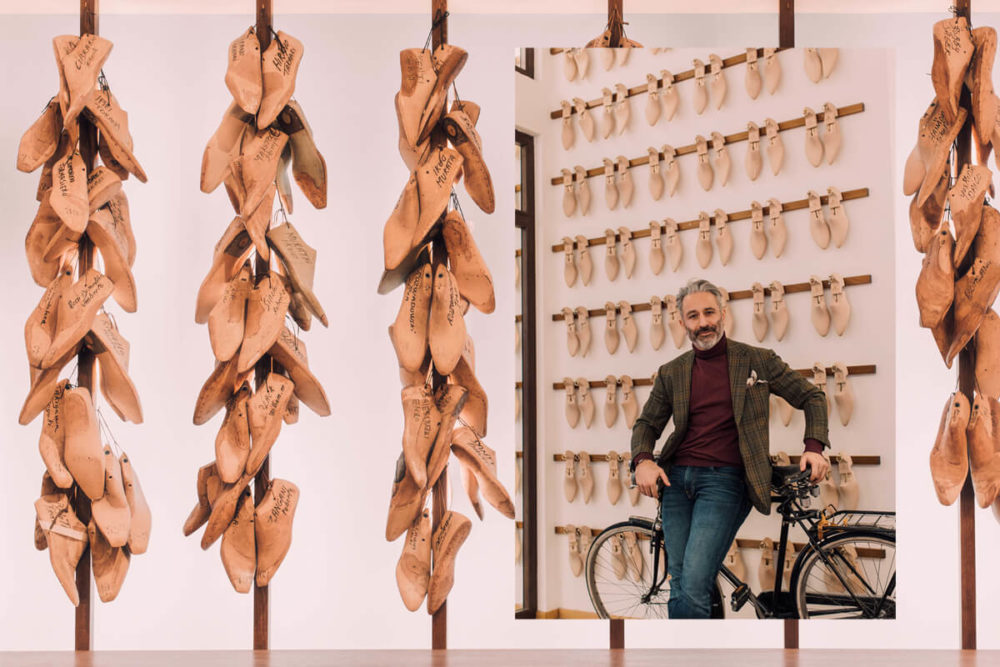 Hip to be square...
Pockets squares, nowadays, are an accent and therefore, I like them to be noticeable and yet always connected with the colour scheme of the outfit. Since my colours are rather constant, many of my pocket squares would do the job with what I'm wearing today, but I specifically like the soft texture of this cashmere one I had on.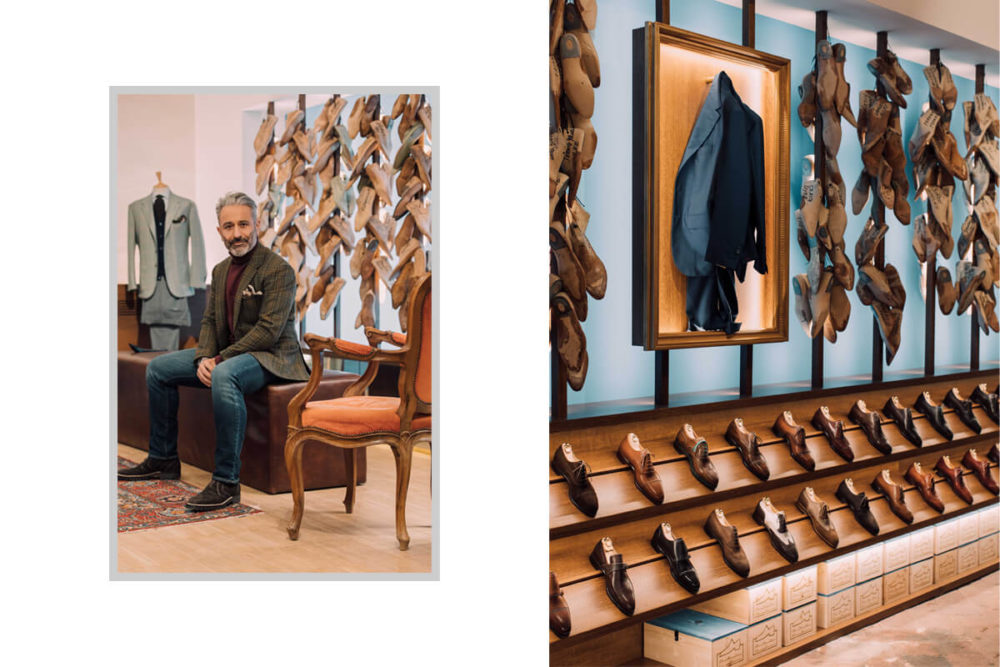 My kind of casual...
The mood, that morning (it was the day we opened the doors of the re-decorated flagship store in Florence), was my version of "hard-hatted area" in a sartorial world, so the jeans and cashmere outfit went very well with the (of course) Stefano Bemer chukka boots in a Moka brown elephant skin and commando sole.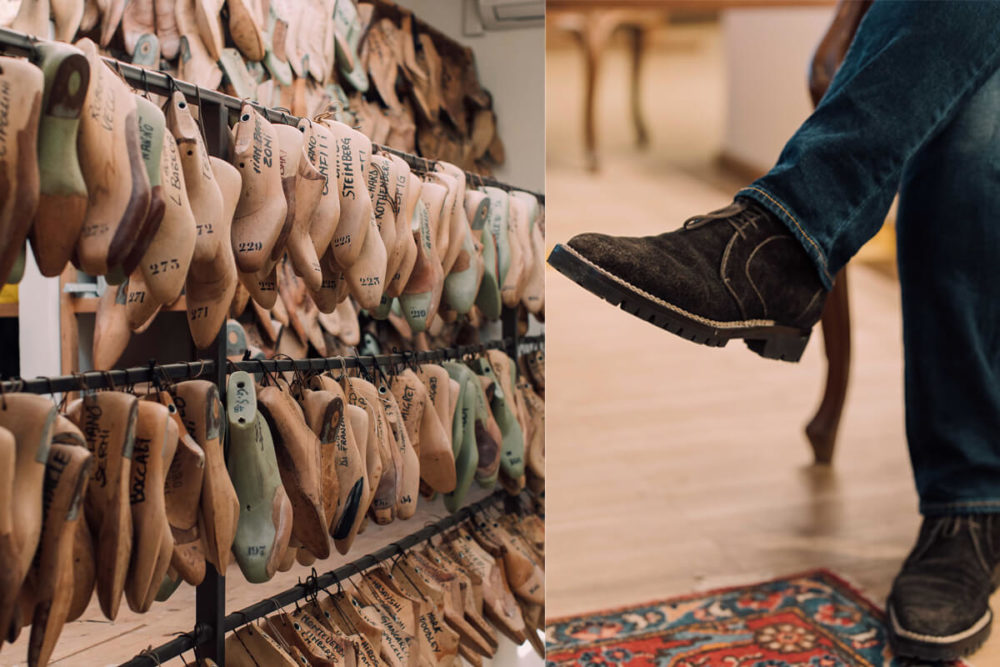 A match made in sartorial heaven...
The most exciting news for us was unveiled on the day of this interview. After "dating" for three years, Vestrucci and Stefano Bemer have decided to move in together! And like newlyweds, they needed a brand new house to be called home. So we gave the building a brand new look and layout, to create what the English would have called "the House of Bemer and Vestrucci". The aim is to enhance even more the experiential component of our proposition. So we created a place around the craftsmanship and the style that we bring forward and we complemented it with a coffee and liquor bar, a newsstand for fashion addicts and a fitting room that feels like a plush living room. This will become our "template" for future locations, most probably starting with Milano by the end of 2020.