Project Furious Eagle Pt II: Screen Printing at Adamley Mill
Part II of our project with Turnbull & Asser and Mo Coppoletta takes us behind the scenes at one of the last surviving screen printing mills in Macclesfield, where our unique pocket handkerchiefs and mega-squares were born.
Nestled in the foothills of the Pennines sits a town called Macclesfield. Driving through, our host points out several crumbling buildings, evidently the victims of fire, neglect or simply the ageing effects of time. These are the dilapidated mills of yesteryear, no longer functioning but still a nostalgic reminder of a time when Macclesfield – aka 'Silk Town' - was lauded as the country's biggest producer of finished silk. But all is not lost – one stoic Victorian mill remains, and its survival is testament to its superiority. Adamley has been there for the best part of six decades, and is busier now than ever before. One look at the mill's extraordinary archives tells us their background and history is enormous, just like the shelves that sigh beneath the weight of beautiful leather bound archive books, full of intricate prints, designs, paisleys and geometric shapes, so it's no surprise we called upon the mill's limitless experience to help us bring our project to life. Joanne Ratcliffe, Adamley's Design Director, explains that many moons ago printing was done using giant blocks and hand-carved designs made with wooden shapes or manipulated wire. With these, the margin for error was tremendous – accuracy was impossible and standards of the prints that resulted were much lower than they are now. Today, the silk screen-printing process that Adamley is so well known for could not be more different. Their printing room contains two hand printing tables and three galis (automatic printing tables). Strung between the tables are lengths of intricately printed patterned fabric, some details no bigger than a pinhead, and watching the printers work is utterly mesmerising. Brackets protrude at regular intervals from each table, upon which the screens are placed, before a pool of dye is applied with a squeegee. The printers themselves display an intuition and an intensively trained eye for the nuances of the table – they work for many years to gain the instinct and skills that have now become second nature. Printer Tim Corbishley and Layer Mick Graves have collectively worked at Adamley for more than 45 years, which goes to show their passion for their craft. One can't help but be in total awe of their work, and there is an authenticity – and integrity – in the fact that, in an age where we can send human beings to the moon and back, two gentlemen are still passing a squeegee back and forth for the sake of art.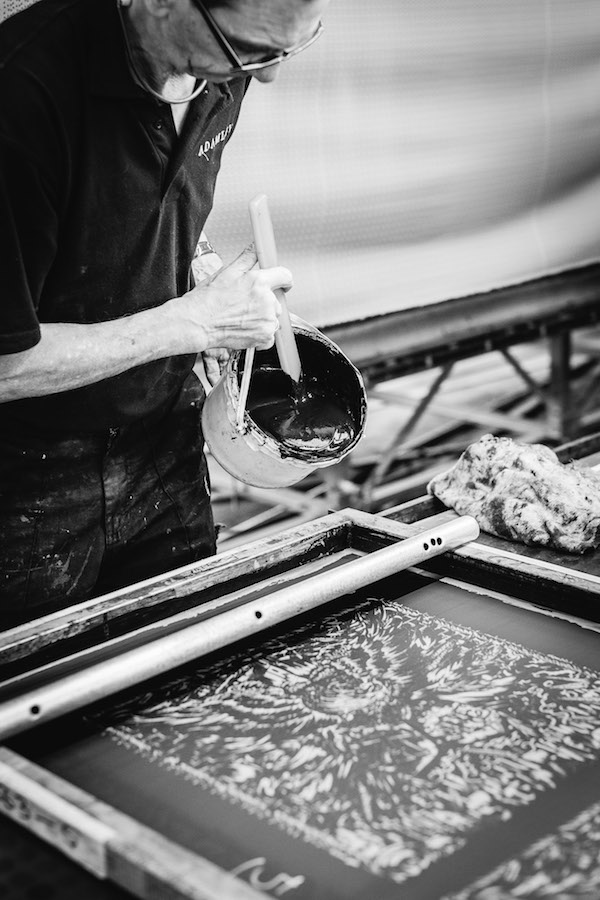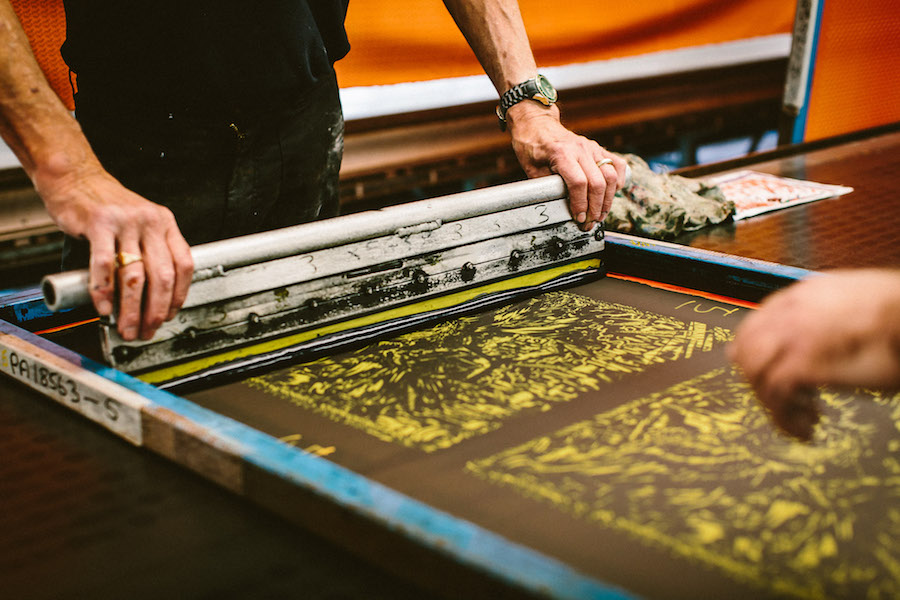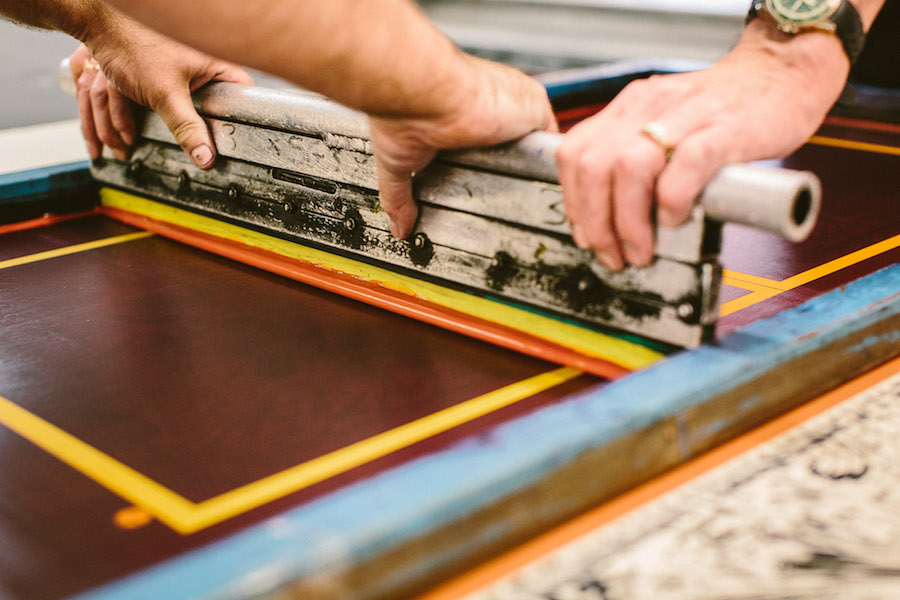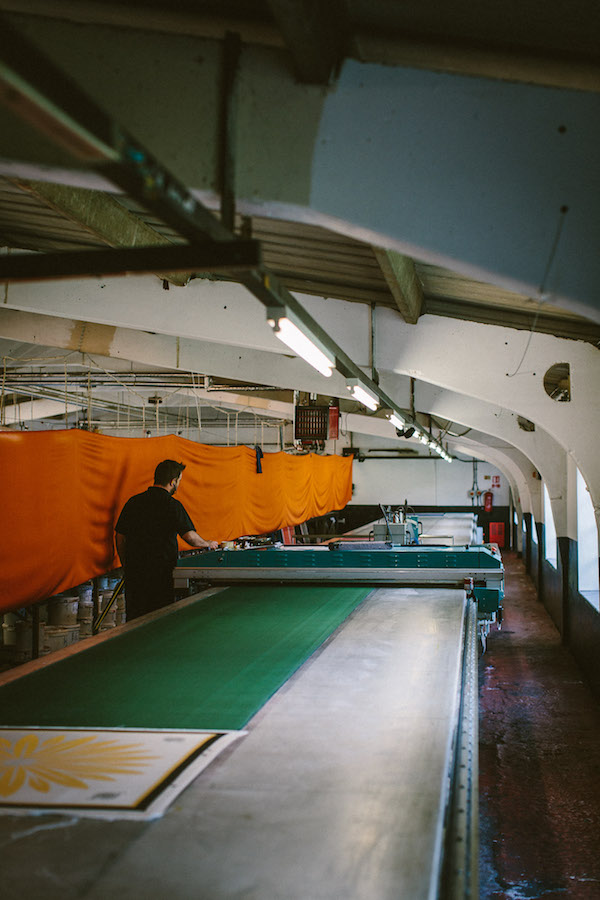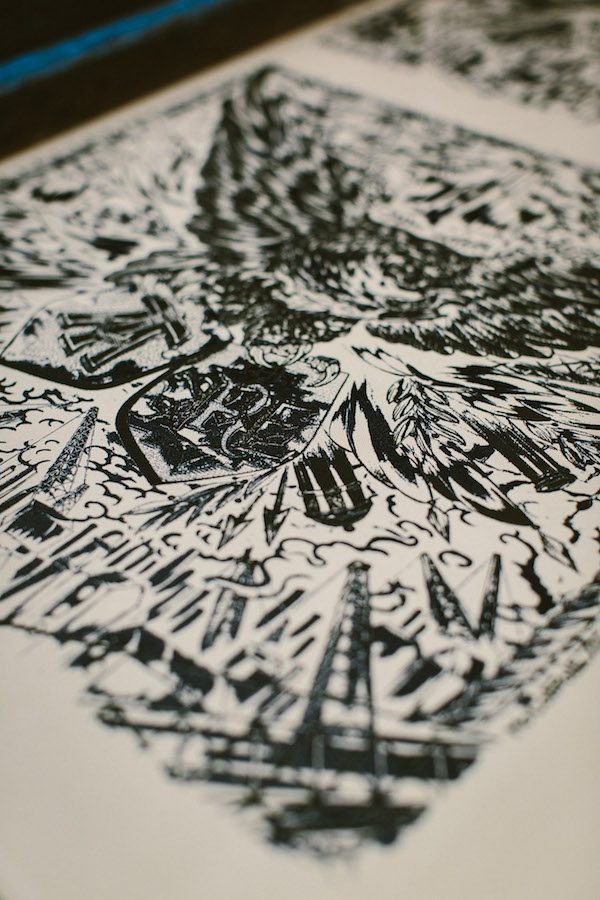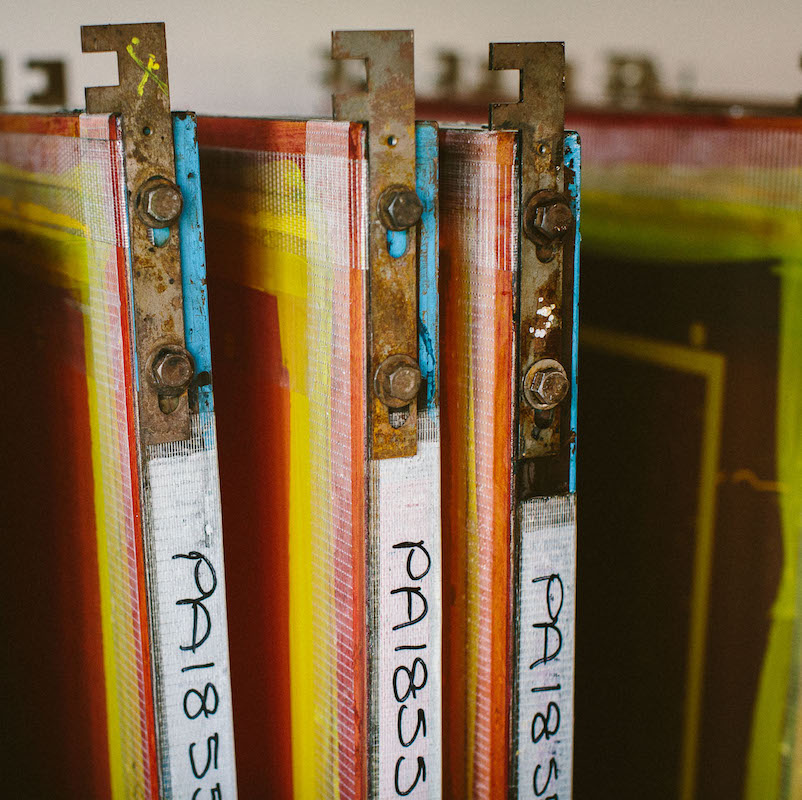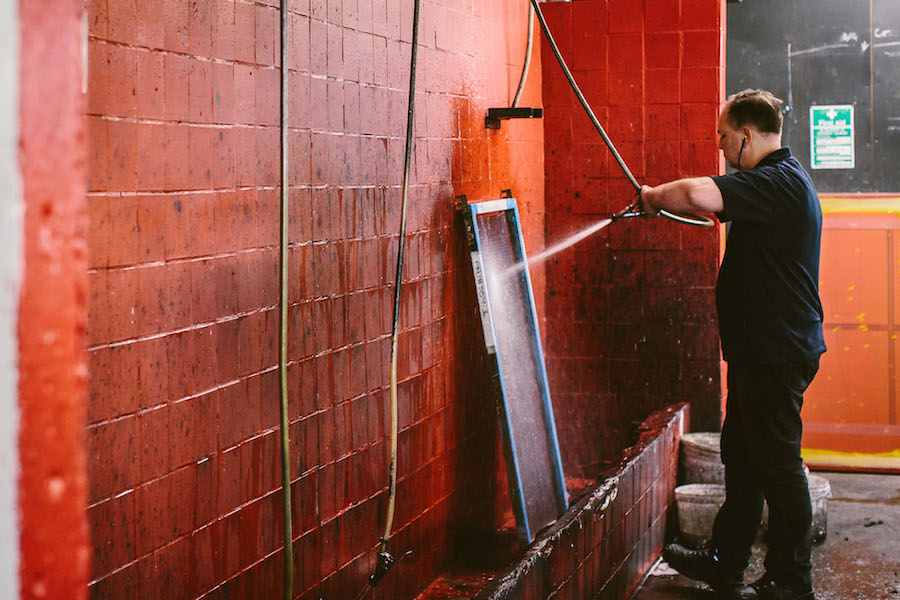 Joanne explains that the team was excited to receive the Project Furious Eagle order, but the specific demands of the design and construction of our chosen fabric meant it wasn't without its difficulties. In printing the silk handkerchief, creating several different tones for the subtle shading and gradients that we settled upon is an effect not usually achieved with silk screen printing, but – ever up for a challenge – the skilled hands at Adamley expertly layered the screens and mixed subtly differing colours in such a way that the tones fade seamlessly on each of the four designs. She talks us through the measures that they introduced to maintain the highest quality of colour and precision involved in the digitally printed mega-square, too. With a burgundy border and ecru cashmere/silk mix for the base (with shades of warm grey printed over the top), there was a risk that the bold colour would smudge – when the colour is applied onto the fabric, it is then passed through a steamer which dries the dye, but cashmere (unlike silk) is notoriously slow to dry and the heat applied is not always sufficient. Never one to admit defeat, Adamley overcame these technical challenges with the know-how of a company that has seen it all, whereas Project Furious Eagle's commitment to using the only finest fabrics could well have been compromised in the hands of anyone else. Even to a novice like myself, it is not difficult to see that Adamley's success as a printer is down to the balance they have achieved between state of the art technology – CAD, wax jet engravers, spectrophotometers and tension meters for example – and the artisanal skill of handcrafted manpower that brings a different dimension to what they do, something that is integral to the ethos of
The Rake
, Turnbull & Asser and Mr Mo Coppoletta. The design team tell us that the way silk scarves and ties used to be printed often resulted in designs being 'off fit'– when colours didn't always meet the edges of the design – but the resurfacing of antique, vintage and classic styles means that their designs now actually incorporate these flaws intentionally, to meet the demand of clients who want to achieve an old-school, hand-printed effect. Adamley too is open to experimenting with colourways and designs it seems, as Joanne puts it, their attitude is very much "how far can we push this idea?" in order for that lightbulb moment to illuminate the way forward. This synergy between every component in our own collaboration with T&A and Mo is key to the end product being the absolute best it can be, and Adamley's dedication to using only the best natural fibres to print is unparalleled, or as Joanne puts it, "polyester is like a swearword here!" Leaving Adamley, one can't help but feel like they've been privy to some of the country's most respected and talented artisans – who are so often overlooked for the work they do. Fortunately for
The Rake
, Project Furious Eagle has given us the opportunity to champion the talents of the mill, and we can only hope that our readers will enjoy the extraordinary prints depicted on our pocket hankies and mega-squares when they arrive on
TheRake.com/shop
in the flesh next week, stay tuned.
If you would like to register your interest, please email shop@therakemagazine.com.