Project Furious Eagle Pt III: The Collection
At long last, permit The Rake to usher in a new era for the pocket handkerchief, care of Project Furious Eagle, our exclusive collaboration with Mo Coppoletta and Turnbull & Asser.
In the words of maverick modern design guru Mo Coppoletta, "the handkerchief is by its very definition one of those few accessories that can help to defuse an otherwise formal ensemble, it's a touch of colour and character that reveals a lot about one's personality." Indeed, the expressive power of the pocket hanky is a fundamental sartorial truth that is tragically all too often lost in today's world of corporate conformity and bland dressing. The only thing less heartening than an out-breast pocket worn without a pocket hanky, is an out-breast pocket filled with an uninspiring pocket hanky. Washed-out white cotton and linen pocket squares be damned, there's nothing quite like the voluminous, lustrous folds of a richly printed pure silk pocket hanky, flowing nonchalantly from one's blazer pocket. To which end, at the start of the year, The Rake sat down with Mr Coppoletta, and the powers that be at Turnbull & Asser to create a capsule collection of limited edition pocket hankies that we felt were as dynamic and expressive as can be. The result represents a unique collaboration between Coppoletta and T&A's Head of Design, Dean Gomilsek-Cole, the joint effort of two designers who both seek to reinterpret and translate design values and aesthetics from the past into a razor-sharp modern context. The results, we hope you'll agree, are quite unique. Inspired by the iconography of Britain's industrial past, our 'Furious Eagle' pocket hankies are an ode to the solidity of design and pioneering craftsmanship which forged the modern world, "a nod to Britain's industrial heritage, so dear to Turnbull & Asser, and a tribute to all things handmade that require hard work and craftsmanship at the highest level" to quote Coppoletta once more. Depicting an industrial dockyard landscape, complete with cranes, masts and heavy brickwork above which an eagle soars bearing the 'Victorianised' heraldic coats of arms of Turnbull & Asser and The Rake, each hanky seeks to "combine a sense of romanticism with a touch of nostalgia" for a hanky that feels thoroughly indulgent, yet dynamic. The colour palette chosen throughout is intended to reflect the retro design elements of each pocket hanky, with a soft shade of ecru printed with smoky grey, Art Deco peppermint overprinted in rich hues of forest green and a warm two-tone sky blue and navy combination for something of a sartorial staple. Burgundy silk shoestring borders unify the collection. As explored last week, these hankies are hand-screen printed by Adamley in Macclesfield, to the highest of sartorial standards, finished with handrolled edges and each represent the pinnacle of pocket handkerchief design and construction.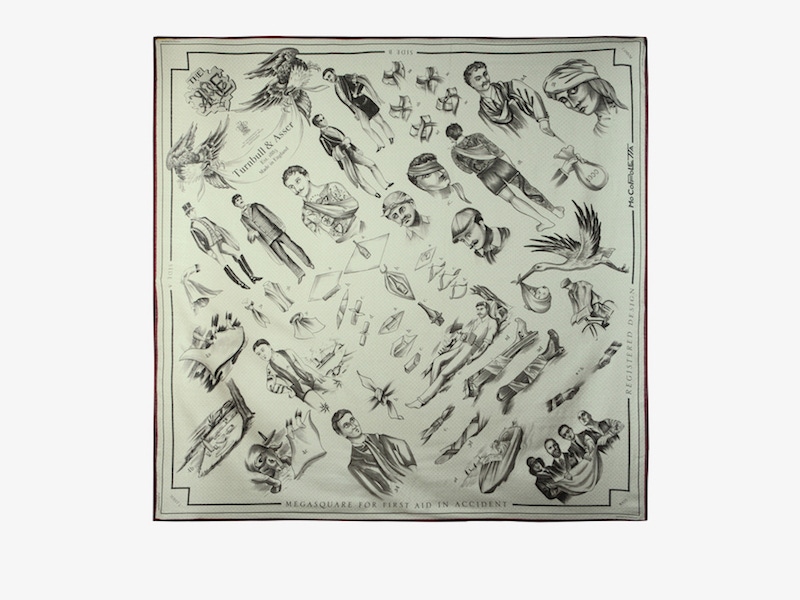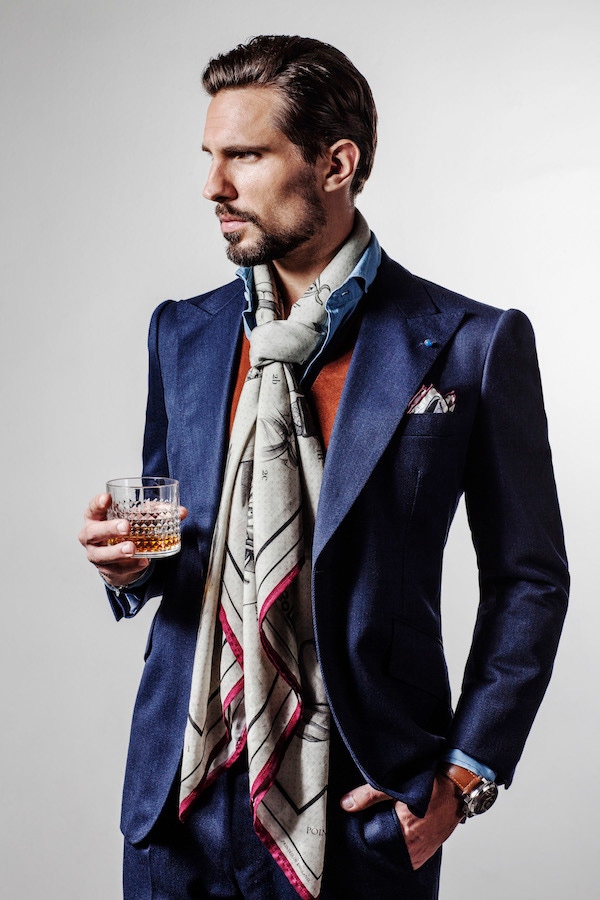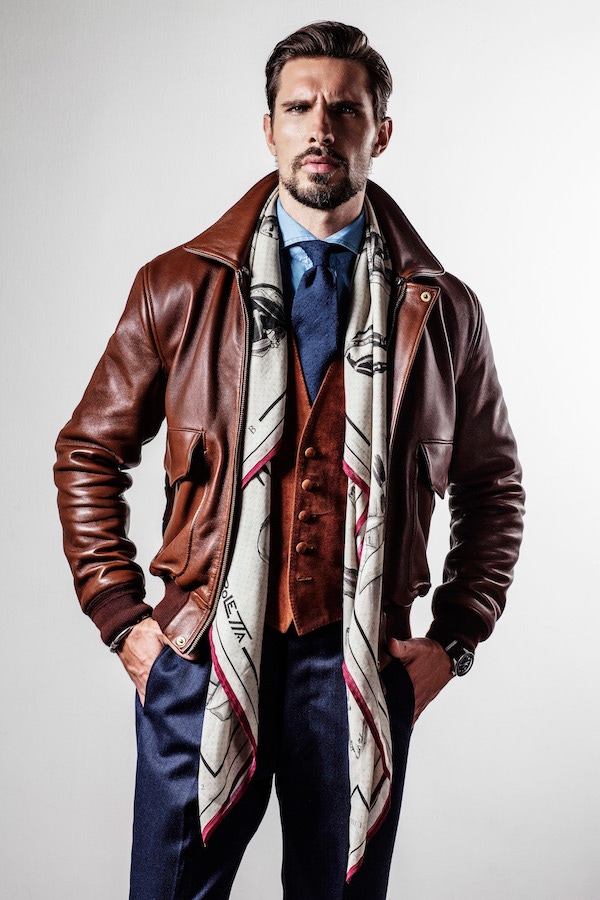 Of course, we couldn't just let things be with a collection of pocket hankies. Also hand-screen printed for us in Macclesfield was our Sartorial Survival Mega Square. Measuring 140cms by 140cms, (as Gomilsek-Cole puts it "go big or go home") this supremely elegant lightweight cashmere-silk shawl is designed to be worn and tied in as many different ways as possible for maximum versatility and panache. The square's design makes a playful nod to this too, covered as it is by dozens of Coppoletta's illustrations, all of which are designed to reflect the mega square's manifold uses – whether that be bull-fighting, picnicking or bandaging a wound – doubtless obtained from an unfortunate altercation with a cad. Again, the inspiration behind this design was to bring something from the past back to life in a modern quirky context, as Gomilsek-Cole explains; "we looked at wartime archive advertisements, old bank notes and propaganda posters for inspiration, but what Mo has come up with is just unique and we are proud to be associated with him and The Rake on this." Also with handrolled edges and a gloriously nostalgic colour scheme, the Mega Square is again available in a strictly limited quantity and is a further testimony to the quality of craftsmanship and design that Gomilsek-Cole and Coppoletta are capable of together. It's also an undeniably fun thing to wear, borne of an unconventional but nonetheless intriguing meeting of minds. In the words of Gomilsek-Cole, "A tattoo artist and a Jermyn Street shirtmaker are not the first things that come to mind when you think of a collaboration, but that is the strength of this project. We always prefer to work on unexpected projects, and The Rake doesn't think inside the box." Boxes no, squares yes – mega squares to be precise. We hope that readers will be as keen to experience these designs as we were to bring them to life, they're the result of a project that has been both great fun and something of an adventure for team-Rake.
https://youtu.be/rDG1x_VIFFE