Quentin Tarantino's Most Stylish Films
Ahead of the release of Once Upon a Time... in Hollywood, we reflect on the enduring sartorial impact of Quentin Tarantino's most fashionable films.
One of the most
venerated
filmmakers of our time and a veritable cultural phenomenon (albeit a somewhat controversial one), Quentin Tarantino is an auteur in the truest sense of the word. His films are characterised by depictions of bloody violence, smatterings of pop culture references, profanity-saturated dialogue, eclectic soundtracks and atypical plot structures that keep audiences on their toes. And that isn't even to mention one of the most pervasive common threads tying his filmography together: style. 
In fact, it could be argued that what makes Tarantino's characters just so memorable is their costuming - bold, often unconventional and effortlessly cool. From Mia Wallace's cropped trousers, white shirt and slick bob in Pulp Fiction to Ordell Robbie's Kangol beret in Jackie Brown, there's no shortage of iconic looks permeating Tarantino's body of work. 
Ahead of the release of Tarantino's ninth film, the fashion-saturated
Once Upon a Time in… Hollywood
, we unpack five of his most stylish films… 
Reservoir Dogs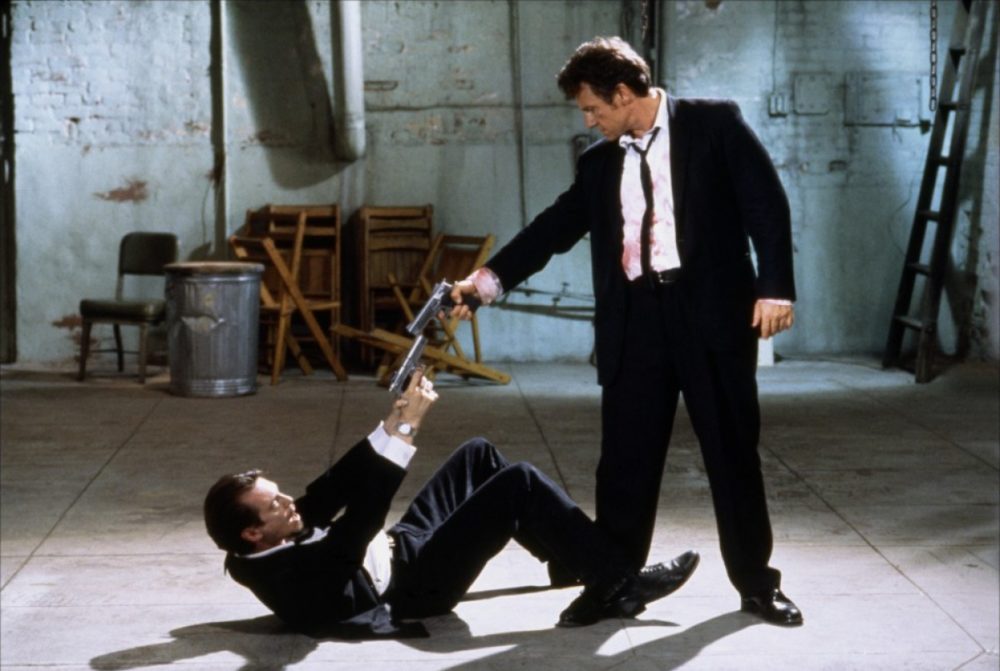 Tarantino was right on the money when he mused, "You can't put a guy in a black suit without making him look a little cooler than he already looks". Testament to this statement is Reservoir Dogs, his 1992 debut film that unintentionally generated a style legacy, thanks to its iconic depiction of its six anti-heroes - a group of murderous gangsters - in slim-fit black suits with skinny black ties, white shirts and dark sunglasses. The opening credit sequence in which the identically-attired group stroll in slow-motion down the street is one of the most memorable cinematic scenes of the nineties. Cool doesn't even begin to cut it. 
Pulp Fiction
A true treasure of 90s pop culture, the 1994 cult classic Pulp Fiction is responsible for inspiring many a Halloween costume and fifteen years on, its style still resonates. Costume designer Betsey Heimann scoured vintage stores for pieces that would inject the film with a certain grunge-meets-glamour aesthetic. Having also worked on Reservoir Dogs, she
reinstated
the black suit for hit-men Vincent and Jules, and made mob-wife Mia Wallace a "female Reservoir Dog" in her own iteration of the uniform - the iconic cropped trousers and white shirt. One of our favourite - and certainly one of the more wearable - looks of the film is that sported by Bruce Willis' Butch, who dons a Schott suede bomber jacket with white t-shirt, classic stonewash Levi's jeans and a well-worn pair of Converse Chuck Taylors. Totally timeless. 
Inglourious Basterds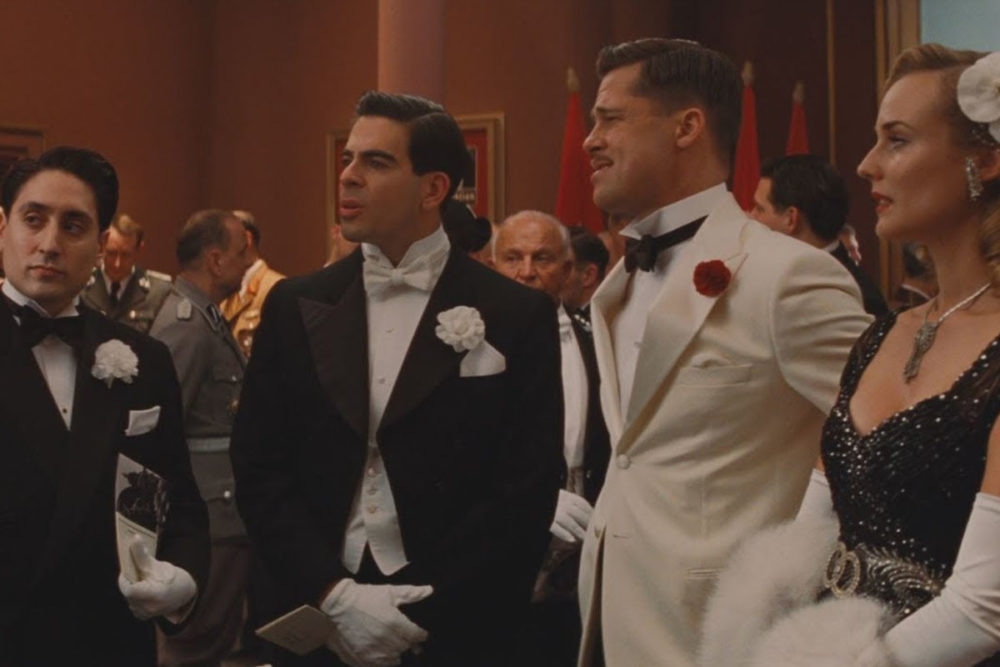 Tarantino's Inglourious Basterds (2009) is an epic piece of revisionist war cinema with style of corresponding proportions. As per most war films, military uniforms feature heavily, but Inglourious Basterds elevates the garb to new heights, imbuing panache through its characters' signature garments and the raffish nature with which they wear them. Hans Landa's power-evoking wide-collared leather coat is a highlight, but it's the anti-Bond Aldo Raine's off-duty style we most covet. His belted pea coat, brown corduroy trousers and tall leather riding boots were chosen for their practicality in wartime conditions, but they remain stylish cold weather staples by today's standards. Later on, at a sophisticated evening soirée, he sports a satin-lapelled Giorgio Armani off-white dinner jacket that unfortunately does little to conceal his weak cover, but looks mighty suave nonetheless, worn with black bow-tie and white wing-collar dress shirt. 
Django Unchained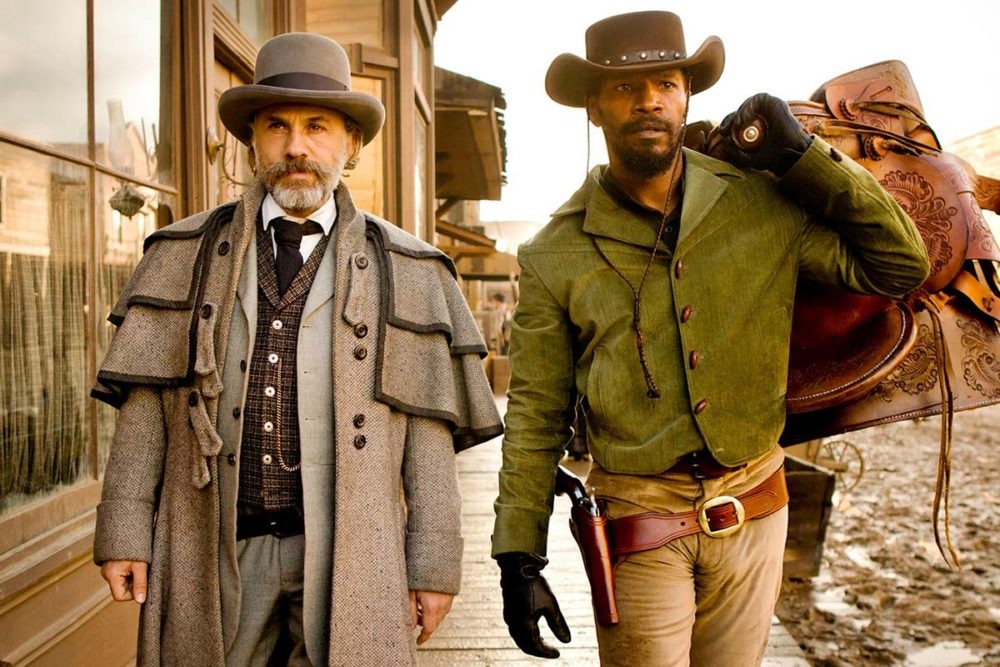 There's a reason costume designer Sharen Davis scored an Oscar nomination for her work on Tarantino's 2012 spaghetti western-inspired Django Unchained. Faithfulness to historical dress aside, the film's styling is utterly unique: Davis described it as "
Colonel Sanders meets Miami Vice". An eclectic combination of colour, fabrics
and textures comprises each characters' costuming, in particular that of Jamie Foxx's Django, whose style is flamboyant, verging on preposterous - recall the electric blue valet suit, replete with
lace cravat and knickerbockers
- not exactly the sort of attire one would expect from a former slave in America's Deep South. Somewhat more understated yet a statement in itself is his uniform of olive green corduroy jacket and brown studded wide-brimmed hat. Accompanied with a hefty dose of attitude, it makes for one seriously memorable ensemble. 
True Romance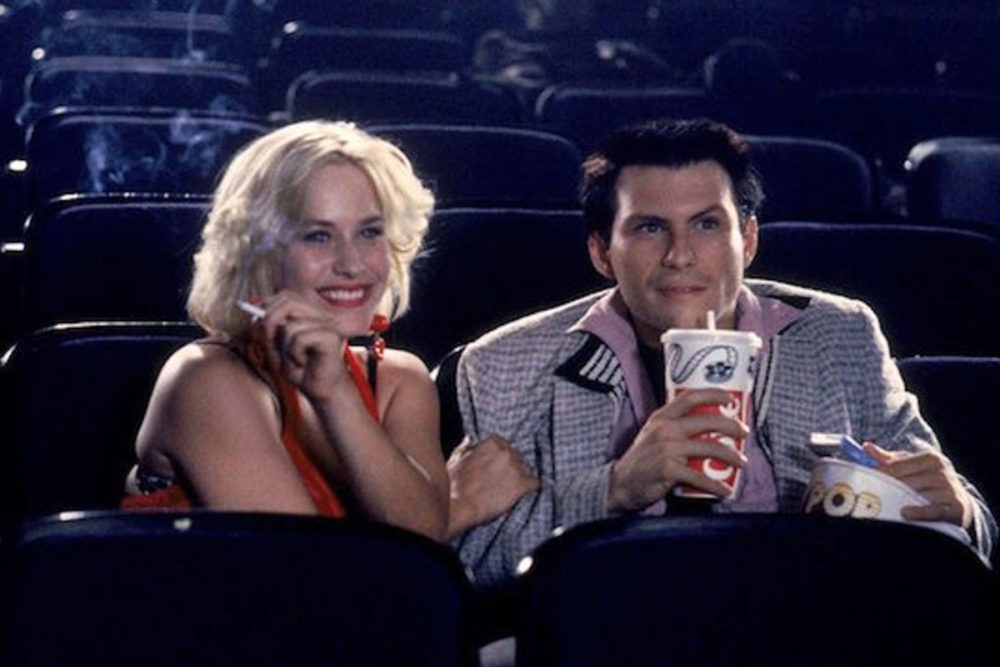 With its fast-paced, frenetic energy, True Romance (1994) - for which Tarantino wrote the script - is a riotous watch that we can't help
returning to time
and again. A large part of its enduring appeal lies in the fabulously lurid, over-the-top aesthetic, which infiltrates the kitschy costuming of Patricia Arquette's Alabama and Christian Slater's Clarence. Bright colours, bold prints and the
championing
of 'trash culture' define their wardrobes, from Alabama's blue bra and pony print mini skirt to Clarence's Elvis Presley inspired style - Hawaiian shirt, cheap Aviator sunglasses and blue jeans, or boxy bowling shirt and slouchy jacket. "You're so cool, you're so cool, you're so cool"...