Rakish Icons: Tom Ford
Considering what was to come in his great career, Issue 7's Cover Star, Tom Ford's beginnings were rather unspectacular. We look into the sequence of events that would make Tom Ford the superstar designer he is today…
The sequence of events that would make Tom Ford the superstar designer he is today began once he decided to move to New York City for college. Here, the young Ford was free to express himself—frequenting Studio 54 and immersing himself in the famous disco-scene of the era (which still influences the glamour of his designs). Leaving his comfortable suburban life was the first of many great risks that Ford would take in his long career—leading to him being one of the most recognised, iconic names in fashion, as well as producing tailoring that is superbly-crafted—particularly cut from his coveted slim 'Shelton' block.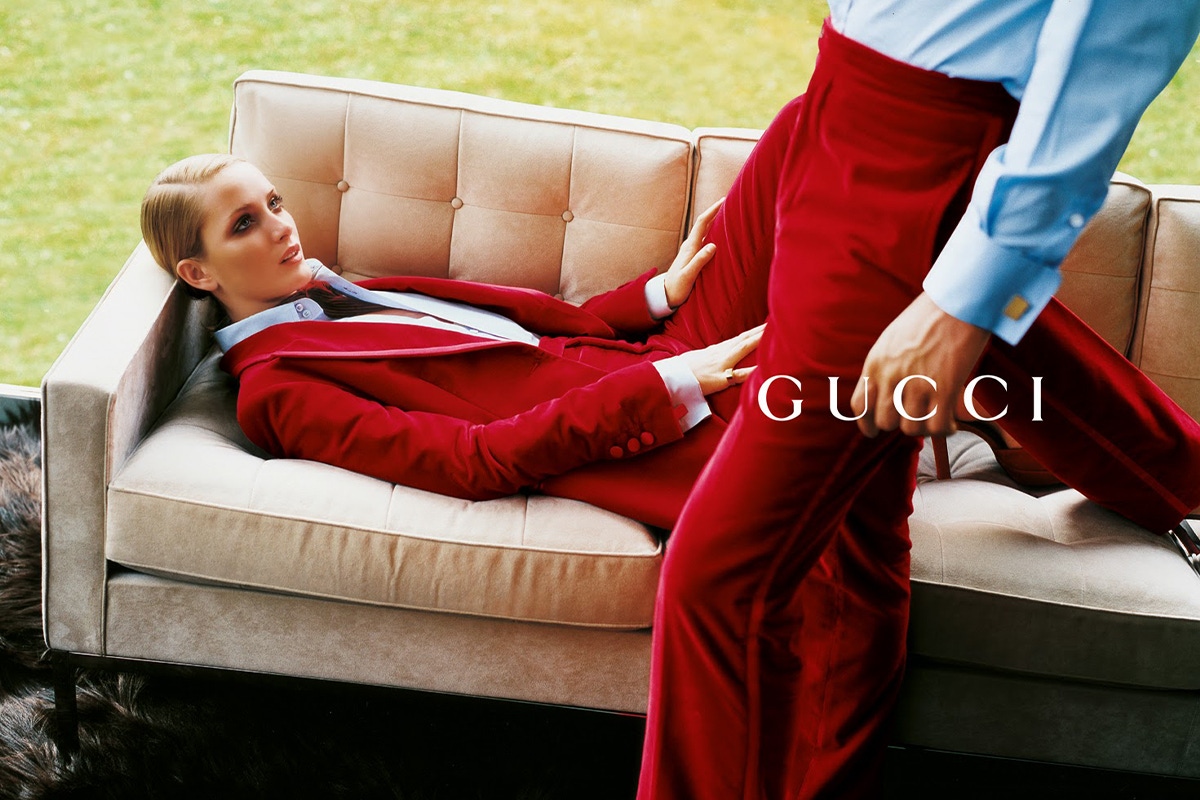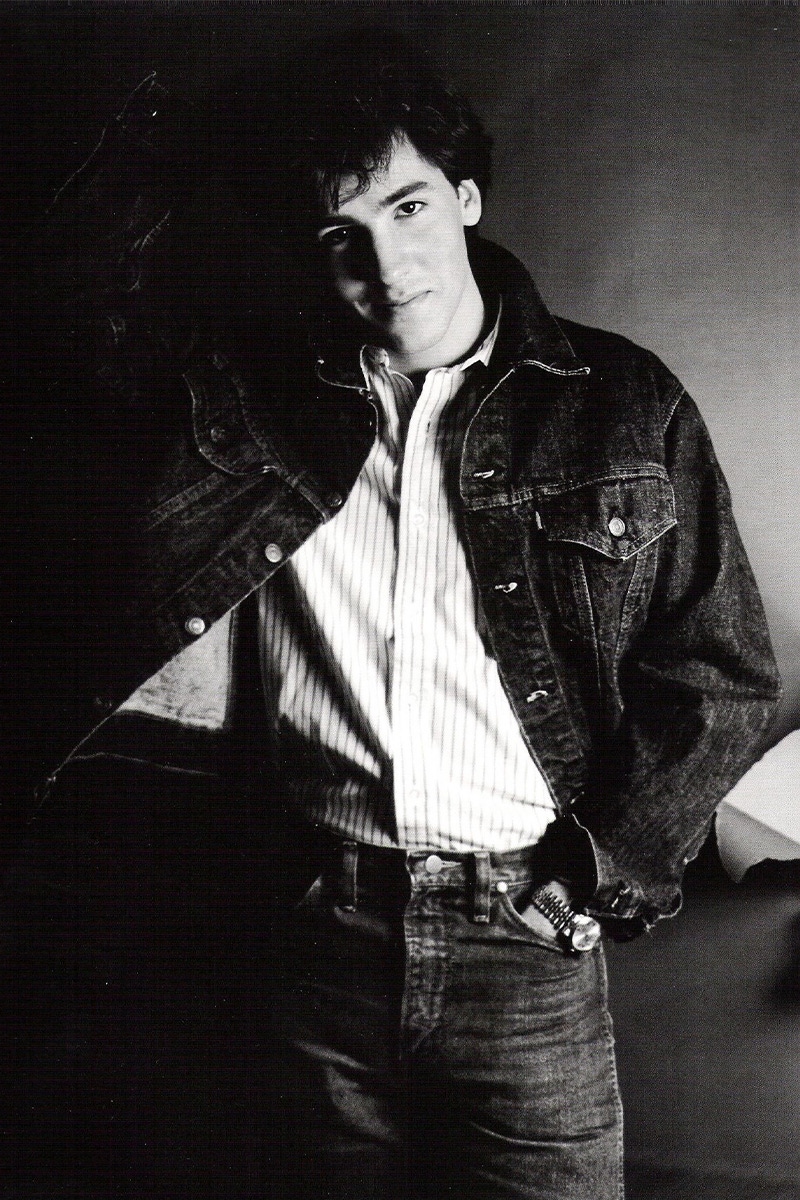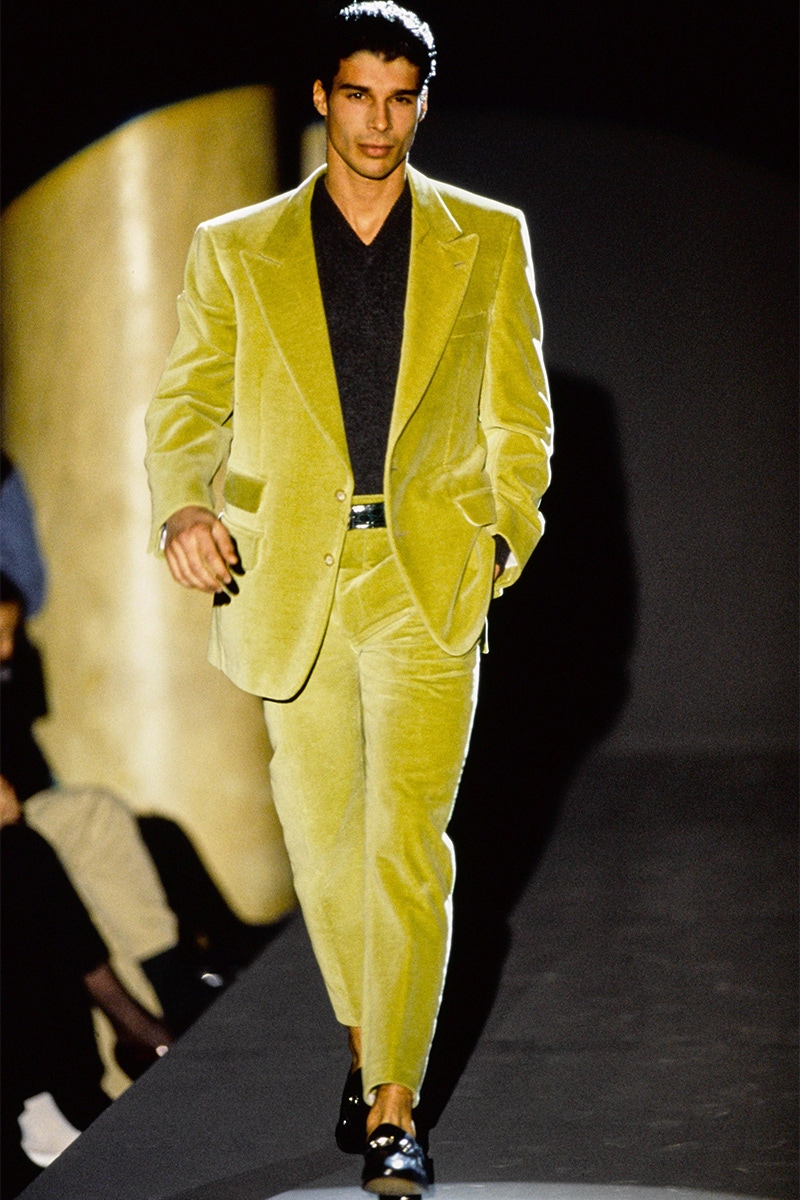 "In a world where things are increasingly disposable- I wanted to create something of lasting value… I wanted clothes that I could grow old with."
Ford's ascendance came after an ill-advised move to Gucci, while making his way up the ladder in Manhattan with brands like Chloé and Perry Ellis. Gucci's creative director at the time, Dawn Mello, was quoted as saying, "I was talking to a lot of people, and most didn't want the job…for him, it was risky." But that September, undeterred, Ford moved to Milan and took on the role as designer. Before long, he would expand his responsibilities into menswear and shoes, and then as Creative Director of Gucci in 1994, and for YSL once the French brand was acquired in 1999. 
His fifteen years at the Gucci Group remains influential, steering fashion from the oversized Armani-style menswear or nineties grunge collections to a more glitzy and unapologetically opulent image that would define the early noughties. Highlights came from his provocative advertising campaigns (particularly for YSL Opium, with a nude Sophie Dahl), and the AW96 show, which heralded his now-famous red velvet suit, sported on the runway by model Trish Goff. A staple of the soft sensual tension that characterised his time at Gucci, it was such an important moment that the house would later revisit the red velvet suit with Alessandro Michele, and Ford would reintroduce it again in his 2019 collection. It became an object of desire when Gwyneth Paltrow wore the ensemble in 1996, copying Goff's open blue shirt look.
Another iconic moment was the sexually-charged Gucci G-string at the '97 Milan Fashion Week (Vogue wrote that the collection was, "the equivalent of a one-night-stand at Studio 54"). It now sits within the permanent collection at the Museum of Modern Art, and has been revisited through versions by Alexander Wang and Givenchy. 
Ford's controversial and sex-positive campaigns and collections rocked the fashion world. He was rebellious, culturally sensitive, and laid down the template for the erotic, but high-brow, Y2K outfits that would characterise the turn of the millenium. The Gucci he arrived at was different to the version of the company he left in 2004, with sales increasing by 90% between 1995 and 96—only his second year. But his time at the company was marred by tensions with Maurizio Gucci, and later Yves Saint Laurent, who was vocal about his dislike for Ford's designs.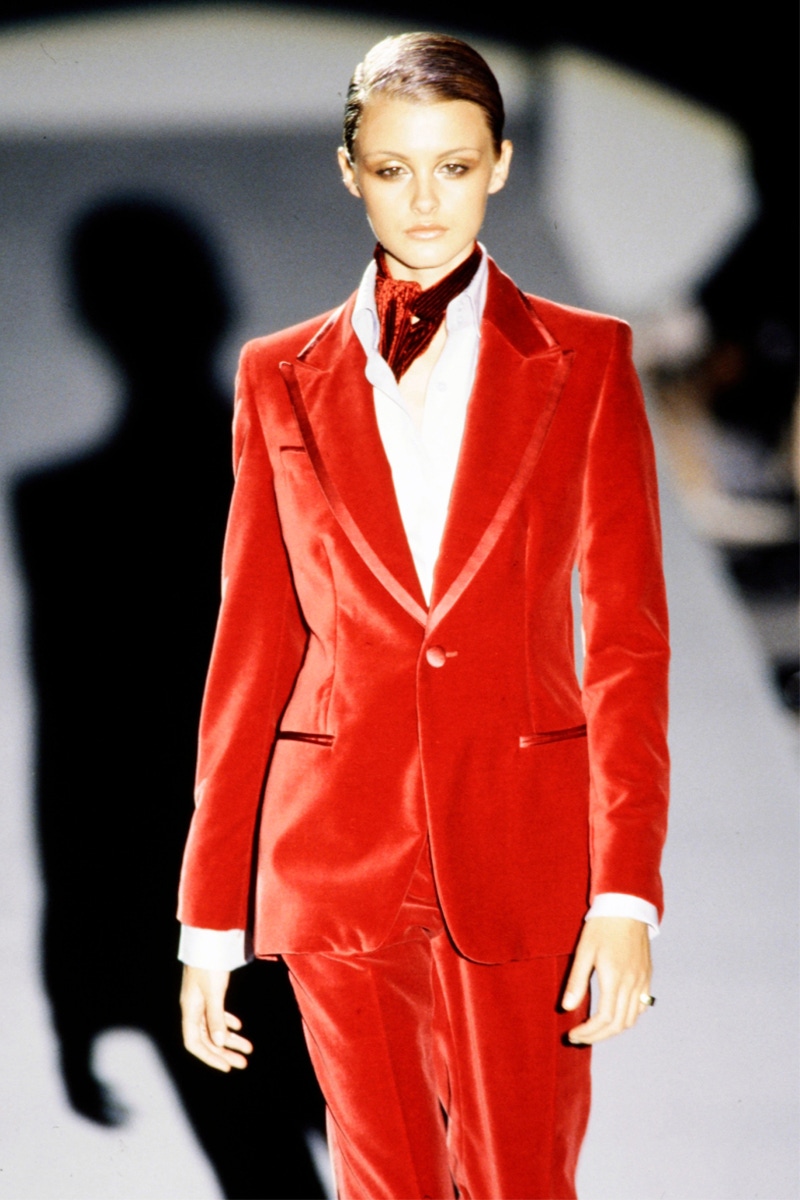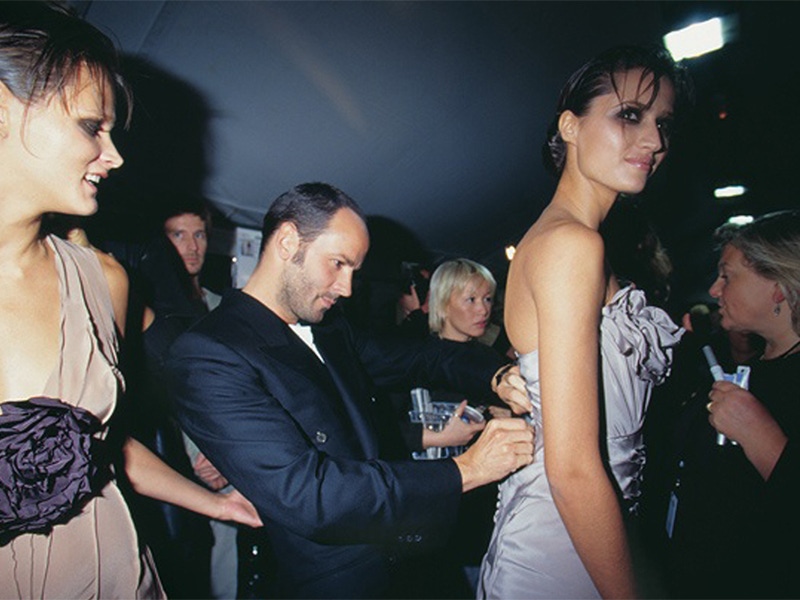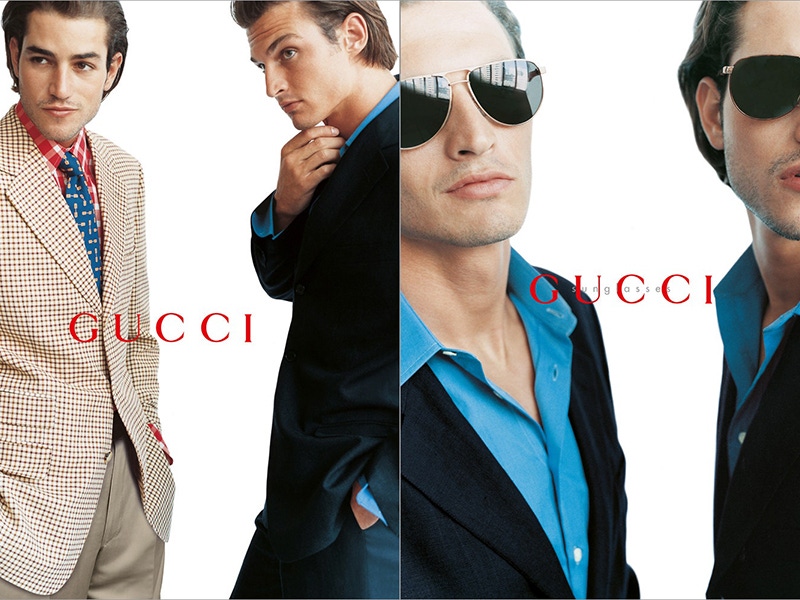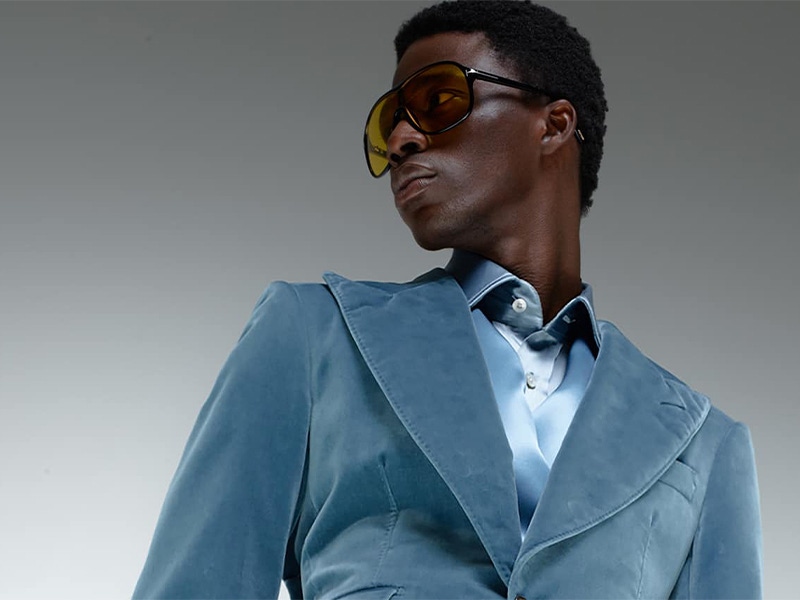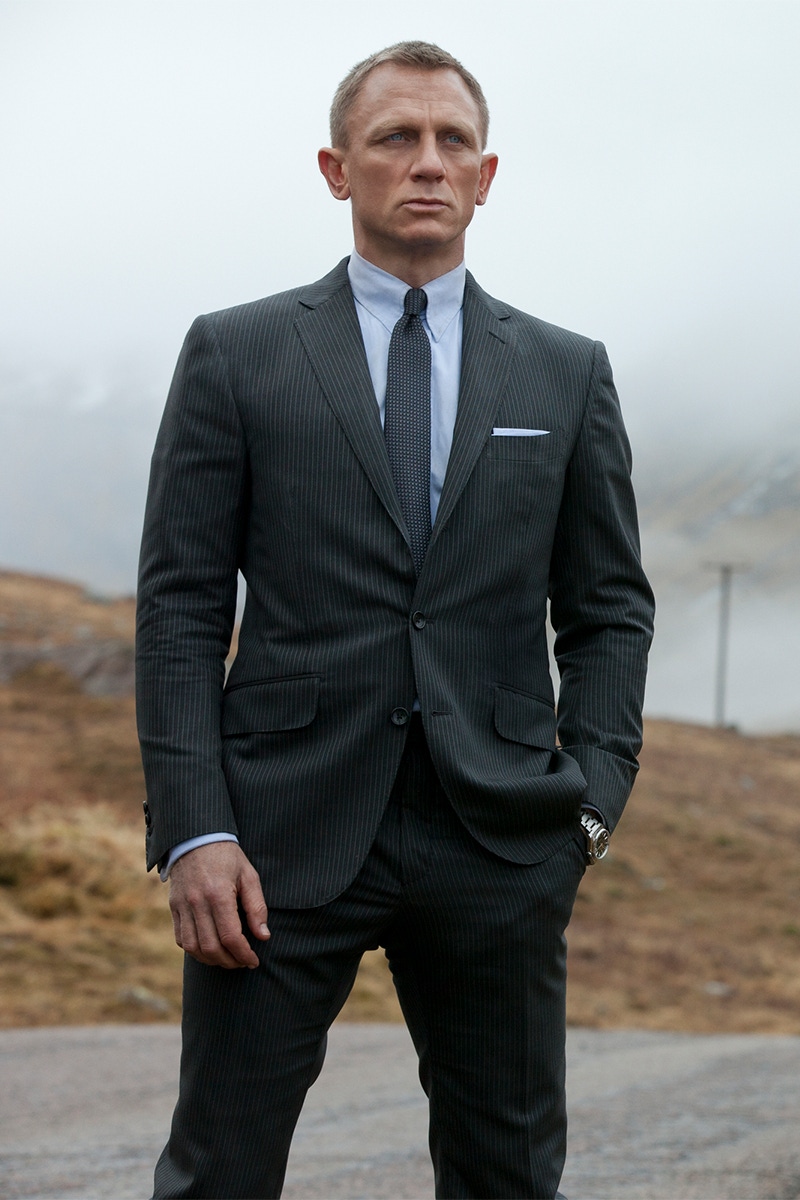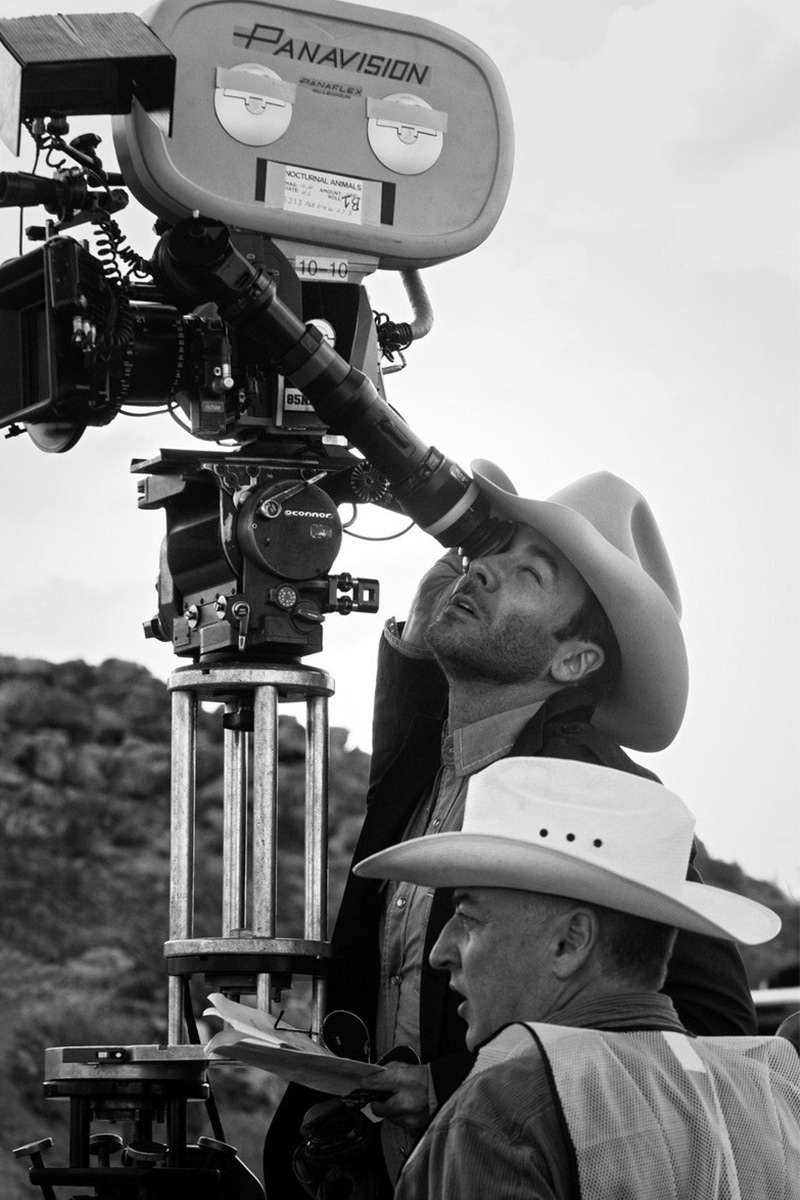 On Ford's departure, Gucci was worth $10 billion. So intense was his work-rate, that they had to hire four people to cover his role, and two years later he returned with a new fashion label, named after himself. Since 2006, Tom Ford the brand has become a hallmark of luxury and taste—exhibiting Ford's sensual, glamorous designs that made his Gucci era such a success. This time, it was creativity on his own terms, without the boardroom tensions, or publicised disagreements with colleagues. He described his vision of the 'Tom Ford Man' to CNBC as international, cultured, well-travelled, and possessing disposable income; which is why it made complete sense when Barbara Broccoli came calling to request that he dress the world's most famous fictional spy, James Bond. 
The visual richness of Ford's suits owes much to a slavish focus on details. Ford's famous 'virgo perfectionism' results in an almost militant stand against mass-production techniques and, the degree of hand craftsmanship in creating a Tom Ford suit is immense, testament to tailors and Ford's meticulousness. Signature handcrafted details include a double-stitched silk lapel buttonhole; a hand stitched thread on the underside of the lapel (to hold a vial of water for a lapel flower); in many instances, hand stitched sleeve buttonholes; and a hand-cut  and stitched welt pocket. Trouser cuffs that can be unbuttoned for cleaning are yet another marvellous feature. It's workmanship and details such as these, more than the unobtrusive label (though this too is folded, placed and stitched by hand) that truly went on to distinguish a Tom Ford suit.
Ford went on to design suits for the Daniel Craig 007 films, starting a brand-and-film association that brought his name widely outside fashion circles. At the same time, celebrities like Jay Z, Tom Hanks, and Michelle Obama wore his clothes, taking the Tom Ford look—sophisticated, classic, with subtle flourishes that nod to present trends—to the foreground. The legendary, superbly tailored red velvet suit he introduced in 1996 remains a staple of his collections, a piece that is synonymous with Tom Ford. His tuxedos have become essential to men's luxury wardrobes—with their peak lapel and rear air vent showcasing an astute understanding of tailoring. Ever restless, Ford would complement his clothing with a line of fragrances that exude the spirit of the 'Tom Ford Man', before going on to have a successful stint as a film director: 2005's
A Single Man
, based on the Chris Isherwood novel, was nominated for an Oscar. After making one hit film, Ford's production company 'Made to Black' would follow it up with
Nocturnal Animals
, which featured The Rake cover star Michael Shannon. The movie won the Grand Jury prize at the Venice Film Festival—proving that his foray into cinema was a success with critics as well as audiences. 
What Ford proved by first moving to New York City, then leaving New York for Gucci, and then breaking away to begin his own brand, is the importance of not staying comfortable. While most people on the street are unaware of who designs the clothes for the biggest luxury brands on earth, Tom Ford is a household name, embedded in our pop culture. As with most other icons, you don't do that by standing still.