Rakish Transitions: A Guide to Cuffs & Sleeve Length
The relationship between one's shirt and one's suit jacket is complicated to say the least, and there are a vast array of combinations to consider, as The Rake discusses…
The overly long suit jacket or blazer sleeve is a surefire indication of a ready-made item of clothing. Shortening the cuffs is a relatively simple adjustment that significantly improves the appearance of the garment, so it should always be undertaken. Bespoke tailors will always leave finishing the cuffs for the final fitting to ensure the best fit. A well-fitting sleeve should expose some lightly starched shirt and frame your recently manicured hands, and it's also an area for a little tasteful self-expression.
How much shirt cuff to expose is a matter of personal preference.  As a young fitter on Savile Row I was taught that the cuff of the suit jacket should be four and a half inches from the bottom of the thumb. I believe that this 'rule of thumb' originated with military tailoring and I have never paid too much attention to it when there were so many other factors to consider (not least the size of the customer's hand). I prefer to show at least ½ an inch of shirt cuff and a little more for formal dress. If wearing
double cuffs,
the shirt cuff should fit neatly in the sleeve.
Jacket sleeves can be tapered
to accommodate this. Your
cufflinks
should be double-sided and whilst they do not need to match your
wristwatch
you should avoid any obvious clashes of metals or colour. Your wedding band does not need to match either, nor do you need to match the exact colour of your leather watchband to your shoes. Style does not lie in matching sets of things but rather the ability to combine and contrast.
If you wear bespoke or made-to-measure shirts, you may have been offered the option of having your shirt cuff made larger to accommodate your watch. I prefer both cuffs the same width to create a balanced look and bespoke shirtmaker Wil Whiting agrees that it can ruin the aesthetic and often suggests to customers "to buy a more elegant and slimmer watch".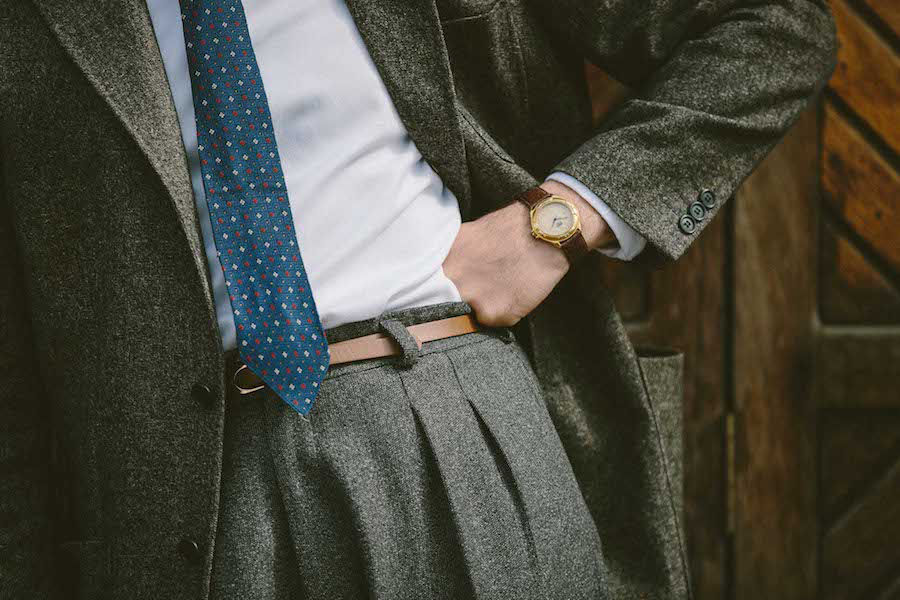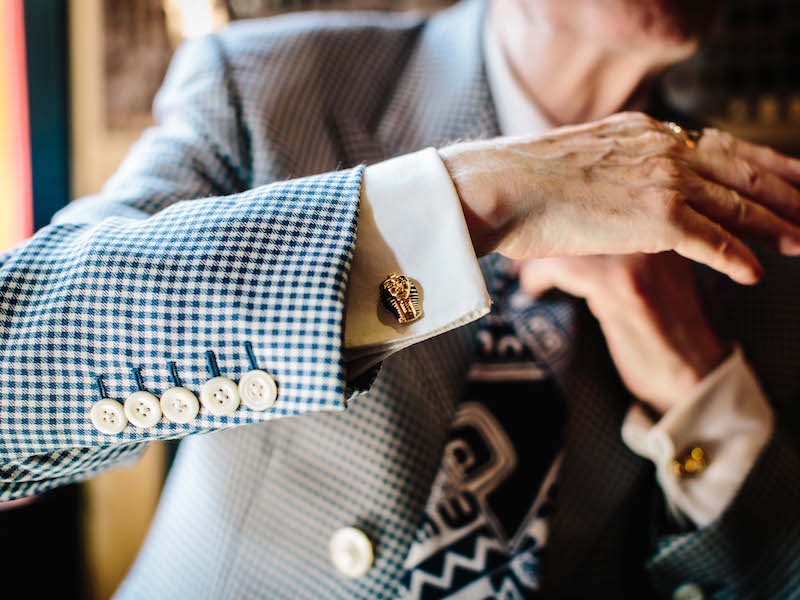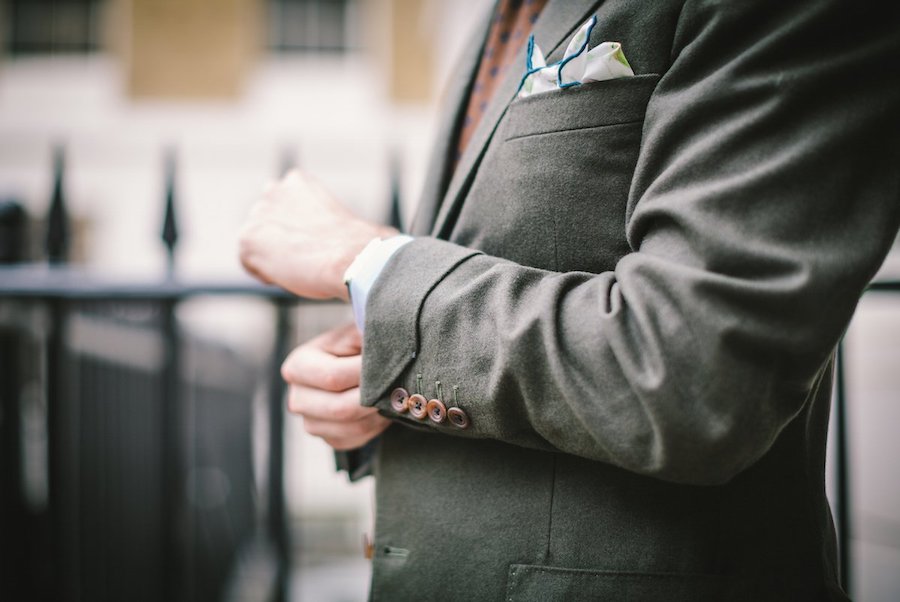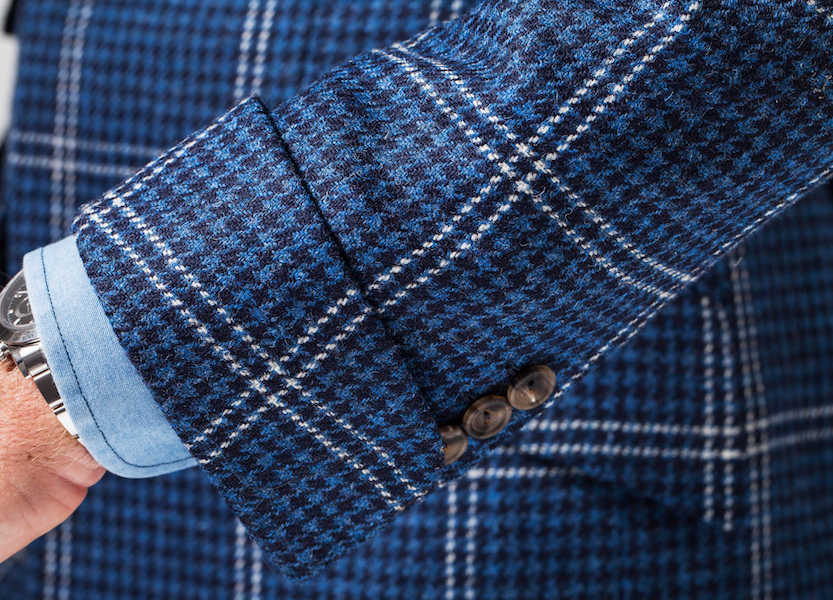 You may also be tempted to have your
initials on your shirt cuff
. These should be tonal and discreet and not visible whilst wearing your jacket; there are better positions for cyphers and monograms that don't scream "I wear made-to-measure". The same is true of the practice of leaving the buttons undone on your coat sleeves to draw attention to the craftsmanship. I would only do it to give a more casual air to a tailored jacket. I also like to leave a button or two undone on my two and three-button barrel shirt cuffs and I find this a practical way of accommodating a larger watch. Folding back the edge of a button cuff shirt is stylish and can be sporty when placed outside the jacket cuff.  
The
four-button cuff
has become the standard in tailoring from budget to bespoke and I would welcome a little more consideration in this area.
Sports jackets, particularly unstructured, combine well with three or two buttons on the sleeves
.
Five button cuffs
balance with eight-button military-style blazers.
Gauntlet cuff
s on the sleeves of jackets are rakish and elegant and look particularly smart on tweed suits or shawl-collared dinner jackets, where they should always match the material of the lapel. The depth of the cuff should be in proportion to the width of the lapels and most bespoke tailors will have a signature style. Some will actually have a button on the gauntlet that allows the wearer to undo the cuff and fold it down - this is closer to the original concept of the style worn by Edwardian coachmen.
The Italian fashion of
overlapping cuff buttons
in a waterfall style, often erroneously referred to as "kissing", has remained popular. And whilst it is not offensive in the right context, when combined with other gimmicks like contrast stitching or coloured buttonholes it is usually a sign of poorly-made garment hiding behind 'bells and whistles'. Avoid.
To read the first part in our Rakish Transitions series on how to pair socks and shoes, click

here

.