The Art and Soul of Rampley & Co.
Elliott Rampley, Founder of Rampley & Co., details the philosophies and qualities of his art-inspired accessories.
It was sheer frustration that spurred Elliott Rampley to found his eponymous accessories business, Rampley & Co. "I've always worn pocket squares and loved them as an accessory but found it amazing that women's scarves have had stunning patterns and designs ever since Hermés in the 1930s — and yet, we felt, nobody was really doing the same with the male equivalent," he explains. Rampley says he could find plenty of pocket squares in stock-standard paisley, polka dots and plain colours, "Which of course are all wardrobe essentials, but I was looking for something a little different. From the outset we decided we wanted all of our pocket squares to tell a story and have that point of differentiation."
Imbuing its pocket squares with this essential narrative element, Rampley & Co. has partnered with a series of renowned galleries and museums — including, amongst others, the Tate, the British National Gallery, the Wallace Collection, the Museum of London, English Heritage, the V&A and the British Museum — to reproduce outstanding artworks on its silk products.
"
I grew up in London and was taken to these institutions every school holiday I can remember by my mum," Rampley recalls. His long-held fascination with London's galleries and museums, he says, "heavily affected my desire to study Egyptian Archaeology and during my studies at UCL (University College London), I spent a considerable amount of time at the British Museum. I've always wanted to be involved with these institutions in some capacity and so when I was looking for inspiration for our initial pocket square designs, it seemed only natural to call upon what had been inspiring me since I was a child."
How did this newly established company go about convincing such venerable institutions to open their archives? Rampley explains, "We started off taking some fine art from the Tate and this enabled us to open dialogue with the National Gallery and the Wallace Collection, which then led onto the V&A and the British Museum and we're in discussions with many more." It's a mutually beneficial relationship, Rampley says. "A percentage of revenue from almost all of our pocket square designs also goes back to the institutions and we love that we can support their ongoing existence and growth while having such a positive brand association," he notes. "It took a lot of work and time to get all of the licensing agreements in place but we're delighted and honoured to say we can work with some of the greatest museums and galleries in the world."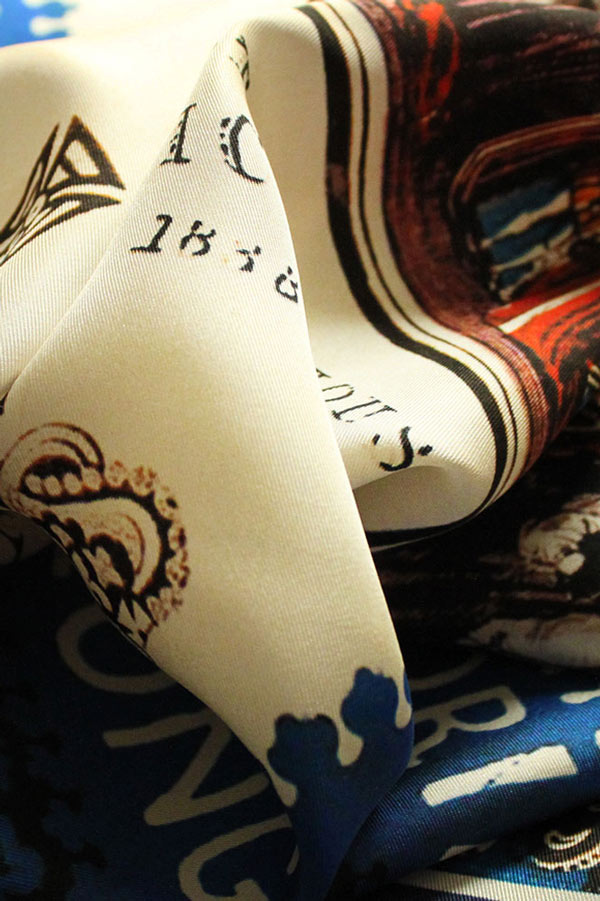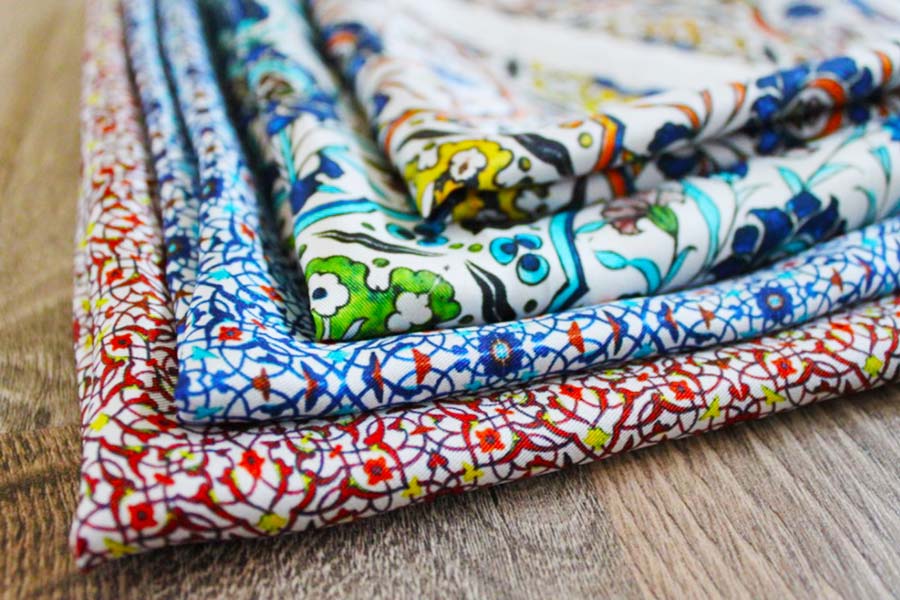 His previous business was a digital marketing consultancy established with business partner Simon Cranston, who remains his collaborator today. Rampley says, "I'd always worn pocket squares for work as the nature of my role was primarily client facing and I needed to dress nicely." He says the brand's products are designed to be things he and Cranston would wear. "Pocket squares provide a little accent of detail and colour to an outfit that gets you noticed. It's the details that make an outfit and a pocket square, in particular, can be worn with a variety of styles and combinations but always lifts the outfit overall."
One of the reasons the brand chose to launch with reproductions of fine art, Rampley says, is that "people tend to catch small details when (a pocket square is) folded and always ask about it. We even tend to get stopped on the street when wearing them. Our customers love that you can then take it from the pocket and show the full majesty of some of these pieces and discuss the story behind the artist, the artwork or the institution it comes from. We wanted to produce pieces that told a story rather than yet another repeat geometric pattern that's been seen time and time again."
Pretty pictures are important, of course — but to Rampley, overall quality is paramount. He says top-notch materials, provenance and craftsmanship are, in addition to excellent design, the pillars of the brand. "We spent the first years really ensuring we had the best possible product in terms of design and materials, regardless of how this affected margin and this 'quality first' approach has really resonated with our customers," Rampley says. It's not just the image on a pocket square that should tell a story, Rampley believes, but where and how it was produced. "We work with UK manufacturers to produce all of our current range. It was important for us to leverage the heritage and craftsmanship in British manufacturing, with some of the factories being based in the same location for close to 200 years," Rampley remarks. He says Rampley & Co. pocket squares are superior to competitors' for several reasons. Firstly, size matters. "We create the majority of our squares and certainly all of our silk squares at 42 x 42cm. You get less per metre of cloth and so they cost more to manufacture, but we felt this was the perfect size to prevent slippage of the square in your pocket while maintaining shape and not feeling too bulky." Edges, naturally, are hand-rolled. "It's absolutely the best way to finish a pocket square for a variety of reasons but the key ones are for both visual effect and structure," Rampley reckons. "The process of hand rolling and sewing will also give each individual product it's own unique character." Finally, "The quality of material that you use is incredibly important," Rampley says. "Our silk is the highest grade we could procure and we have devoted a lot of our energies to finding the perfect weight and weave for our pocket squares and scarves, which is a very fine mulberry silk twill with 100 percent silk filament — this ensures that it isn't too bulky in the pocket but will hold its shape when folded." The material also provides the best possible medium for the artworks to be printed with exquisite clarity, appearing near identically across both sides of the cloth. "Our weight of silk and printing process ensure that however folded in the pocket, you get an exceptional representation of the full design and colour palette," Rampley says. Wear a piece of immaculately reproduced fine art above your heart — peruse our range of Rampley & Co. accessories here at
TheRake.com
.