Ranch Dressing: W.H. Ranch Dungarees
Ryan Martin has built a denim empire from the bottom up, and his passion for handcrafted vintage-inspired workwear is unsurpassed in modern menswear.
There were three brands that spearheaded the evolution of denim in the mid 20th-century; Levi's, Wrangler and Lee. Levi's already boasted a history unmatched at the time and the they were continuing to innovate with new fits and expanded product ranges. Wrangler, although lesser known, successfully capitalised off the popularity of the American West, even going as far to hire professional rodeo riders in 1947 to promote their most iconic pair of jeans, the 11MWZ. Whilst not as lauded by the masses as Levi's, Lee had the full package, and were the first brand to introduce a slim-fitting denim jacket in 1931, the evocatively named Storm Rider. For some however, it's Lee's jeans that have had the biggest impact even to this day. Ryan Martin, founder of the Colorado-based W.H. Ranch Dungarees completely hand-makes denim jeans from start to finish in his one-man workshop, producing what are perhaps the finest vintage-style work pants around. As is the same for many denimheads, he feels a somewhat personal connection to denim but his love for the fabric was very much born through his 'personal connection' to Lee, "I grew up in Salina, Kansas, the birthplace of Lee jeans. They outfitted my forefathers working the farmland on the dusty plains of Kansas…there is this romanticism to the notion that I am wearing the same jeans that my ancestors wore on the farm while they were struggling to survive The Dust Bowl. There is something very special about knowing you are essentially wearing the same jeans made from the same denim that your great-grandfather picked up at the local feed store. All of my cuts are based off of cuts Lee offered from the 1930-1950s. This period to me was really the golden age of denim, so I tirelessly strive to replicate what made those jeans so great. It's not just the fit of course, but the construction techniques that were used. I obsess about every detail and have finally reached the point with the acquisition of machines to fully replicate the construction. It was a long, tiresome, and often-times defeating journey, but now I can honestly say that what is being produced out of my studio is simply the best, if only because it replicates the best". W.H. Ranch Dungarees is a complete one-man operation. Ryan has joked to me saying that he's the 'spokesman, CEO, CFO, head of design, production, marketing…even the janitor!' His company is no joke though. It is the embodiment of his constant strive for perfection. You can see it in every garment he produces. Take for example his signature 1901 Ryder jeans. These are made by Ryan from start to finish using single needle construction with vintage sewing machines, which allow him to perform such rarities as three-thread overlocked edges and double chain-stitched inseams, two markers of outstanding quality and attention to detail. A typical pair of Ryan's jeans will also feature heavy 10oz cotton drill cloth pocket bags, vintage-inspired Japanese thread, YKK raw brass buttons and pure copper hand-set rivets. His vegetable-tanned leather tags are branded with his logo, by hand of course.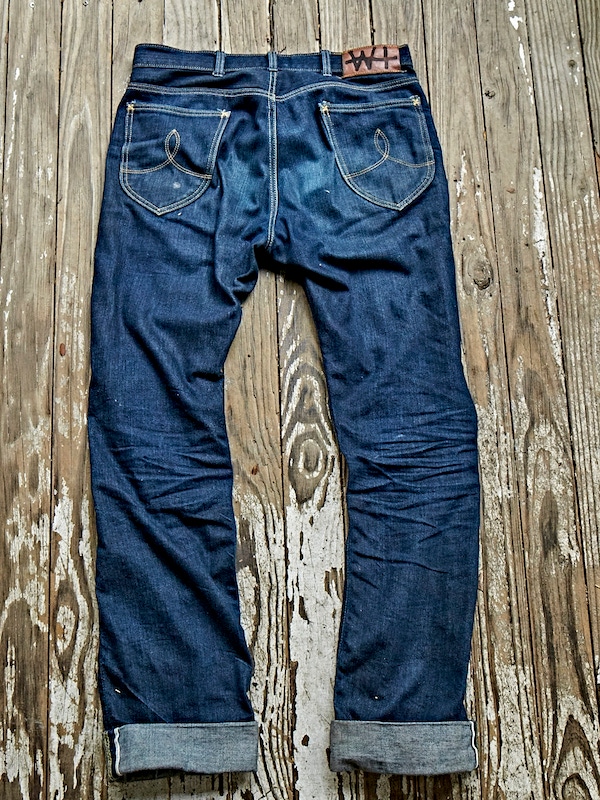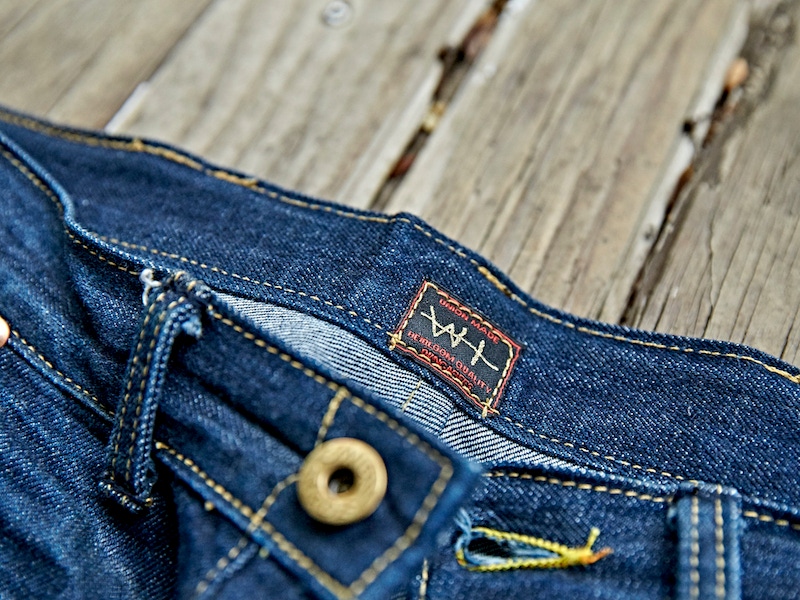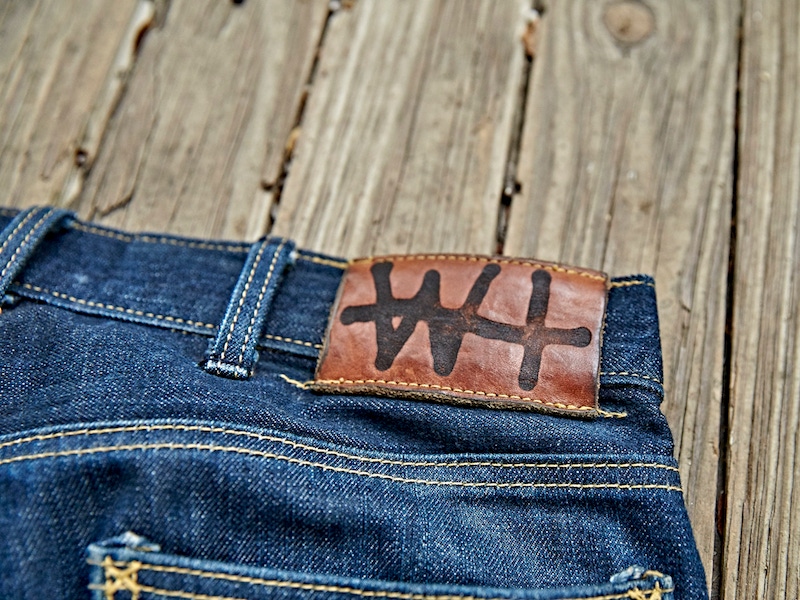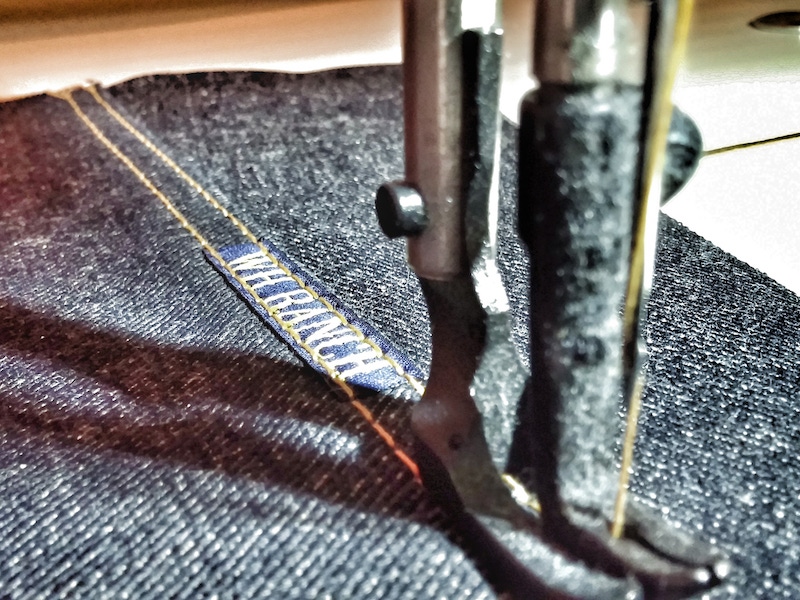 Although he now offers over nine different fits in his Heritage Collection, W.H. Ranch Dungarees comes from humble beginnings, as Ryan explains, "it has been my dream for more than half my life to have my own denim-ware collection. I started with denim ties under the assumed named White Horse Trading Co. My logic was that if starting with ties was good enough for Ralph Lauren, it was good enough for me. I gained a cult following and I figured it best to strike while the iron was hot, launching my maiden fit pair of jeans. I sold all of my best cowboy boots to buy the material (Japanese selvedge denim and the legendary A&E thread, made in North Carolina). I posted pictures of myself working on the jeans on Instagram and offered up only ten pairs. They sold out in about a week and I was off. I became obsessed with vintage construction and fits and worked towards growing the line into the fully fleshed out version of what I had in my head all of those years". Authenticity is something that the writers behind The Rake (and more than likely our readers) gravitate towards. It's the reason we'll pay that bit extra for an item of clothing, knowing that it was intelligently designed and made with integrity and passion. Authenticity is hard to come by though. All too often a brand will claim its origins lie in one country, but the clothes they produce will be designed and produced in another, to save costs and increase profit. Whilst it is certainly no bad thing to have clothes made in China or India, as consumers we are often intentionally confused by brands who want us to pay a price befitting of a 'luxury' garment yet with the quality of a high street one. Brands like W.H. Ranch Dungarees are the antithesis of this and the clothes they produce are as authentic as it gets. "I have been behind a sewing machine since I was seven years old. I am a sixth-generation professional sewer and pattern maker (on my mom's side). It may sound cliche to say so, but I believe without a doubt I was born to do this. It is quite simply in my blood. Having a foundation of understanding in regards to apparel design and construction is key. Once you know that, it's simply a matter of applying those techniques to any given category. I don't make shirts, I make jeans, so that is what I obsess over". Inspired by, designed in and made in America, by an American from American fabric. For lovers of vintage-inspired denim, it doesn't get much better than that.