Rao's: Frank Pellegrino's Harlem Hangout
Rao's offers a glimpse of an earlier, somewhat grittier, cityscape in East Harlem, run by the late, great Frank Pellegrino.
The first time I meet Frank Pellegrino, the co-owner of the venerable East Harlem institution Rao's, he is sitting at a round little table that's been placed just outside the front door for him, the better to enjoy the warm summer breeze that is rolling in from the East River, past the FDR Drive and down along Pleasant Avenue. Frankie No, as he is called because of his habit of turning down requests for reservations, is sitting across from Frank Schipani, a former Director of Retail Development at Giorgio Armani Collezioni and Head of Sales Training for Hugo Boss. The two Franks are old pals, so they are in the habit of sipping some white wine and ruminating on a variety of topics that an interested observer might file under the hashtag #menswear.
A whiskey sour is brought out post haste and I sit down as the conversation turns to a made-to-measure suit from Eidos Napoli that Frankie No is waiting on. He's excited to try on the slim silhouette that the company has become known for, which isn't really surprising because clearly Frankie No is, first and foremost, a sartorially-inclined fellow. On this particular night he is wearing a glen plaid single-breasted suit with a vent-less, full-cut look that is reminiscent of something that Attolini or Caraceni might have produced in the 1930s. When he mentions the Marinella ties that he picked up during his last trip to Naples, I am left to wonder how it is that I am only just now discovering this man and his restaurant for the first time.
Of course, I have known about Rao's for years, having grown up just a short walk from the place. From an early age, my father was constantly reminding me to stay out of places in which I have no business and the dwindling Little Italy section of the East Harlem of my youth fits that description, at least in his mind. This may have something to do with the eatery's historical "connection," for lack of a better word, with certain elements of the mob that are ever-present in the neighborhood. It is a history that goes all the way back to the Roaring Twenties and a fellow named Joseph Rao - an uncle to Frankie No - who is known as Tough Joey and is generally pretty chummy with other like-minded individuals from around the neighborhood with names like Trigger Mike and the Dutchman.
The restaurant's mystique is tangible from the moment that you set foot in the place - it hangs in the air somewhere above the wonderful aromas that emanate from the kitchen. It's a feeling that one only finds now in certain parts of New York, away from the city's main arteries where residents are cocooned in the homogenised blandness of Starbucks and Dunkin Donuts. No, Rao's is unique because it offers a glimpse of an earlier, somewhat grittier, cityscape – one littered with places that had names like Dempsey's and Lindy's and Jilly's.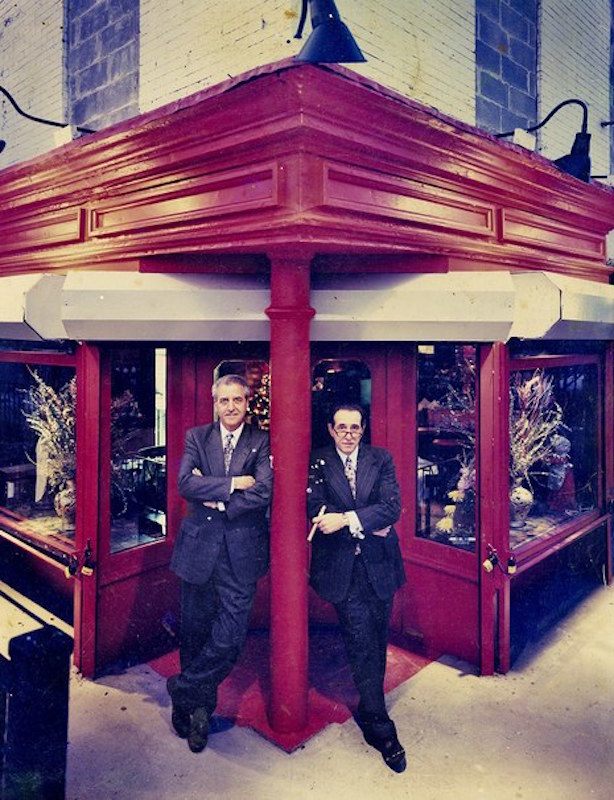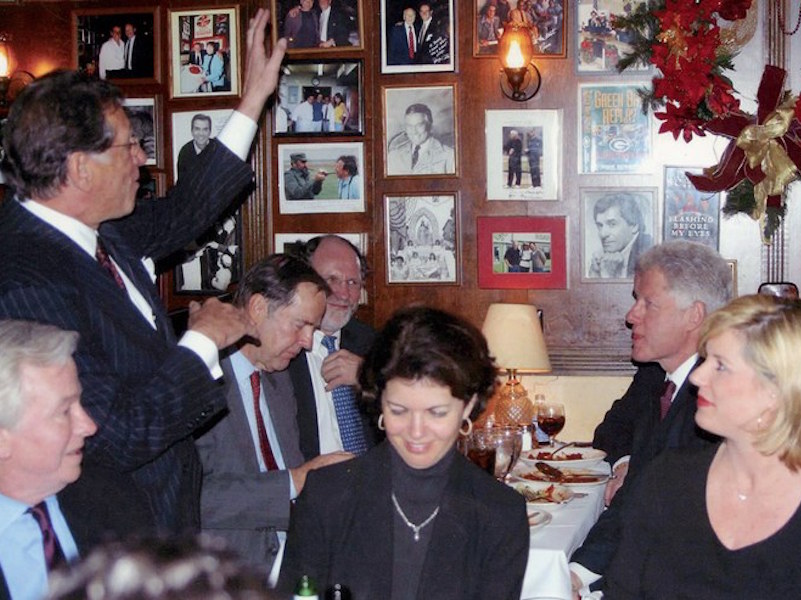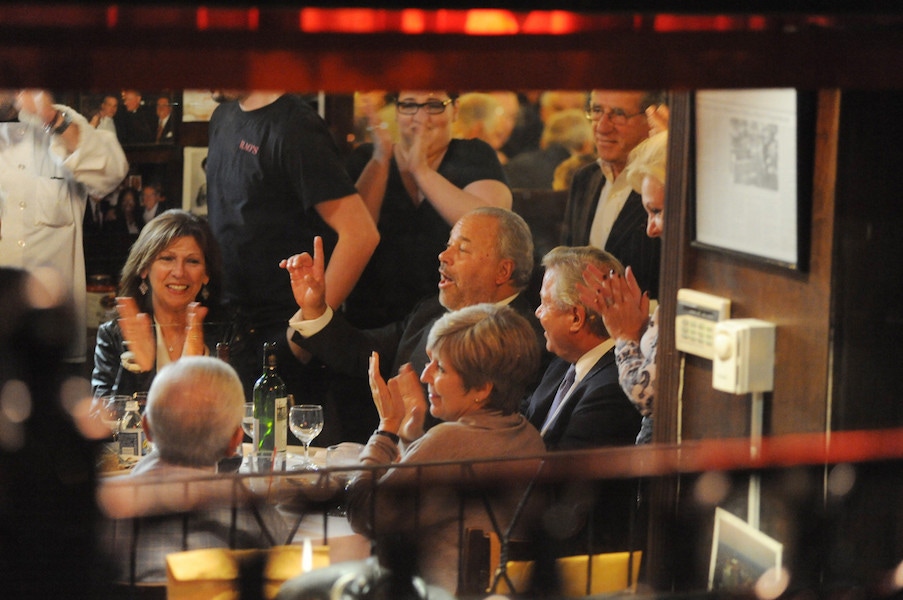 Martin Scorsese captured some of that aura and sprinkled a touch of it on his film 
Goodfellas
 when he casted several Rao's regulars - including Frankie No - in that quintessential gangster classic. More recently, fellow New Yorker Sean Carter, better known to the masses as Jay-Z, filmed portions of the the video for the song 
D.O.A.
 on the premises. Not to be outdone, Scorsese returned to the iconic venue for a scene with Leonardo DiCaprio and Bo Dietl in 
The Wolf of Wall Street
 that owes much to the restaurant's rakish elegance. Of course, they're not the only ones. Rao's has been luring celebrities to the place for years, from New York institutions like Frank Sinatra and Woody Allen to international icons like DiCaprio and powerbrokers like Bill and Hillary Clinton.
Perhaps that's what has turned a reservation at Rao's into something more like the Loch Ness monster: something that many people have been talking about for years but few have ever actually seen with their own two eyes. Considered by many to be the toughest reservation in America, Zagat writes that "it practically takes an act of Congress to score a coveted table." Yet even this ostensibly obvious attempt to foster a feeling of exclusivity is rooted in the restaurant's roots as a small, family-owned Italian eatery.
As the story goes, in the beginning Rao's was just an unassuming little place that made great food for those in the know until that fateful day when Mimi Sheraton of the 
New York Times
 decided to write a glowing review of the place. Most restaurant owners would be ecstatic, but Vincent Rao treated this as something more like the kiss of death. He pleaded with Mimi - to no avail - and so the review was published, followed by the expected avalanche of phone calls for reservations. In an effort to deal with the increased demand, Vincent implemented a system whereby regular customers and other friends and family were given a nightly table time. And that's the way it's been ever since.
Talking to Frankie No, you get the distinct impression that he wouldn't have it any other way. At one point, right before he stands up to sing along with his assembled patrons to a Sinatra tune that's been ordered up on the jukebox, he tells me that he isn't in this for the money – and it's easy to see why that's true. In over 100 years, Rao's has gone from its inaugural eight-table capacity to a Coliseum-like 10 tables, which are only available Monday through Friday with one seating per night. As Frankie No once told the 
New York Times
, "This is Rao's. We don't change it."
Eventually, after a long night of good drinks, great food, and even better conversation, I step out into the cool night and feel that soft breeze once again. Lincoln Towncars are lined up across the street, waiting to whisk customers out of East Harlem and back to the more fashionable precincts of Manhattan. As I stand there and look across into Jefferson Park, I can just make out the metal backstops that hover over the baseball diamonds where I played ball almost 25 years ago. The chain link of the tall fences sparkles just a bit from the light of the cars as they glide past on the Drive. I think about my father, and I wish that he might have taken a walk back in the day over to Rao's. He would have loved the place.
In Memoriam
Frank Joseph Pellegrino
1944-2017