A Real Maverick: Robin Olds
Forget cinematic facsimiles. Triple-ace fighter pilot Robin Olds was the genuine article.
The Tom Cruise character from Top Gun may be better recognised among the general public, but real flyboys will tell you there's only one fighter ace truly worthy of the 'Maverick' moniker: the late, great Robin Olds — a man whose rebellious nature was as plain as the regulation-flouting 'stache on his face. Raised in a military family, his father a pioneering World War I pilot who rose to the rank of Brigadier General in the US Army Air Corps (the precursor to the US Air Force), flying was literally in Olds's DNA. He held to the belief that this was a pre-requisite of airborne greatness. "There are pilots and there are pilots," he said. "With the good ones, it is inborn. You can't teach it." Olds did his own learning at West Point, where he was a football star, named Lineman of the Year and Player of the Year in 1942 (he famously returned to the field after losing his two front teeth in that year's Army-Navy game) and earning a place in the College Football Hall of Fame. Despite being the quintessential 'big man on campus' — 1.9m tall, weighing in at 92kg, he was built like a house — Olds suffered the indignity of a demotion from Cadet Captain to Private after admitting to a weekend's drinking in New York, doing punishment marches until he graduated. He'd retain a disdain for officious authority the rest of his days. With the US by this point thoroughly engaged in World War II, his flight training completed, the 22-year-old pilot shipped out for Britain in 1944, winning ace status in short order by shooting down five German aircraft in his first two missions. Within a year he'd been promoted to Major and given command of a squadron, personally tallying up 12 confirmed air-to-air kills (and many more 'probables') by the end of the war, engaging in acts of dogfighting derring-do that put Howard Hughes' Hell's Angels to shame. "If you are a fighter pilot, you have to be willing to take risks," Olds said, with no little understatement. (As Tom Wolfe would memorably note in The Right Stuff, "In time, the Navy would compile statistics showing that for a career Navy pilot, i.e., one who intended to keep flying for twenty years... there was a 23 percent probability that he would die in an aircraft accident. This did not even include combat deaths, since the military did not classify death in combat as accidental.")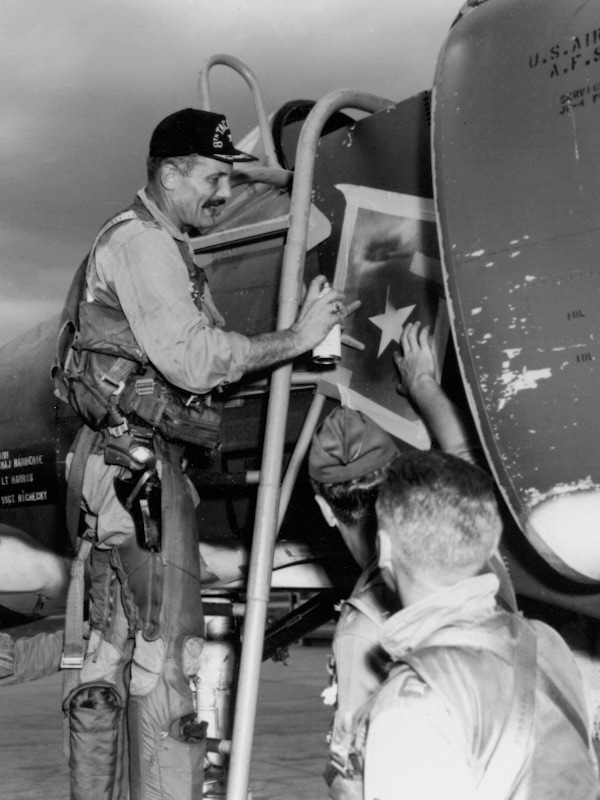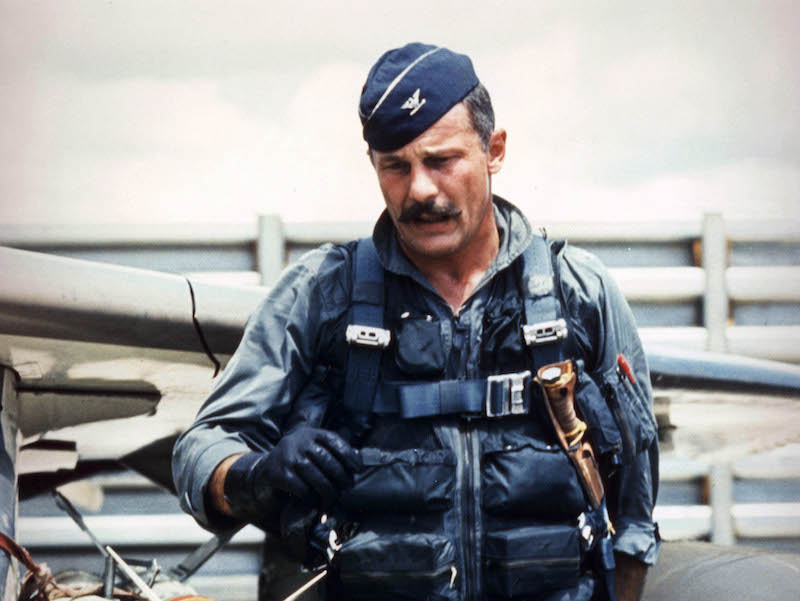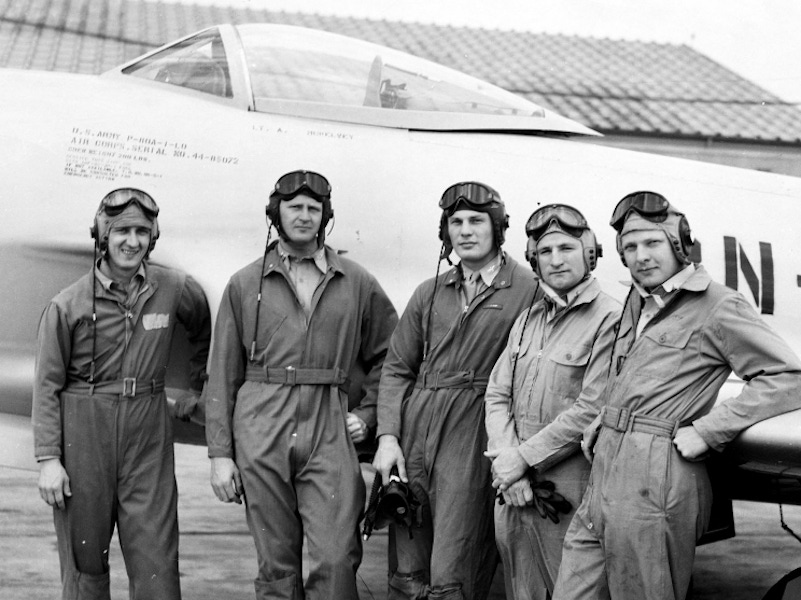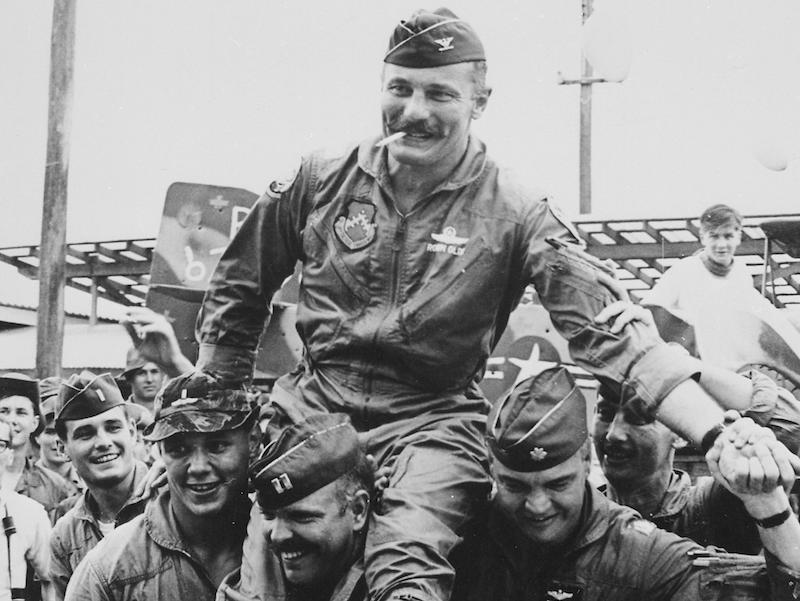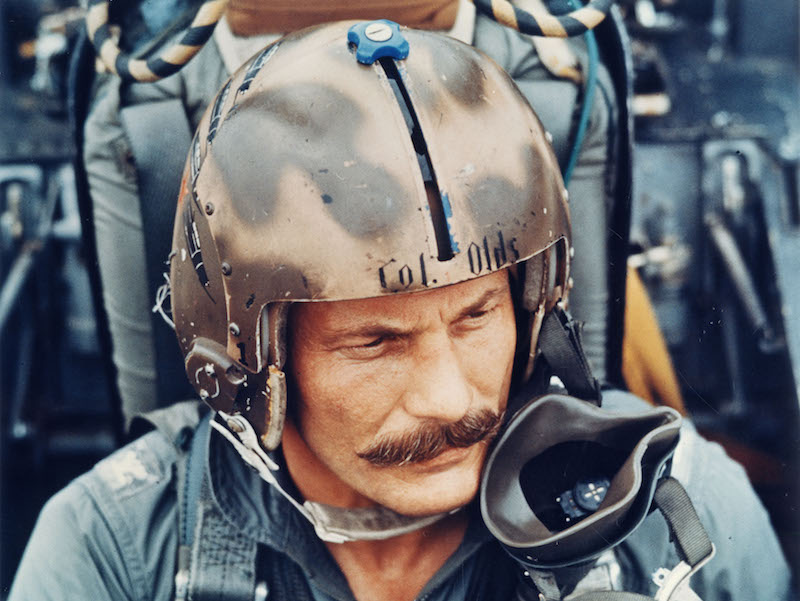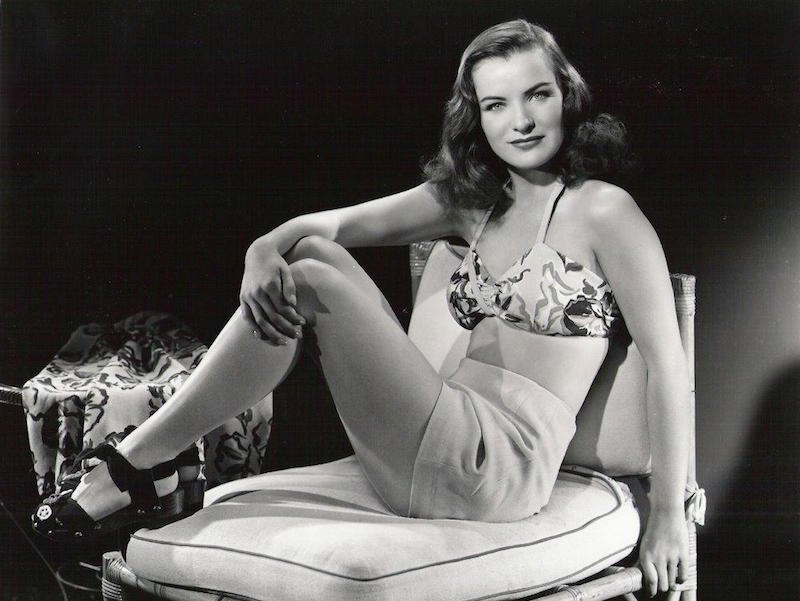 When WWII ended, Olds continued to satisfy his need for speed (and risk-taking) as a member of the USAF's first jet acrobatic team. With this glamorous job came a suitably glamorous companion, Olds marrying the Hollywood star and pin-up girl Ella Raines — a woman whose bodacious curves had doubtless graced the fuselages of a few of the bombers Olds had shadowed over Europe. The advent of the nuclear bomb, and its use in ending hostilities in the Pacific theatre of WWII, led most in the military-industrial complex to believe that the days of conventional warfare were over. Air-to-air missiles, they thought, would make dogfighting of the sort Olds had become so expert in obsolete. Consequently, the training of airmen in close-quarters aerial combat began to be phased out and US military aircraft equipped not with guns, but only missiles and bombs. Olds was one of the few voices of dissent — and he raised his voice loud, calling for a renewed focus on back-to-basics training and weaponry, accurately foreseeing that they'd save pilots' lives. He suffered for his outspokenness; Olds was seen as a rebel, an iconoclast, and despite numerous requests for combat duties during the Korean War, he was shuffled into the shadows, spending the late 1950s and early '60s serving in Germany and at desk jobs at the Pentagon. Rising to the rank of Colonel in spite of his unpopularity with the brass, finally, in 1966 Olds did manage to secure active duty in Southeast Asia, commanding a jet fighter wing in the Vietnam War. Leading countless strategically genius operations (one of which, code-named 'Bolo', saw Olds and the pilots under his command take down half the MiG fighters the North Vietnamese had in service), it's difficult to confirm exactly how many kills Olds made in Vietnam. He knew that, were he to achieve ace status by shooting down five enemy aircraft, he'd become the only pilot who'd done so in both WWII and Vietnam — and would swiftly be sent home for publicity duties. So he simply kept his official count to four and handed credit for any additional kills to other pilots.
""I was far away from home. It was a gesture of defiance," he said of his gloriously Kitchener-esque facial plumage."
The USAF dictated that airmen be discharged after flying 100 missions; Olds quit logging his flights at 99, always demanding to join his men on the most treacherous sorties, eventually clocking up an incredible 152 missions during his 51 weeks in 'Nam. The most visible signifier of Olds' rebellious nature, however, was his lavishly waxed handlebar moustache. Regulations only allowed trim 'staches of the sort normally sported by CPAs and clerks, but there was no way a man of Olds' nature would be satisfied with such snivelling conservatism. "I was far away from home. It was a gesture of defiance," he said of his gloriously Kitchener-esque facial plumage. "The kids on base loved it. Most everybody grew a moustache." Promoted to Brigadier General while serving as a much-loved Commander of Cadets at the US Air Force Academy after returning from Vietnam, Olds was sent back in 1971 to report on the readiness of USAF fliers in Southeast Asia. He was so disturbed by the state of affairs (untrained in air-to-air combat, the pilots "couldn't fight their way out of a wet paper bag," Olds said, and were being shot down in droves) that he offered to take a voluntary demotion back to Colonel, return to take command in Vietnam and rectify the situation. His offer was refused — and an exasperated Olds took his cue to retire. A prodigious drinker his entire life, Olds continued boozing and rabble-rousing into his dotage, being sentenced to a year's probation for driving under the influence and resisting arrest in 2001, days before he was inducted into the Aviation Hall of Fame. Dying just a few years later, aged 84, this gifted pilot, beloved leader, tactical genius and unrepentant rebel was a true maverick 'til the end.