Review: Concorso d'Eleganza Villa d'Este
The Rake reports back from a weekend spent in Como, Italy, at the Concorso d'Eleganza Villa d'Este, which is the world's most prestigious classic car meeting...
If you happened to have glanced upon our shenanigans on social media over the weekend you would have seen that we were in Como, Italy, for the 90th anniversary of Concorso d'Eleganza Villa d'Este. Despite the idyllic setting, Mother Nature decided to unleash God's wrath upon us in the form of heavy, hard-hitting rain at the worst possible moment during the parade on Saturday. As you can imagine, it was the worst thing that could happen to a series of open-top, pre-war Bugattis. However, we might have brought with us a sharp dose of British stoicism and soldiered on through. All one could do was simply smile, take cover and in equal measures of genteelness and respect, tip our non-existent hats towards the entrants and admire their smiles.
The Rake was present in Como in two capacities. Firstly, as a media partner of the event in addition to the main sponsor of BMW Group Classic. And secondly, as a guest of A. Lange & Sohne, who were celebrating the 25th anniversary of its best-known marque, the Lange 1. As brand positioning goes for Lange, it couldn't be more perfect as the synergies between the classic cars on show and German watchmaking are overwhelmingly obvious. Lange is the watchmaker for those who know.
Myself and Shaun Darwood, who was furiously snapping away all weekend, arrived on Thursday evening and settled into our hotel before an early start the next day, whereby we got in our BMW shuttle and headed to the Villa d'Este to catch up with the inimitable Simon Kidston. We met Simon last year in at the Concours of Elegance Suisse where he won our award of Best Dressed Driver. This time around he wasn't an entrant (but he did have three of his cars at his disposal), and merely resumed the position which he's held since 2000: Master of Ceremonies (or The Voice of Villa d'Este), essentially entrusted to keep things ticking and deliver fascinating anecdotes and facts on every single car to the crowds.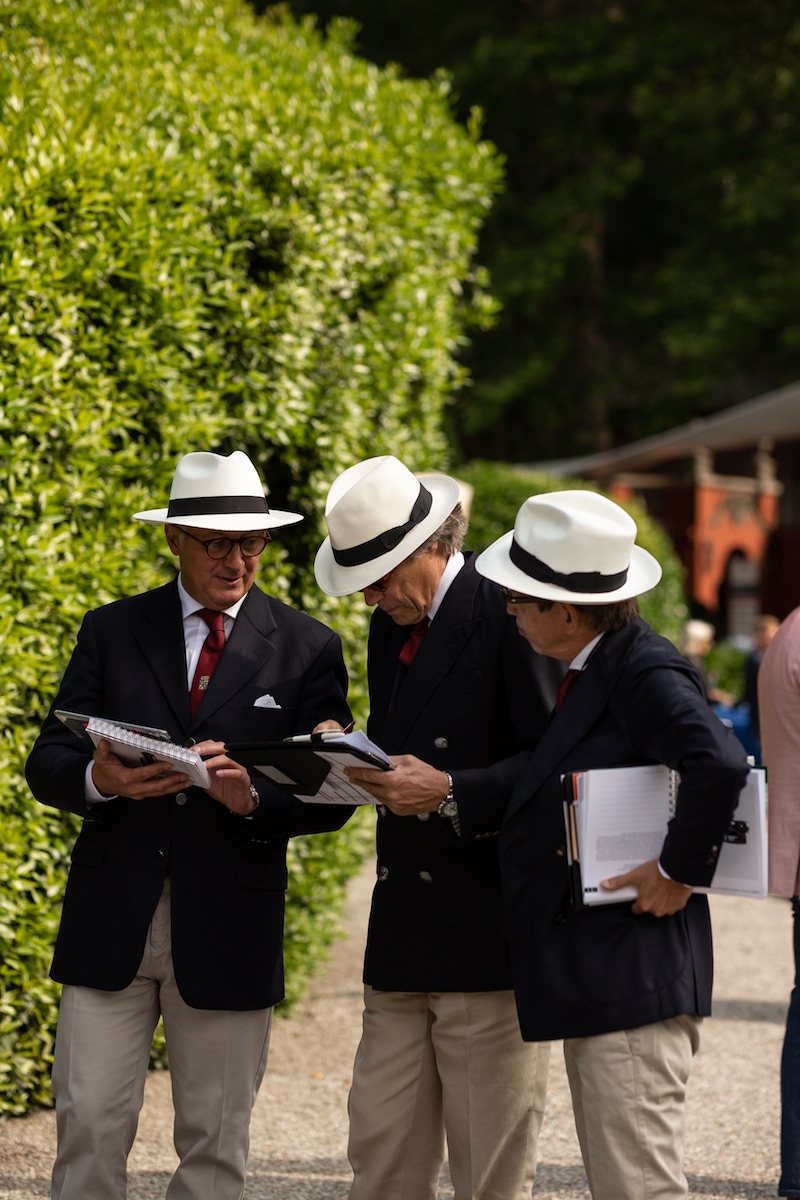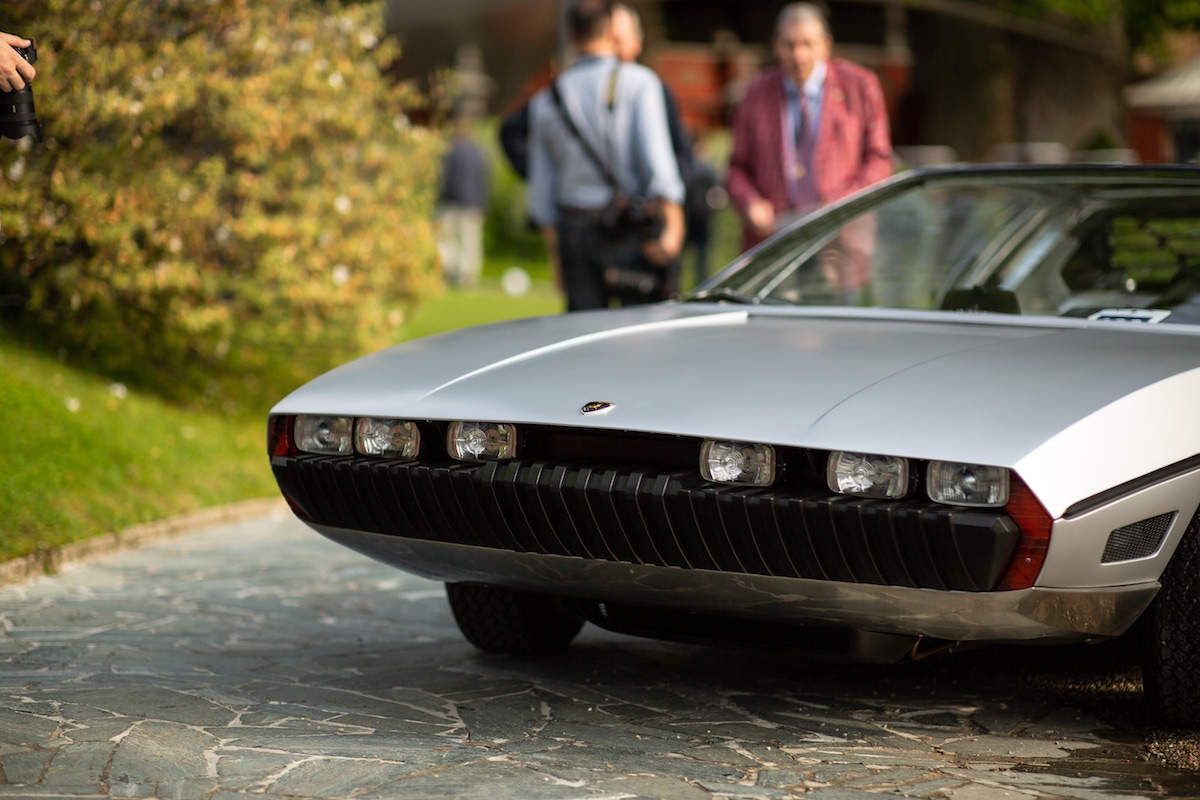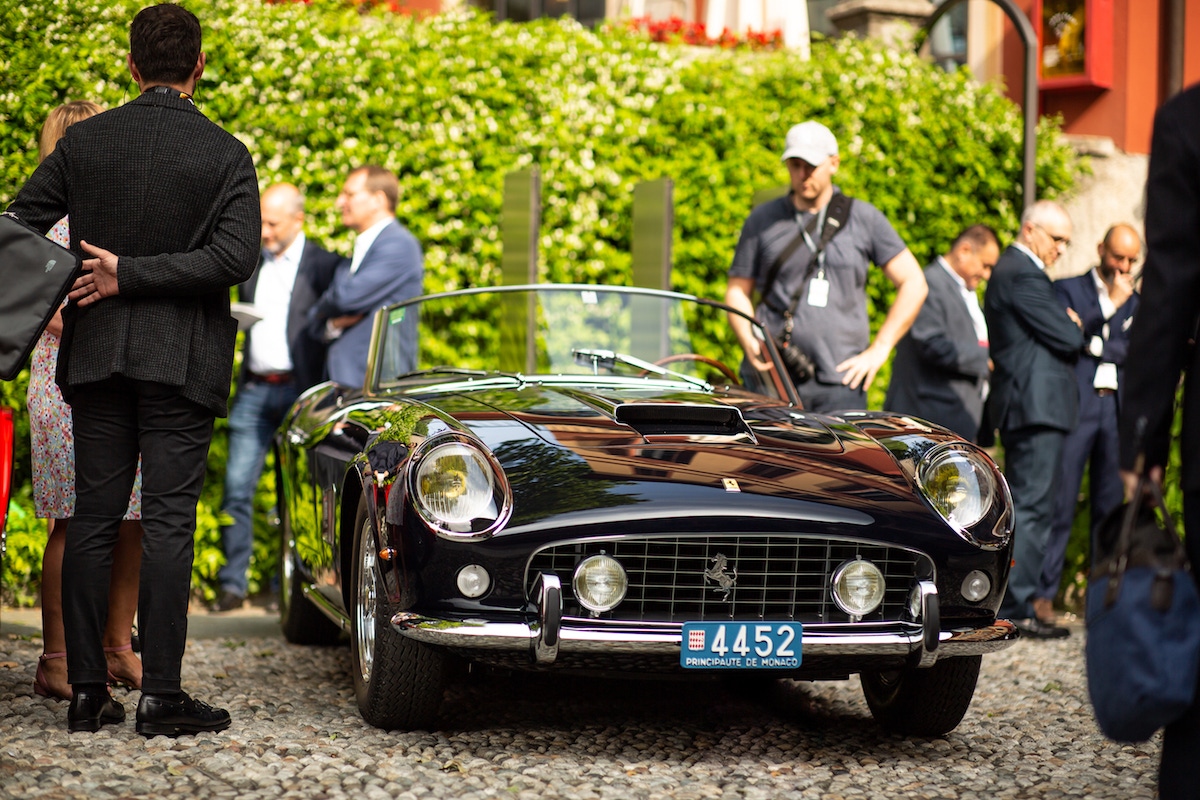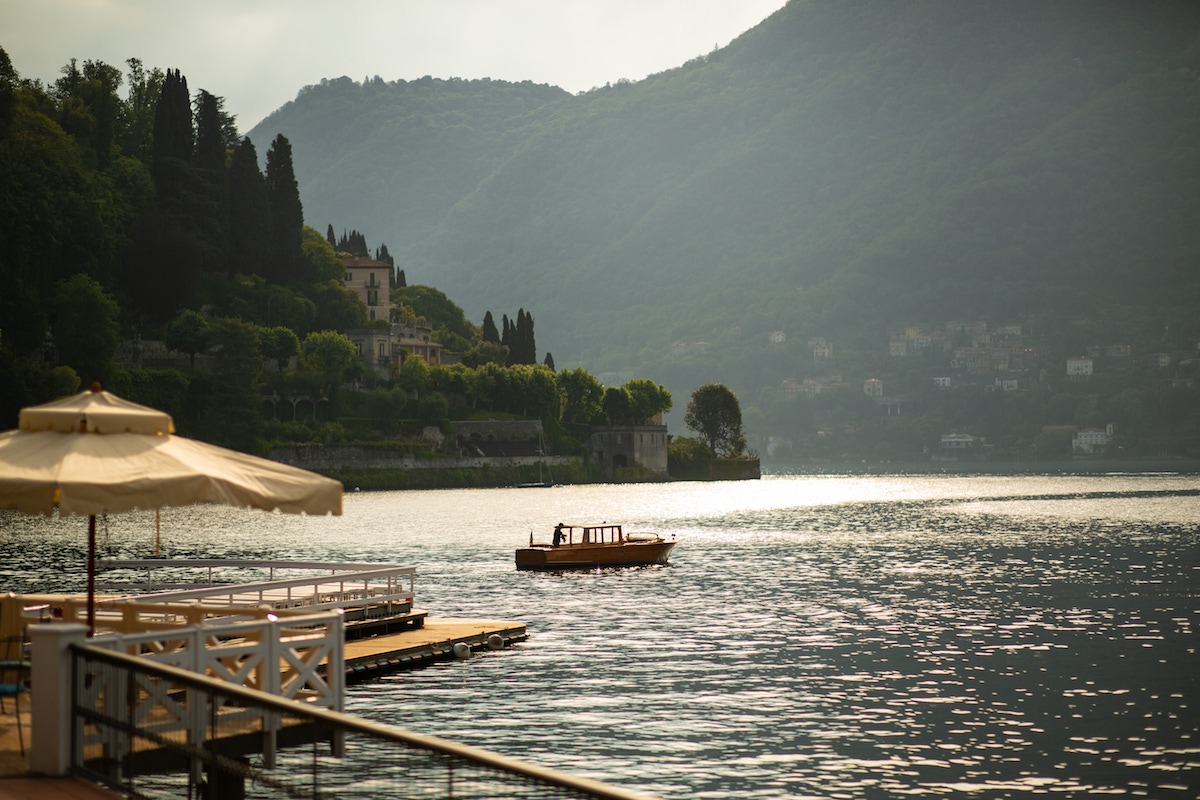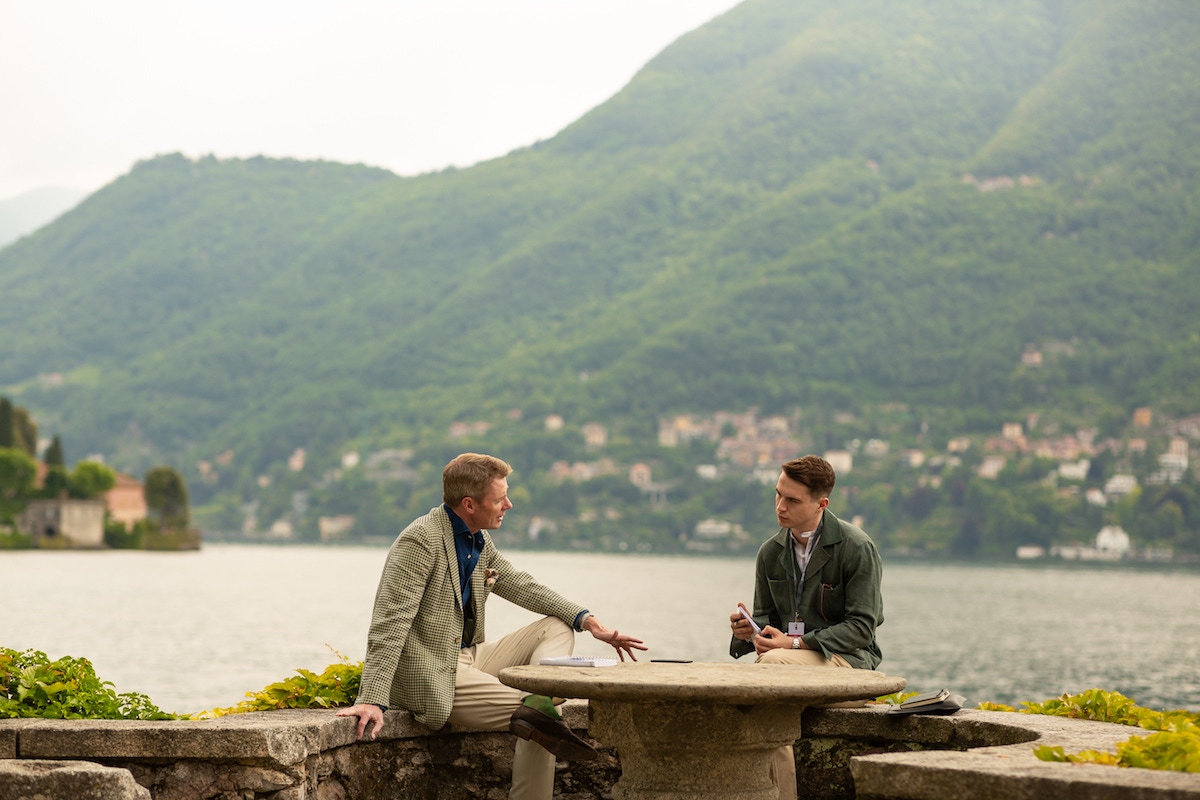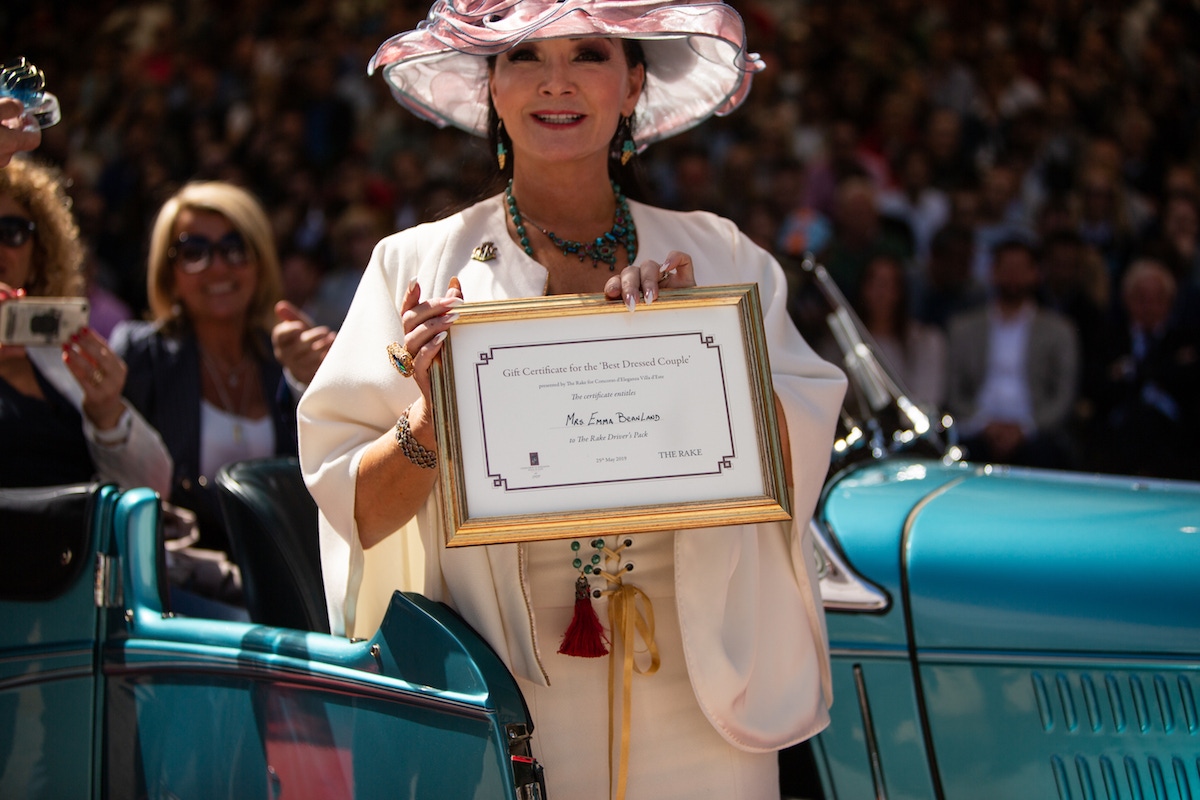 With a backdrop of a glistening and still Lake Como, we discussed the event and what we could expect. Unsurprisingly, Simon tipped the winner for the Best of Show award, which went to a stunning 1937 Alfa Romeo 8C 2900B. "If any car crosses the boundary of transport and sculpture, that is it," he said. No stranger to the classic car circuit, it won Best of Show at last year's Pebble Beach Concours d'Elegance. Proud property of the esteemed collector David Sydorick, it's a stunning feat of engineering and design and can be considered the McLaren F1 of its day, hitting speeds up to 120 mph in almost silence.
Come Friday evening, our attention turned to Lange, who welcomed us in to the Cardinal Suite for dinner to celebrate the 25th anniversary of the Lange 1 timepiece. With an introduction by its CEO Wilhelm Schmid, who's an avid collector and enthusiast, he explained the importance of German watchmaking and what Lange's future holds. Lange has been a main partner of the event since 2012, and when I down with him on Sunday morning, I asked him if he were to take into consideration the Lange 1's movements and design, what would it be if it were a a car? He replied it would be a hybrid or sorts, an amalgamation of the profound design details of a Mercedes 300 SL Gullwing, that's powered by a reliable 1970s Porsche engine. It was hard to disagree with. (Stay tuned for more on that.) 
Saturday, though, was Judgement Day, and scattered across the immaculately groomed grounds of Villa d'Este, 50 of the world's most valuable, beautiful and sought after cars, many of which were one of ones, parked up and crowds gathered. The panel of judges, in their navy blazers and top secret clipboards, went around and met with the owners and as did we. It wasn't until after lunch, though, that the rain poured right as the procession outside the front of the hotel started. And God did it pour, but Kidston, in his drenched bespoke suit, held it together and kept sprits high.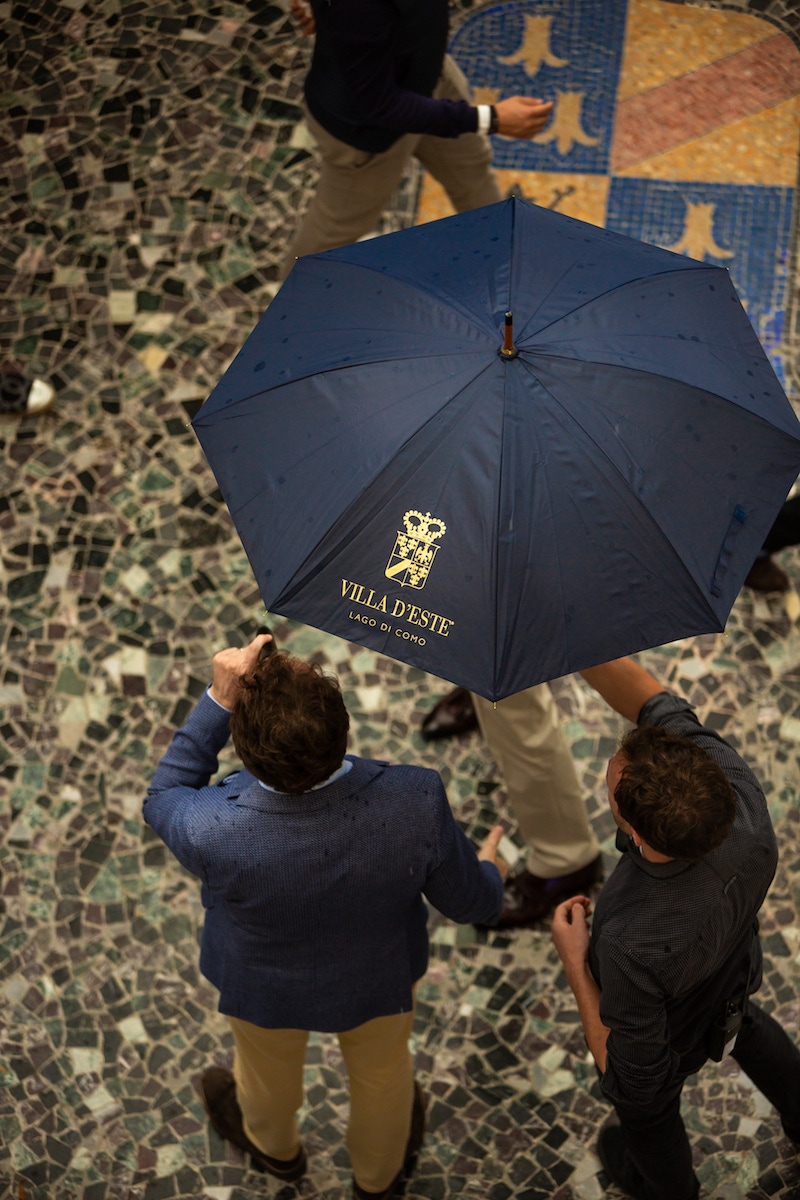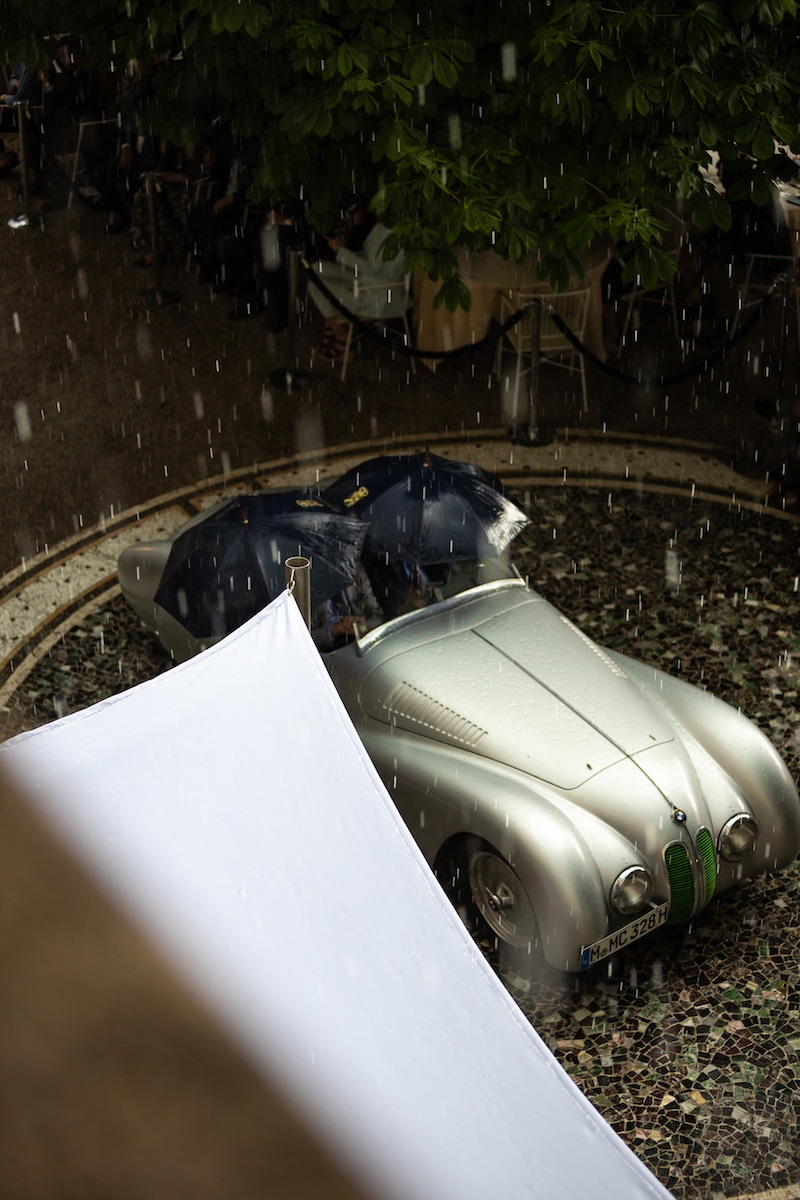 Although it didn't win its class, there was one car that had everyone excited and for good reason. It was the 1961 Ferrari 250 GT California Spyder SWB, which was once owned by Alain Delon. For years, people forgot that it even existed, including Ferrari historians, and it resided in a garage in France covered by car magazines. It's now owned by one of Kidston's clients, and fetched for $18 million at auction in Paris a few years ago. "Of the 70 cars at auction, that was the last one and it was worth as much as the other 69 put together. In fact, about double what there rest of the cars were worth put together," Kidston told me, which should give some indication of its prestige. It has been restored back to its original condition by Paul Russel, who restores all of Ralph Lauren's cars, including his 1938 Bugatti 57 SC Atlantic Coupé which won Best of Show in 2013.
On Saturday evening, I was with Lange and travelled to the other side of the lake to Villa Lario. Perched at the top of a sharp faced cliff, it felt as if it should be in a Bond film. With Negronis in hand, we were given a further introduction to the inner workings of the Lange range before heading down a lift to the water's edge before whizzing around the Lake in a Riva speedboat and dropping in on the Clooneys. Only joking.
A concours is by no means an exclusive, invite-only gathering, as on Sunday it was open to the masses. Taking place at Villa Erba, all of the cars gathered for the public presentation led by Kidston, who delivered it all in Italian with the same short anecdotes behind each and every car in front of a jam-packed grandstand of motoring enthusiasts. It was at this point where we awarded Mrs Emma Beanfield and her husband Richard the prize for Best Dressed Couple with their Delahaye 135M, in a delectable baby blue. Emma must have been one of the most photographed people for the whole weekend, no doubt due to her glamorous appearance and period accurate dress. Stay tuned for more on her.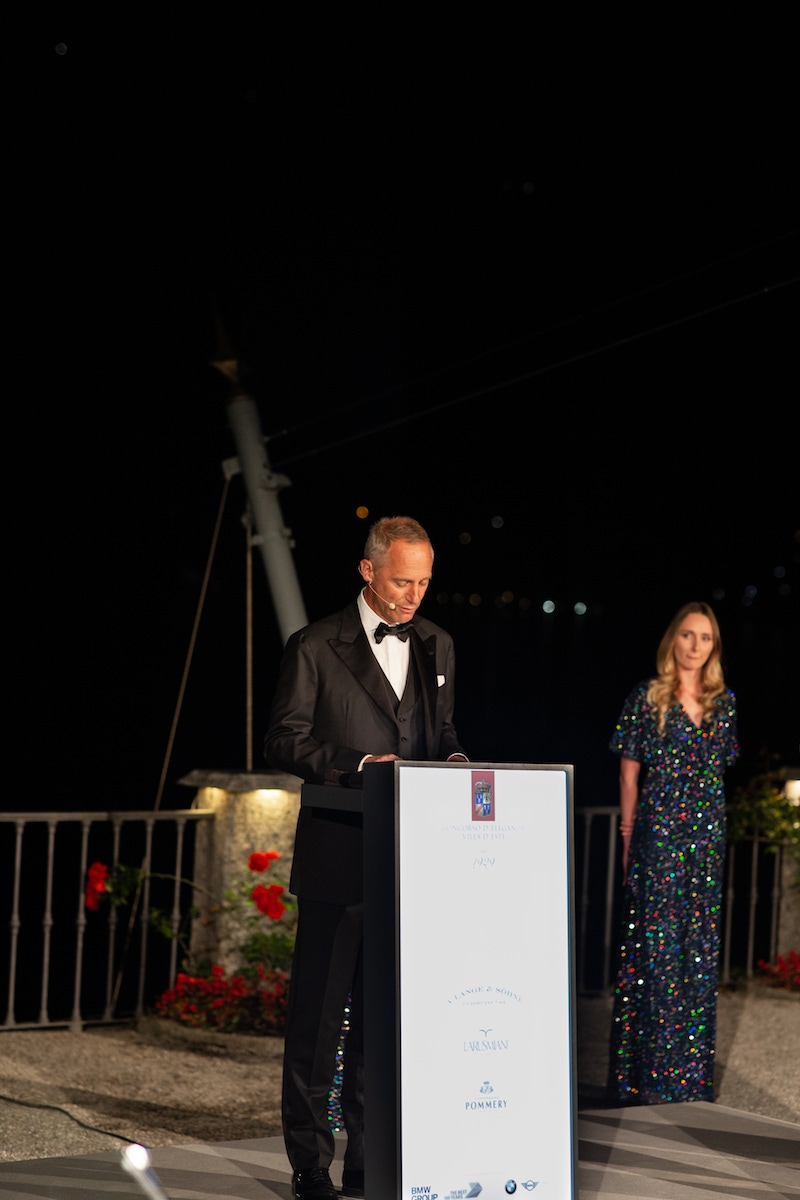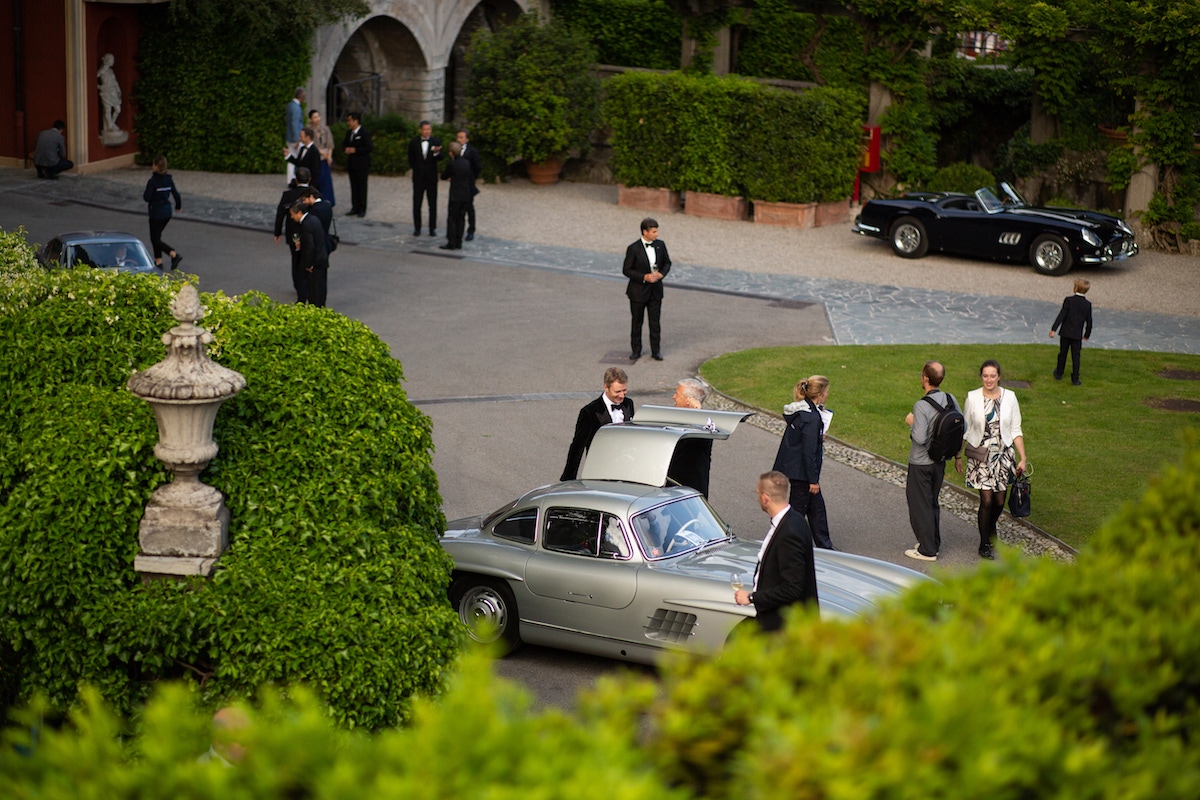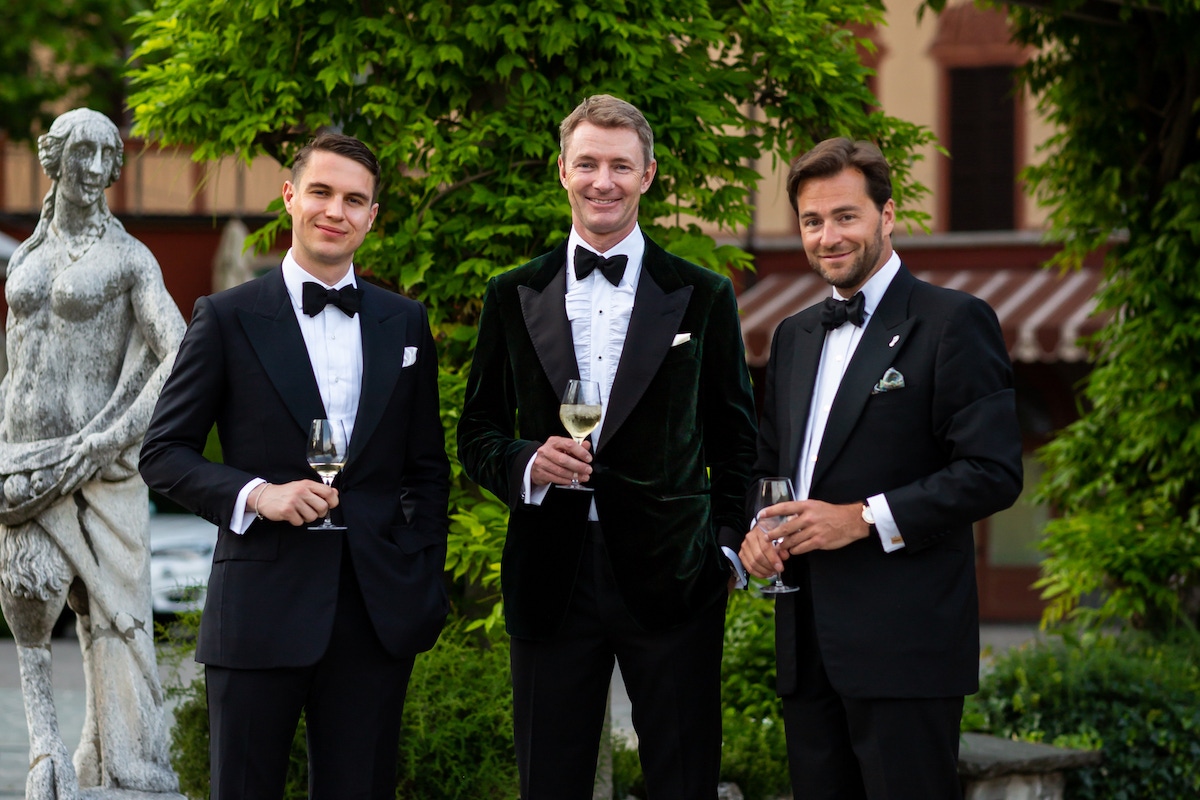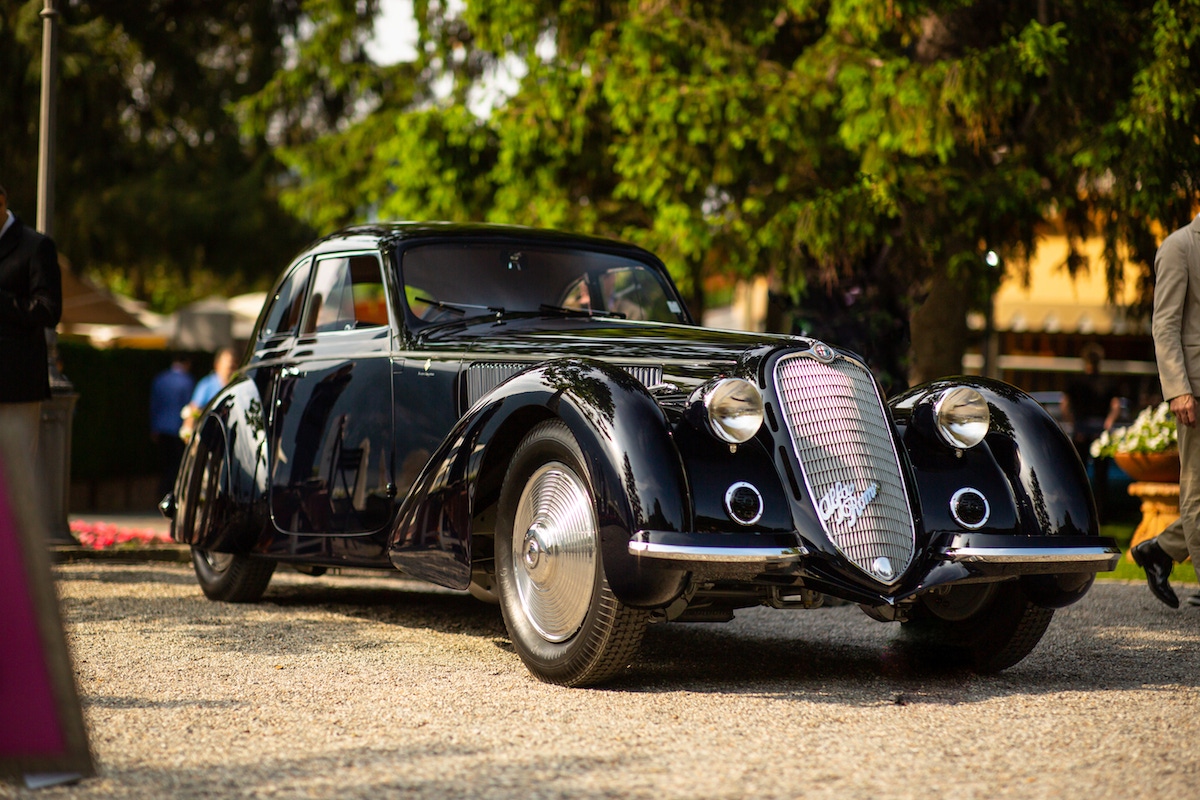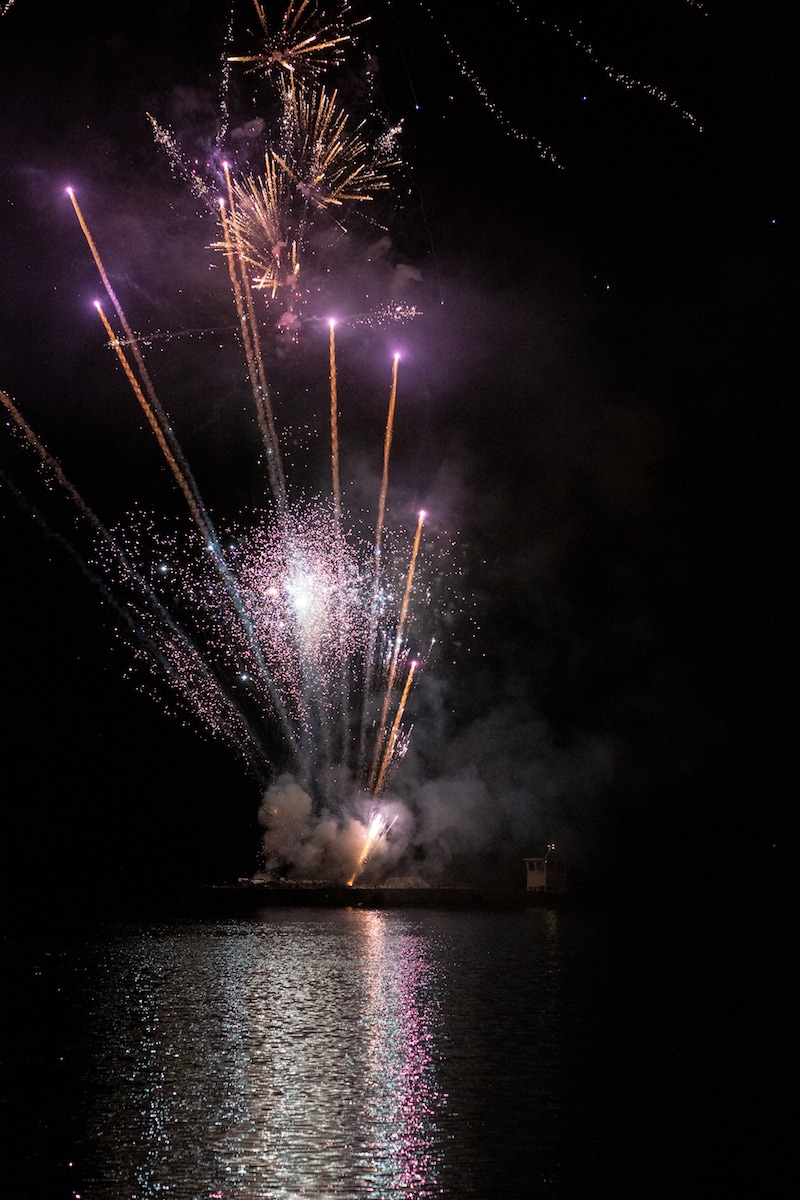 Later that evening, we gathered back at Villa d'Este for the black tie gala dinner and it was at this point that the winners of the seven classes presented themselves for a final time by Kidston (this time in English). After the procession they parked themselves outside of the front of the hotel with rears facing the lake and we gathered inside for a gastronomical feast. After dessert, we all left our tables and gathered outside for the presentation of the award. Delivered by Wilhelm Schmid, it was a tense few moments and following an exaggerated and deafening drumroll, David Sydorick and his wife Ginny were announced as the winners of Best of Show. It was emotional for them and their team of restorers, as the pursuit of winning a competition of such magnitude is the direct result of years of hard work, dedication and passion.
A perfect end to an unforgettable weekend, it was clear that everyone was now in possession of a truly special memory, one that came to a dramatic climax with a 10-minute display of fireworks set off from a floating pontoon in the middle of the lake. With lifted spirits care of innumerable glasses of Champagne, we danced into the night before setting off home the following morning with a sore but privileged head.