Robert Spangle dons The Rake Tailored Garments
Valiant ex-Recon Marine, trained Savile Row tailor and now widely respected menswear photographer, Robert Spangle wears a selection of The Rake Tailored Garments, but with his own tactile and militant expression. An audacious way of styling for the traditionalists, Spangle opens up new possibilities.
In Robert Spangle's short life, he's served in Afghanistan for the United States Marines, become a trained Savile Row tailor and has criss-crossed the globe photographing the very best of menswear style, with a Leica in tow. An old-friend of The Rake, it was only a few months ago that he photographed Paul Feig for the front cover of Issue 70. With an adventurous spirit and a discerning appreciation for timeless style, incorporating numerous quirks, we couldn't think of a personality so adept at styling a selection of The Rake Tailored Garments. Often seen pounding the streets of London, Paris, Milan and New York capturing unique styles, Robert himself has led the way in congregating looks that are more playful. As dress codes become less polarised, Robert's approach to dressing has a real synergy with the way The Rake Tailored Garments has curated their collection, with a nod to freedom and expression.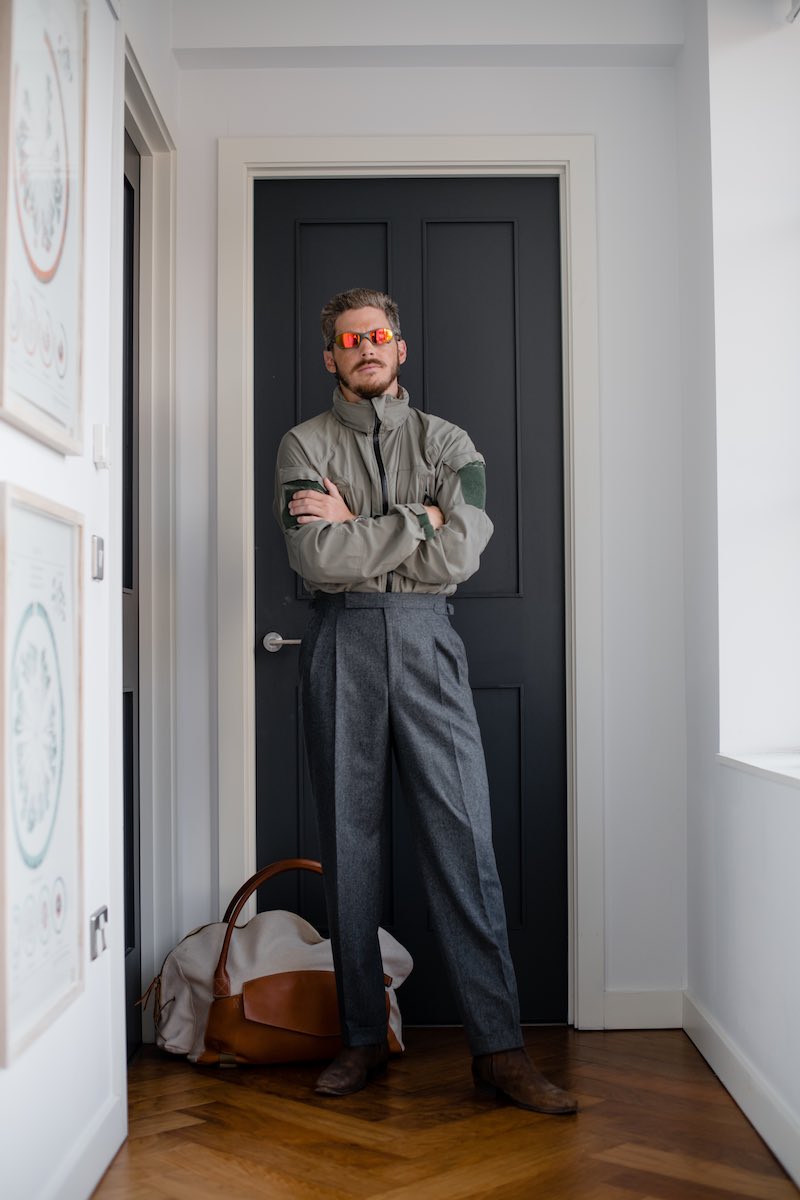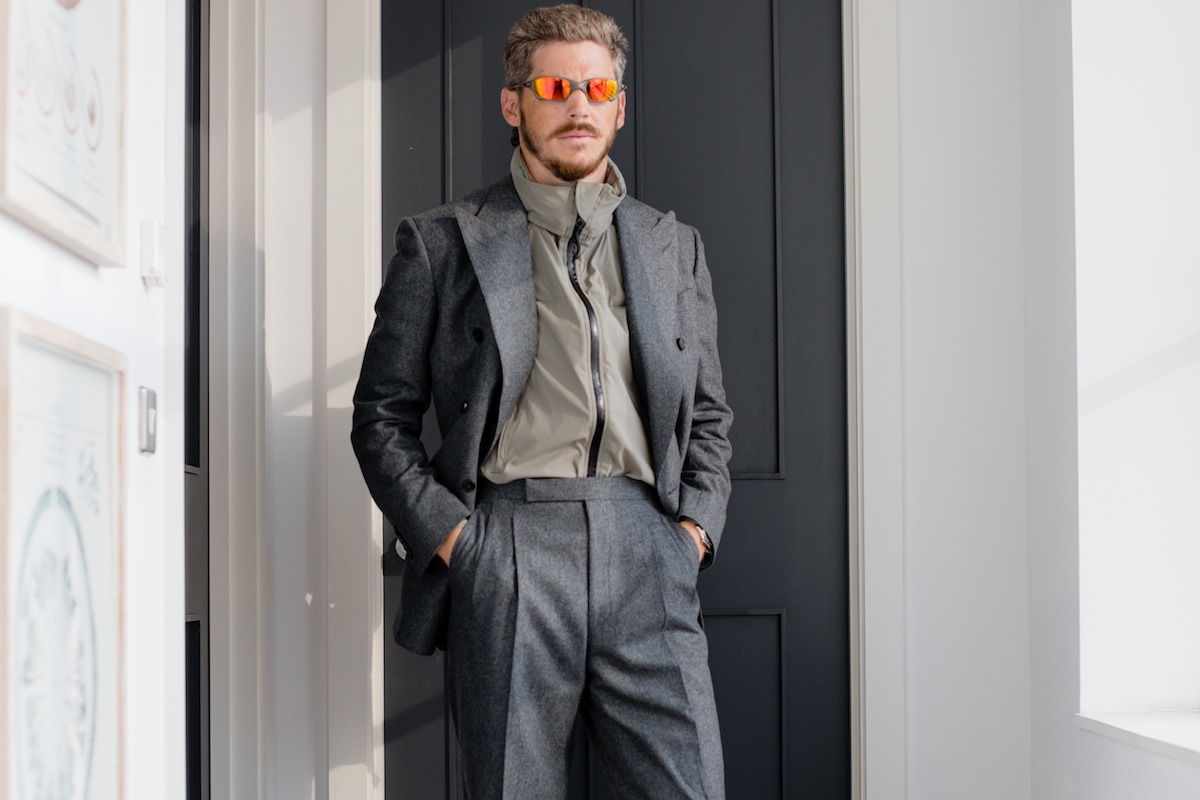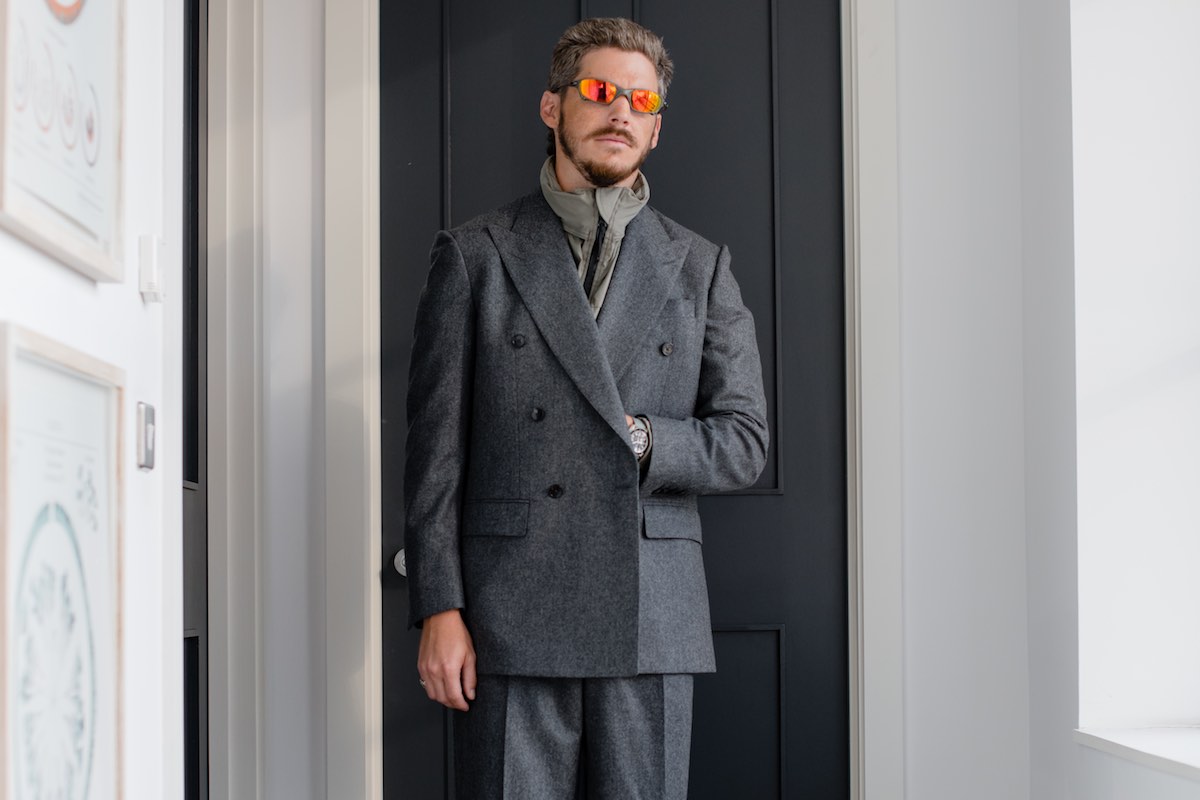 The Rake Tailored Garments is a predetermined acronym, hallowing the codex written through inspired conversations between tailors and individuals of irrepressible elegance. Robert has believed in and values style for its ability to reflect someone's life and values. It is with this in mind that we see Robert wearing the grey flannel double-breasted suit from The Rake Tailored Garments collection. Underneath the jacket is a military PCU lvl. 5 grey windbreaker with the collar zipped all way up. Now to most folk of military traditions who have faithfully used their tailor on Savile Row for complete refinement, this may come as a shock. But it's comprehensible that their high-quality suits wouldn't be able to sustain its shape with a windbreaker underneath. Inspired by the British Drape as well as Neapolitan and French tailoring, we've sought innovative ways to remove the stiff, restrictive padding and layers of horsehair that impede freedom of movement. Robert has shown here, all of these pioneering virtues of the garment, by still looking comfortable and refined. He has even managed to tuck the windbreaker into the trousers, with no hint of scruffiness. This is partly down to a touch more depth that reverse double-pleats provide, plus the height at which the trousers sit on the waiste and finally the impressive silhouette of the trousers.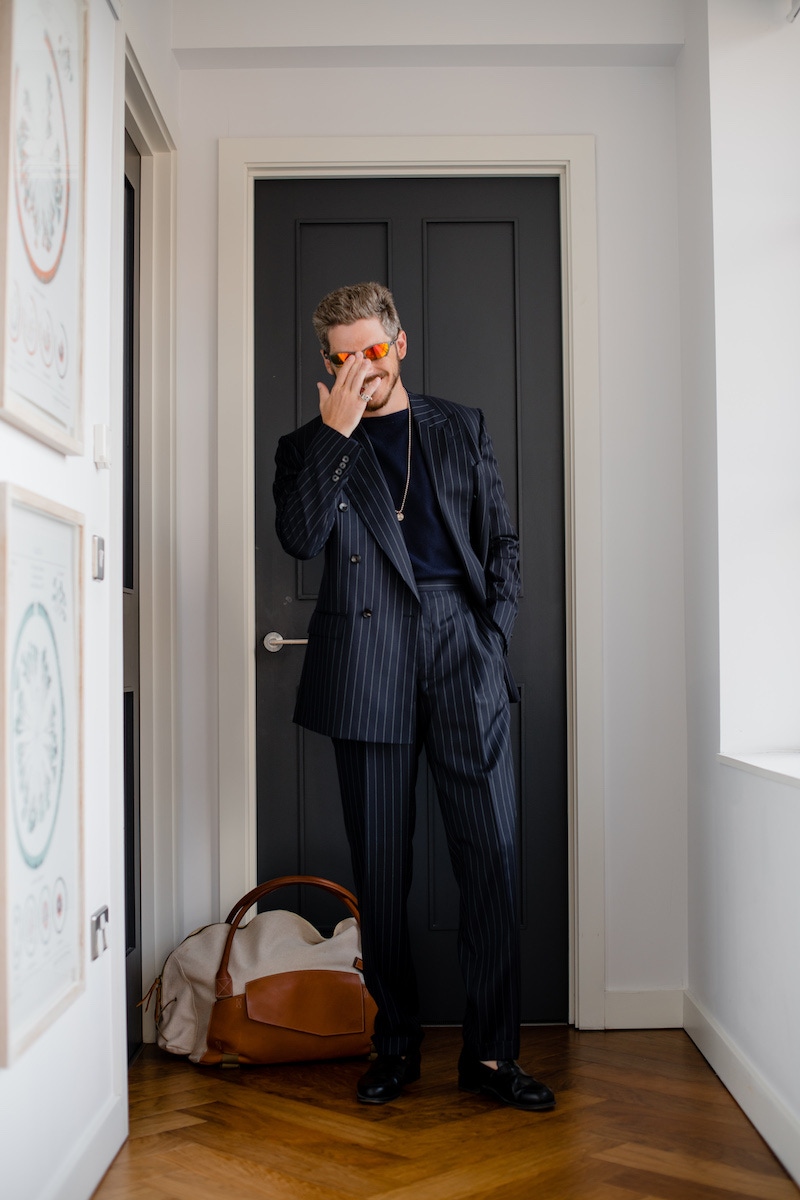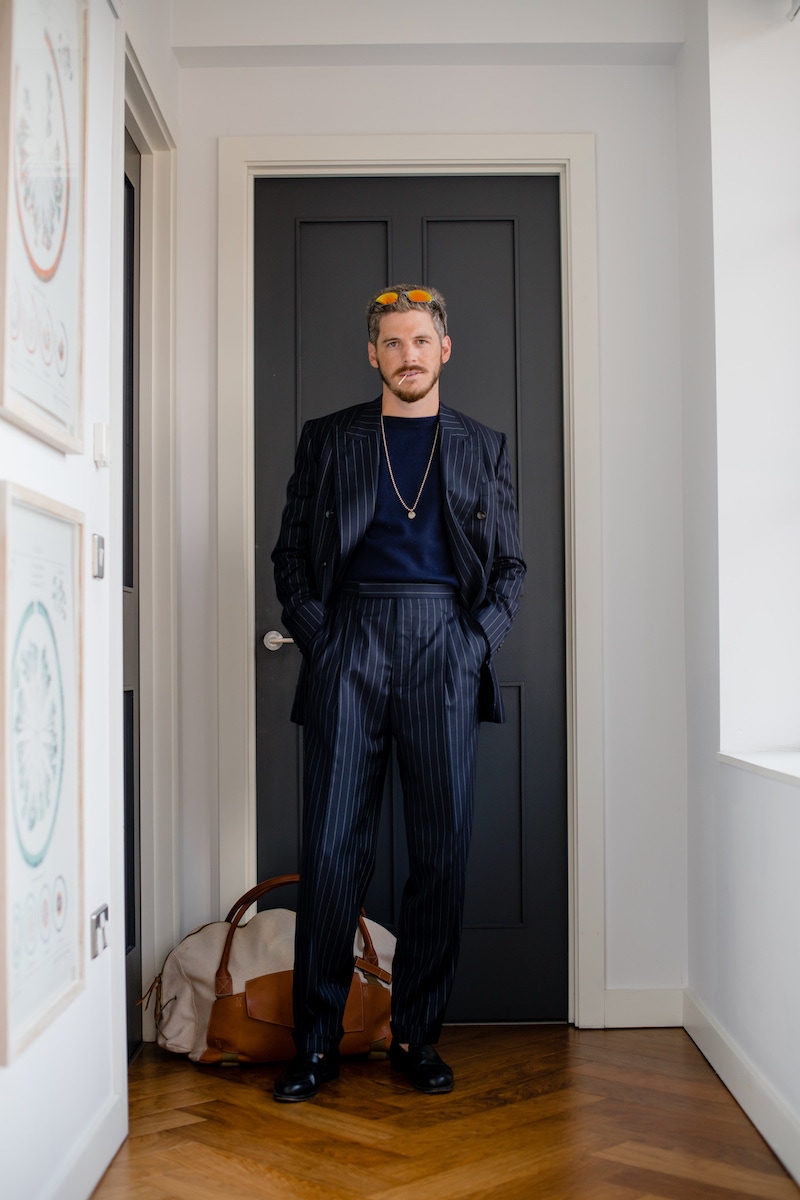 There's some extremely smart lawyers roving in and out of Lincoln's Inn with their briefcases full of documents looking immaculate in pinstripe suits. The Rake Tailored Garments navy pinstripe double-breasted suit comprises all of the qualities that a high-flying detailed lawyer could wish for. But with the suit's fusion of English, Italian and French tailoring techniques it opens up a new liberation of adaptability. Double-breasted suits with less silhouette and worn unbuttoned can look a little inflexible. Spangle has certainly tarnished this view by wearing the jacket open, with just a navy jumper underneath and a long necklace chain. The jumper tucks in beautifully to the trousers, where the sharp reverse-double pleats are in full view. With the inclusion of a pair of Oakley sunglasses with the iconic Juliet frames Spangle has perfectly characterized the sartorial renegade. We're not quite sure which 100th floor office window he's flashing past next. One of the most recognisable of all patterns is the POW jacket which stands as the foundation when you want to uproot your creative accompaniments. This 6x1 half-canvassed jacket is made in Italy using a stunning 17oz. exploded Prince of Wales check wool by none other than Fox Brothers. It features these wider than usual peak lapels which are elegantly positioned so it creates the opportunity to wear a shirt in a variety of styles. Robert wears an open Turnbull & Asser shirt, with the shirt collar tucked in, which really accentuates the wide peak lapels. Not adverse in tampering with the lengths of his garments, Spangle sports some Western style high-waisted straight-cut jeans from The Observer Collection that have a subtle flare, whilst the ends have been cut-off for that fraying effect around the ankle. The deliberate length and drape of the sports jacket creates a beautiful equilibrium with the flared trousers and to keep the refinement intact he has opted for some neat black loafers from Swedish-based Morjas.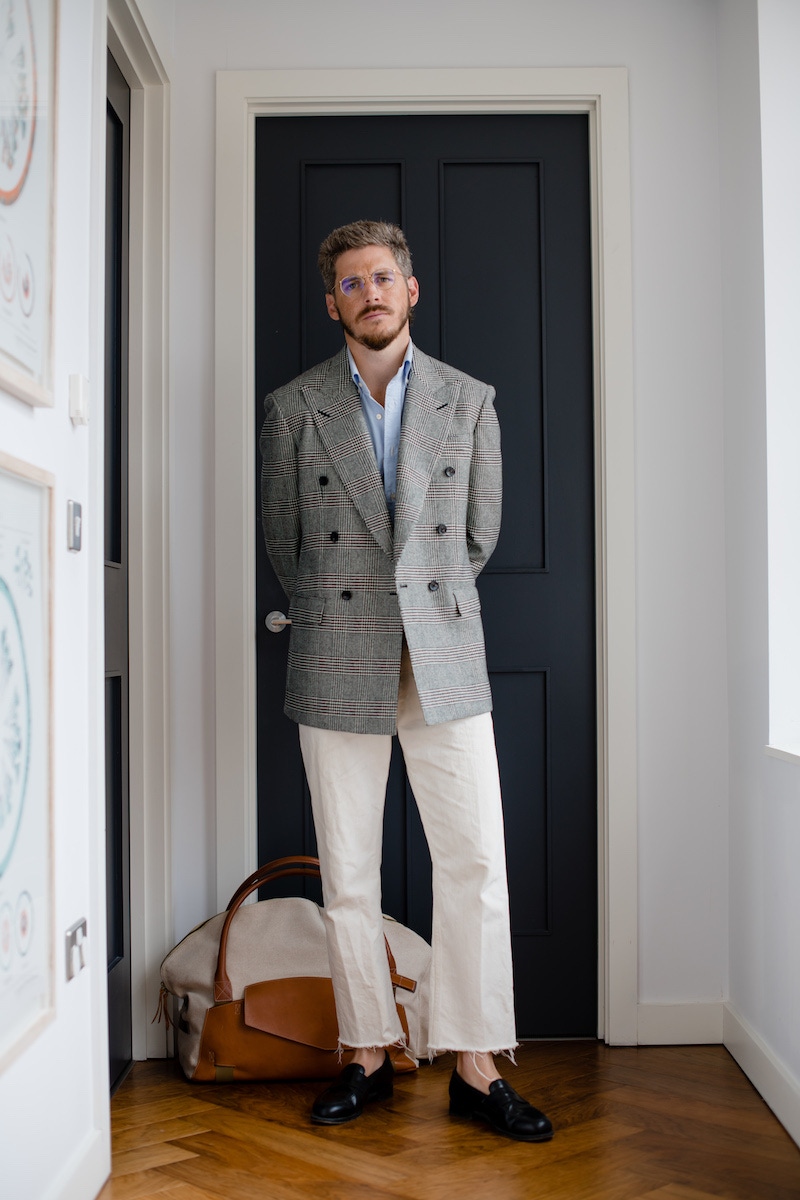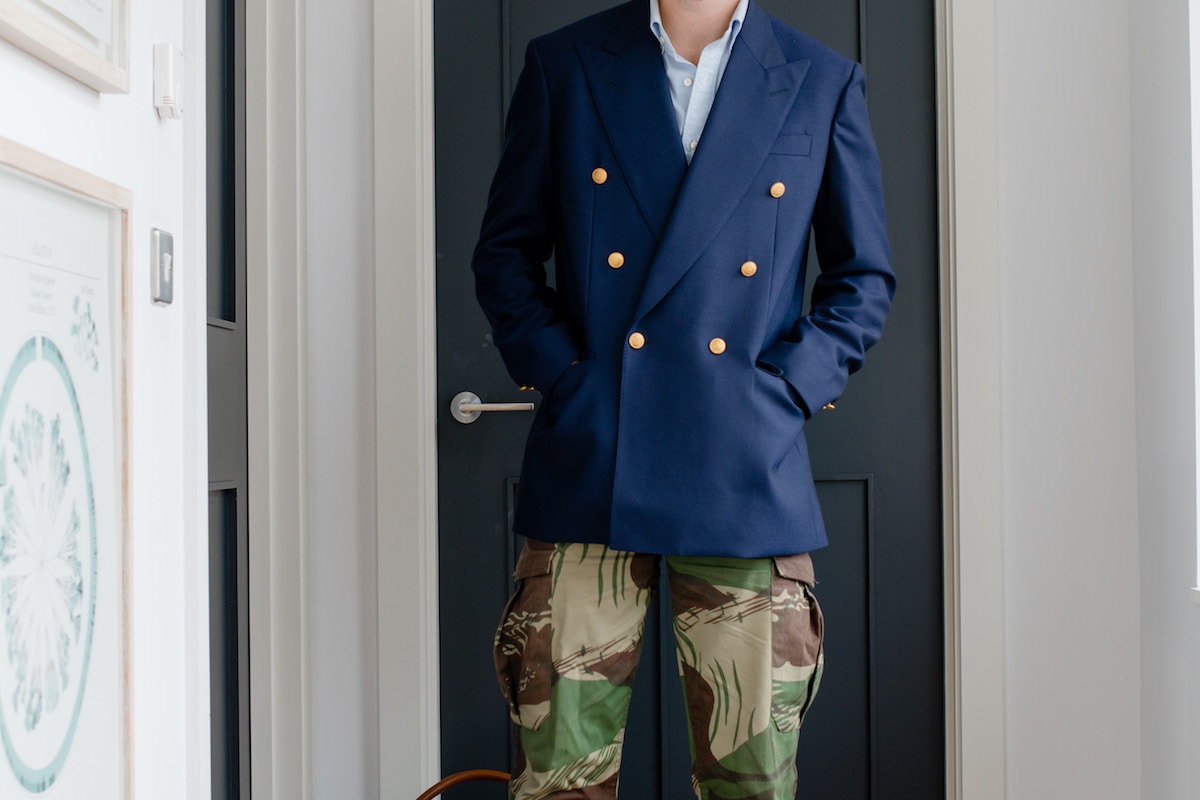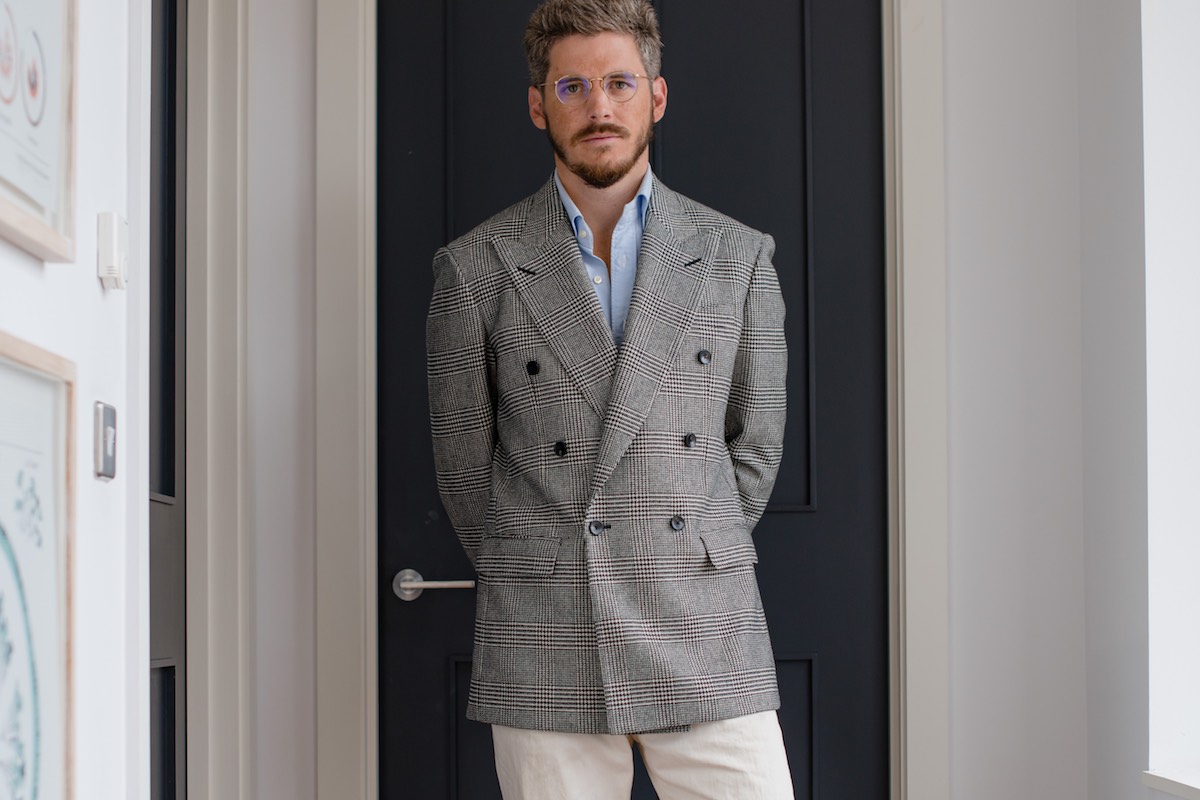 Whatever your imagination, if you're cunning enough there is always a way to make the out of the ordinary look smart and cool whilst wearing impeccable tailoring. A carefree incorporator of the unusual, Spangle pairs the Prince Michael of Kent inspired navy double-breasted 4-ply blazer with a pair of Fireforce Ventures Rhodesian combat pants. While most 6x1 DB jackets button in line with the pocket, we've placed our button slightly higher — making the buttoning point somewhere between a traditional 6x2 and 6x1. The slightly higher placement allows the jacket to retain its balance and develop a full skirt. In turn, it means that you don't have to be tall and slim to be able to pull this off with aplomb. There is the added touch of
gold RTG skull and crossbone buttons made by Benson & Clegg. Spangle is average height for a gentleman and with the blazer buttoned-up, its beautiful silhouette hangs nicely off the thicker trousers. The black Morjas loafers serve as the lower pivot of neatness at the bottom of the look.
It is evident in the way Spangle has lived his life that he has developed his own unique style in conjunction with what has gone on around him. With this in mind, we couldn't think of anymore more pertinent to show the scope with which you can be creative with The Rake Tailored garments without losing any originality.