Sabina Savage's New Couture
Sabina Savage's astonishingly detailed pocket squares are a chance to carry around a truly unique work of art on your chest. The Rake finds out how this British designer infuses old luxury with new ideas.
"Once the basic story is complete, I build my mood board to illustrate it as best I can," Sabina Savage – founder of her eponymous luxury accessories brand – tells us, explaining her procedure for designing scarves and pocket squares. "This mood board sits in front of me throughout the entire design process, so it's a very crucial part of the process." Which gets us thinking, what would a mood board for the brand itself look like? A collage of Sabina Savage the brand would essentially scan like the history of Sabina Savage the woman – so central is her artistry to the company's offering. Sabina spent her childhood riding horses in Somerset, surrounded by animals in her "very rural" environment. This goes some way to explaining why animals are such a prominent theme in her designs. She was interested in art and design from a young age, but when she left school none of the courses at London universities felt like a good fit. Happily, the prestigious
École supérieure des arts et techniques de la mode
(ESMOD, for short) in Paris was running its Nouvelle Couture course, which – in contrast to London with its focus on lightning-quick creativity – gave students much more time and supervision in order for them to truly hone their craft. "We focused on a lot of specialist couture techniques and spent weeks to months at a time on each garment. I have never been interested in creating fast fashion, so I think the experience of dedicating an entire term to one garment has helped me to realise that my strengths lie in the detail." Nouvelle Couture means
new
couture – this is an epithet which could equally well describe the work Sabina Savage does today. The brand's output is of the same quality you would expect from a Parisian
atelier
, using time-honoured techniques and skills cultivated through diligent study and practice. Yet, at the same time, the products feel undeniably new, allowing their wearer to incorporate the elegance of traditional
haute couture
into even the most contemporary of stylistic ensembles. Despite not speaking a word of French when she moved to Paris, Sabina graduated as Valedictorian of her year group. It was a sign of things to come. Jobs soon followed at Gareth Pugh and Alexander McQueen. Names, we can't help but notice, are quite different to those that now stock her products (Harrod's, William & Son, and Harvey Nichols, to mention a few). However, this contrast makes complete sense when looking at her designs – which fuse the high-fashion creativity of labels like McQueen with the commitment to quality and artisanship of heritage brands like
William & Son
.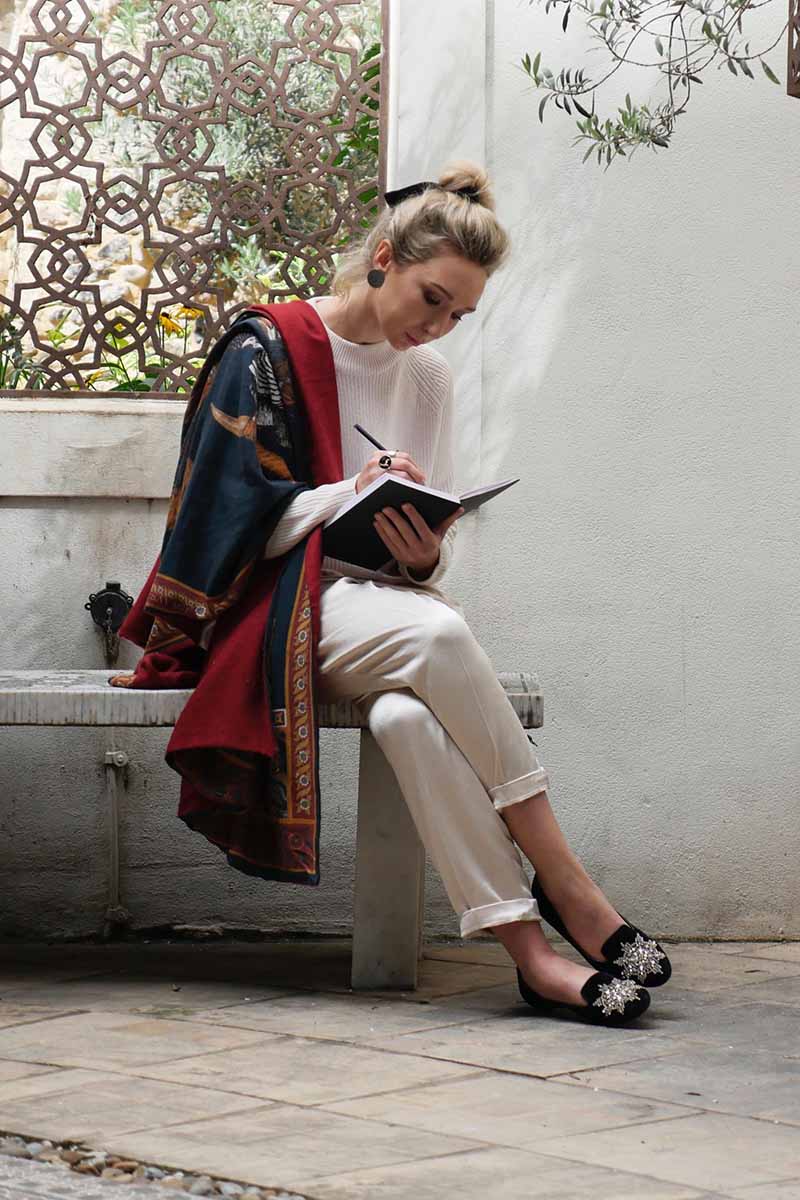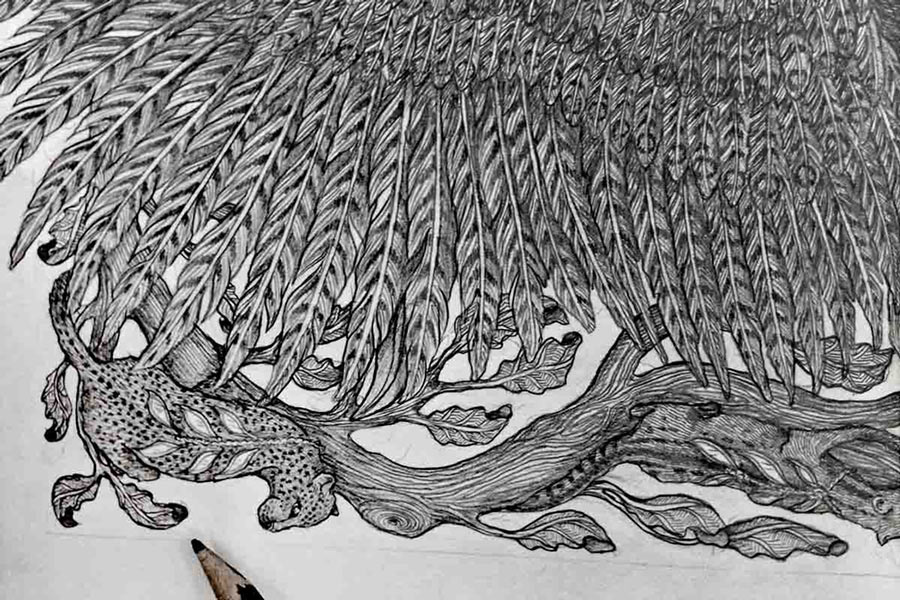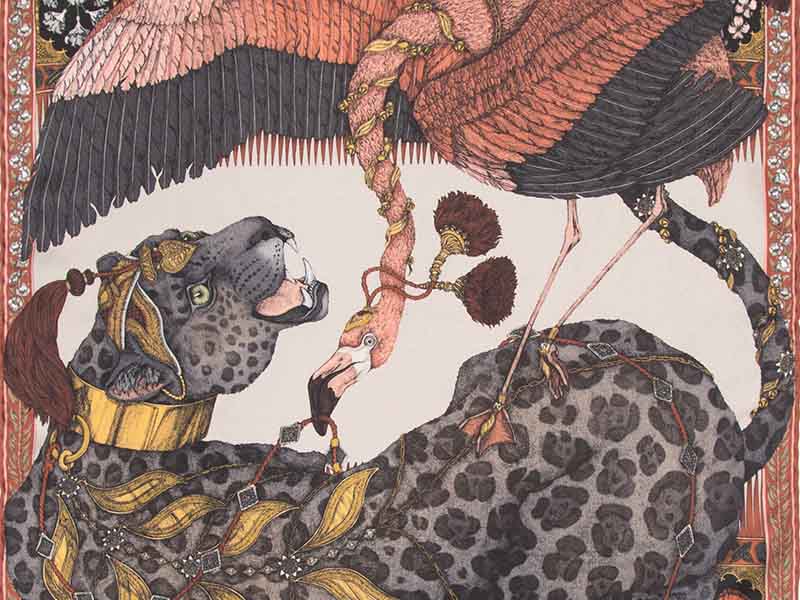 Furthermore, working for herself brings its own advantages. "I think one of the key differences with my work now, is that I have complete control over the product from concept to shop floor, and this just isn't possible for the larger labels," Sabina explains. "My team is very small, so I personally go to visit my factory in Como, Italy four to five times per year. We sit down together and discuss fabrics for the next season, plus any ways we can improve the product." In the same way that Sabina's ESMOD course gave her the time and space to nurture her talents organically, being a small brand with a focus on printing intricate designs onto simple scarves and pocket squares has given Sabina the opportunity to find her own unique position in the world of fashion. "I have been allowed to find my niche, rather than needing to adhere to current or future trends." Untrammelled by the hype and hysteria that so often hounds her creative kin, Sabina has been able to connect to her natural customers, to those who appreciate both her conceptual genius and the level of quality control that being a small brand affords. "My customer is someone who appreciates the fabrics and luxury finishings, but ultimately connects with the themes, prints and colours." Turning to the products themselves, you wouldn't be surprised to hear that it can take up to six weeks to design a single scarf or pocket square. Sabina's illustrations are vivid and vibrant, the subject matter ranges from the very quaint (see her Coronation Corgis, rumoured to have been gifted to the Queen) to the very exotic (think more along the lines of Tipu Sultan's private zoo), but they always tell a story. "My creative process always starts with constructing the collection story, and the rest follows from there. I usually have an idea or a theme I'm intrigued by, and I'll then visit museums, libraries and galleries to flesh out the theme." This meticulous research finds its expression in the sheer level of detail – both aesthetic and narrative – that characterises Sabina's designs. The coloured print is actually laid underneath the pencilled illustrations so that this intricacy is preserved.  The result is beautifully depicted creatures in some very unusual situations. Thus we have a panther remonstrating with a flamingo, a Paradise Flycatcher removing a Great Dane's armour, and a trio of pheasants carrying the Sultan's dagger to battle. Usually, Sabina will always try to fit in a little of what she loves – "in my case, this is birds and feathers, big cats and hares". And there's always the element of drama; her animals are endowed with an unmistakable sense of life and movement.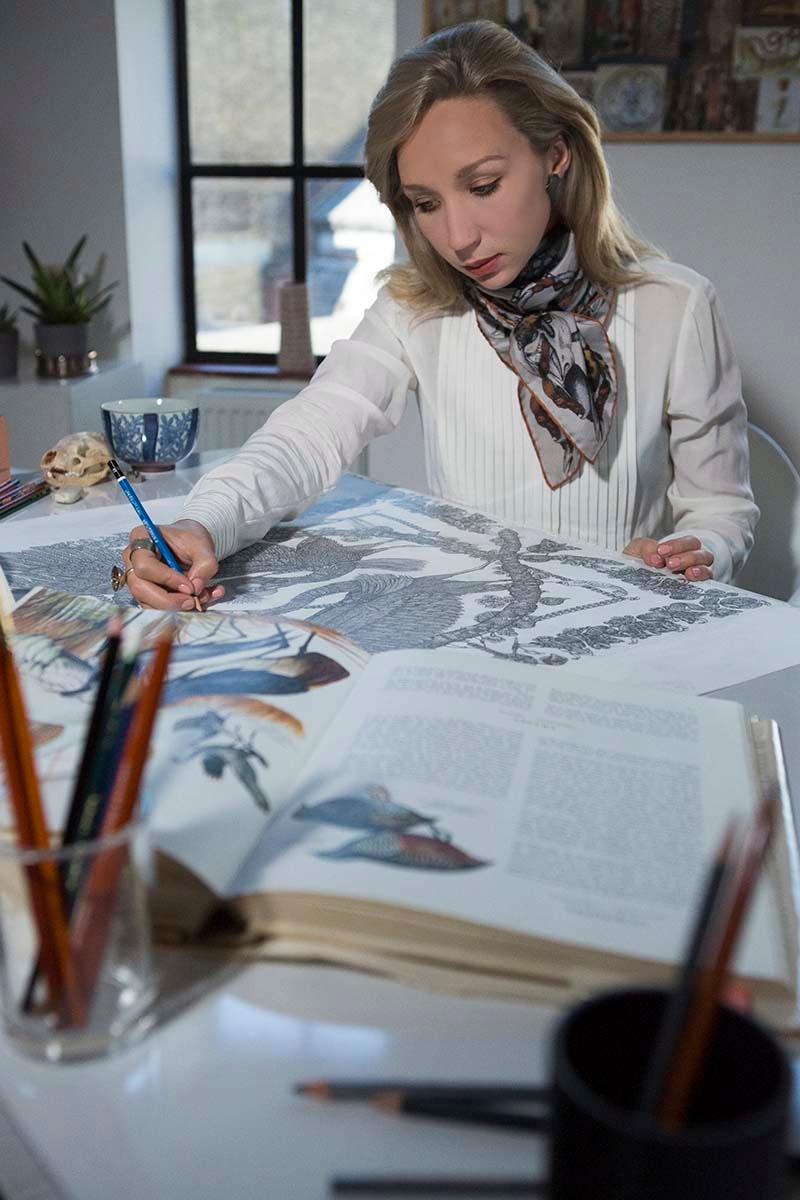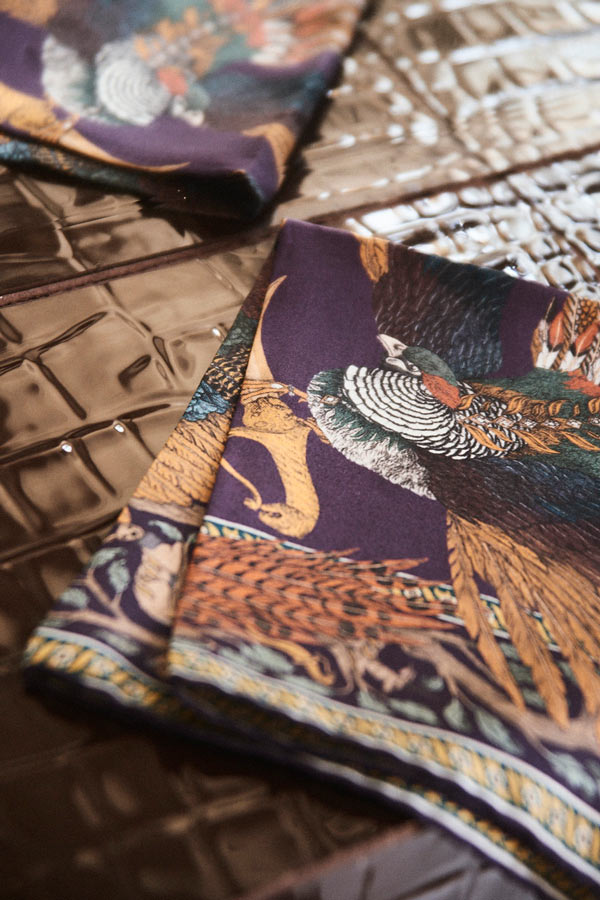 This movement often comes in the form of escape: the creatures seem almost to be freeing themselves of their material bounds and actually coming into a life of their own. A conscious metaphor for Sabina striking out on her own, perhaps, beyond the confines of a major fashion brand? Alas not. "I actually only noticed this recurring theme a few years into the brand. I don't think this is so much a reflection on my personal feelings, but rather guilt about the impact of mankind on the animal kingdom. Many of my stories are of animals reclaiming their habitats or escaping from human captivity, and all are a celebration of the animal itself." Looking at one of Sabina's pocket squares laid out flat, one has the feeling one is looking at a work of art from a bygone era, a Baroque tapestry or a Renaissance painting perhaps. This fact is not lost on the designer. "I think the fact that the drawings are so intensely detailed aligns them with a more traditional style of working. However, my inspirations are usually a mixture of ancient and contemporary themes, so this probably helps to balance the two." This returns us again to that idea of nouvelle couture, of a happy marriage between old and new. It's a union that we think is going to appeal perfectly to readers of The Rake, we therefore strongly encourage you to check out our range of Sabina Savage pocket squares. And don't worry about the fact that only a fraction of the whole design will actually be on display on your chest. As Sabina points out, this will work in your favour by showcasing a new colour and detail – "a flash of leopard print or the tail of a pheasant" – each time you wear it, adding an element of intrigue to your look.