Sacre Bleu: Martell Cordon Bleu Extra
As Martell celebrates a rather impressive milestone, The Rake lifts the lid on what makes its Cordon Bleu Extra something really quite special.
"Through our range of cognacs, with their high substance and history, I believe Martell makes the choice of understated luxury, whereby we focus on the very quality of our blends," Christophe Valtaud, Cellar Master of Martell, tells me. Founded in 1715, Martell is the oldest cognac house in the world and has since it's inception continued to deliver excellence out of the fabled Cognac region. Divided into six areas — otherwise known as crus — in the Charente region of Cognac near the Atlantic Ocean, Martell's home is in the smallest cru, Les Borderies. Despite the grand stature of Martell and its recognition globally for the truly refined cognac, Les Borderies accounts for only five percent of Cognac's vineyards, which Valtaud tells me is known to be a "unique terroir which adds to Martell's elegance and subtlety." As you would naturally expect of someone who has the grand title of overseeing the number two selling cognac in the world, Valtaud fittingly has the amber spirit coursing through his veins. He informs me that his father and grandfather were both winegrowers: "As long as I can remember I have been in the vineyards in Cognac, so it was very natural to keep building on my heritage, and extend my expertise." After graduating with a doctorate in biochemistry, molecular biology and plant physiology, the perspicacious and polymathic Cognac native joined the house of Martell in 2011 and became their Cellar Master earlier this year. With a clear mission in mind and all his sensorial powers in tune, he carefully calculates and develops an exceptionally fine cognac that's critically acclaimed and consumed worldwide. With just over 300 years of profound history and heritage, Martell has perfected the craft of alchemy to create a product which Valtaud says has been "recognised for its quality, has reached legendary status and is enjoyed by high society's most recognisable names, members of royal families and consumed at official celebrations," says Valtaud. The prestige of Martell is the result of the celebrated smoothness that is attributed to the initial stages of picking the finest and most rare grapes from Les Borderies. The Trebianno grapes — known as Ugni Blanc in France — are picked by hand and carefully inspected. Due to the chemical make-up of the soil, they contain high levels of acidity, yielded by the sun-blessed, rich land and plentiful ocean breeze, which enriches the character and complex array of floral aromas of Martell's cognac.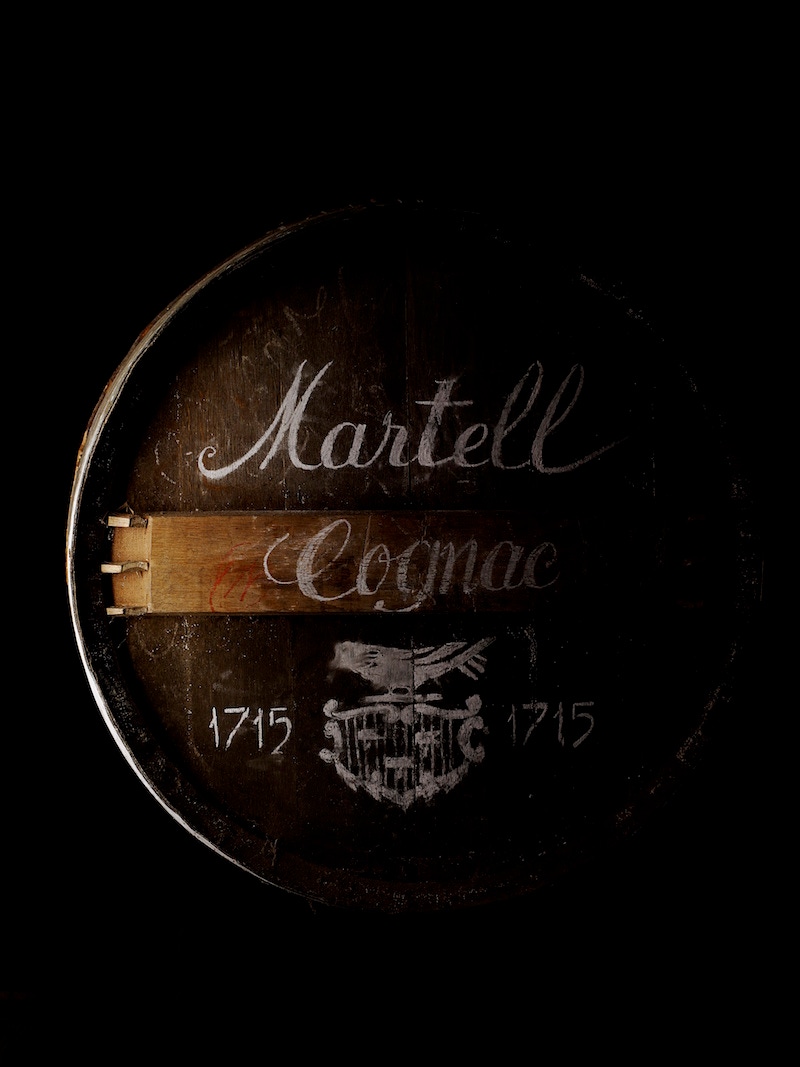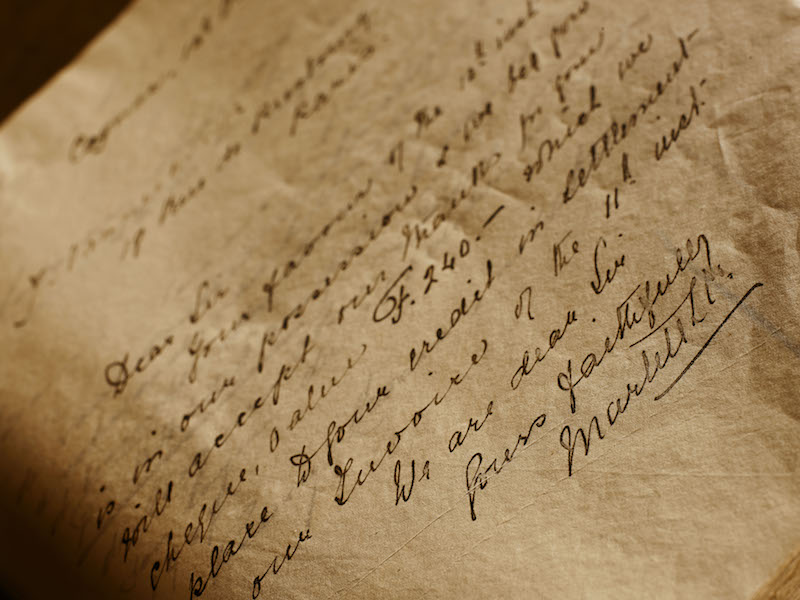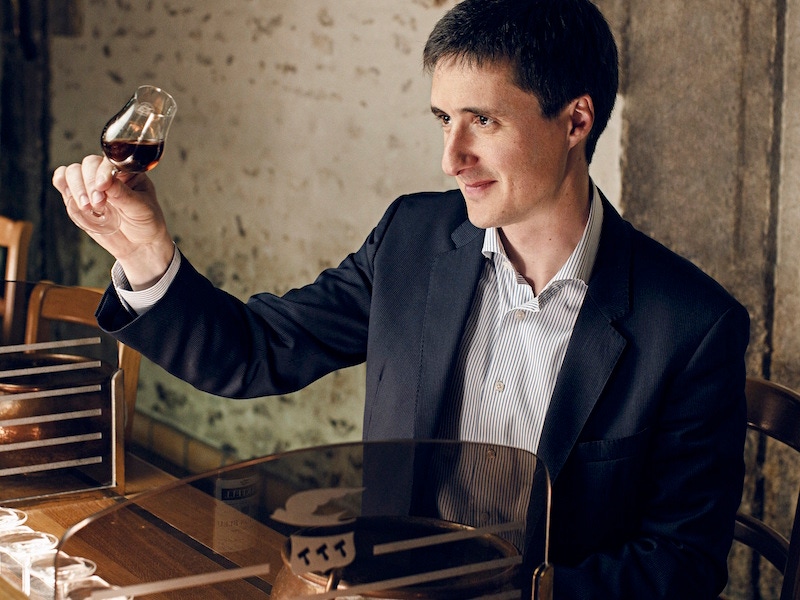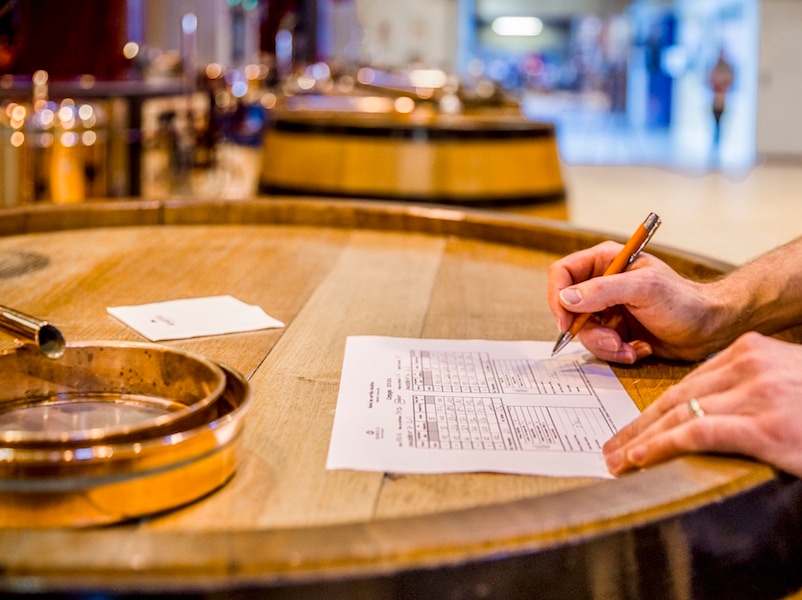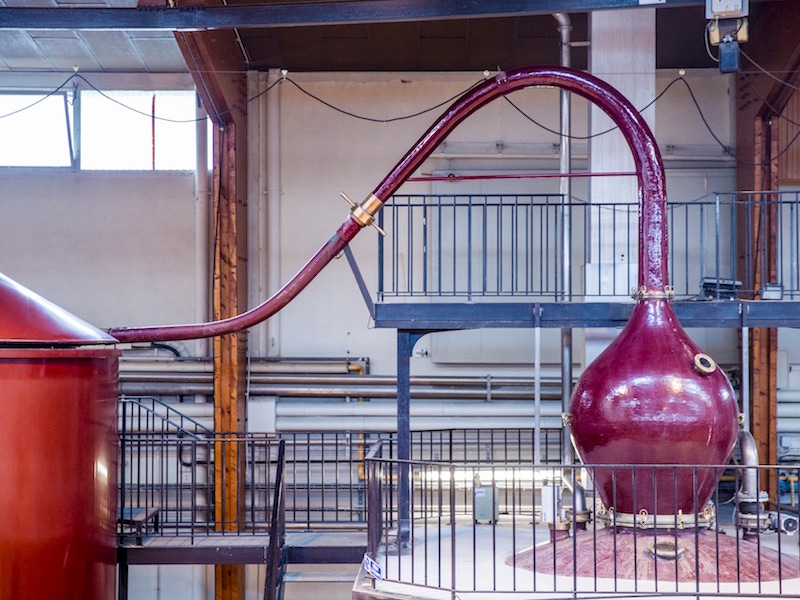 Martell prides itself on its distilling techniques and methods, as well as it's being the only house that exclusively distills clear wines. "We put emphasis on quality over quantity, and therefore we double distill exclusively clear wines by removing all sediments and impurities to produce eaux-de-vie that's characterised by an outstanding and luscious taste," Valtaud explains. For the distilling process, Martell uses Charentais copper stills that are considered the most beautiful that there are, and which ensure an authentic flavour. With the still's onion shaped shell, that's crafted from hand-hammered copper and brass, the vapour rises up through the head, passes through the swan neck and into the coil, where it condenses to form a clear, warm liquor, or
eau-de-vie
. From the distilling process the clear spirit is syphoned off and enters the maturation stage, whereby it starts to rest in grained aged oak barrels. In pure darkness, with time being the intrinsic catalyst, they help to develop the intense and complex flavour of Martell. Martell sources its oak from the Tronçais forest that lies to the north east of Cognac. One of France's many National Parks, the Tronçais forest is densely populated with oak trees, which allows less light for each sapling, thereby slowing their growth rate and developing their signature fine grains. In time, and in harmony with the character of these chosen oak barrels, Martell begins to develop a sweet profile with notes of vanilla and dried fruit, mixed with deep notes of chestnut and roasted nuts, along with with elements of spice and citrus. Despite the house's lengthy history, it wasn't until 1912 when Éduoard Martell founded his family's most celebrated and emblematic blend of cognac, Cordon Bleu. Using this as a starting point, the house has gone one step further this year to create the highly exclusive Cordon Bleu Extra. Valtaud explains how "it offers luxury through a generous portion of very old Les Borderies spirits in vintage Cordon Bleu bottles. It's honestly extraordinary in every way." It's a fitting tribute to the brand's most prestigious bottle that has heightened its muse's fruity flavour notes almost ten-fold. Your palate is at first hit with caramelised notes and sweet spices of cinnamon that are followed by dried grapes, almonds and apricot. Its fruitiness then develops into a well-rounded mellow sensation that washes smoothly across the palate. It offers supreme luxury in liquid form. Martell has even gone one step further and raised the luxury barometer with their complete Martell Cordon Bleu Extra package. Housed in a sleek and elegant bottle that has been slightly stretched — compared to its original counterpart — the royal blue of Martell Cordon Bleu Extra beams at you. They have then added a touch of class and sense of tradition by placing a wax seal of approval that leads up to the top of the bottle. This is then closed with a wooden cap featuring a metal medallion that's engraved with the Martell seal, a reminder that the house has only recently celebrated their tercentennial. Which as far as anniversary celebrations go, is quite remarkable and it places Martell in a very exclusive club that not many luxury houses are worthy of, at least not yet.
www.martell.com Martell Cordon Blue Extra is exclusively available in duty free stores.