Salon Privé Concours: What to Wear
Attending events such as Salon Privé require one to dress with a certain level of decorum and taking into consideration the location, Blenheim Palace, one needs to dress adherently to the event.
Every year since 2015, Blenheim Palace has opened its ethereal gates to motoring enthusiasts for Salon Privé which, despite only being founded in 2006 by brothers Andrew and David Bagley, has established itself as the U.K.'s most prestigious motoring event. This is, of course, greatly helped by where it's held – at Blenheim Palace, which is the only non-royal and non-episcopal residency to boast the title of palace and one of Britain's greatest feats of architecture. Built between the years of 1705 and 1722, it's a protected UNESCO World Heritage Site and, as it provides the backdrop to a line-up of some of the world's finest accomplishments of automotive design, only enhances the occasion in conjunction with a few healthy servings of champagne.
There are, of course, dozens of large-scale motoring meetings around the world each year, but what makes Salon Privé different to most is that motors and location aside, it oozes class and sophistication, which is a direct result of the Bagleys' astute understanding of elegance, and how such an occasion should pan out. It's also an event that's attended by those who understand the varying codes of dress.
The proceedings kick off on Thursday 30th August, whereby Zurich's foremost insurance firm, Chubb, hosts a Judgement Day of sorts; 12 classes of a variety of classic and modern cars and motorbikes will be going underneath the microscope. Judges include the five-time winner of Le Mans, Derek Bell MBE; Louis de Fabribeckers, Head of Design at Touring Superleggera, whom The Rake met earlier this year at the Concourse D'Elégance Suisse in Geneva; Giles Taylor, former Director of Design at Rolls-Royce; plus a long list of other reputable adroit automotive enthusiasts. Everything from the originality of the seatbelt buckles to the turbines to the paintwork is taken into consideration. 
Thursday: Smart
Thursday's dress code is 'smart' and male attendees are encouraged to wear a jacket, shirt, and tie. We suggest you avoid your business suit in shades of blue and grey and instead opt for something with a bit more razzmatazz. Sciamat's double-breasted four-pocket Solaro suit in wool is just that. The cloth is showy, but a firm favourite among sartorial circles in the warmer months due to its heat repelling properties. Due to the cloth having two hues, the most popular way to style a Solaro suit is keeping it very, very simple. So, wear it with a button-down shirt and a woven grenadine tie and finish the look with a pair of Belgian or penny loafers. If you're feeling daring, or are generally accustomed to sporting more colour, you could consider a bold paisley tie.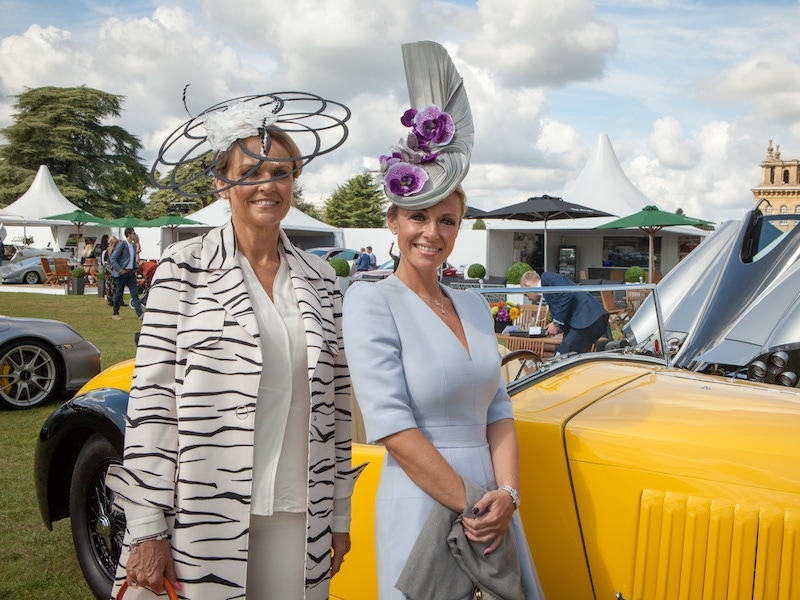 The formality brakes will be applied on Friday for Boodles Ladies' Day. The world-renowned jeweller is celebrating nine years of partnership with Salon Privé, and will be awarding the lady with the best hat a pair of Be Boodles design drop earrings with diamonds in 18 carat rose gold and platinum, which is worth £4,550. The Royal Family's milliner, Jane Taylor, will be presenting the lucky winner with the award as well as being a key judge, naturally. Questions will be asked about whether or not the hat is worn correctly, as well as whether it harmonises with the entire ensemble without appearing too bold or ostentatious. 
Friday: Smart Casual
As Boodles is hosting Friday's Ladies' Day, there will no doubt be a sea of stunning headpieces dotted around the south lawn of Blenheim Palace. As such, it's only appropriate that the male attendees clad their dome with one, too. For that, look no further than Lock & Co, and whether you favour a Panama or a fedora, there are plenty of options to choose from. In general, Friday is a tad more casual than Thursday, so sporting tailored separates would be a fine choice. The key to nailing separates is offering a point of difference between the jacket and trouser, both in tone and texture. This bright Rubinacci checked sports jacket in a sublime cashmere is, of course, a bold choice, but when worn with a white cotton trouser it's downplayed considerably. We suggest you wear it with an open neck shirt in a subdued tone or pattern, and finished off with a pocket square from Rampley & Co nonchalantly stuffed in the breast pocket. For more inspiration on how to wear separates, see here.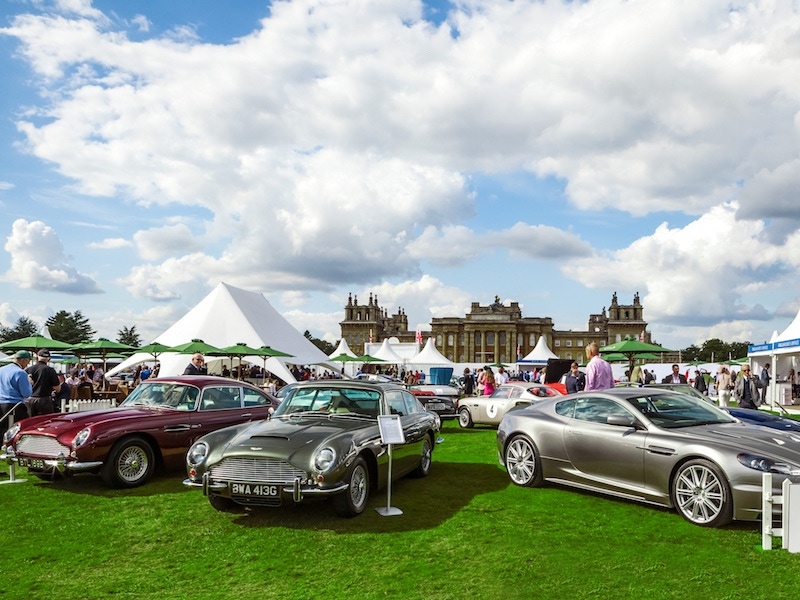 The third and final day on Saturday is truly special, with the Concours Masters Celebration of 70 Years of Porsche. There will be over 60 marques on show that span the German automative's glistening existence, including the highly-anticipated and ultra-rare 356A Carrera GS, which still has its original Type 457 engine.
Saturday: Casual
Approach Saturday with a sense of comfort in mind with soft knitwear, comfortable trousers and, as it's a sporting event, a suitable sports watch. Anderson & Sheppard has garnered a sterling reputation for its fine-gauge knitwear and this long sleeve polo shirt in an off-white will only be complemented by arguably the finest tailored pair of denim trousers. Paris-based Stark & Son's exclusive model, conceived in collaboration with Paul Fornier for The Rake, comes with two reverse pleats, elastic waistband with side adjusters, and an ever so slight tapering towards the ankle. They're remarkably comfortable. Finish the look off with an Omega Speedmaster and you'll look like you run the event.
If the sight of an array of highly-polished vehicles with the ability to produce stentorian roars doesn't get your wheels turning, or unlimited champagne doesn't get your head pounding, there are plenty of other delights that can satiate your fine-tuned palate at Salon Privé. There's the Art Fair, which is entirely dedicated to the portrayal of automobiles in an array of mediums. As such, there's no doubt something that could find a happy place on the walls of your office, home or garage. If gastronomical delights such as lobster are your true calling, there's plenty of that as well. In fact, it's being served each day. Clearly, the Bagley family has exquisite taste.
Once you've been adequately stuffed, there's also an array of splendid brands, both well-established and little-known, who will be displaying the fruits of their labours. Canali will be present, showcasing its latest collection and offering an on-site made-to-measure service. Another outfitter that our readers and customers should be familiar with is Mason & Sons, a London-based family-owned business that's the flag bearer for the wonderful Teddy bear coat and the Anthony Sinclair (think of Sean Connery suited and booted as James Bond) tailoring line. If you're in the market for something with a bit more oomph, Pirelli will have a display of its latest tires, arguably the finest in the world, and Riva yachts will have its 1958 Riva Tritone on show.
There's no doubt in our minds that it's going to be three very special and incredibly fun days. What more could you want, after all? There are classic cars, copious amounts of champagne and a gathering of elegantly dressed individuals with similar tastes on the south lawn of Blenheim Palace. It's going to be a garden party to remember, and more importantly, not miss out on. Stay tuned for the post-event review – and we hope to see you there.
www.salonpriveconcours.com