Shackleton: Pioneering Outerwear for Explorers
The Rake sat down with Shackleton founders Ian and Martin to discuss Sir Ernest Shackleton, and their mission to make the best clothing available to modern pioneers.
A hulking three-masted ship is beset on all sides by pack ice. Sat still against the desolation of an endless polar desert, there is nothing except the sky and a mass of craggy slabs. The Endurance (as the ship is christened) tips to the left, threatening to keel over into the dark seas of the Antarctic - leaving its crew to fend for themselves. At that moment, their leader Sir Ernest Shackleton is faced with an important decision: to step up or to die. "They could've just given up," Martin Brooks tells The Rake, who along with Ian Holdcroft, co-founded British adventure apparel brand Shackleton in 2015. "Instead, he decided to do the impossible." In 1917, with a tenacity that would become legendary of the Irishman, his cool decision-making under extreme duress famously ensured that all 28 of his men survived; persevering through 17 days on the planet's stormiest ocean in a lifeboat and trekking over the glacier-draped mountains of an as-yet unmapped South Georgia in search of rescue. It isn't for nothing that Ernest Shackleton is remembered as one of history's great survivors. If there was ever an adventurer to pin a performance brand's ethos to, it was him. "Shackleton's entire life was a theatre of reckoning, but it was this story in particular that inspired the two of us to begin the project,"  Holdcroft insists. "What he did – and what, deep down, the brand is about – is stepping up in the face of uncertainty." It is fitting that, at the heart of Shackleton the brand are two men diving headfirst into the unknown. "We knew little about running a clothing brand before we began," admits Brooks. In taking on the Herculean task of building the strongest, most durable outerwear available - while ensuring every piece is made in Britain - their success has embodied Sir Ernest's motto: Fortitudine Vincimus, or 'By Endurance We Conquer.' "Whether it is sailing the seas, crossing deserts or building a brand, taking the easy path isn't in our nature," says Brooks.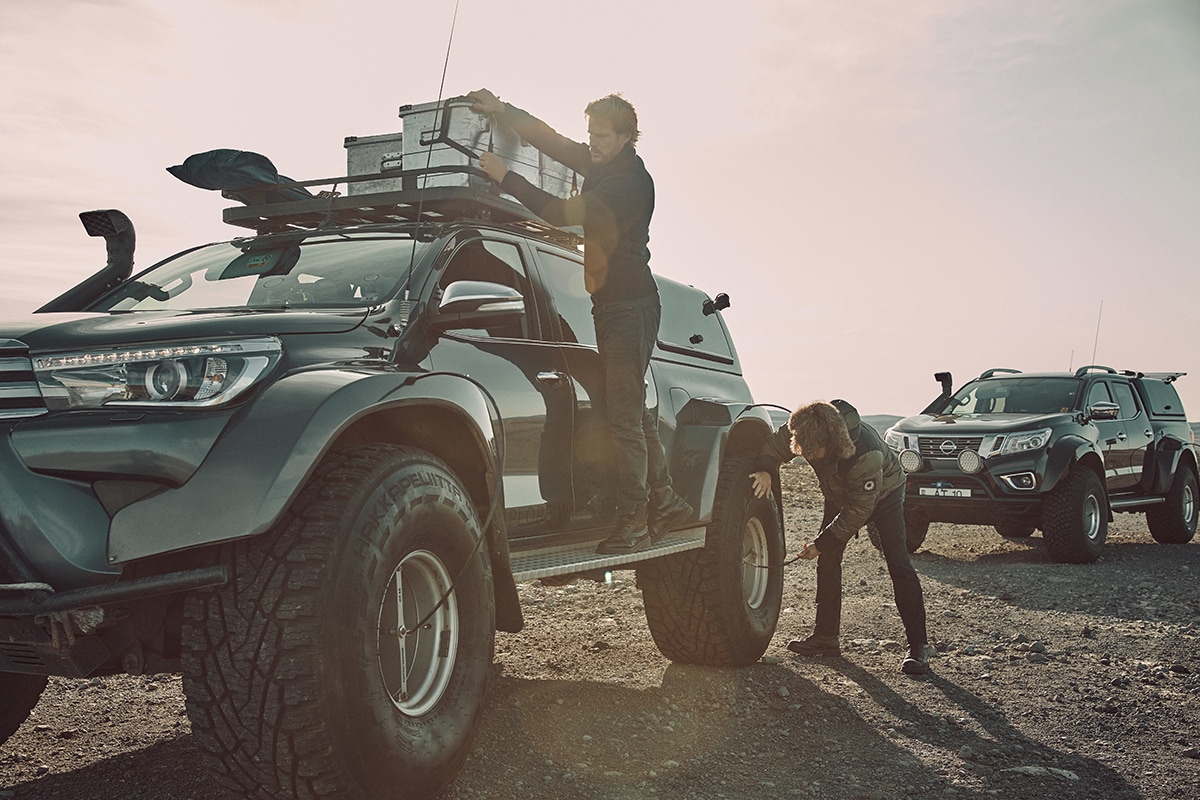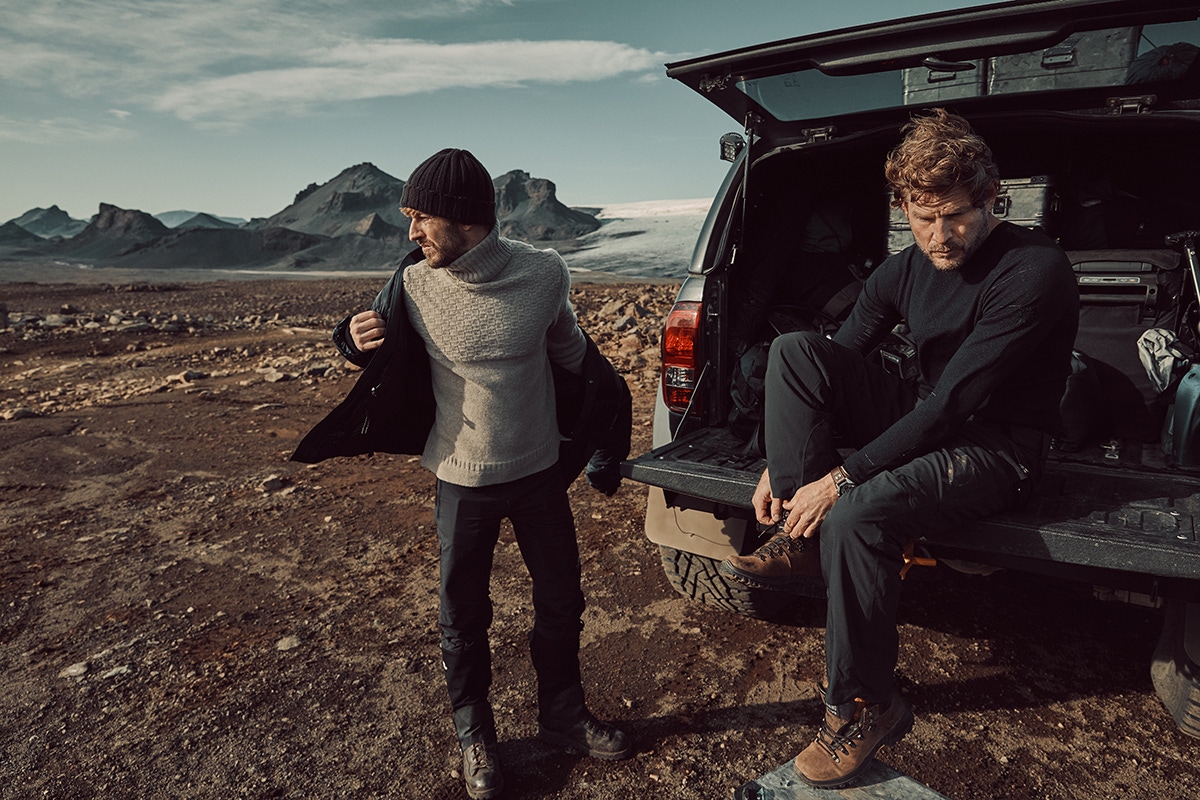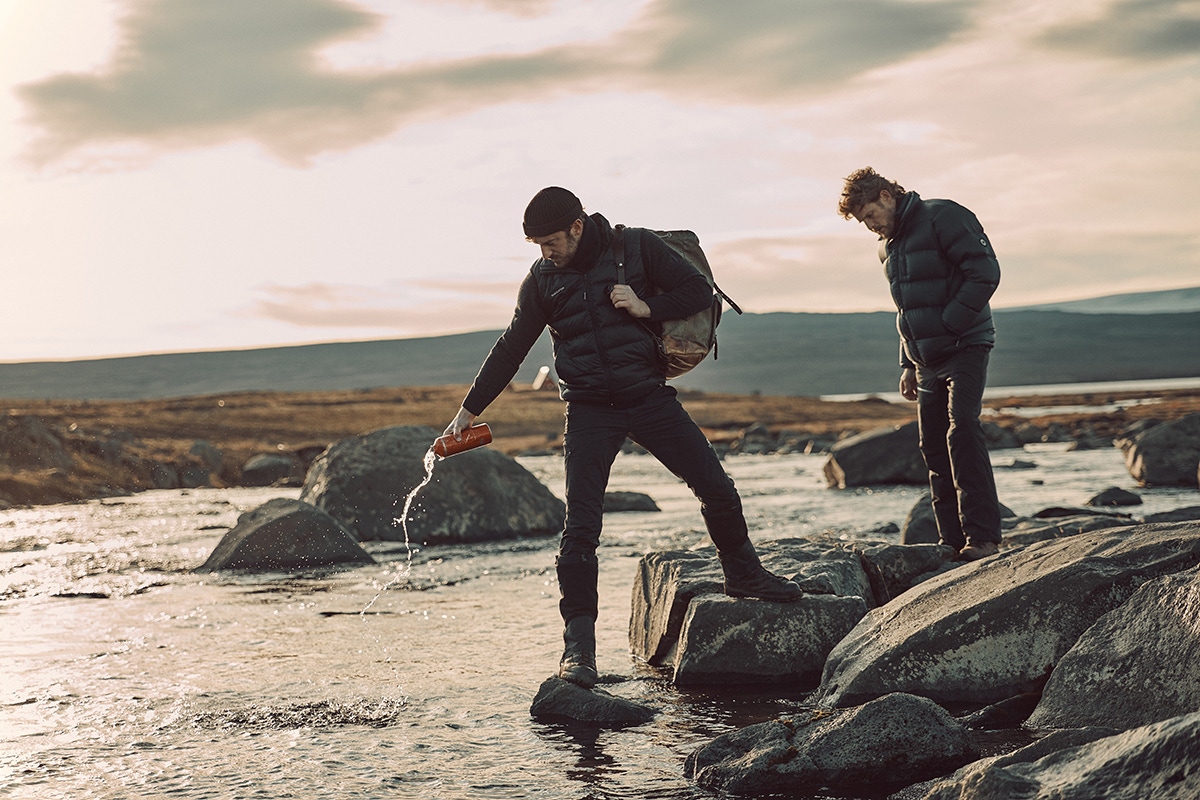 What both men understand well enough are the practical requirements of outerwear. The functional element of Shackleton's apparel is informed by decades as daredevils and adventurers themselves; Brooks as an ocean sailor, recently completing a visit to the Antarctic, and Holdcroft's history with endurance-racing - tackling gruelling events around the globe. On occasion they may have found themselves at low ebbs; in challenging situations, questioning the utility of their equipment and how it could be improved. A well-placed zip here, or thicker insulation there. In our perpetual quest to find clothing that ticks boxes of both function and form, who better to outfit your next expedition – or perilous commute - than true adventurers themselves? "We're equipping the modern pioneer," Brooks says. "Pioneering doesn't just mean climbing Everest anymore. Pushing oneself to one's limits has become a way of life, or at the very least a mentality for so many people, and so we wanted to create a brand that reflected this."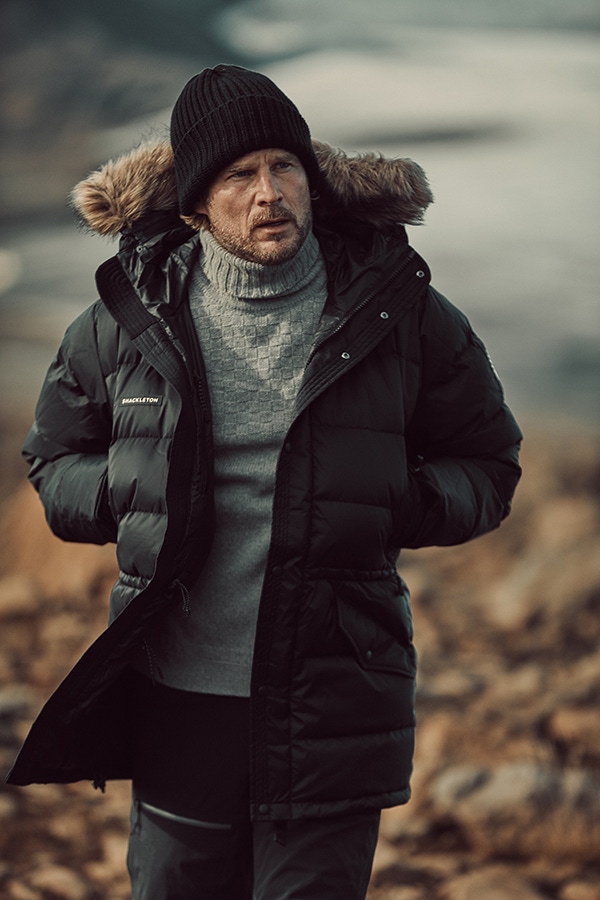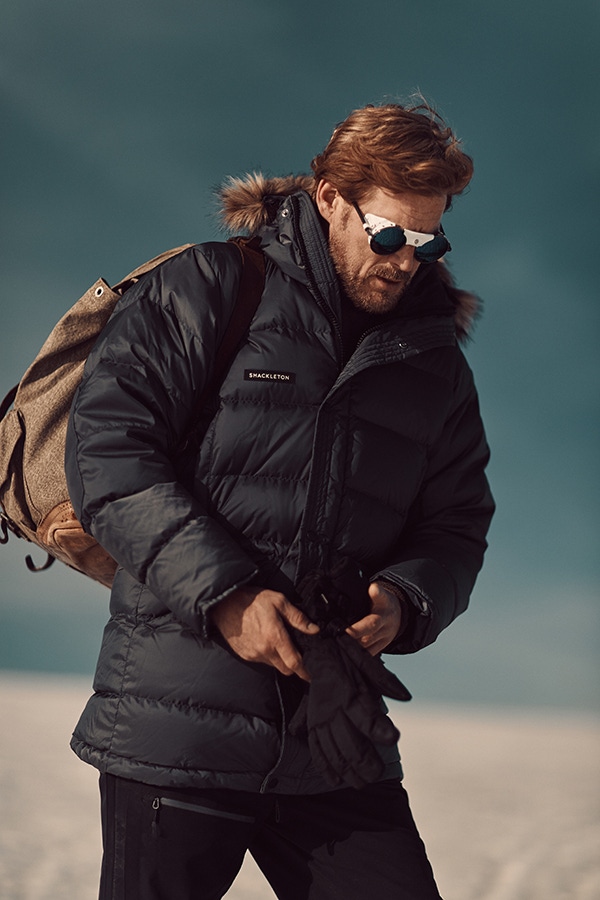 None of this comes at the cost of style. Most of the market for outerwear is saturated with garish high-vis attire, colours and logos. Not Shackleton. "The clothing and accessories are designed to pair as well with your suit as they would while lugging a sled against a blizzard", Holdcroft assures us. Shackleton's gear looks even better in person; in particular their flagship Endurance Parka Jacket and the Signature Sweater – a handsome lambswool piece inspired by vintage pictures of Sir Ernest himself. Both are classic, masculine items of clothing that look as good in Milan or Mayfair as they would keeping you alive one night at McMurdo Sound. The Endurance and Erebus jackets are almost unfathomably weightless and yet neither item will allow your body to register freezing temperatures. "It's odd isn't it?" Brooks says, with a satisfied smile, "it's almost as if it doesn't weigh anything at all. Yet the Endurance jacket can withstand temperatures of up to -30 degrees, all the while looking perfectly stylish for urban wear." So durable is the Endurance Parka that, as of writing, a variant has been picked by Captain Lou Rudd for his record-breaking attempt to cross Antarctica. Rudd is hoping to be the first person to cross the continent alone and unsupported. Holdcroft spent five days with Rudd in Iceland before the expedition, testing the equipment in the wild: "Lou is an incredible guy – a real survivor. He wasn't bothered by anything." It is certain to be a harrowing experience; one which requires not only the best equipment but also Ernest Shackleton-degrees of determination and skill. In the past, Rudd has also used his Shackleton Signature sweater during The Spirit of Endurance expedition but reveals that his favourite item is his Erebus jacket, claiming that "it performs well in extremely low temperatures as it does on a chilly morning in Britain."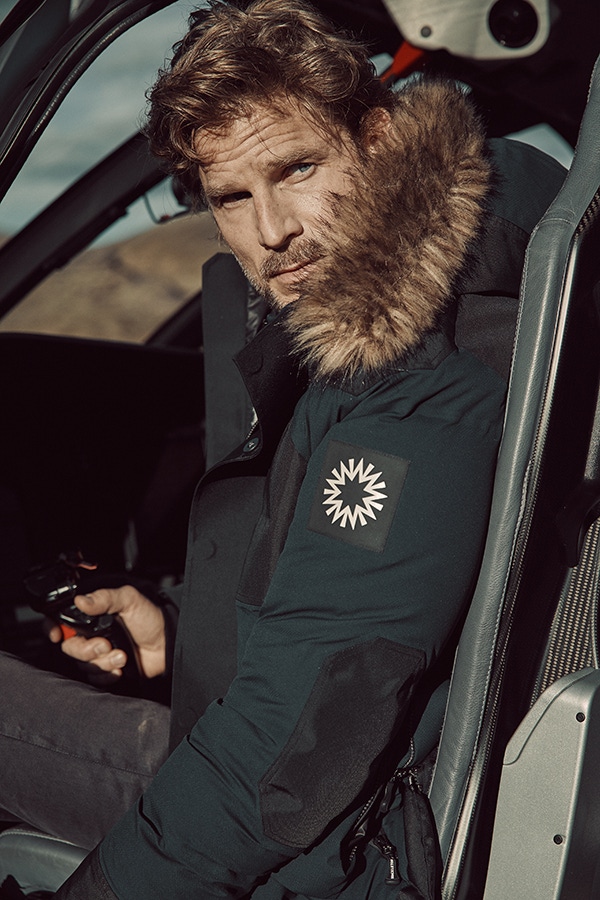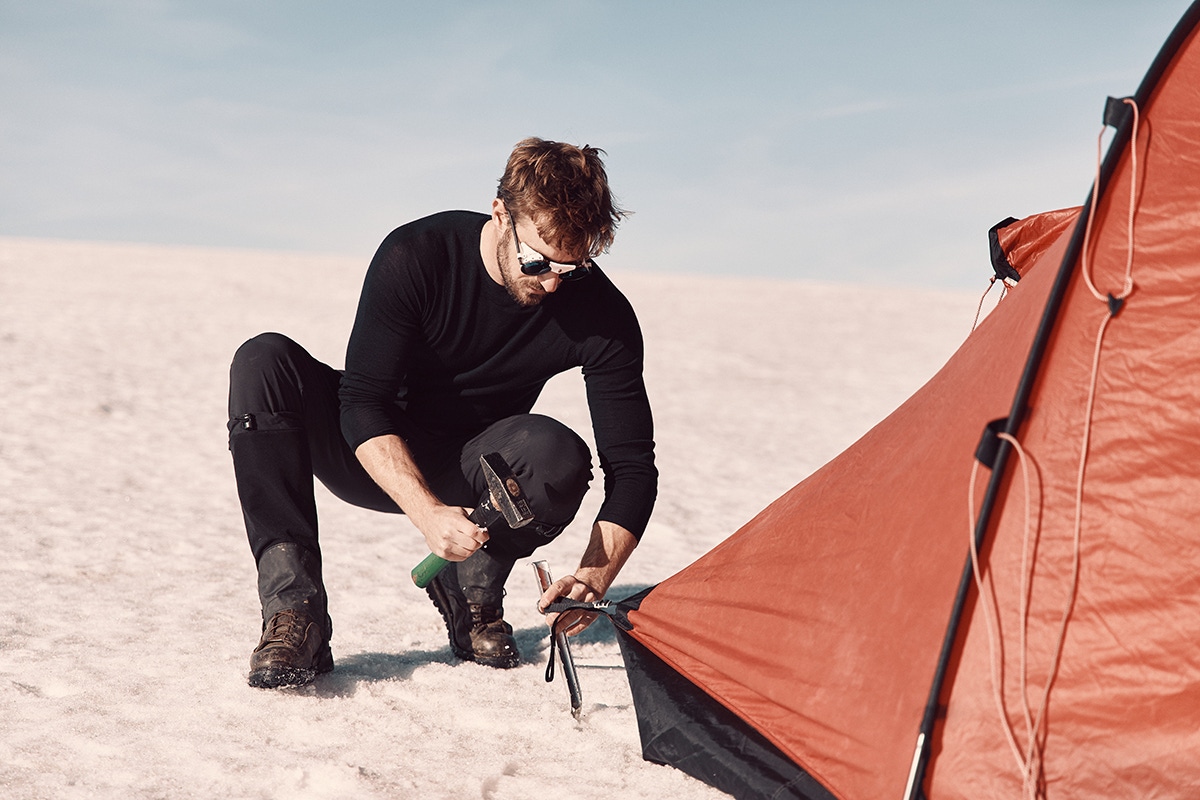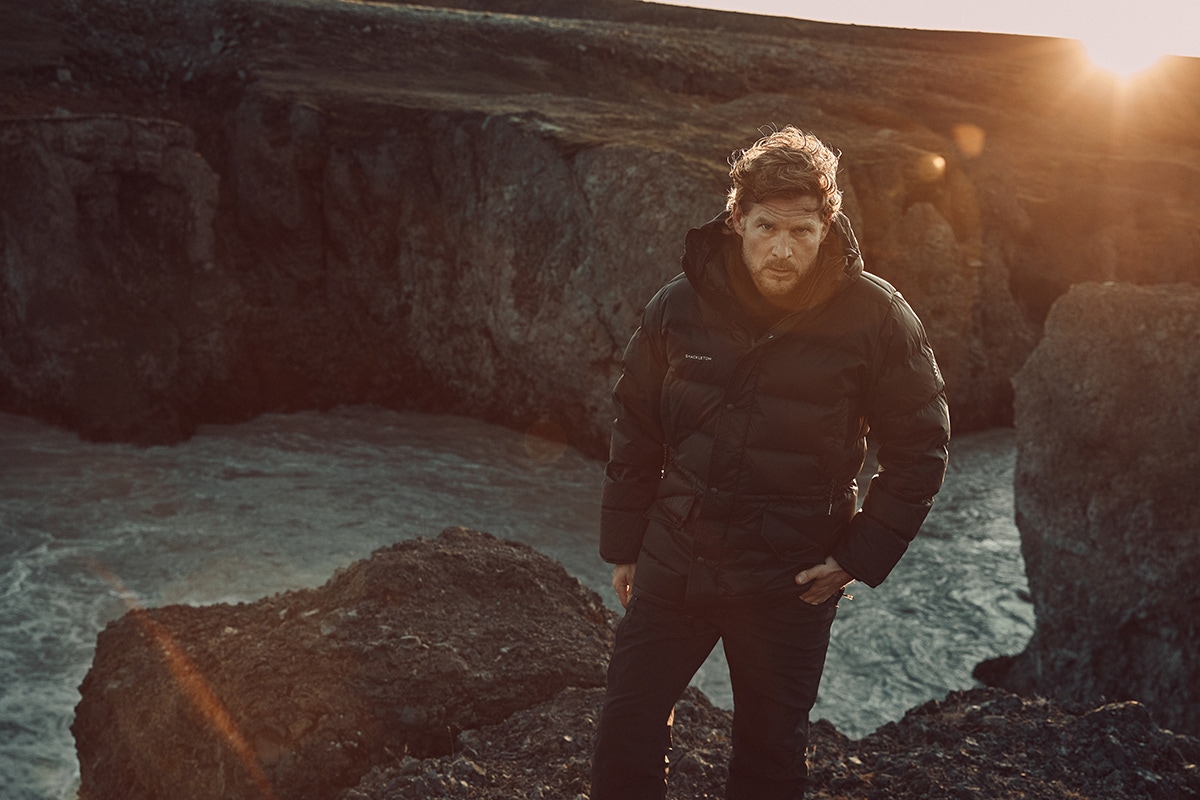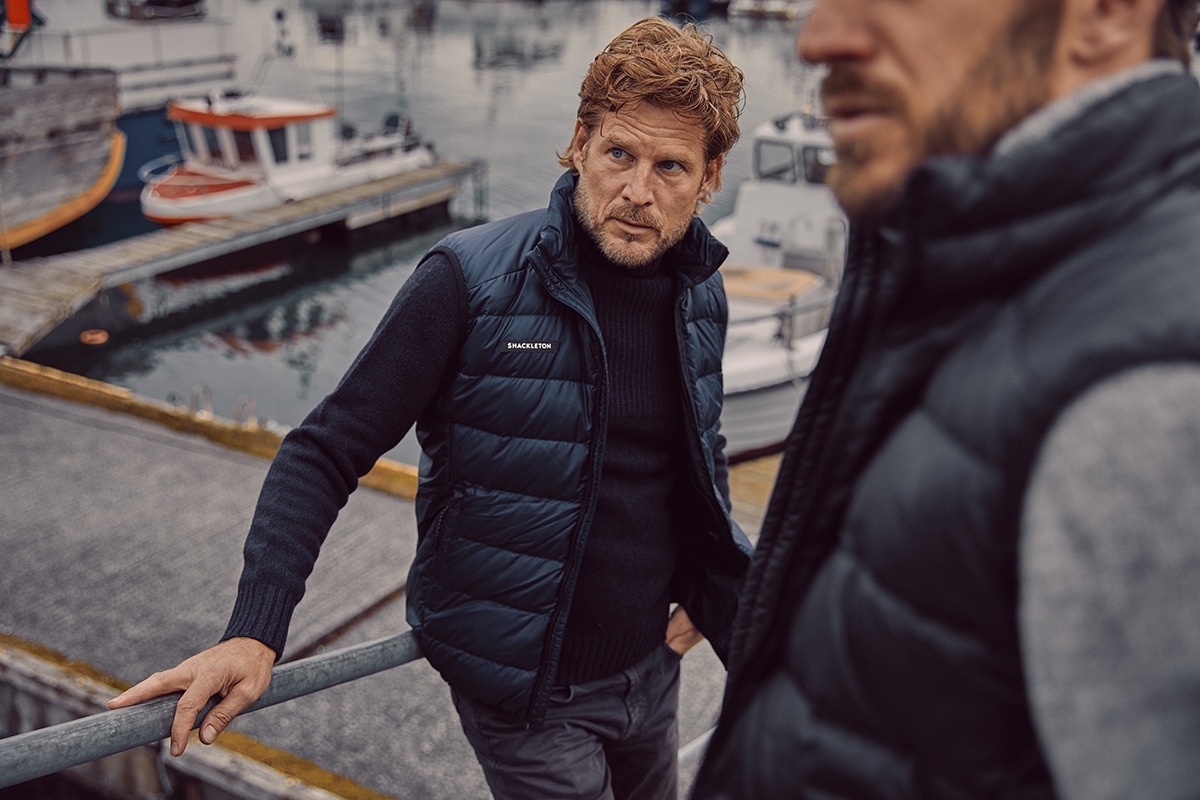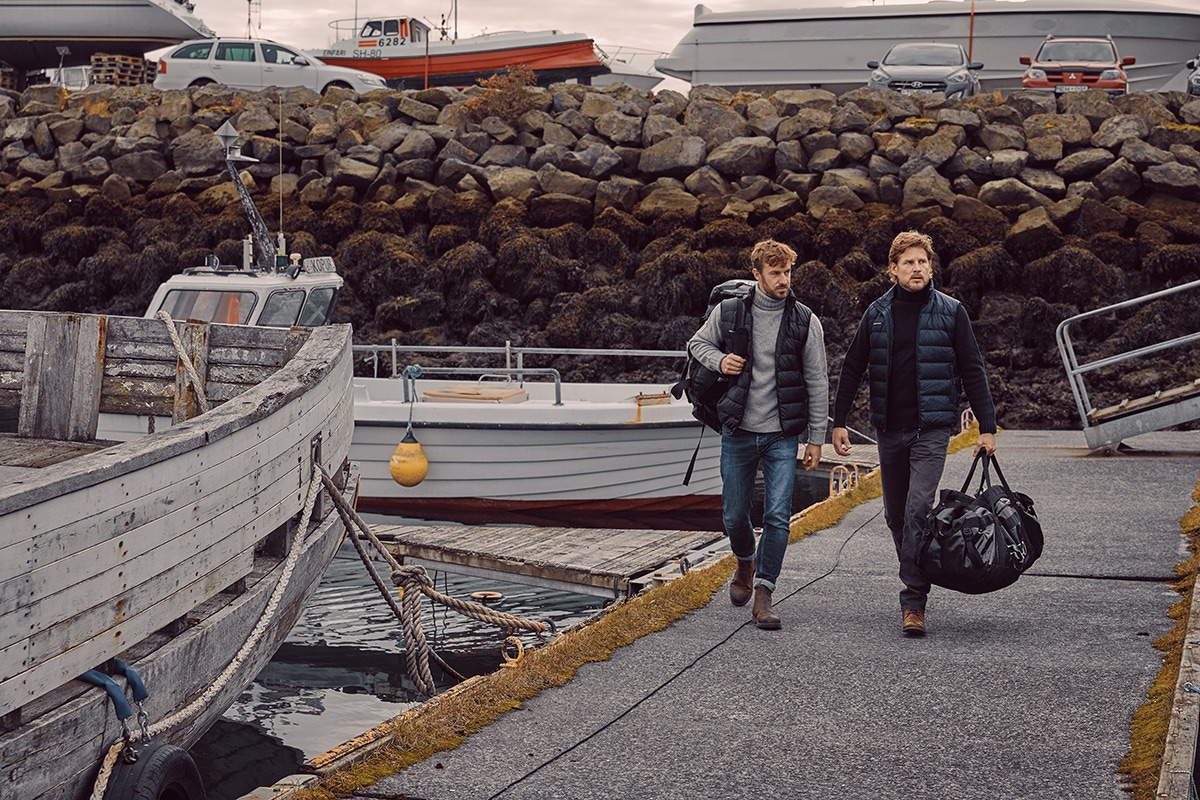 Along with Rudd, Shackleton equips and celebrates other pioneers, including Scott Sears - the youngest person to complete the trek from the frozen Southern Ocean to the south pole alone; and Aldo Kane, who wore his Explorer jacket while abseiling into a volcano. If you're still questioning the durability of Shackleton's clothing, or the extent of Holdcroft's and Brook's vision, then they'll keep proving you wrong. The brand is sailing in strong winds. There is even talk of a major upcoming movie telling the story of the 1914 - 1917 Endurance expedition, with Tom Hardy playing the role of Sir Ernest - a casting choice that seems almost obvious. Both Holdcroft and Brooks continue finding new ways to challenge themselves, too; experimenting with genuine silver in their sweater sleeves (like luxury chainmail) and welded parka jackets. With typical attention to detail, Holdcroft insists that, "welding is the only way we could make sure the jacket was truly 100% waterproof, otherwise it would leak through the seams." They also intend to keep everything Made in Britain. "We're looking up and down the country for experts in particular methods of production and craft," Brooks adds. "It's important we keep improving." As the great man himself wisely understood, "Difficulties are just things to overcome, after all." Shackleton is not only dressing the pioneers of today, they are themselves a pioneering an exciting genre of performance wear that stands tall to the challenge of supreme style under extreme conditions.
Shop the Shackleton collection at TheRake.com.