How Simpson's in the Strand Carved A Niche
Simpson's has long been a London institution, as British as the concept of a Sunday roast. Which, Max Olesker says, happens to be the house speciality.
It's possible, allegedly, to order chicken at Simpson's in the Strand. There are rumours that fish is served. Regular diners, it is alleged, have been known to plump for a 'pie' of some sort. But this is all unsubstantiated hearsay and should be completely ignored, because no-one ever
really
comes to Simpson's for anything other than the beef. Endless quantities of roast beef, served direct from the wheeled trolley and carved – to your preferred thickness – at your table. Vegetables are served, as a formality, as are crisp potatoes roasted in duck fat, and towering Yorkshire puddings (all of which are best enjoyed soaked in thick dark gravy, to the point of disintegration). But it's the roast rib of beef, quivering on the centre of the plate, that is the dense, gouty, main attraction. 
Simpson's has been serving beef for a long time. The restaurant began life, in 1828,
as '
Samuel Reiss's Grand Cigar Divan
', a smoking room - and later coffee house – in which London's gentlemen would while away the hours reading the papers and playing chess with one another (and with rival chess clubs too – runners in top hats would charge across the city and report the moves). It became 'Simpson's Grand Divan' in 1848 with the arrival of caterer John Simpson, who swiftly introduced a menu, and with it the practice of carving beef at the the table. A London institution was born.
Diners included Benjamin Disraeli, William Gladstone, Charles Dickens, George Bernard Shaw and Vincent Van Gogh. In Conan Doyle's story The Illustrious Client, Sherlock Holmes dropped by. Winston Churchill kept a regular table by the fireplace, from whence he could survey the room.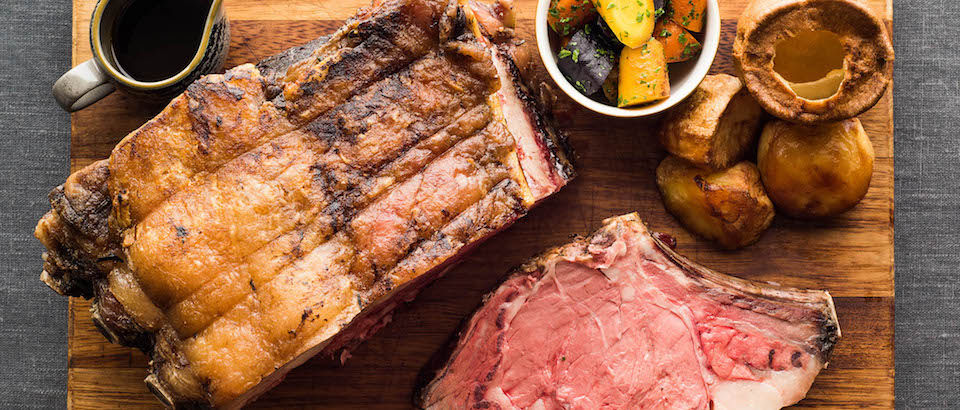 Part of the attraction is the room itself – a high-ceilinged, wood-panelled, oil painting-adorned dining room of unparalleled theatricality and grandeur. The soft chatter of establishment figures furtively opening their second bottle of wine, their cigar smoke staining the ceiling, would have been inevitably accompanied by the quiet strains of the grand piano. An adjunct of the Savoy Hotel door, Simpson's became a room with an alluring, eternal appeal. It's clearly cheating, when attempting to describe something, to defer to the writing of P.G. Wodehouse, but given his loving description of Simpson's – and the fact that the restaurant has remained very nearly unchanged since he wrote about it in 1915 – there's absolutely no reason not to. "Here," he wrote, "if he wishes, the Briton may, for the small sum of half a dollar, stupefy himself with food. The God of Fatted Plenty has the place under his protection. Its keynote is solid comfort. It is a pleasant, soothing, hearty place - a restful temple of food. No strident orchestra forces the diner to bolt beef in ragtime. No long central aisle distracts his attention with its stream of new arrivals. There he sits, alone with his food, while white-robed priests, wheeling their smoking trucks, move to and fro, ever ready with fresh supplies." And that pretty much sums up the restaurant one can visit today.
Simpson's has long been resistant to change. Women were only permitted entry in 1984. The menu is still referred to as the 'bill of fare', a phrase only otherwise used in the musical Oliver!. It's entirely possible that some of the guests who first visited in 1828 remain in some dusty corner, quietly polishing off a brandy.
But change, nonetheless, is afoot. In mid-2017, at 189 years young, the Grand Divan closed for refurbishment, and reopened a few months later with a new – subtle – facelift, and a new chef, in the form of the talented William Hemming (previously of Sky Garden). The reinvention, thankfully, wasn't drastic; Simpson's soul has remained intact. The seating was reupholstered, the bar was modernised, and the ceiling was scrubbed clean of cigar smoke (although, as Michael Deacon recounts in the Telegraph, it was deemed 'too clean' and the stains were painted back on again). What's more, Chef Hemming has begun to tactfully modernise the menu – and, rumour has it, he's done so with great panache. But, ultimately, no-one who goes to Simpson's does so for a revolutionary culinary experience. It remains a place in which men who went to the same boarding schools together can eat roughly the same meals.
But Simpson's isn't about change. It's an extraordinary living monument to the past. For better or worse, it's the Establishment, in physical form. The food is still rich and dense (and so, the uncharitable might argue, are some of the regular clientele). The grand piano still tinkles. Churchill's table is still there. Try the beef.