Sixty Years of Bond's Best Suits
Of all the things The Rake shares in common with James Bond, the most obvious has to be our unquestioning love for the suit. That, at least, is where we are able to meet the British spy on his terms, sharing his taste for Savile Row tailoring in particular, as well as his choice of accessories. 
Bond is synonymous with the suit: it's impossible to imagine him cutting down henchmen in a Jason Bourne-esque shell-jacket and sneakers. Sixty years on, each incarnation of 007 has brought with them a tailoring approach that matches the cut and trends of the era, while remaining quintessentially British in their refinement. Each period also matches the actors' own personal approach to Bond. The Sean Connery years were markedly more classic than the groovy touches, kilts and ruffles, of a Lazenby suit, or the louder, playboy tailoring that Roger Moore made famous. Brosnan brought back some of Connery's understatement, while adhering to the wide-shouldered proportions of the 90s' Armani man. Daniel Craig's suiting, by Tom Ford—not Savile Row, a matter that is of some controversy—is slimmer-fitted and has a haute couture sheen. In No Time to Die, we also saw Bond go Italian, with a soft Massimo Alba two-piece for the chase sequence in Matera. 'This 007,' read one magazine, 'wears corduroy.'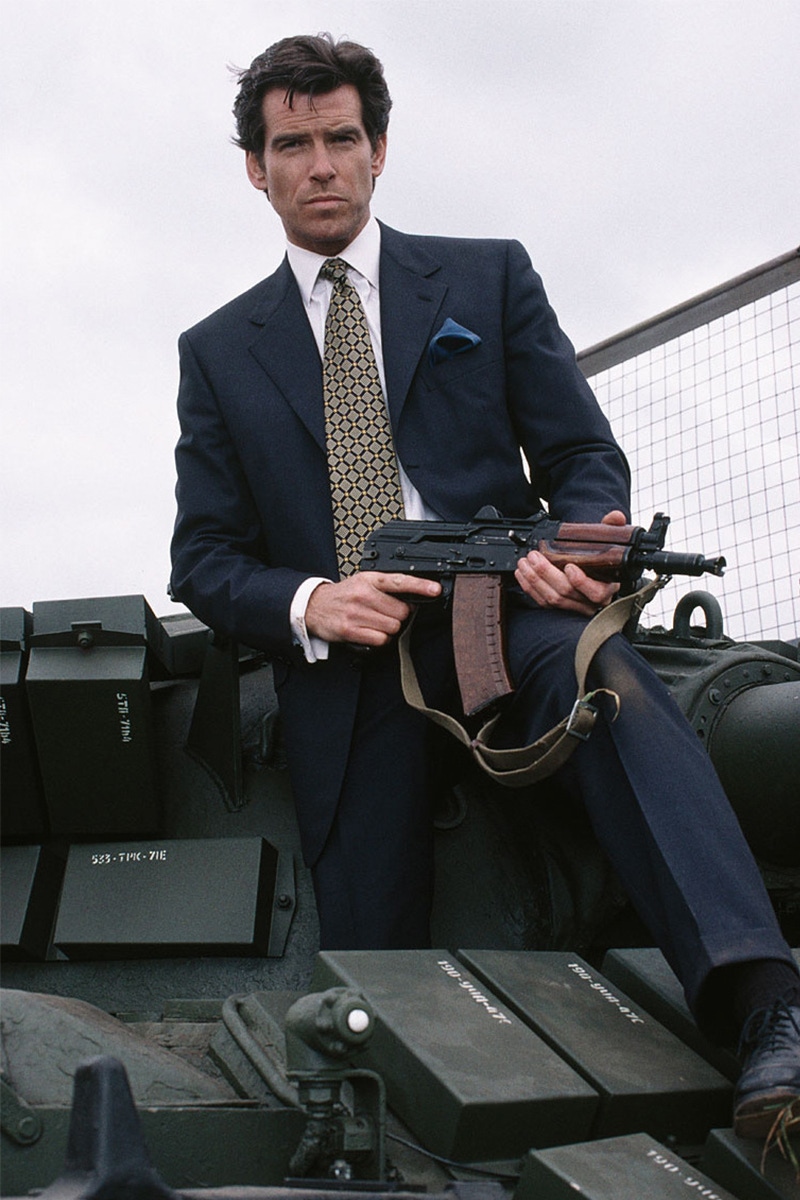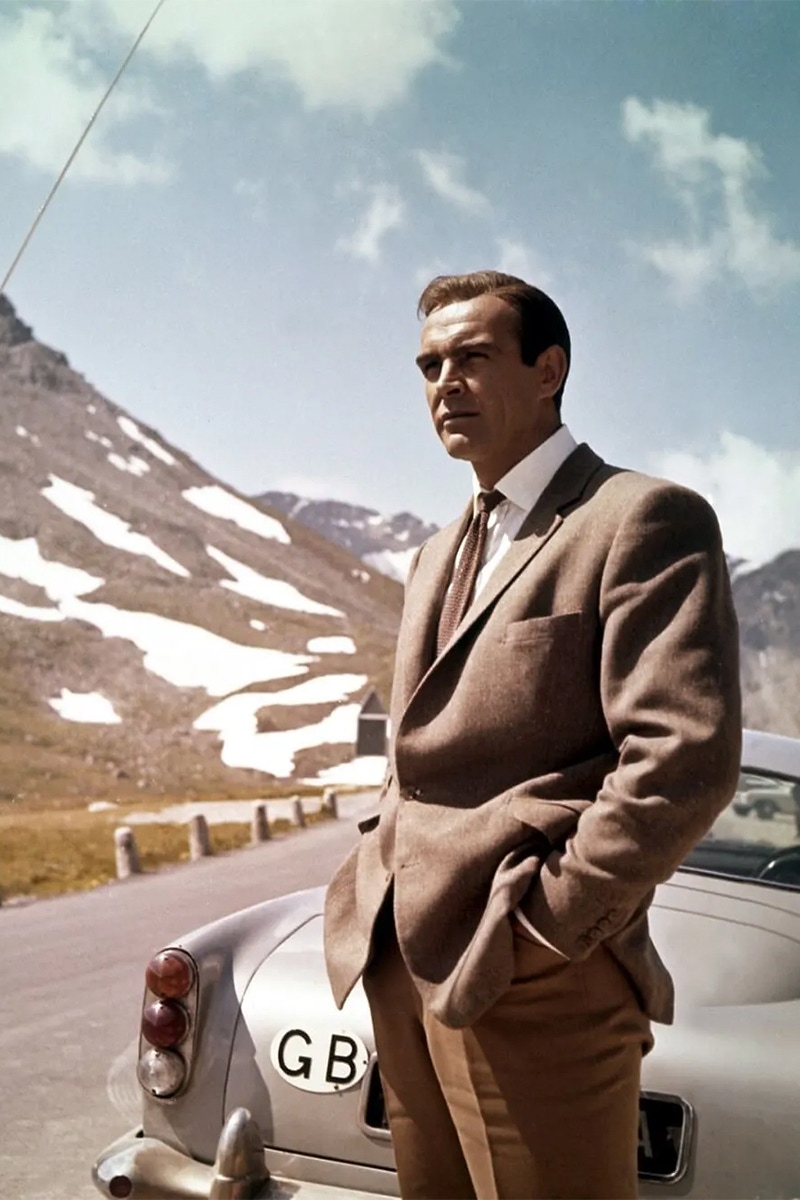 It's true. Bond's suits have changed—the agent choosing to shop at various places, rather than remaining loyal to a single tailor. Although Bond tells Felix that his suits are made on Savile Row in Dr No, the earlier pieces were crafted by the famous Anthony Sinclair on Conduit Street ("My tailor, Conduit Street" just doesn't have the same ring to it). Sinclair's 'Conduit Cut' aimed to be as classic and unfussy as possible, without the stricter hallmarks of the Row's Huntsman or Anderson and Sheppard. This was perfect for a modern gentleman of the 1960s, and is timeless even now. Dr No's tuxedo remains a lesson in how not to overthink black-tie, while his Goldfinger and From Russia with Love ensembles are all basics that each man ought to have in their wardrobes, particularly the former's scene in the Furka Pass stood beside the Aston Martin. Connery's era is arguably the most approachable, unfazed—as so many mid-century styles are—by the modish experiments to come.  
One of these would be the commissioning of Douglas Hayward for Roger Moore. The colourful English designer had a foot in the world of celebrity, and the 'Hayward look' was considered a trendier evolution of Savile Row tailoring, suiting Moore's charismatic and mischievous turn as the secret agent. Powder blues and tans replaced the glen-checks and office navys of Connery's era, while trouser legs widened and safari jackets were designed to meet the exotic locales, as in The Man with the Golden Gun. Bond no longer just looked good in a suit, he was entirely conscious about the way that he dressed in the field.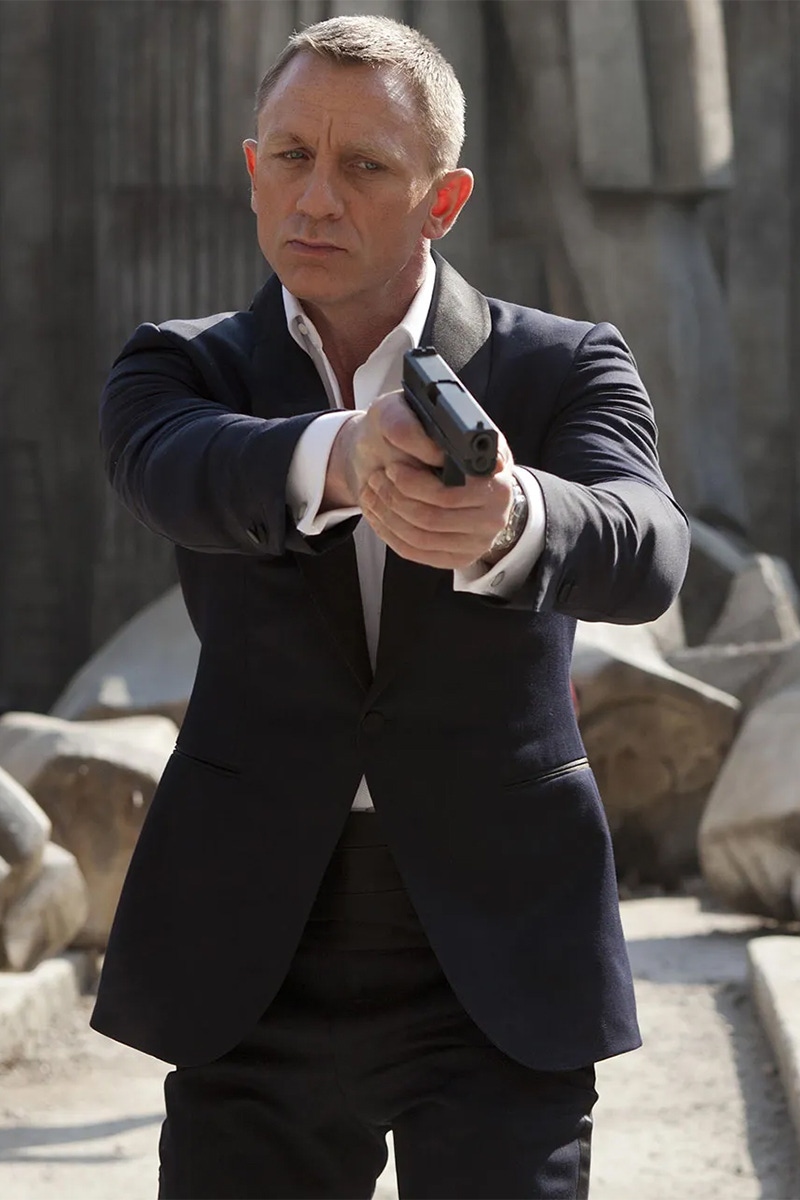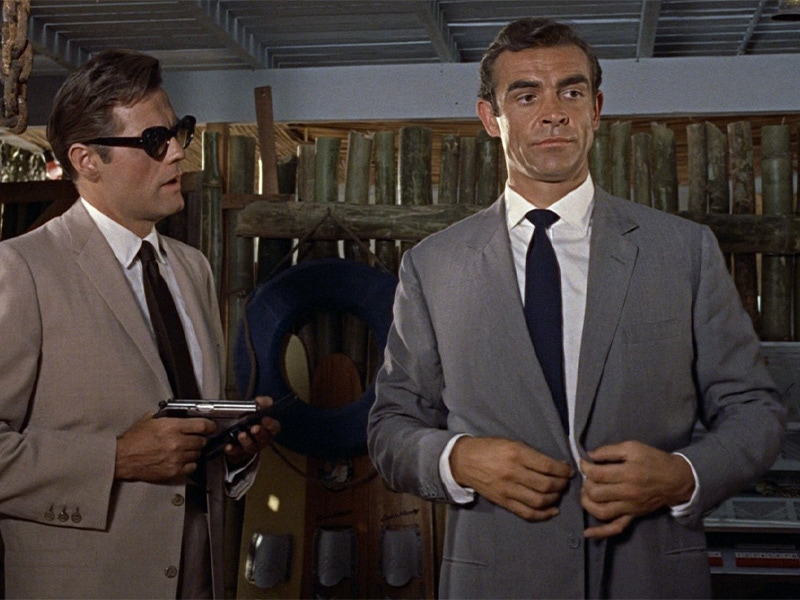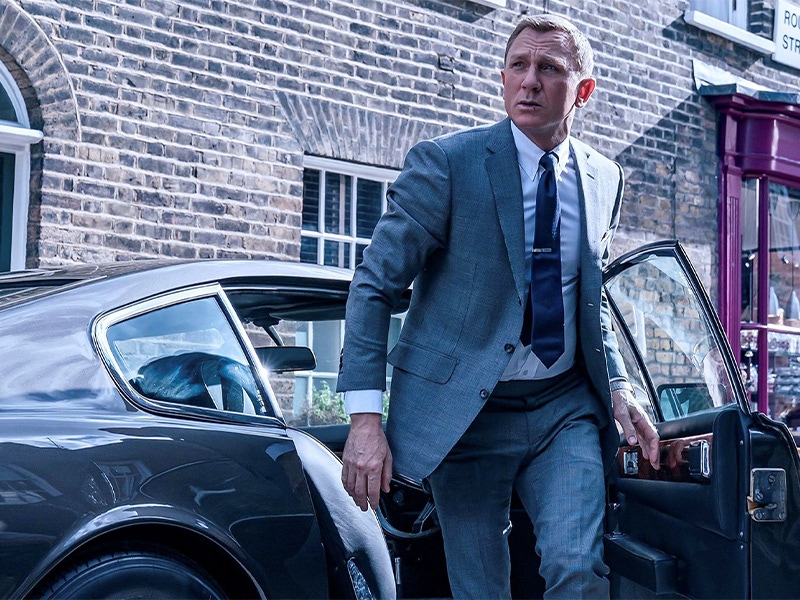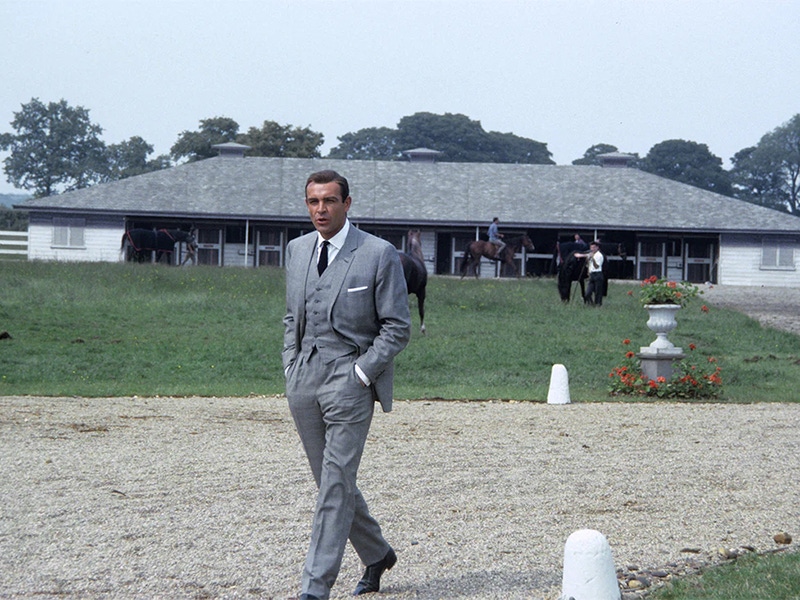 When Brioni came in to dress Brosnan's run as the agent, it was a reversal to the more classic, masculine suits of Connery's and even Dalton's brief time. The darker tones matched his sullen, serious 007, while looking stylish enough to seduce. His navy suit in GoldenEye, complete with automatic machine-gun, is heroically masculine—removed from the flamboyance of the Moore era. Brioni would continue making Bond's suits even into the first of Daniel Craig's films, Casino Royale, where we saw our spy stare at himself, rather impressed, in a hotel mirror while wearing a suave tuxedo. It was a moment of confidence in Craig's Bond; that he could be both a casual killer and an immaculately-suited agent all at once. By the start of the following films, the Savile Row Bond was very much a thing of the past, and super-designer Tom Ford came in to introduce the more haute-couture touches, with a closely fitted-cut that has also been of some controversy. Perhaps the greatest of these looks is Ford's midnight funeral suit from Spectre, which had the dual ability to mourn a death, and later seduce Monica Bellucci. His cotton tan ensemble from the desert scene in Skyfall is another example of Bond returning to the more unrestricted fashions of Moore and Lazenby's eras.
Whatever the future holds for James Bond, now that Craig's tenure is over, we're sure that the suit will remain 007's most important sartorial companion. Perhaps a return to Savile Row is now due, or a continuation of Ford's work will open the new era. Either way, after sixty-years, Bond and his sharp tailoring has offered us a myriad of great looks that we ourselves continue to learn from.