Style 101: The 1950s
Forget about today, the much-loved quip "what a time to be alive" should only be used when referring to the 1950s, a decade that stylistically was full of volume and character that just so happens to be more prevalent today than ever before.
Forget about today, the much-loved quip "what a time to be alive" should only be used when referring to the 1950s, a decade that was undeniably great thanks to a global feeling of optimism and a new-found sense of freedom. World War Two was of course over, and the decade saw a number of accomplishments and developments, both cultural and scientific, to give it genuine credence. Some of these included television becoming a household accessory; the conquering of Mount Everest; the discovery of a vaccine for Polio; everyone moving to a fresh, new beat thanks to Elvis Presley; segregation finally being made illegal with the Brown v. Board of Education ruling; the beginnings of the space race; and, last but not least, the birth of the teenager - an eager and adventurous demographic who were all desperate to express themselves in more ways than one.
In a lot of ways, the aforementioned moments either directly or indirectly influenced fashion, and the decade is now revered as being a seminal decade for style. From the simplicity and ruggedness of Brando, the slickness of the Greasers and Teddy Boys to the sophisticated and elegant Edward VIII, the styles of the decade were very much multi-faceted, and therefore will appeal to a wide-range of people. It's time to take note. So, here's how to get that 1950s look.
Tailored Jackets & Trousers
Adding some volume into your trouser rotation is an easy way to get this 1950s look and for that, look to the likes of Edward Sexton and Kit Blake. The Hollywood-top is certainly an iconic style of trouser, that came to be during the 1920s in, you guessed it, Hollywood, and managed to prevail through the subsequent decades due to its attractive qualities. With dropped belt loops, which perfectly cater for a woven belt of a small to medium width, they have a high-rise with double forward-facing pleats and a slight taper. Pair them with a white T-shirt and you're good to go. Kit Blake's Aleksander model is similar in that it also has a high-rise and forward facing double-pleats, yet it comes with side-adjusters and without belt loops. The likes of Chester Barrie and Huntsman, the latter of which famously started to make bespoke suits for Gregory Peck in 1953, can help you achieve that 1950s aesthetic that's distinctly British with bold checks, a full cut, structured shoulders and paired with a small knotted tie.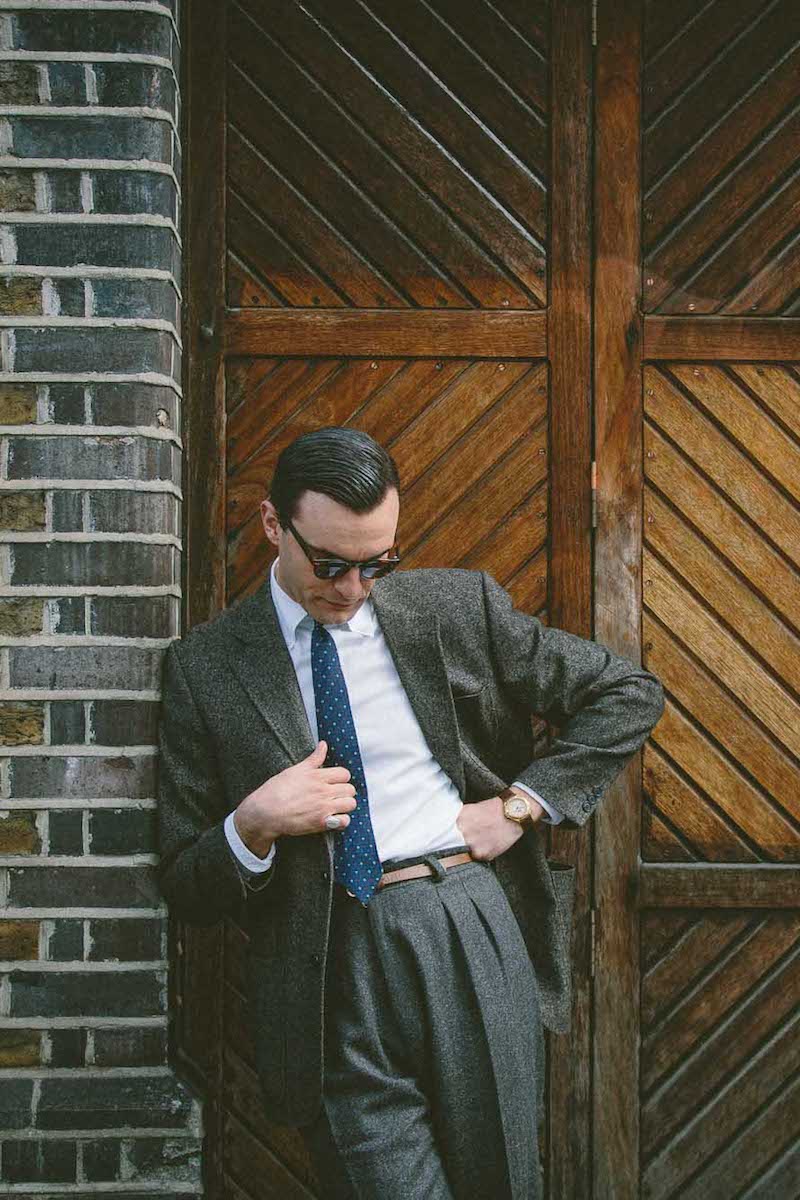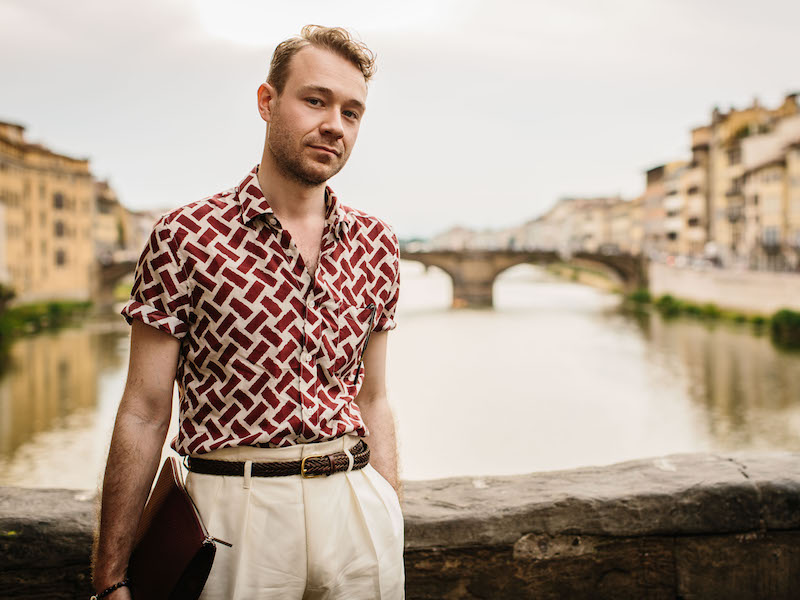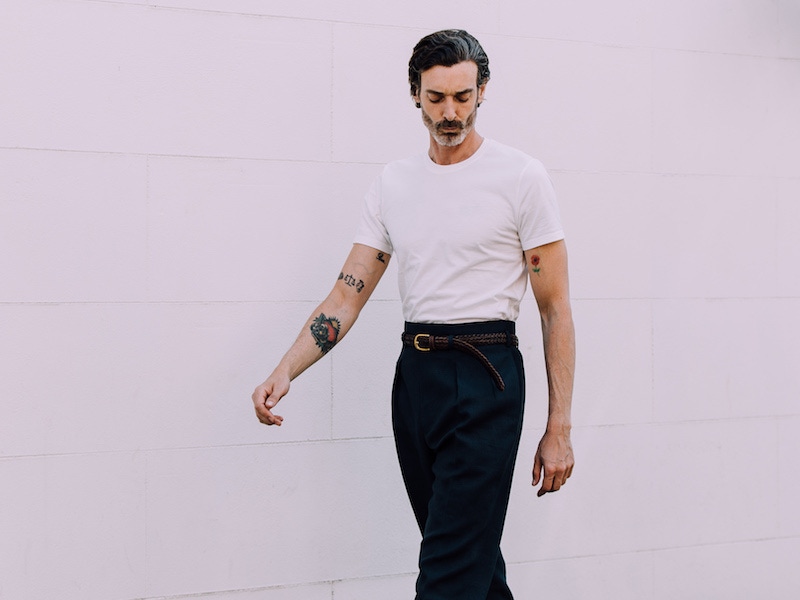 Knitwear & Shirting
The classic polo shirt has of course always been a mainstay in classical menswear but now knitted polos and camp-collars shirts reign supreme. If you're wanting to project a certain kind of attitude that says 'I know what I'm doing and I'm confident in wearing it', a knitted polo shirt will do just that. The London-based King & Tuckfield's latest collection is filled with them, some of which have a vintage bowling aesthetic, coming in supple Merino wools with added breathability thanks to the open weaves. If you're after something a bit more understated, Mc Lauren, an Italian heritage knitwear brand, has a concise offering of knitted polo shirts with ribbed sleeves and hems. Meanwhile, Far Afield's range of camp collar shirts in lightweight linens are all full of vibrancy and character. Don't forget about the humble T-shirt, too, which following the war entered the wardrobes of the common man. Tuck it in for an assured look.
The Penny Loafer
During the 1950s, penny loafers became the Western world's favourite shoe, occupying a space on the formality scale that veered closer to casual than corporate. As such, they pair well with flat-fronted chinos, denim jeans, and within reason formal trousers, which is the why they were standard uniform for Ivy-league students. Their popularity stems from G.H. Bass who lay claim to the style however the quality can't be compared to the likes of Edward Green's Piccadilly, which is arguably the finest ready-to-wear penny loafer on the market, and similar styles from Carmina and Belsire.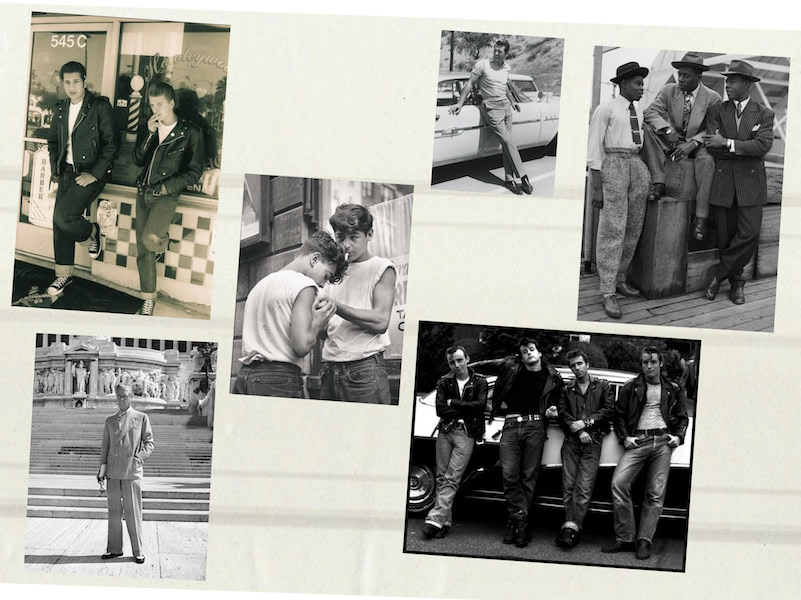 Outerwear
Two of the decade's most iconic movies were The Wild One (1953) and Rebel Without A Cause (1955), both staring the joint-paragons of cool, Marlon Brando and James Dean respectively. What these two films did was further underline the decade's progression in this idea of freedom and rebellion, and from it two jackets, Perfecto biker and the Harrington, became must-have's. Schott NYC is world-renowned for its take on the biker jacket and it's still proudly Made in the US, while Grenfell's Harrington is not an American-made jacket per se, but it's true to the original style developed by Barracuta. Sporting either of these two jackets with a white T-shirt and a pair of raw denim jeans, like Blackhorse Lane's E5 model, will project this 1950s look.