Tales from the drinking cup: Sherry is not just for Christmas
Tim Triptree MW and International Director, Wine at Christie's recommends that wine lovers lose themselves in Spain's sherry triangle.
One of my favourite regions to visit in Europe is Southern Spain's Andalucía for a multitude of reasons; the fascinating history of European/Christian and Arab/Muslim cultures highlighted by the stunning world heritage sites of the Alhambra in Granada and the Mesquita in Cordoba; the laid back culture (sleeping a siesta is still common in certain areas!); the tapas which is absolutely delicious and a fantastically social way of eating; the many hours of bright sunshine and warmth (especially welcome to a Brit!); and of course the local wines, of which sherry is the most famous. Unfortunately for the sherry producers, but more fortunately for us sherry aficionados, sherry is incredibly good value for the quality of the wine. Sherry wines are absolutely delicious and versatile, and I would strongly suggest a visit to the region, or failing that, getting a taste of the wines, which can be from bone dry to lusciously sweet and pair well with many types of cuisine. 
I was fortunate to win the "Sherry Scholarship" when I passed the fortified wines exam for the WSET (Wine & Spirit Education Trust) Diploma. The prize involved a week in "sherry country" in 2008, which cemented sherry amongst my favourite wines, and after a long absence, I went back there in January 2020 to visit the region and a few of the wineries (bodegas). There are three major towns in the region, termed the "Sherry Triangle", which are Jerez de la Frontera, Puerto de Santa Maria & Sanlúcar de Barrameda. I would suggest visiting all three as they are located about an hour's drive of each other. Seville and Cadiz are the closest major cities and would be good places to arrive/leave and base yourself from, and there are a better selection of hotels and restaurants in the larger cities.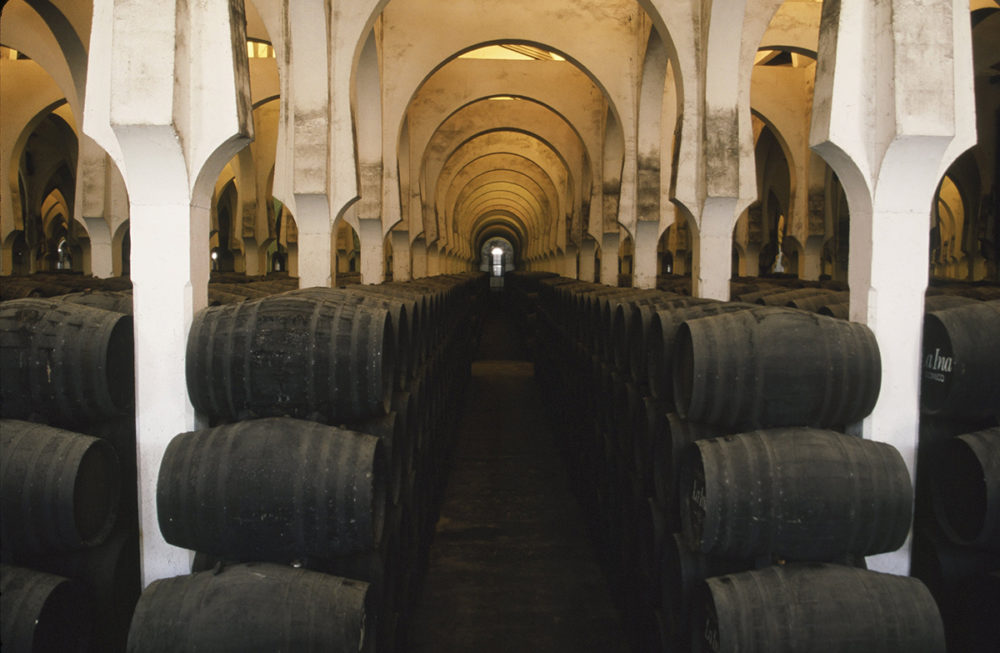 And so onto the wine itself: Sherry is a fortified wine produced typically from Palomino Fino grapes. The strength of fortification is key to producing the two main styles of sherry, which are Fino (it is called Manzanilla if produced in Sanlúcar de Barrameda, but effectively a similar style to Fino) and Oloroso.
Fino/Manzanilla: These are fortified to about 15 degrees alcohol in order to produce a pale yellow coloured wine, which is light bodied, bone dry with subtle bready, yeasty and herbal aromas, with almond flavours and a saline freshness on the palate. The main reason for the wine's character, is that the level of alcohol fortification allows a protective layer of yeast (called a flor) to grow on the top of the liquid when ageing in barrels and this protects the wine from oxygen, called biological ageing, and gives it the bready character. These wines pair with superbly with jamón iberico, olives, almonds, fish, gazpacho and the local salmorejo (a chilled soup made of pureed tomatoes, bread, olive oil and garlic). Fino should be served very chilled, a perfect accompaniment to a meal on a hot summer's day.
Oloroso: Conversely these base wines are fortified to a higher degree, typically 17 to 18%, which does not allow the yeast to grow and thus will not have the protective layer. These will age oxidatively in barrel and develop into deeper tawny brown coloured wines with aromas of caramel, walnuts, raisins and dried fruits, and even old wood furniture, and are fuller bodied with rich & intense tangy dried fruit flavours. These pair with more robust foods, such as mature Manchego, stews and casseroles and with red meats.
There are other styles: Amontillado, which started life as a Fino, but the flor yeast died, and so these wines combine the yeasty character of biological flor ageing with the nutty character of oxidative ageing (called a Manzanilla Pasada in Sanlúcar de Barrameda). Palo Cortado, which are the finest most delicate base wines aged oxidatively, combine the delicacy and finesse of an Amontillado with the full body & power of an Oloroso. Pedro Ximénez (PX – also the name of the grape) produces an intensely sweet, unctuous and viscous dessert sherry with aromas and flavours of dried raisins, figs, prunes, fruit cake, liquorice and treacle; which is fabulous when drizzled over vanilla ice cream. PX is also used as a sweetening agent to some of other styles, particularly Cream Sherries (such as the Christmas favourite, Harveys Bristol Cream) and small amounts of PX can be added to Oloroso, Amontillado and Palo Cortado sherries as the sweetness helps to balance the intense character and flavours of the wines that have aged, evaporated and concentrated for long periods in oak barrels.
Vintage dates are rarely seen in sherry as the wines are typically a blend of many years harvests which are barrel-aged in a system of fractional blending called a solera. Think multiple layers of barrels, where one third of the wine is moved progressively from the top to the base layer. The top layer is filled with the new wine each year, and the bottom layer is where the finished wines are extracted from, and the barrels in the middle are progressively "refreshed" with a proportion of the wine from above, thus mixing matured characters with freshness from the younger wines. Some of the finest sherries I have tasted are the oldest, which are labelled VOS (the average age of wines in the blend is over 20 years) and VORS (the average age of wines in the blend is over 30 years). These are incredibly intense wines with richness and concentration that allows you to slowly sip, contemplate and enjoy the incredible myriad flavours and aromas.
If you see "En Rama" on the labels this means the wines have been bottled unfiltered and are the closest you will get to tasting the wines direct from the barrels. I visited Bodegas Osborne in Puerto de Santa Maria, and was fortunate to taste their stunning sherries direct from the casks along with their winemaker and CEO – a highlight of the trip! Osborne has an excellent casual dining restaurant called Toro Tapas, and I recommend trying their salmorejo and fabulous jamón iberico called Cinco Jotas (Osborne also own several restaurants in Spain under this brand name Cinco Jotas) matched with their Fino Quinta. The region is also known for aged brandy, and this one was very impressive; Osborne's 130 Anniversary Carlos I, which is a limited release of only 2000 bottles – a fantastically complex brandy with intense vanilla and caramel aromas and flavours, very smooth on the palate with no harsh edges at all - very easy to drink and the ideal end to a meal! 
If you are visiting the region, then I would suggest a visit to these: Wineries/Bodegas: Gonzalez-Byass (Jerez), Osborne (Puerto de Santa Maria), Hidalgo la Gitana (Sanlúcar de Barrameda). Restaurants: Toro Tapas (Puerto de Santa Maria), El Faro (Cadiz), Vineria San Telmo (Seville), La Carbona (Jerez).
Tim Triptree MW, International Director, Wine at Christie's