The 2019 Golden Shears Awards
The Golden Shears Awards, which could be seen as being Oscars of the tailoring world, took place this week at The Merchant Taylors' Hall in the City of London and it certainly didn't disappoint.
On Monday night, Savile Row's foremost tailoring houses, cloth merchants, journalists and genteel members of the livery gathered in the Merchant Taylors' Hall for the much anticipated 2019 Golden Shears Awards. The Merchant Taylors' Hall is one of the 'Great Twelve' livery companies in the City of London (there are over 100), which dates back to the 13th century. As such, the venue was befitting of the occasion. Essentially the Oscars of the tailoring world, the Golden Shears Awards is a biennial occasion in which apprentices showcase a single outfit that they have been working on for up to two years in front of some of the most experienced and authoritative characters in the trade.
Chaired by Henry Poole's Managing Director, Simon Cundey, the judges this year included David Gandy, Jodie Kidd, Mich Turner, Tom Stubbs and Joe Ottoway. There were also a handful of technical judges, among them being Joe Morgan of Chittleborough and Morgan, Jonathan Becker of Couch & Hoskin, Davide Taub of Gieves & Hawkes; and Antonia Ede of Montague Ede.
Overall, there were 24 looks that came down the runway. Interestingly, the majority of them were women's looks crafted by women's hands. As such, it was great to see the concept of tailoring, a style of dress that has of course for years been reserved for the male form, adorned by young women. Hopefully, then, they will follow in the footsteps of Ede and Kathryn Sargent, both of whom have set up very successful tailoring houses.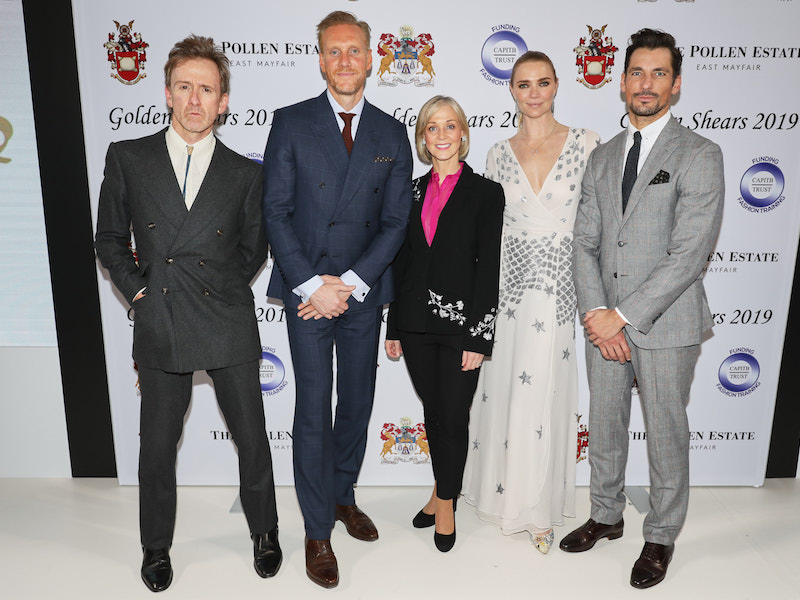 Myself and The Rake's Digital Editor Ryan Thompson were both present at the show and coincidently picked the three winners (cue the sound of our respective trumpets). Taking first place was Rachel Singer, who's currently an apprentice at Maurice Sedwell. She crafted a stunning double-breasted overcoat, cut from an off-white flannel from Holland & Sherry. With sweeping notch lapels that met the shoulders, it fell perfectly when unbuttoned to unveil a six-button double-breasted jacket in a Prince of Wales check. With peak lapels, and a nipped-in waist, the jacket was complemented by flared trousers that had phenomenal movement and fluidity. It was paired with a plain black roll-neck and overall made a statement that women's tailoring can be sexy, sharp and decidedly modern.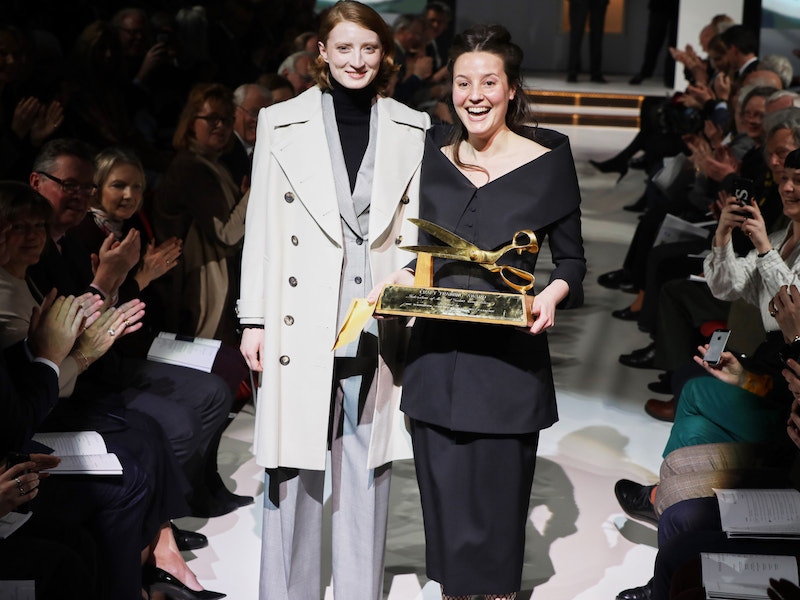 In second place and winner of the Silver Shears was Edward Jones, who's keen on a career in women's couture and is currently studying at the University for the Creative Arts, Rochester. He entered a cropped jacket and pleated culottes that were layered over tulle pantaloons. The cloth was a lightweight worsted woollen in a bold navy and white chalk stripe which in many ways reflects a bygone age of power-dressing financiers. However, the cloth was juxtaposed brilliantly with drama and volume in abundance. Jones' aptitude in the craft of bespoke and couture was exemplified by his ability to match the stripes across the entire ensemble.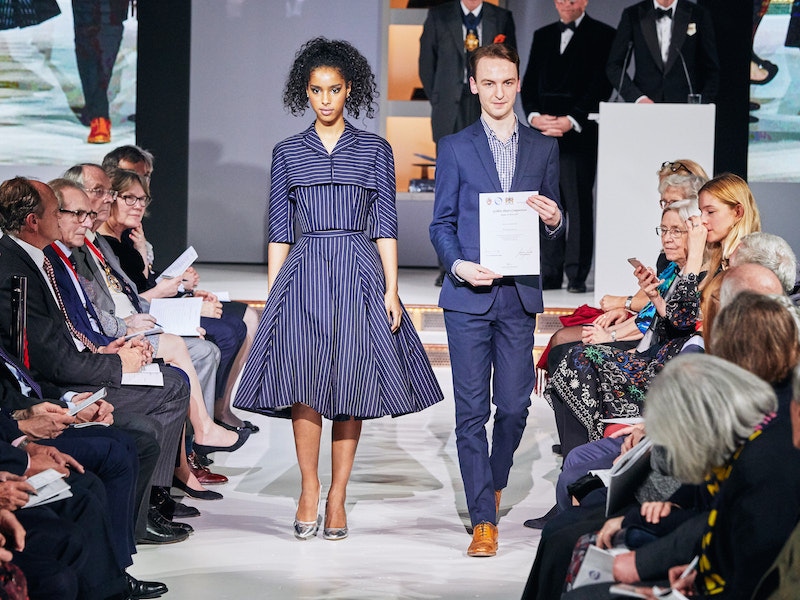 In third place and winner of the Rising Star award was Sophie Weller, who's currently an apprentice at Dunhill. She entered a two-piece single-button blazer with matching shorts in a lightweight pale blue and white boating stripe cloth. A nice touch was the contrast panelling across the pockets, cuffs and waistband. A fantastic summer look that, again, makes tailoring modern and relevant.
Congratulations to all the contestants for what was once again an exceptional demonstration of the art of bespoke tailoring. We are going to be in good hands for years to come.