The Bespoke Dudes Eyewear: A Clear Vision
Bespoke Dudes blog founder Fabio Attanasio is one of sartorial menswear's best ambassadors and his latest venture demands your attention.
There are few people who have had such a game-changing effect on menswear, or classic tailoring trends, as Fabio Attanasio, the founder of the leading Italian Bespoke Dudes blog – a guide to some of the world's greatest designers and tailors. Such is the power of the young Neapolitan, that his seal of approval is widely sought in ateliers, menswear stores, and bodegas the world-over. When Attanasio decided to begin Bespoke Dudes Eyewear in 2015 (with friend Andrea Viganò), it was obvious from the start that the glasses brand would enforce Fabio's principles of quality, mid-century design, and Italian craftsmanship. It seems much of what Attanasio has picked up over his decade-long flirtation with small artisans is encapsulated within the high-quality frames and lenses (indeed, each creator is sought out and hand-picked by Attanasio himself). As the brand itself reflects: 'Our accessories come from the expertise of talented Italian manufacturers, holding out against the ubiquitous empire of huge multinational groups'. For Attanasio and Viganò, Bespoke Dudes Eyewear is more than a project, it stems from a passion that celebrates the very best of Made in Italy – protecting classic methods of manufacture and heritage (factors Mr Attanasio has consistently championed).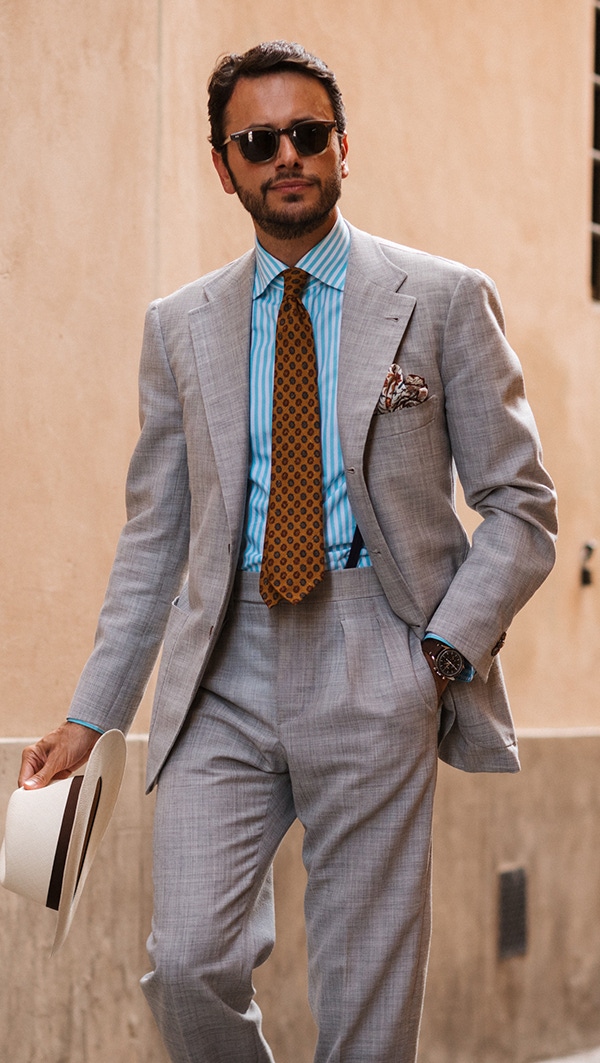 The Cran and Pleat styles offer a fitting – but otherwise easily-missed – example of their attention to the detail, featuring four screws as opposed to two. This makes the glasses more durable. And while most eyewear manufacturers forgo this detail as costly and time consuming, Viganò and Attanasio refuse to compromise on craft. Meanwhile, each frame's design fits within the aesthetic realm of Italian icons like Marcello Mastroianni, while remaining contemporary, colourful, and fashionable. There is a Bespoke Dudes frame out there to suit every man's unique taste and head-shape. This is excellent news for the more short-sighted - or sun-averse - amongst us. And those otherwise blessed with twenty-twenty vision can enjoy the smart selection of sunglasses that Fabio Attanasio - as well as many other sartorially-informed gentleman - wear on a day-to-day basis, and certainly on the streets of Florence come Pitti.